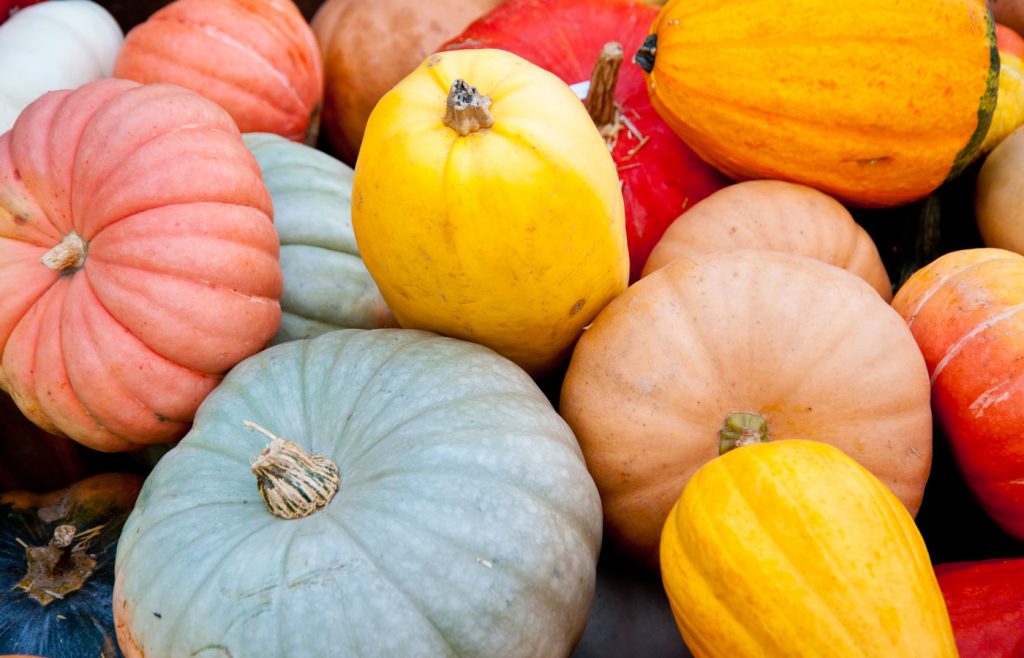 Pie was the only way I ate pumpkin until one particularly bountiful garden season left my husband and me with more pumpkins than two healthy people should ever consume as pie. Thus began our search for new and inspired pumpkin recipes. Luckily, it turns out there's a whole culinary world of pumpkin beyond the pie. . .
Some Like It Raw
Let's begin with pumpkin in its most basic form: raw. I like to use smaller pumpkins in my kitchen because they're easier to cut. For the raw route I recommend getting a fresh pumpkin and cutting it into bite-size cubes. You can sprinkle a little olive oil, lemon juice, and salt and pepper on your raw pumpkin (#1), or you can also blend it with apple, banana, and a little cinnamon in almond milk to make a pumpkin smoothie (#2).
Soup's On!
A simple step up from eating raw pumpkin is to simmer cubes of it along with onion and garlic (and maybe fresh thyme or grated ginger) in vegetable or chicken stock for about 30 minutes, and then blend the mixture into a pumpkin soup (#3). For variation, you can use Thai red curry as your seasoning and cook the pumpkin in coconut milk for a Thai pumpkin soup (#4), or you can use curry powder as your spice and add a half cup of heavy cream when blending broth and pumpkin to create a curried pumpkin soup (#5). Another option when simmering is to mix up a masala sauce with tomato puree, onions, and traditional spices and then simmer your pumpkin cubes in the sauce to get a tasty pumpkin masala (#6).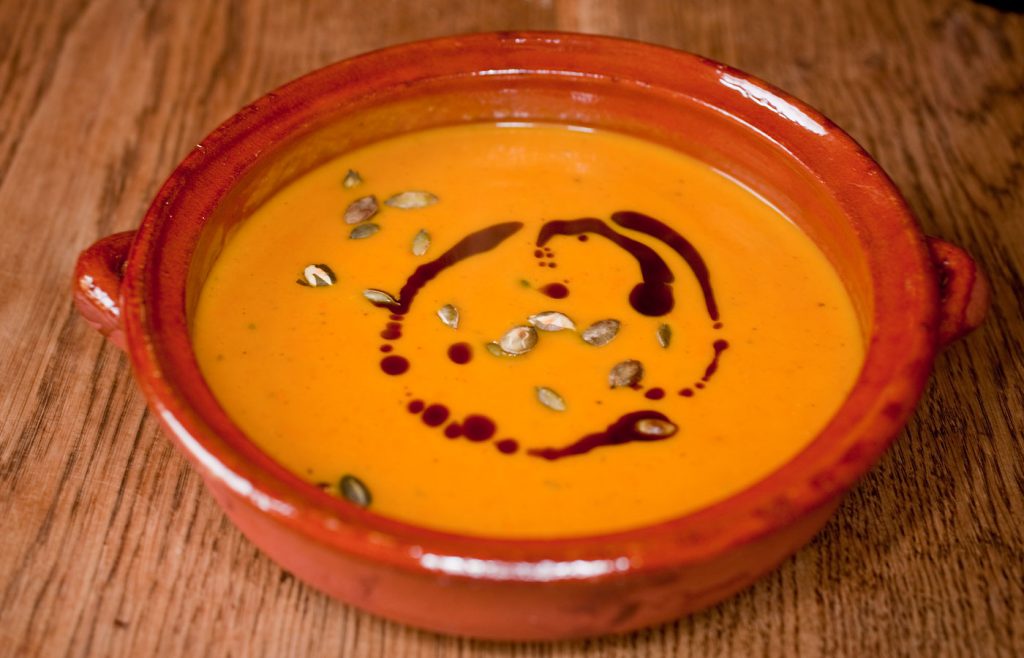 Roasting & Grilling
I am a big fan of vegetables on the grill, and grilled pumpkin (#7) definitely deserves its place on the late-summer dinner table. Brush thin slices of pumpkin with olive oil, season with salt and pepper, and grill. If you have leftovers, you can peel the skin off your sliced grilled pumpkin and layer the pumpkin with garlic-herb goat cheese and perhaps a little sliced turkey or avocado in a pumpkin panini (#8).
Roasted pumpkin (#9) is an easy fix and one of my favorites for pumpkin preparation. Toss cubed pumpkin in olive oil and salt and pepper, spread out on a sheet pan, and roast at 400° F for 40 minutes (until tender). Eat as is, or sprinkle with ground cumin, paprika, and cayenne powder for spicy roast pumpkin (#10). Have leftover roasted pumpkin? Toss with an apple cider vinaigrette along with cubed apples, sliced shallots, and chopped walnuts and serve over dark leafy greens for a pumpkin salad (#11). Or try the surprisingly delicious pumpkin chili (#12), in which you replace the usual beans with 2 cups roasted pumpkin.
So far I've been talking about cubed pumpkin, but you can also roast entire halves. Scrape out the seeds, drizzle with oil, sprinkle with salt and pepper, place cut-side down on a sheet pan, and roast at 400° F. until tender. This is the route I go when making a fall favorite, stuffed pumpkin (#13). After the first 20 minutes of roasting, I turn the pumpkin halves over and fill them with sausage (or rice for vegetarians) that is skillet fried with sage, onion, and apples. Then I bake the halves for another 30 minutes and serve topped with butter and brown sugar.
Bake It
Baked pumpkin lends itself to rich, creamy dishes such as pumpkin gratin (#14), in which you smother cubed pumpkin and chopped chives with a white sauce, bake until bubbly, and then top with shredded Parmesan and bread crumbs. You can also replace the noodles in your typical white-sauce lasagna recipe with very thin slices of pumpkin to make pumpkin lasagna (#15) or you can cook cubed pumpkin into a pumpkin risotto (#16). You can also make homemade pumpkin-stuffed ravioli (#17) that are fantastic dressed with a creamy Alfredo sauce, but if you don't have the time to make homemade ravioli, you can blend pumpkin directly into your white sauce to make pumpkin alfredo (#18) to serve over pasta.
Pass the Puree
And then there's pumpkin puree, the blended version of roasted pumpkin that forms the base for all sorts of pumpkin dishes (including pie). You can bake pumpkin puree with butter, sugar, eggs, and some cinnamon to get a tasty pumpkin casserole (#19). Or for a simple, unbaked dish, blend pumpkin puree with heavy cream, sugar, pumpkin pie spice, and vanilla to create pumpkin mousse (#20). Another dangerously decadent avenue for pureed pumpkin is the pumpkin cheesecake (#21). I'll let you find the recipe!
Pumpkin puree shines when it comes to breakfast and is easy to mix into dishes such as pumpkin pancakes (#22), pumpkin parfait (#23), and pumpkin waffles (#24). There's also pumpkin bread (#25) and pumpkin muffins (#26), which can be sweet or not so sweet, according to your tastes. And speaking of breakfast foods, a little roasted pumpkin combined with caramelized red onions and gorgonzola makes for a most excellent pumpkin quiche (#27).
Who Doesn't Love Fried?
My husband was the one who introduced us to the idea of fried pumpkin (#28), thin slices of battered pumpkin deep-fried in hot oil and then sprinkled with cinnamon and sugar. Another frying method is to cut pumpkin into 2 x 3-inch pieces, dip them in beaten egg, coat them with Italian breadcrumbs, and fry up in melted butter to get savory fried pumpkin (#29).
Don't Forget the Seeds
So far we've been talking about pumpkin flesh, but now let's consider the seeds. You've probably tried roasted pumpkin seeds (#30) sprinkled with a little salt and paprika, but have you ever tried pumpkin seed hummus (#31)? The next time you make hummus, add a quarter cup of pumpkin seeds to your garbanzo beans, tahini, olive oil, and lemon juice, and see where it takes you.
Pushing the Envelope
There are still other ideas out there, such as pumpkin pizza (#32), which features sliced pumpkin in lieu of pizza crust, and pumpkin stir-fry (#33), which sautées finely chopped pumpkin with mushrooms, garlic, onions, and kale. You can even infuse raw pumpkin into vodka with cinnamon sticks and whole vanilla beans to make spiced pumpkin vodka (#34).
Pumpkin's versatility in the kitchen is limited only by our imaginations, so let's get cooking! It's time to embrace pumpkin beyond the pie.
Jocelyn and Tim Engman own Pickle Creek Herbs, a small organic herb farm in Southeast Iowa.