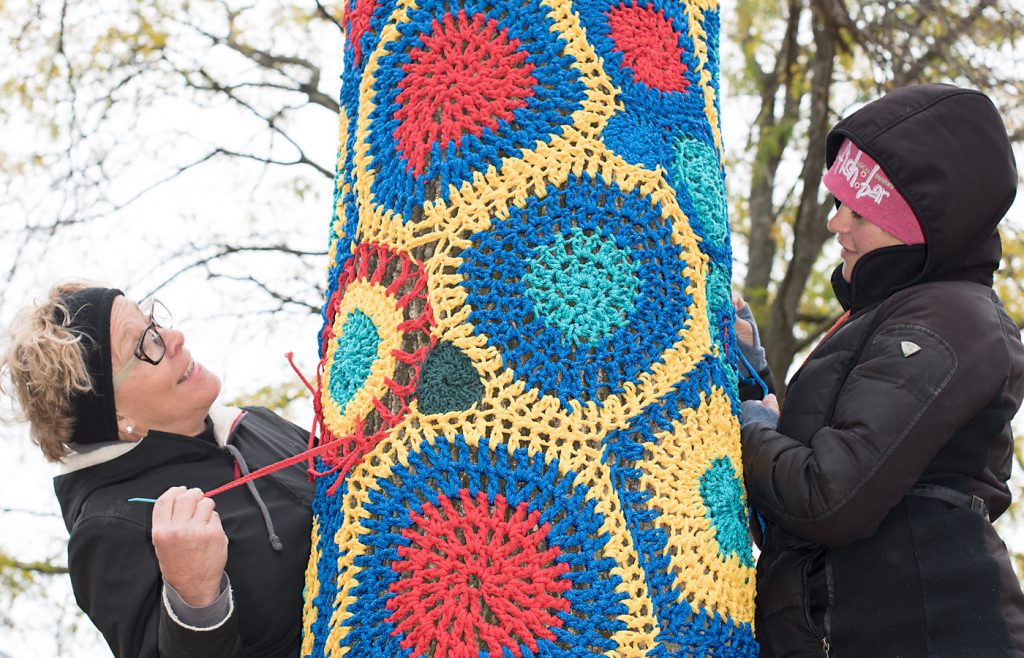 The Teaching Museum of Art at Augustana College has given new meaning to the phrase "fall colors." Starting in August, the Rock Island liberal arts college and artist Carol Hummel began reaching out to Quad City citizens to help "yarn bomb" a tree along 7th Avenue. The result? New connections, unexpected friendships, and spectacular views on Augustana's campus and beyond.
A yarn bomb is pretty much what it sounds like: an explosion of color made from yarn or cord that's been crocheted, knitted, or stitched to objects in public spaces. It's suspected that the first yarn bombs originated in the 1990s and early aughts among knitters and crocheters in Texas, Oregon, and Ohio. Whether their fiber graffiti was more about stealthily reclaiming or personalizing "cold" public places, or finding inventive uses for leftover yarn, the movement has since spread worldwide, evolving from simple doorknob cozies to innovations on a much grander scale—in some cases, enormous "stitched stories" created to enliven whole communities.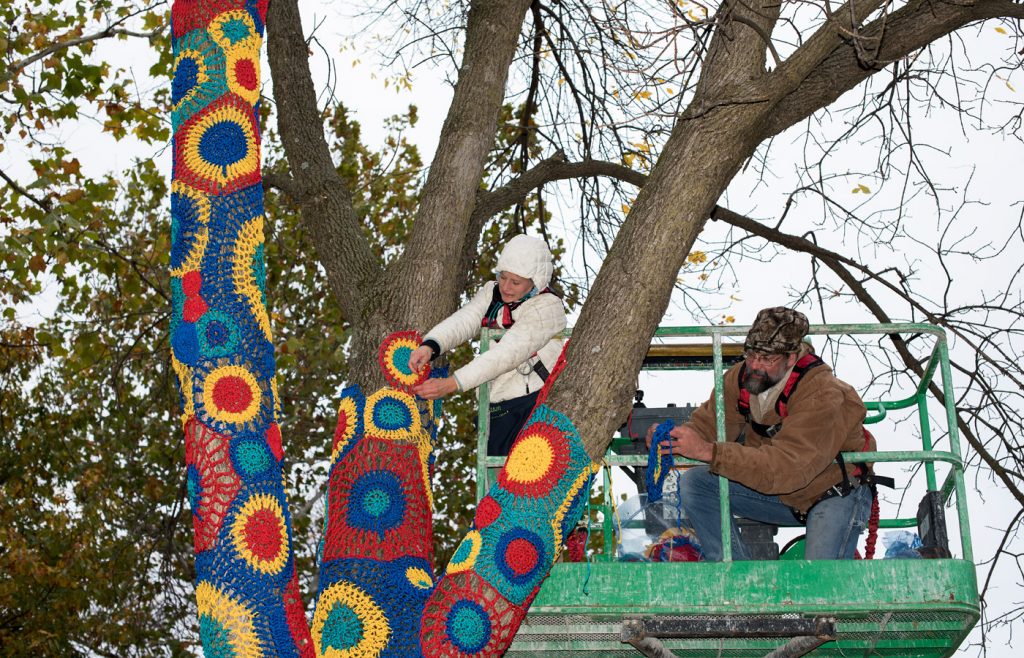 The #YarnBombQC project is headed by artist Carol Hummel, one of the original Ohio yarn bombers (if not the original). After she won a public art competition in 2005 in Cleveland Heights, Ohio, images of her Tree Cozy went viral. "Now, people are crocheting anything, everywhere," Carol says, "trees, cars, buses, steps, parking meters, statues. . . . People ask me, aren't you mad that people are copying what you do, and I say, 'Not at all, man!' I'd like to have it just spread all over the world, and have positivity everywhere. . . . I mean, it's hard not to smile when you come upon a beautifully crocheted tree!"
Carol has now led collaborative public art installations in Switzerland, Norway, India, Mexico, and cities across the U.S. Amidst being a mother, live-in grandmother of three, and the commissioned artist for a simultaneous project on Long Island, New York, Carol found time to work with various Quad Cities groups on this colossal project.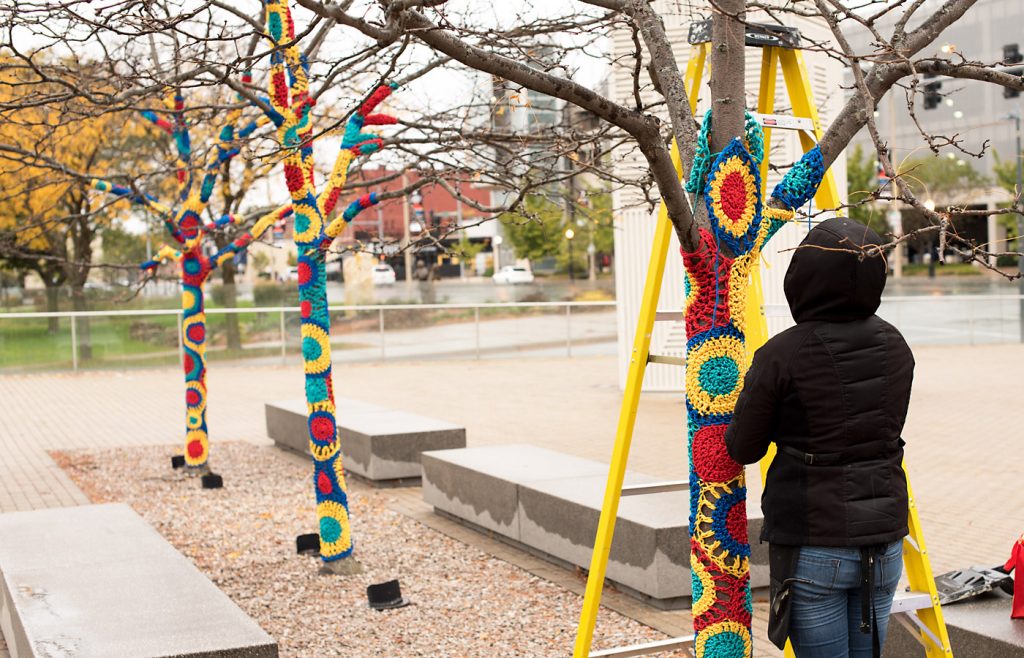 "Colossal" is not an overstatement. Augustana college students, senior citizens, middle school students from the Creative Arts Academy, and random community members—many of whom had never crocheted a stitch in their lives—have turned up in droves to help create small pieces along a color scheme designed to encompass Augustana's school colors as well as thematic colors for the Quad Cities. In fact, so many people showed up to help along the way—at least a hundred more than expected—that Carol and her team collected enough work to adorn not only the enormous Augustana tree (whose trunk is a whopping six feet in diameter), but also a number of trees in the plaza at the Figge Art Museum and several more on campus.
During the final week of October, Carol, her daughter Molly Sedensky, and her trusted assistant Julie Loxterman stitched together and installed the work over the course of eight exhausting—but exciting—days. "Fun fact," Carol says, "we used 32,400 feet of macramé cord to create the works of art."
Creating extraordinary artwork was just one of the goals of the project. "What's cool about the Quad Cities is there are so many little communities, but I would suspect they don't get together a lot," Carol says—which made the unexpected turnouts for the project's "crochet-in" events that much sweeter. "I looooved working with the young students. They were so enthusiastic, and I thought, 'Man, nothing can be better than that.' But then that night we went to the Figge . . . and it was just so amazing. They said it was one of the largest turnouts they'd ever had for this kind of thing. All ages, from so many different places, everybody was just so excited."
That gorgeous diversity is represented in the work. "You look at the tree closely," Carol muses, "and you see all these little details that are really special. Everyone crochets a little different, you know . . . but it makes one big coherent whole. I really like this concept, you know, if we all work together, we can make this planet super awesome."
Projects like Carol's seem a necessary medicine during a time that has felt so culturally divisive. Her work "traverses the socially constructed constraints of difference by exploring the ties that bind human beings to each other through culture, kinship, history, social interaction, and friendship," she writes in her statement. The project at Augustana has indeed drawn diverse sectors of a scattered community together in a positive, celebratory way to create a major artwork "for the people, by the people."
Carol wants to reassure fellow tree huggers, too. "People always ask if covering the tree in crochet will hurt the tree," she says. "The answer is no! We use large cord and install it rather loosely so that the tree's growth is not inhibited, and insects can still creep beneath it."
The National Endowment for the Arts awarded a $15,000 grant to fund the project, a first for Augustana, thanks to the efforts of Dr. Claire Kovacs, director of the Teaching Museum of Art. "I have been humbled by the generosity of spirit of our volunteers," she says. "So many people have participated—organizing crocheting groups, working on their own, meeting new friends at our crochet-ins. It warms my heart to see the community-building in action."
The unveiling reception for the Augustana trees took place on October 29 along 7th Avenue at 35th Street. Don't worry, you didn't miss the whole shebang. The pieces of arbor art at Augustana—and at the Figge—will remain on view for the entire academic year, each a vibrant reminder of a colorful community forging new connections. This winter, those trees will surely be the coziest ones around.