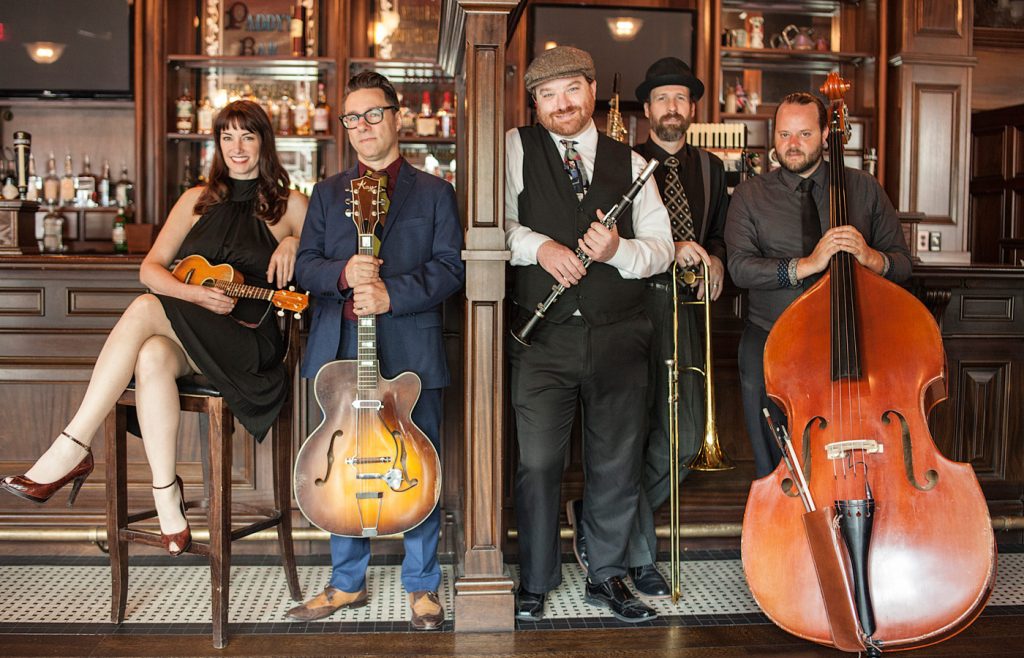 "Their music is a rock-fueled take on jazz, reflecting on prohibition-era swing." –Clint Weiderholt, American Roots Magazine
Victor & Penny deliver swing-infused folk jazz in the band's signature high-energy style—with joy, humor, and soaring musical improvisation. Featuring tight vocal harmonies, dazzling guitar work, and a fiery ukulele, Victor & Penny were named "Best Folk Ensemble 2015" by the PITCH and "Standout Concert of the Year" by the Joplin Globe. They're also two-time Folk Alliance International official showcase artists.
Victor & Penny (aka Jeff Freling and Erin McGrane) have been thrilling audiences nationally with their deft blend of originals, hot jazz, and swing since 2010. The duo brings a modern Kansas City voice to their original tunes and prohibition-era jazz. Add their fine band, the Loose Change Orchestra, and you've got a red-hot horn section, upright-bass beat, and sparkling virtuosic musicianship.
In March of 2016 the group released a new full-length CD, Electricity, which debuted on the folk radio DJ charts at #12 with its third track. Electricity crackles with elation and regret, truths and dares, love and love gone wrong, all set to a score of vibrant, rhythmic swing. The album is the culmination of 180,000 miles, 5 years and nearly 1,000 performances and is a testament to the incomparable vivacity of Victor & Penny's live show.
Don't miss Victor & Penny and the Loose Change Orchestra at Café Paradiso on Saturday, October 28, at 8 p.m. Tickets are $10 in advance or $12 at the show, available online (at cafeparadiso.net) or at Café Paradiso, 101 N. Main Street in Fairfield. Check them out at VictorandPenny.com.