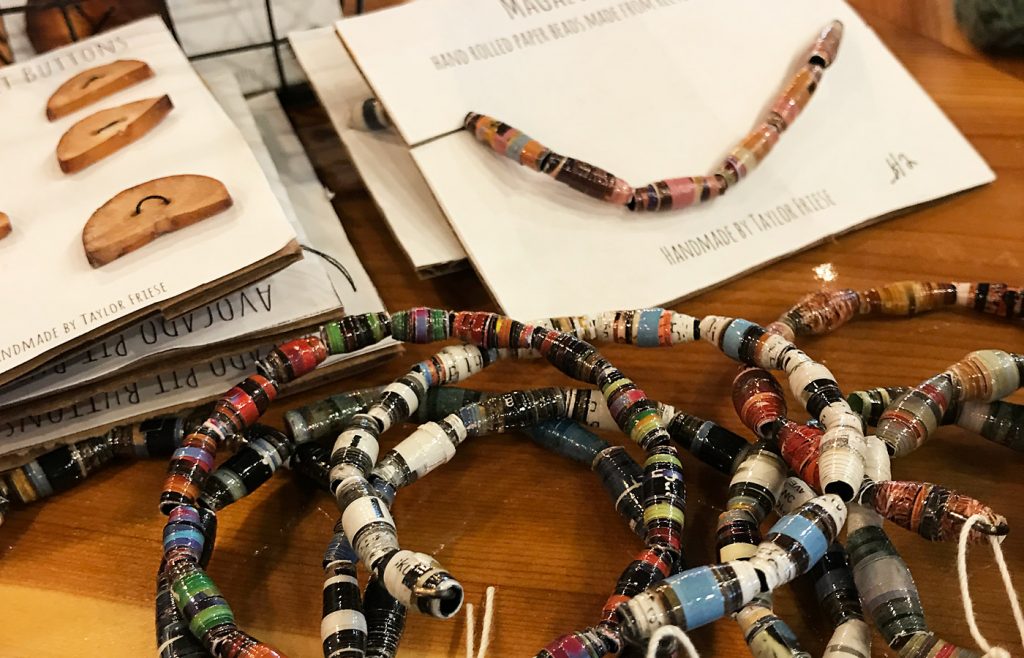 My name is Jocelyn, but you can call me the Pickle Creek Girl. About 13 years ago, my husband Tim and I quit our Chicagoland chemistry jobs to do the near impossible: thrive on a small, sustainable family farm. We started out as market gardeners, and within two years we were dedicated herb gardeners, making infused olive oils and vinegars, soaps, salves, and balms. Going the value-added route turned out to be genius, because suddenly we had a shelf-stable product that we could take to holiday arts and crafts shows.
By 2006, we were official members of the craft show circuit, spending Saturdays in November and December peddling Pickle Creek goods in high school gymnasiums around Iowa. Back then we didn't have smartphones or Square devices, and social media was dominated by MySpace. We got the word out about our shows through newspapers and lots and lots of fliers. I quickly learned to look for shows that had been around long enough to build a following. Those shows drew the crowds.
But even the good shows had down time, and I spent hours chatting with bakers, knitters, dip mixers, appliquérs, metal shapers, painters, jewelry makers, woodworkers, and potters. I remember one slow afternoon when my crocheting neighbor began reminiscing about the good old days.
"You used to see twice the crowds here," she told me. "The younger people just aren't as interested in the arts and crafts, I guess."
It was the first but not the last time I heard the sentiment. I began thinking of my entrance into the arts and crafts world in terms of boat metaphors: I had missed the boat. My ship had already sailed. I hadn't been around long enough to realize that my boat was just stalled, not sinking.
A New Kind of Show
As I look back at my early shows, they strike me as being the garden in winter, resting but with new life stirring underground in anticipation of spring. This spring arrived about three years ago when Jeanne White, a respected Cedar Rapids soap maker and friend, said, "Joce, you have got to apply for the Corridor Arts and Crafts shows. I tell you, Kelsey does a terrific job with these shows."
And so one cold drizzly April morning, after weeks of watching Kelsey Kidwell Swancutt reach thousands of potential visitors through continuous Facebook posting, Tim and I walked into our first Corridor Arts & Crafts show. Things felt different the moment we stepped in. The venue was a barn with twinkle lights and a rustic, artsy atmosphere. Live music and locally roasted drip coffee beckoned. The Kalona Brewing Company was sampling out craft beers, and the Stone Wall Pizza truck was whipping up wood-fired pizzas.
The show was no longer just a show. It was an experience. And it was as if all the old arts and crafts vendors had agreed to modernize overnight. Scarf makers were now making their scarves out of upcycled materials. Bakers were trading in angel food cakes for chocolate-dipped berries. One vendor was selling handmade shoes, and another was offering bags made of recycled leather goods. There was precision laser-cut metal art. There was a guy selling works made with a 3D printer. There were several vendors selling repurposed home décor and furniture. There were Iowa- and other locally themed booths. Everything looked artsy and handcrafted in the best possible way.
It was the most successful spring show we'd ever done. As we left the barn that evening, I turned to Tim and said, "We've just seen the future." Today I think of our first Corridor Arts and Crafts show as being the day we met the makers.
The New Sprouts
The term "maker" was a case of multiple discovery for me, with its use arising simultaneously from several sources. At old craft shows, I heard new vendors using the word to describe themselves. On Facebook and Instagram, I saw new events billing themselves as maker markets or vintage and made fairs. The girl who started working for us mentioned that she was researching a makerspace. A window decal in a fabric shop advertised MIY (make it yourself) classes. It seemed that the DIY movement had collided with the arts and crafts culture to generate the makers, the new sprouts in the spring garden, who were now growing inches overnight.
Intrigued by all this, I began asking what makes a "maker." I was already recognizing patterns. Makers are people of the information age, embracing digital technologies that in past years only large manufacturers could afford, using social media to launch unique brands, or using the current tech pervasiveness to define their values. Kristie VanGorkom, cofounder of kittd, told me, "If you're providing a good or service that creates value or convenience for someone else, you're a maker. It can be physical—toys, clothes—or it can be digital—websites, graphics, invitations." (Kristie and Maria Sanchez-Masi create portable, pocketable, and unplugged play sets for kids on the go.)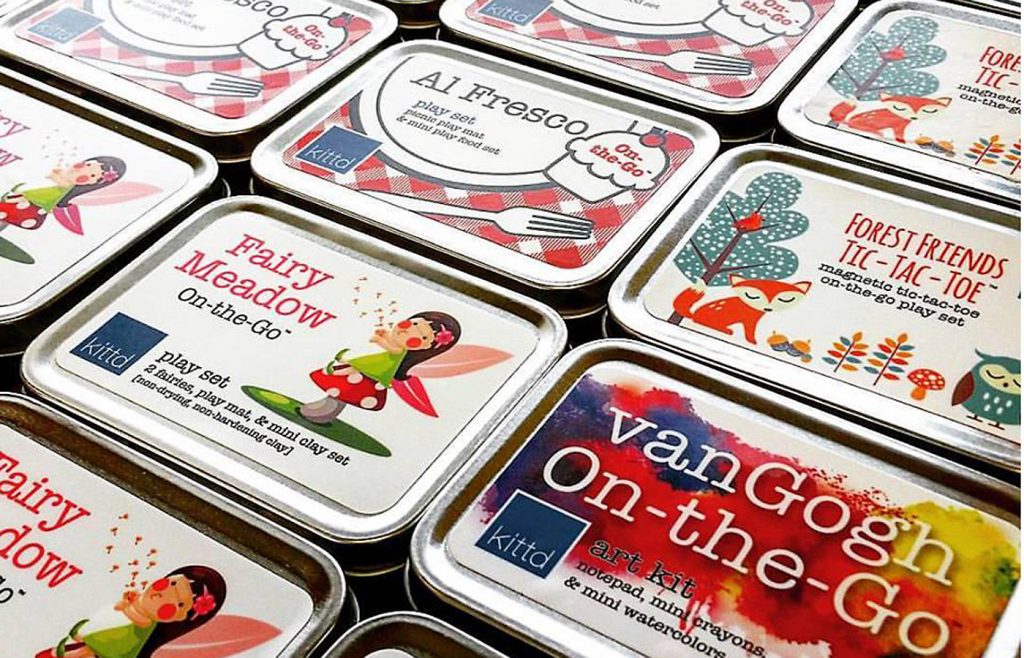 I was also noticing a yearning to break free of traditional definitions. Suzanna Valentine Moore of Little Pearl Naturals told me, "A maker isn't defined by one single thing. Makers are artists, craftspeople, graphic designers, teachers, students, beginners, and pros. Whatever they create, they put a piece of themselves into it." (Suzanna creates self-care products such as organic balms and healing salves.)
Taylor Friese, a folk arts major, potter's daughter, and self-declared reclaimer with an eye toward creating eco-friendly supplies, brought the ideal of inclusive opportunity to light when she told me this: "I find that it is more descriptive to define 'maker' by what it's not. I use maker instead of artist or craftsperson because what I do doesn't fit into one category or the other."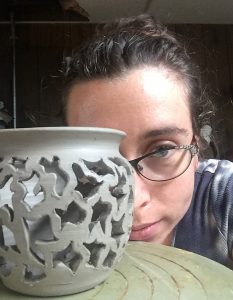 She continued, "I was thrilled when I found the maker community because of how simple the definition was: people who make things. This can include artists and craftspeople, but it doesn't come with all that history and baggage." (Taylor spins yarn, carves buttons from avocado pits, and makes beads from old magazines.)
Taylor embodies another theme that runs through the maker community: one of doing work with meaning. Taylor runs Craft For a Change, a small nonprofit that incentivizes donation by gifting handmade items when people donate to certain charities. Likewise, Kristie sees her play sets as a way to keep kids entertained offline and as a way to offer meaningful, flexible work to other parents re-entering the workforce. Suzanna sees her work as a platform to advocate self-care and mental health awareness, and she donates part of the sales from her natural skincare line to the TLC Foundation for Body-Focused Repetitive Behaviors.
And Kelsey, creator of the Corridor Arts and Crafts shows, embraces making for good as well. Inspired by wanting to provide successful shows for makers such as her sister (of Lindsey's Stitchins), Kelsey said, "I have also recently discovered that I can use the for-profit aspect to my events to add in a very successful nonprofit aspect. Multiple local children and adults going through cancer treatment in the last few years have needed a bone marrow transplant, and because of this, we started adding a bone marrow registry drive to our events through Be The Match. This past spring, we added many wonderful, willing people to the National Bone Marrow Registry that might get called someday to save a life."
Join 75 Iowa makers for the Corridor Arts and Crafts Fall Market at Bella Sala in Tiffin on Sunday, November 19.