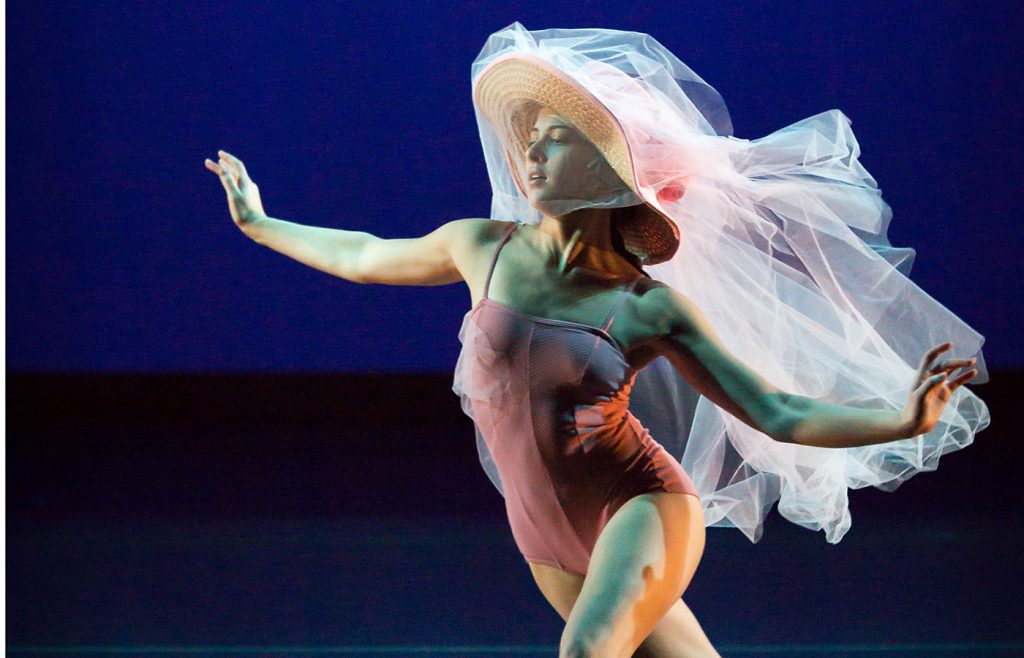 Find out what's trending in the world of dance when the award-winning University of Iowa Dance Department presents its much-anticipated Dance Gala on November 10–11 at 8 p.m. at Hancher Auditorium in Iowa City. Showcasing the talents of more than 50 students and faculty, the Dance Gala returns to the beautiful Hancher stage for the first time in nine years, since the flood of 2008.
The evening promises to include emerging directions, hybrid dance forms, and a delightful surprise or two, with works presented by five choreographers from the acclaimed UI Dance Department faculty and a premiere from award-winning artist Monica Bill Barnes.
Dance-media collaborations are a hot trend in the performing world, and the Hancher stage, with its front and rear projection capabilities, will light up with We're Not in Kansas Anymore, a joint project of choreographer Charlotte Adams and digital-media designer Daniel Fine. "The Division of Performing Arts has supplied amazing sets and props," says Adams, "and offers the fly system for additional production surprises."
Contemporary ballet works Ask the Beasts by Kristan Marrs and Interior Solitude by Eloy Barragan represent the trend among ballet companies to combine the vocabulary of modern dance with ballet.
Armando Duarte brings the music and movement styles of Northeastern Brazil to modern dance vocabulary in Cancoes de Zunido e Rosas (Songs of Whistling and Roses), and Jennifer Kayle explores environmental issues with large pieces of AstroTurf that act as moving sculptures in her work …at the receding edges.
Guest choreographer Monica Bill Barnes, the NYC artist who brought her "after-work dance party" to Hancher earlier this fall, has made it her mission to "bring dance where it does not belong." While the setting for Barnes's premiere of Leave it on the field is a traditional one, Adams says that "the piece brings an unusual take on dance that is often not thought of belonging to concert dance." She describes it as offering "a whole new palette of recognizable movement, popular music, and humor in a challenging athletic work for 14 women."
The UI Department of Dance ranks among the top dance programs in the country, and faculty honors include American College Dance Association awards and National Endowment for the Arts grants. Top-notch staging and costumes for the gala are created by professionals from the Division of Performing Arts.
Prior to both performances, the audience is invited to attend a preshow talk at 7 p.m. in the Stanley Café at Hancher. UI Dance faculty and students will discuss their creative process and some of the works on the roster. Tickets are available at the Hancher Box Office, (319) 335-1160 or 1 (800) HANCHER, or at hancher.uiowa.edu/tickets.
Scheduled Performances
We're Not in Kansas Anymore
Choreography by Charlotte Adams, in collaboration with the dancers
Digital media design by Daniel Fine
We're Not in Kansas Anymore, a collaboration by choreographer Charlotte Adams and digital media designer Daniel Fine, creates a collision of digital worlds and live dancers that leaves you wondering what is really real? The enchanting set opens doors to surprising changes that will take the audience on an adventure with five daring dancers.
Ask the Beasts
Choreography by Kristin Marrs
Canções de Zunido e Rosas (Songs of Whistling & Roses)
Choreography by Armando Duarte
Canções de Zunido e Rosas (Songs of Whistling & Roses) is a newly edited version of a previous work that premiered in 2010. Composed with a collage of songs from Northeastern Brazil, the choreography explores the multi-faceted rhythms and lyrics presented in the soundtrack.
…at the receding edges (2006)
Choreography by Jennifer Kale

First staged in 2006/2007, …at the receding edges meditates on the questions and contradictions that arose from images of wild horses escaping a flooded island in the Netherlands and of an underground home decorated with AstroTurf and painted outdoor scenes. It creates a metaphoric space where we think about our troubled relationship to the natural world, perhaps remembering that we and it are one and the same.
Interior Solitude
Choreography by Eloy Barragán, in collaboration with the dancers
Sculptor Camille Claudel (1864–1934), muse of August Rodin, possessed an incredible gift for transforming stone and metal into movement and emotion. Camille's sculpted movement is part of the inspiration for Interior Solitude, in which Barragán hopes to create awareness of racial, cultural, religious, and gender inequality.
Leave it on the field
Leave it on the field is an athletic tour de force that captures the unique style and humor inherent in Monica Bill Barnes' work. In this new work created for the University of Iowa dancers, odd female characters tough it out in a dance that delights in physicality, pop music, and humor.