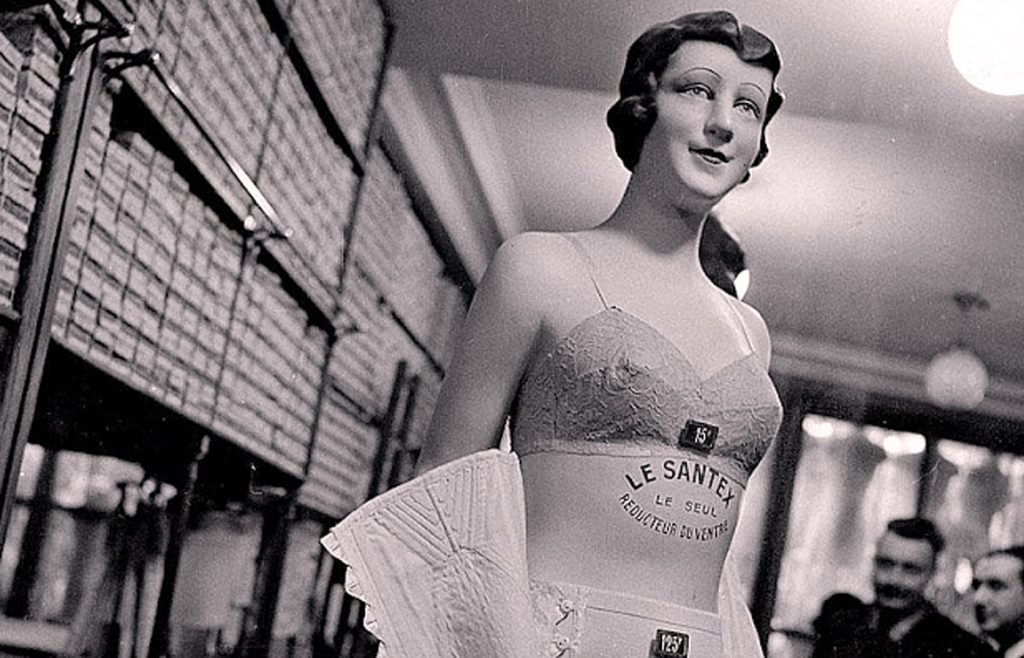 "And the pale mannequins wait inside dark shops,
undressed, and ready for the dreams of men." —Donald Justice
Before undressing his slender mannequins, Mr. Schaeffer
thoughtfully taped brown Kraft paper halfway up
the insides of trembling plate-glass windows.
He lived over the clothing store with his elderly mother.
Hot summer evenings I'd see her riding her rocker,
monitoring Main Street through an open window.
Due to my sports injury, I helped Mr. Schaeffer arrange his displays,
dressing and undressing what he called his "big Kens and Barbies,"
giving them funny names and dialogue like in a play at school.
Laughing teammates tapped on the big windows, but I didn't mind.
Making posters I played with color, line, and shape creating
unity, variety, balance, eye movement and contrast…
Popular fashions and new styles replaced touchdowns and jump shots,
or zone versus man-to-man defenses. I gripped pencils, pens
and brushes instead of footballs and basketballs.
One Saturday James Schaeffer asked me what I was reading for
English class. "Of Human Bondage, by Maugham," I said, as we
unzipped and stripped a slinky pink dress from a firm female form.
"Why that one?" "Saw it in the library, liked the title I guess."
"What do you think of it so far?" Jim smiled, working slowly.
"It's okay. I like Phillip Carey. He limps like me."
Jim expertly removed the lacy silky pink brassiere. "I have
novels upstairs by Sinclair Lewis, an American writer you
might like. 'Main Street' is a good place to start. "He won
the Nobel Prize." "Wow!" I grinned. "He must be great!"
"He is, or was. I'll go up and get it when we take our break."
R. Steve Benson was lucky to have studied poetry with the late farmer-poet James Hearst at the University of Northern Iowa. Married with three grown children, Steve is a retired art teacher. He has had 20 poems in the Christian Science Monitor. His poems have appeared in many literary journals, including the North American Review, Briar Cliff Review, Weber: The Contemporary West, South Carolina Review, Pirene's Fountain, and The Minnesota Review.  He and his brother Barry have published two collections of their poetry: Schooled Lives—Poems By Two Brothers, and Poems By The Skunk River Valley Boys.