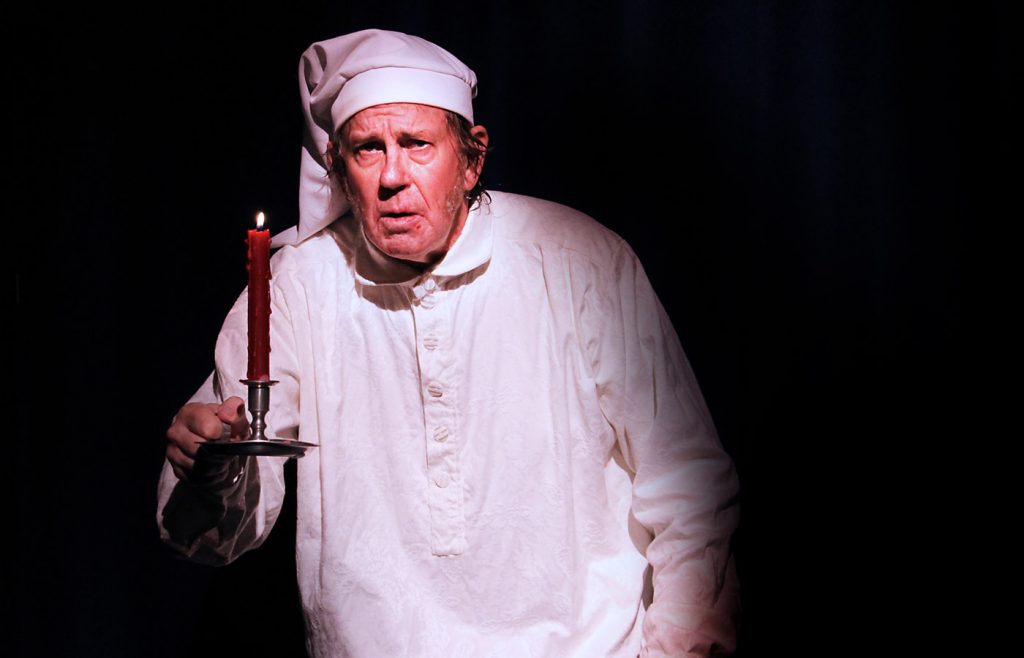 If the post-Thanksgiving buying frenzy has you pining for simpler pleasures, you'll want to head to bucolic Amana for the Old Creamery Theatre's production of A Christmas Carol.
The tale that Charles Dickens wrote in 1838 remains relevant today. It's Christmas Eve in Victorian England, and mean old Ebenezer Scrooge looks forward to a solitary evening counting his cash. "The cold within him froze his old features, nipped his pointed nose, shrivelled his cheek, stiffened his gait," wrote Dickens of the grumpy codger. But an unexpected visit from a ghostly apparition shocks Scrooge out of his miserly existence and shows him the feast of love he's missing.
Old Creamery Theatre presents A Christmas Carol five days a week in the Amana Colonies through December 17. Shows are on Wednesdays, Thursdays, and Sundays at 2:00 p.m. and on Fridays and Saturdays at 7:30 p.m.
In this original retelling of the story, a small, imaginative cast brings Scrooge and his ghostly visitors to life. Witness Scrooge's transformation from a stingy miser to a man who generously celebrates the spirit of the season all year long. The cast includes David Q. Combs, Steven Labine, Jeff March, Jackie McCall, and Marquetta Senters, and the production is directed by Sean McCall.
Ticket prices range from $31 to $12, or $10 for children 18 and under. A Christmas Carol is rated G. Call the box office for tickets and information, (319) 622-6262 or visit Old Creamery Theatre.
The Old Creamery Theatre is a nonprofit professional theater founded in 1971 in Garrison, Iowa.