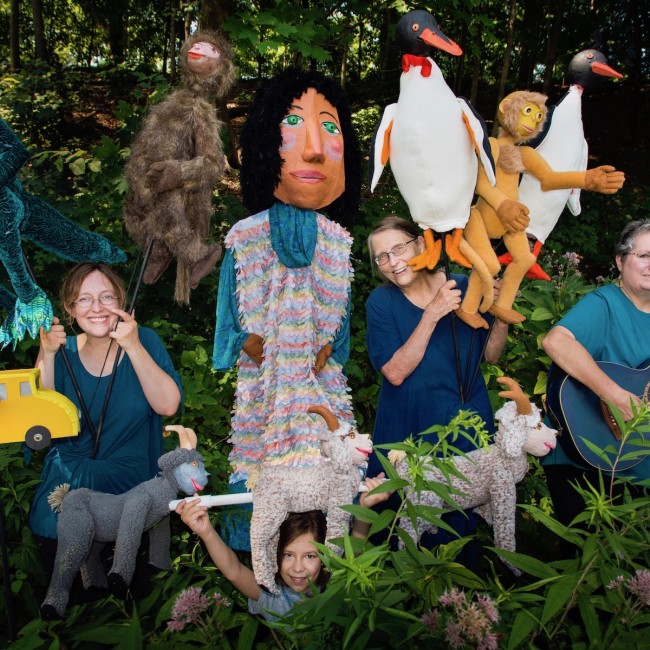 EULENSPIEGEL PUPPETS, West Liberty. Owlglass.org. Virtual Shows & Workshops. Browse filmed puppet shows, virtual hands-on puppet-crafting workshops, and the occasional livestream hosted by puppeteer Monica Leo. Ongoing.
MIRRORBOX THEATRE, CSPS Hall, Cedar Rapids. MirrorboxTheatre.com. Out the Box Weekly Reading Series (Virtual). Mirrorbox Theatre's online performance series features fresh, contemporary plays, streamed live to a limited audience. RSVP required. Various Fridays at 8 p.m. Free.
THEATER CEDAR RAPIDS, 102 3rd St. SE, TheaterCR.org. Divas 2021: An Evening with Janelle and Lynne (Virtual). Janelle Lauer, the explosive rhythm and blues powerhouse, with Lynne Rothrock, a balance of elegant vocals and saucy stage banter. With Marita May O'Connell on vocals/violin and top area musicians. Jan. 22–30.
DES MOINES PERFORMING ARTS, 221 Walnut St., DesMoinesPerformingArts.org. Civic Center Tours. Ever wonder where "The Phantom" warms up his vocal chords before "The Music of the Night?" What is the story behind the "ghost light?" And what does it feel like to be a musician performing from the pit? Book a behind-the-scenes tour. Through May, 2021.
DES MOINES PLAYHOUSE, 831 42nd St., Des Moines. DMPlayhouse.com. (515) 277-6261. Leaving Iowa. This father-and-son road-trip story vascillates between Don's quest to find a proper resting place for his father's ashes, and his memories of torturous but hilarious family vacations. Feb. 19–March 21. Livestream option on Feb. 19. Stuart Little. When his bird friend Margalo disappears, this heroic mouse travels in search of her. Feb. 26–March 14.
CIRCA '21 DINNER PLAYHOUSE, Rock Island, IL. Circa21.com. Big Rock Candy Mountain (Virtual). A merry band of misfits sneak into a theatre hoping to stay out of trouble, but instead find themselves front and center in this story about the power of music and seconds chances. Available for streaming starting Feb. 6.
FILMSCENE at the Chauncey, College & Gilbert St., Iowa City. (319) 358-2555. ICFilmScene.org. Livestream. FilmScene is offering select new-release titles to stream at home. Movie Party. Enjoy a private screening at the Chauncey with a film of your choice and the theater space that suits your group size. Curbside Concessions. Pick up a weekend supply of popcorn, candy, and soda, beer, or wine. Order by Fri. 3 p.m.

DES MOINES PLAYHOUSE, DMPlayhouse.com. (515) 277-6261.

CITY CIRCLE, Coralville Center for the Performing Arts. (319) 248-9370. CoralvilleArts.org.

THEATER CEDAR RAPIDS, Cedar Rapids. Theater.org.

UNIVERSITY OF IOWA THEATER, online via YouTube. com.

GIVING TREE THEATER, Marion. (319) 213-7956. GivingTreeTheater.com. It's A Wonderful Life Live Radio Play. Dec. 10-20.
RIVERSIDE THEATRE, Iowa City. RiversideTheatre.org. (319) 338-7672.
CSPS & DEAD COAST PRESENTS, Cedar Rapids. CSPSHall.org.
CIRCA 21 PLAYHOUSE, Rock Island, IL. Closed for the season.

OLD CREAMERY THEATRE Drive-In Live, Price Creek Event Center, Amana. (319) 622-6262. OldCreamery.com.
GIVING TREE THEATER, Marion. (319) 213-7956.
UNIVERSITY OF IOWA THEATRE, David Thayer, Theatre Building, Iowa City. (319) 335-1160.
IOWA STAGE THEATER COMPANY, Salisbury House & Gardens, Shakespeare on the Lawn, Des Moines. SalisburyHouse.org.
REVIVAL THEATRE COMPANY & Coe College, Dows Theatre, 1220 First Ave. NE, Cedar Rapids. RevivalTheatreCompany.com.
WASHINGTON COMMUNITY THEATER, 2227 250th St., Washington. (319) 653-5175. WCTheater.com.
IOWA CITY COMMUNITY THEATRE, Johnson Co. Fairgrounds, Iowa City. (319) 338-0443.
FAIRFIELD AREA COMMUNITY THEATER, Walton Club, 2265 Walton Lake Road, Fairfield. Tickets at Kim's Kottage (641) 469-5467.
DES MOINES YOUNG ARTISTS THEATRE, 4801 Franklin Ave., Des Moines. (515) 218-8016.
DREAMWELL THEATRE, Public Space One, 120 N. Dubuque St., Iowa City. Dreamwell.com.
WATERLOO COMMUNITY PLAYHOUSE, 224 Commercial St., Waterloo. (319) 235-0367.
DES MOINES CIVIC CENTER, 221 E. Walnut St., Des Moines. (515) 246-2300.
BRUCEMORE MANSION, Peggy Boyle Whitworth Amphitheater, Cedar Rapids. Brucemore.org. (319) 362-7375.
DES MOINES METRO OPERA, Blank Performing Arts Center, 513 North D St., Indianola. DesMoinesMetroOpera.org.
CITY CIRCLE ACTING COMPANY, Coralville Center for the Performing Arts, 1301 5th St., Coralville.
CEDAR FALLS COMMUNITY THEATER, Oster Regent, 103 Main St., Cedar Falls. (319) 277-5283.
PYRAMID THEATRE COMPANY, Stoner Studio Theater, 221 Walnut St., Des Moines. (515) 243-1109.
THE PLAYERS WORKSHOP, Burlington. (319) 753-6623.
ADLER THEATRE, 136 E. 3rd St., Davenport. (563) 326-8500.
IOWA STAGE THEATRE CO., Kum & Go Theater, Des Moines. IowaStage.org.