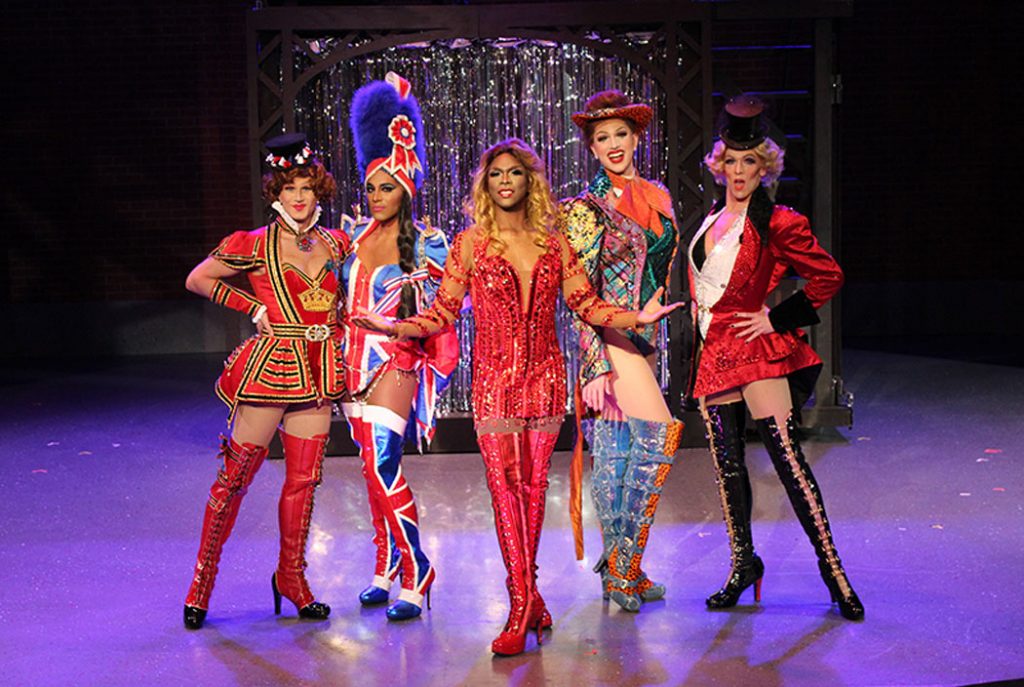 RIVERSIDE THEATRE, Lower City Park, Iowa City. (319) 338-7672. Stages. Longtime friends and theater artists David Lee Nelson and Adam Knight created this funny, moving, unflinching show about David's cancer diagnosis and treatment. "An incredibly moving examination of mortality." —Charleston City Paper. Feb. 28–March 15.
CIRCA 21 PLAYHOUSE, Rock Island, IL. Kinky Boots. A fabulous drag queen in need of some sturdy stilettos, Lola turns out to be the one person who can help Charlie become the man that he is meant to be. Winner of six Tony Awards, with music by Cyndi Lauper. Through March 15.
GIVING TREE THEATER, Marion. (319) 213-7956. 26 Pebbles. The 26 innocent deaths at Sandy Hook Elementary School, like pebbles thrown into a pond, created ripples that were felt far beyond the initial rings. This story was inspired by interviews with the Newtown community members. March 6–22. The Curious Savage. This high comedy about an aging wealthy widow, whose children place her in a sanitorium, celebrates the neglected virtues of kindness that have not been entirely lost in a world motivated by greed and dishonesty. April 3–13.
THEATRE CEDAR RAPIDS, 102 Third St. SE, Cedar Rapids. (319) 366-8591. The Humans. The Blake family gathers for Thanksgiving in New York City. As things start to go bump in the night, the family navigates the challenges and fears of love, illness, economy, and secrets untold. 2016 Tony winner and Pulitzer Prize finalist. March 20–April 5. The Skin of Our Teeth. Thornton Wilder's Pulitzer Prize-winning, fantastical masterpiece is a hopeful tribute to the human spirit. Join the Antrobus family, who has survived through eons of misfortune with their optimism—and pet dinosaurs—intact. April 3–19.
DES MOINES PERFORMING ARTS, Stoner & Temple Theaters, Des Moines. (515) 288-4700.  My Fair Lady. Boasting such classic songs as "I Could Have Danced All Night," "The Rain in Spain," and "Wouldn't it Be Loverly," this is the story of Eliza Doolittle, a young Cockney flower seller, and Henry Higgins, a linguistics professor who is determined to transform her into his idea of a "proper lady." But who is really being transformed? March 17–22.
DES MOINES COMMUNITY PLAYHOUSE, Des Moines. (515) 277-6261. Tinkerbell. A multicolored tale of Tinker Bell meeting Peter Pan and their triumph at the battle for Neverland. Through March 8. Singin' in the Rain. March 13–April 5.
UNIVERSITY OF IOWA THEATRE, David Thayer, Theatre Building, Iowa City. (319) 335-1160. Three Sisters. In a country house at the end of the 19th century, three sisters long to return to the Moscow of their youth. Meanwhile, their sister-in-law wages domestic war, soldiers in a battalion stationed in town long for the sisters, and across Russia, a cataclysm is brewing. Sarah Ruhl brings fresh urgency to Chekhov's tragicomic masterpiece in her lyrical new translation. March 5–14.
IOWA STAGE THEATER COMPANY, Salisbury House & Gardens, Shakespeare on the Lawn, Des Moines. SalisburyHouse.org. The Cake. A young woman returns to her North Carolina hometown to ask her deceased mother's best friend to bake her wedding cake. But she's marrying a woman, and the friend refuses. Things, including a baking reality TV show and dormant marriage, are about to get interesting. March 27–April 5.
REVIVAL THEATRE COMPANY & Coe College, Dows Theatre, 1220 First Ave. NE, Cedar Rapids. RevivalTheatreCompany.com. End of the Rainbow. A savagely funny musical drama featuring a glorious ensemble of Judy Garland hits and infused with the glamour and the melancholy of stardom. Iowa premiere. March 26–29.
WASHINGTON COMMUNITY THEATER, 2227 250th St., Washington. (319) 653-5175. WCTheater.com. Harvey. Elwood P. Dowd insists on including his friend Harvey in all of his sister Veta's social gatherings. Trouble is, Harvey is an imaginary six-and-a-half-foot-tall rabbit. March 13–22.
OLD CREAMERY THEATRE, Price Creek Event Center, Amana. (319) 622-6262. oldcreamery.com. Buddy—The Buddy Holly Story. The heart warming tale of a small town all-American boy is told with care, detail, and humor—with a finale that explodes into a celebration of youth and lust for life in a re-creation of his last concert at Clear Lake. March 12 to April 5.
IOWA CITY COMMUNITY THEATRE, Johnson Co. Fairgrounds, Iowa City. (319) 338-0443. Company. Sondheim's Company returns to the ICCT stage after a twenty-year hiatus. Bobby is turning 35 years old, and as his married friends gather around him, we see him weave his way through a series of relationships on his way to feeling alive and content. Groundbreaking in its themes back in the 1970s, director Rachel Howell looks to buck the norms and bend our expectations of what relationships are and can be. March 6–15. The Laramie Project. Drawing from hundreds of interviews of the inhabitants of Laramie, Wyoming, as well as journal entries and news reports, Kaufman and Co. tell the story of Matthew Shepherd's murder, and the reaction the hate crime received from Americans far and wide. April 17–26.
FAIRFIELD AREA COMMUNITY THEATER, Walton Club, 2265 Walton Lake Road, Fairfield. Tickets at Kim's Kottage (641) 469-5467.
DES MOINES YOUNG ARTISTS THEATRE, 4801 Franklin Ave., Des Moines. (515) 218-8016.
MIRRORBOX THEATRE, CSPS Hall, Cedar Rapids. LegionArts.org.
IOWA CITY COMMUNITY THEATRE, Johnson Co. Fairgrounds, Iowa City. (319) 338-0443.
DREAMWELL THEATRE, Public Space One, 120 N. Dubuque St., Iowa City. Dreamwell.com.
WATERLOO COMMUNITY PLAYHOUSE, 224 Commercial St., Waterloo. (319) 235-0367.
DES MOINES CIVIC CENTER, 221 E. Walnut St., Des Moines. (515) 246-2300.
BRUCEMORE MANSION, Peggy Boyle Whitworth Amphitheater, Cedar Rapids. Brucemore.org. (319) 362-7375.
DES MOINES METRO OPERA, Blank Performing Arts Center, 513 North D St., Indianola. DesMoinesMetroOpera.org.
CITY CIRCLE ACTING COMPANY, Coralville Center for the Performing Arts, 1301 5th St., Coralville.
CEDAR FALLS COMMUNITY THEATER, Oster Regent, 103 Main St., Cedar Falls. (319) 277-5283.
PYRAMID THEATRE COMPANY, Stoner Studio Theater, 221 Walnut St., Des Moines. (515) 243-1109.
THE PLAYERS WORKSHOP, Burlington. (319) 753-6623.
ADLER THEATRE, 136 E. 3rd St., Davenport. (563) 326-8500.
IOWA STAGE THEATRE CO., Kum & Go Theater, Des Moines. IowaStage.org.