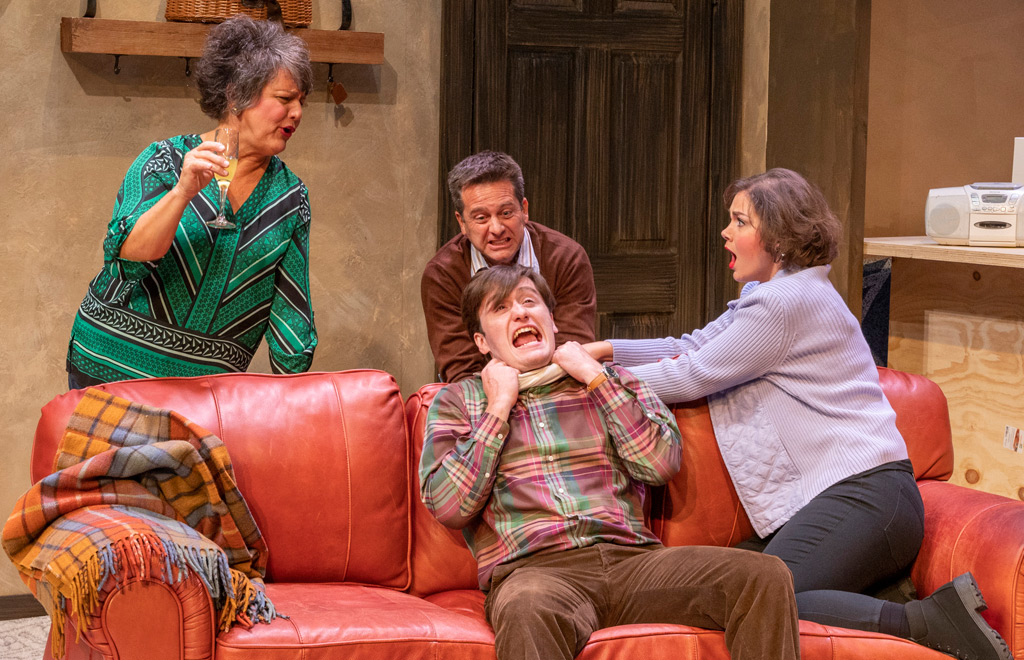 THEATRE CEDAR RAPIDS, 102 Third St. SE, Cedar Rapids. (319) 366-8591. St. Nicholas. TCR and Brucemore have partnered to bring you an outdoor theater experience. Bring your blankets, snacks and hot cider (or wine) and enjoy your own socially distanced table in Brucemore's courtyard as area actor Matthew James (Dracula, Shakespeare in Love) performs this intimate solo chiller about an Irish theatre critic whose desires lead him to strike an irreversible bargain with a band of modern-day vampires. Oct. 8–17.
DES MOINES COMMUNITY PLAYHOUSE Drive-In Theater, 831 42nd St., Des Moines. (515) 277-6261. Operating at 35% capacity, livestream viewing also available. Weekend Comedy. A middle-aged couple and a young couple accidentally rent the same cottage for a three-day weekend. Through Nov. 8. I and You. A seemingly mundane poetry project brings two unlikely young students together, unlocking a connection and a deeper mystery. Through Nov. 15.
MIRRORBOX THEATRE, CSPS Hall, Cedar Rapids. MirrorboxTheatre.com. Out the Box Weekly Reading Series. Mirrorbox Theatre's online performance series features fresh, contemporary plays, streamed live to a limited audience. RSVP required. Fridays at 8 p.m. Free.
GIVING TREE THEATER, 752 10th St., Marion. (319) 213-7956. Girl Talk. Seven funny and often poignant scenes provide a fast moving comedy about women's friendships. Oct. 9–18.
RIVERSIDE THEATRE, Iowa City. RiversideTheatre.org. (319) 338-7672.  No Child (Virtual). A tour-de-force journey through the New York City public education system. One actor, Joy Vandervort-Cobb, plays both teacher and students in a classroom where the future is at stake. Co-production with PURE Theatre in Charleston, SC. October 8–18.  Grounded (Virtual). A fighter pilot becomes pregnant and is forced to give up her wings. When she is reassigned to piloting a drone for a seemingly endless war, her sense of self—and reality—comes into question. A play about duty, identity, and motherhood. October 16–25.
CSPS & DEAD COAST PRESENTS, Cedar Rapids. CSPSHall.org.
CIRCA 21 PLAYHOUSE, Rock Island, IL.
OLD CREAMERY THEATRE Drive-In Live, Price Creek Event Center, Amana. (319) 622-6262. OldCreamery.com.
GIVING TREE THEATER, Marion. (319) 213-7956.
DES MOINES PERFORMING ARTS, Stoner & Temple Theaters, Des Moines. (515) 288-4700.
UNIVERSITY OF IOWA THEATRE, David Thayer, Theatre Building, Iowa City. (319) 335-1160.
IOWA STAGE THEATER COMPANY, Salisbury House & Gardens, Shakespeare on the Lawn, Des Moines. SalisburyHouse.org.
REVIVAL THEATRE COMPANY & Coe College, Dows Theatre, 1220 First Ave. NE, Cedar Rapids. RevivalTheatreCompany.com.
WASHINGTON COMMUNITY THEATER, 2227 250th St., Washington. (319) 653-5175. WCTheater.com.
IOWA CITY COMMUNITY THEATRE, Johnson Co. Fairgrounds, Iowa City. (319) 338-0443.
FAIRFIELD AREA COMMUNITY THEATER, Walton Club, 2265 Walton Lake Road, Fairfield. Tickets at Kim's Kottage (641) 469-5467.
DES MOINES YOUNG ARTISTS THEATRE, 4801 Franklin Ave., Des Moines. (515) 218-8016.
MIRRORBOX THEATRE, CSPS Hall, Cedar Rapids. LegionArts.org.
IOWA CITY COMMUNITY THEATRE, Johnson Co. Fairgrounds, Iowa City. (319) 338-0443.
DREAMWELL THEATRE, Public Space One, 120 N. Dubuque St., Iowa City. Dreamwell.com.
WATERLOO COMMUNITY PLAYHOUSE, 224 Commercial St., Waterloo. (319) 235-0367.
DES MOINES CIVIC CENTER, 221 E. Walnut St., Des Moines. (515) 246-2300.
BRUCEMORE MANSION, Peggy Boyle Whitworth Amphitheater, Cedar Rapids. Brucemore.org. (319) 362-7375.
DES MOINES METRO OPERA, Blank Performing Arts Center, 513 North D St., Indianola. DesMoinesMetroOpera.org.
CITY CIRCLE ACTING COMPANY, Coralville Center for the Performing Arts, 1301 5th St., Coralville.
CEDAR FALLS COMMUNITY THEATER, Oster Regent, 103 Main St., Cedar Falls. (319) 277-5283.
PYRAMID THEATRE COMPANY, Stoner Studio Theater, 221 Walnut St., Des Moines. (515) 243-1109.
THE PLAYERS WORKSHOP, Burlington. (319) 753-6623.
ADLER THEATRE, 136 E. 3rd St., Davenport. (563) 326-8500.
IOWA STAGE THEATRE CO., Kum & Go Theater, Des Moines. IowaStage.org.