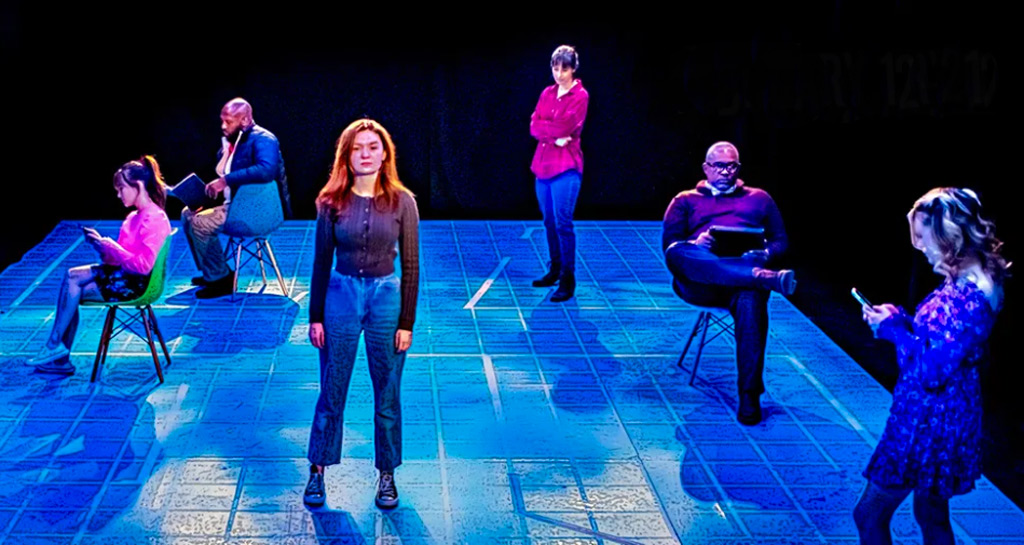 UNIVERSITY OF IOWA THEATRE, Iowa City. (319) 335-1160. Theatre.UIowa.edu. The People Before the Park (Virtual). Based on real events and people, this drama written by Keith Josef Adkins (pictured) follows a father and son forced out of their neighborhood to make way for Central Park. Streaming through April 4. Grant Wood Fellow Project. Outdoor production. April 22–30. Borderless: I'm Writing to You Today. Created by Ann Kreitman and the Pride Alliance Center, this environmental audio experience will lead you through campus in the footsteps of our queer ancestors. Available for digital download on Spotify and Apple Podcasts. April 1–30.
HANCHER, Iowa City. Hancher.u-iowa.edu. United We Swing: Jazz & American History. Join Jazz at Lincoln Center's Seton Hawkins for a free six-week online course picking up and expanding on the themes of Wynton Marsalis' The Democracy! Suite. The series covers the musical contributions of jazz greats like Billie Holiday, John Coltrane, Charlie Parker, Louis Armstrong, and Duke Ellington. Wednesdays at 7 p.m. through April 28. RSVP.
DES MOINES PLAYHOUSE, 831 42nd St., Des Moines. DMPlayhouse.com. (515) 277-6261.  DMPlayhouse.com. Live and livestream options. Some Enchanted Evening. Tribute to Rodgers & Hammerstein. April 9–May 9. Velveteen Rabbit. April 16–May 2.
RIVERSIDE THEATRE, Iowa City. RiversideTheatre.org. (319) 338-7672. Sonnets for an Old Century (Virtual). In a land of unimaginable distance, can stories forge connection? Can a life be encompassed in the space of a sonnet? A cast of 20 gives voice to the meaning of existence in Jose Rivera's riveting modern quiltwork drama. Streaming April 9–18.
ENGLERT THEATRE, Iowa City. Englert.org. Writers of Color Reading Series Podcast. This series aims to create a dedicated space for Iowa-based Black, Indigineous, and other writers of color to share their work, their personal history, and creative process. Anchor.fm/the-englert-theatre-wocrs.
EULENSPIEGEL PUPPETS, West Liberty. Owlglass.org. Virtual Shows & Workshops. Browse filmed puppet shows, virtual hands-on puppet-crafting workshops, and the occasional livestream hosted by puppeteer Monica Leo. Ongoing.
CIRCA '21 DINNER PLAYHOUSE, Rock Island, IL. Circa21.com. Limited capacity. The Church Basement Ladies in: You Smell Barn. Your favorite Minnesotan Lutheran gals are back and getting busy with life outside the kitchen. Through May 15.
MIRRORBOX THEATRE, CSPS Hall, Cedar Rapids. MirrorboxTheatre.com. Out the Box Weekly Reading Series (Virtual). Mirrorbox Theatre's online performance series features fresh, contemporary plays, streamed live to a limited audience. RSVP required. Various Fridays at 8 p.m. Free.
THEATER CEDAR RAPIDS, 102 Third St. SE, Cedar Rapids. TheatreCR.org. (319) 366-8591. Out of Bounds (Virtual). Created from conversations with real teens, parents, and teachers from the community, Out of Bounds explores the world of cyber-bullying and the complicated choices young people make when navigating the politics of friendship. Extended for streaming on-demand through April 30.
DES MOINES PERFORMING ARTS, 221 Walnut St., DesMoinesPerformingArts.org. Civic Center Tours. Ever wonder where "The Phantom" warms up his vocal chords before "The Music of the Night?" What is the story behind the "ghost light?" And what does it feel like to be a musician performing from the pit? Book a behind-the-scenes tour. Through May 2021.
GIVING TREE THEATER, Marion. (319) 213-7956. GivingTreeTheater.com. The Brothers Grimm Spectaculathon. Grimm fairy tales are turned on their heads in this fast-paced, rollicking ride as two narrators and several actors attempt to combine all 209 stories into one hilarious show. April 9–18.
FILMSCENE at the Chauncey, College & Gilbert St., Iowa City. (319) 358-2555. ICFilmScene.org. Livestream. FilmScene is offering select new-release titles to stream at home. Movie Party. Enjoy a private screening at the Chauncey with a film of your choice and the theater space that suits your group size. Curbside Concessions. Pick up a weekend supply of popcorn, candy, and soda, beer, or wine. Order by Fri. 3 p.m.
***
ADLER THEATRE, 136 E. 3rd St., Davenport. (563) 326-8500.
BRUCEMORE MANSION, Peggy Boyle Whitworth Amphitheater, Cedar Rapids. Brucemore.org. (319) 362-7375.
CEDAR FALLS COMMUNITY THEATER, Oster Regent, 103 Main St., Cedar Falls. (319) 277-5283.
CIRCA 21 PLAYHOUSE, Rock Island, IL. Closed for the season.

CITY CIRCLE, Coralville Center for the Performing Arts. (319) 248-9370. CoralvilleArts.org.
CSPS & DEAD COAST PRESENTS, Cedar Rapids. CSPSHall.org.
DES MOINES CIVIC CENTER, 221 E. Walnut St., Des Moines. (515) 246-2300.
DES MOINES METRO OPERA, Blank Performing Arts Center, 513 North D St., Indianola. DesMoinesMetroOpera.org.
DES MOINES YOUNG ARTISTS THEATRE, 4801 Franklin Ave., Des Moines. (515) 218-8016.
DREAMWELL THEATRE, Public Space One, 120 N. Dubuque St., Iowa City. Dreamwell.com.
FAIRFIELD AREA COMMUNITY THEATER, Walton Club, 2265 Walton Lake Road, Fairfield.
GIVING TREE THEATER, Marion. (319) 213-7956. GivingTreeTheater.com.
IOWA CITY COMMUNITY THEATRE, Johnson Co. Fairgrounds, Iowa City. (319) 338-0443.
IOWA STAGE THEATER COMPANY, Salisbury House & Gardens, Shakespeare on the Lawn, Des Moines. SalisburyHouse.org.
IOWA STAGE THEATRE CO., Kum & Go Theater, Des Moines. IowaStage.org.
OLD CREAMERY THEATRE Drive-In Live, Price Creek Event Center, Amana. (319) 622-6262. OldCreamery.com.
PYRAMID THEATRE COMPANY, Stoner Studio Theater, 221 Walnut St., Des Moines. (515) 243-1109.
THE PLAYERS WORKSHOP, Burlington. (319) 753-6623.
REVIVAL THEATRE COMPANY & Coe College, Dows Theatre, 1220 First Ave. NE, Cedar Rapids. RevivalTheatreCompany.com.
THEATER CEDAR RAPIDS, Cedar Rapids. Theater.org.
UNIVERSITY OF IOWA THEATRE, Iowa City. (319) 335-1160. Online via YouTube. com.
WASHINGTON COMMUNITY THEATER, 2227 250th St., Washington. (319) 653-5175. WCTheater.com.
WATERLOO COMMUNITY PLAYHOUSE, 224 Commercial St., Waterloo. (319) 235-0367.