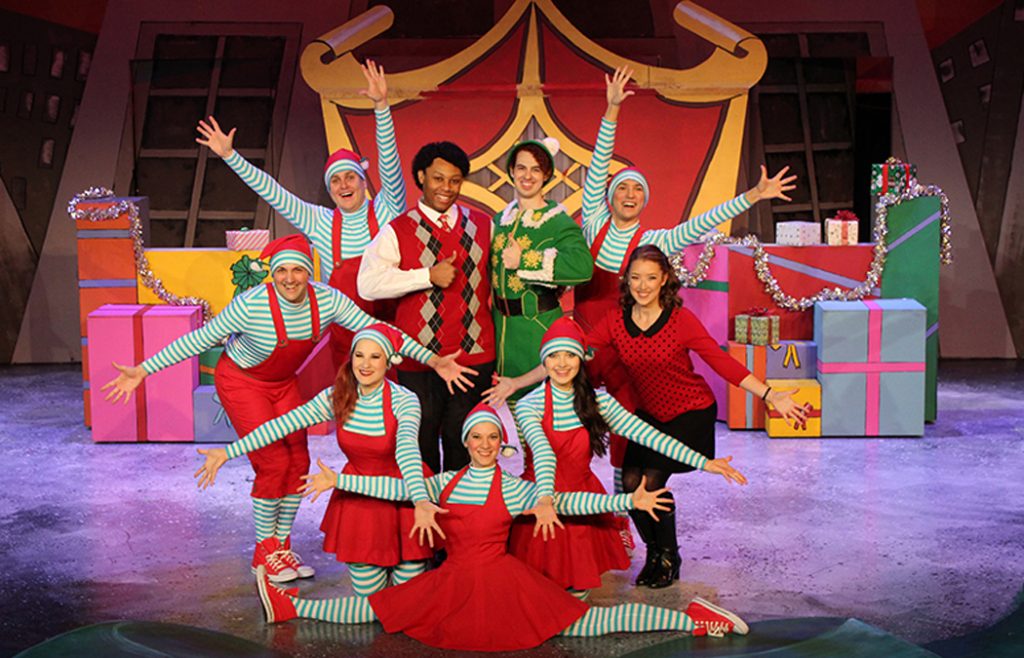 CIRCA 21 PLAYHOUSE, Rock Island, IL. Elf. Based on the beloved film, this hilarious fish-out-of-water comedy follows Buddy the elf on his quest to find his true identity. Nov. 8–Dec. 29.
OLD CREAMERY THEATRE, Price Creek Event Center, Amana. (319) 622-6262. The Unexpected Guest. Agatha Christie is at her best in this chilling whodunnit mystery. Oct. 24–Nov. 10. Not Another Christmas Letter! The Musical. A celebration of everything that drives us crazy about Christmas. Nov. 21–Dec. 15.
RIVERSIDE THEATRE, Lower City Park, Iowa City. (319) 338-7672. Feast. A world premiere by Megan Gogert, this brave new work navigates the intersection of politics and myth. Both theatrical and timely, this dinner party is thrillingly ancient and fiercely present. Oct. 25–Nov. 10. Straight White Men. Theatrical phenom Young Jean Lee's comic exploration of suburban patriarchy, handled with an anthropologist's curiosity and a surgeon's precision. Nov. 29–Dec. 15.
MIRRORBOX THEATRE, CSPS Hall, Cedar Rapids. LegionArts.org. Orange Julius. This Iowa premiere directed by Cavan Hallman is a poetic memory play told by a trans-masculine young person who's trying desperately to connect with their Viet Nam veteran father. The war is long over, but it quietly rages on at home. Nov. 14–16.
IOWA CITY COMMUNITY THEATRE, Johnson Co. Fairgrounds, Iowa City. (319) 338-0443.
GIVING TREE THEATER, Marion. (319) 213-7956. The Dixie Swim Club. Spanning a period of 33 years, five friends regularly meet up at a South Carolina beach cottage to catch up, laugh, and meddle in each other's lives. Through Nov. 17. The Best Christmas Pageant Ever follows the shenanigans of the Herdmans, "the worst kids in the history of the world." Nov. 29–Dec. 22.
THEATRE CEDAR RAPIDS, 102 Third St. SE, Cedar Rapids. (319) 366-8591. Matilda. Based on the Roald Dahl novel, this is the musical story of an extraordinary girl with an unbounded imagination—and a bit of magic—who proves you can overcome anything. Nov. 15–Dec. 15.
DREAMWELL THEATRE, Public Space One, 120 N. Dubuque St., Iowa City. Dreamwell.com. 4.48 Psychosis. Stark and moving, the play by Sarah Kane is a subjective interpretation of clinical depression. Its experimental structure allows for creative leeway as the ensemble finds their own connection to the text. Nov. 8–16.
DES MOINES COMMUNITY PLAYHOUSE, Des Moines. (515) 277-6261.
IOWA STAGE THEATER COMPANY, Salisbury House & Gardens, Shakespeare on the Lawn, Des Moines. SalisburyHouse.org.
UNIVERSITY OF IOWA THEATRE, David Thayer, Theatre Building, Iowa City. (319) 335-1160. Orlando. Sarah Ruhl's poetic dance of identity across centuries highlights the fluidity of attraction and the mutability of gender. This dreamy adaptation of the original 1928 novel is considered "the longest love letter in the history of English letters" from Virginia Woolf to Vita Sackville-West. Nov. 8–16.
REVIVAL THEATRE COMPANY & Coe College, Dows Theatre, 1220 First Ave. NE, Cedar Rapids. RevivalTheatreCompany.com. Oklahoma. Set after the turn of the century, the high-spirited rivalry between farmers and cowboys provides the backdrop for this Rogers & Hammerstein love story. Nov. 21–23.
WATERLOO COMMUNITY PLAYHOUSE, 224 Commercial St., Waterloo. (319) 235-0367.
DES MOINES CIVIC CENTER, 221 E. Walnut St., Des Moines. (515) 246-2300.
WASHINGTON COMMUNITY THEATER, 2227 250th St., Washington. (319) 653-5175. WCTheater.com.
BRUCEMORE MANSION, Peggy Boyle Whitworth Amphitheater, Cedar Rapids. Brucemore.org. (319) 362-7375.
DES MOINES METRO OPERA, Blank Performing Arts Center, 513 North D St., Indianola. DesMoinesMetroOpera.org.
CITY CIRCLE ACTING COMPANY, Coralville Center for the Performing Arts, 1301 5th St., Coralville.
DES MOINES PERFORMING ARTS, Stoner & Temple Theaters, Des Moines. (515) 288-4700. White Christmas. The Willis Broadway Series presents Irving Berlin's musical classic in a lavish new production. Nov. 19–24. Pat Hazell's Permanent Record. From the creator of The Wonder Bread Years and My Funny Valentine comes a one-man show that reveals hard evidence of a misspent youth. Dec. 3–12.
CEDAR FALLS COMMUNITY THEATER, Oster Regent, 103 Main St., Cedar Falls. (319) 277-5283.
PYRAMID THEATRE COMPANY, Stoner Studio Theater, 221 Walnut St., Des Moines. (515) 243-1109.
THE PLAYERS WORKSHOP, Burlington. (319) 753-6623.
ADLER THEATRE, 136 E. 3rd St., Davenport. (563) 326-8500.
IOWA STAGE THEATRE CO., Kum & Go Theater, Des Moines. IowaStage.org.