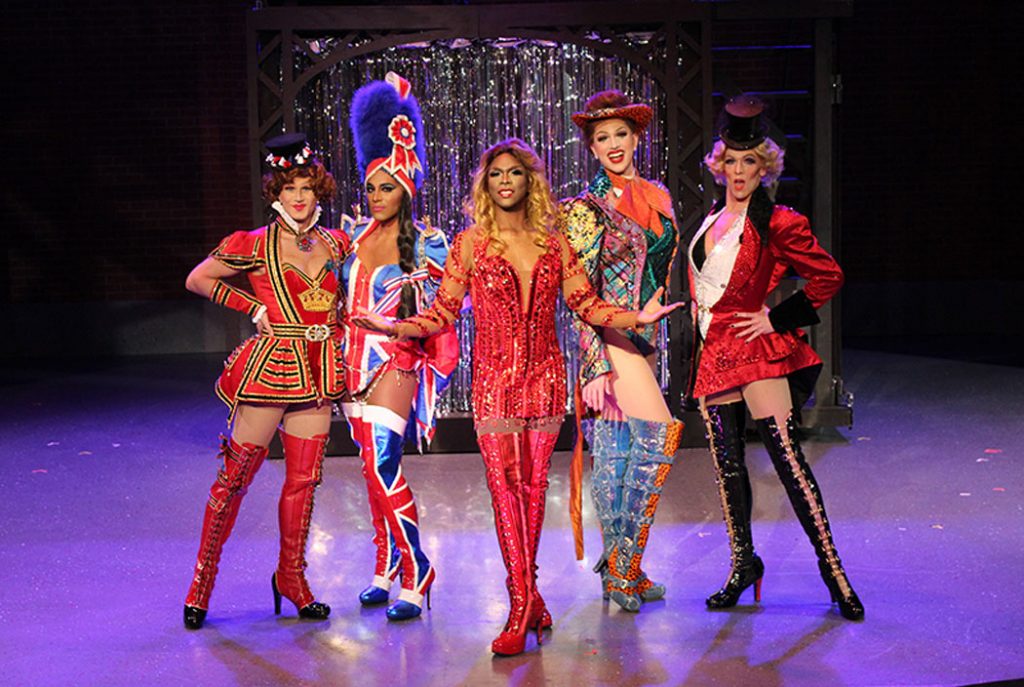 RIVERSIDE THEATRE, Lower City Park, Iowa City. (319) 338-7672. The Agitators.This play tells of the enduring, tempestuous friendship of Susan B. Anthony and Frederick Douglass. Beginning with the young abolitionists when they met in the 1840s, this story spans their 45-year friendship, from Rochester to the highest halls of government. January 24–Feb. 16.
CIRCA 21 PLAYHOUSE, Rock Island, IL. Kinky Boots. The award-winning comedy is filled with elaborate costumes and exhilarating choreography. Through March 14.
OLD CREAMERY THEATRE, Price Creek Event Center, Amana. (319) 622-6262.
MIRRORBOX THEATRE, CSPS Hall, Cedar Rapids. LegionArts.org.
IOWA CITY COMMUNITY THEATRE, Johnson Co. Fairgrounds, Iowa City. (319) 338-0443.
GIVING TREE THEATER, Marion. (319) 213-7956.
THEATRE CEDAR RAPIDS, 102 Third St. SE, Cedar Rapids. (319) 366-8591.
DES MOINES PERFORMING ARTS, Stoner & Temple Theaters, Des Moines. (515) 288-4700. Jesus Christ Superstar. A reinvented production with music and lyrics by Emmy, Grammy, Oscar, and Tony winners Andrew Lloyd Webber and Tim Rice. Jesus Christ Superstar is set against the backdrop of an extraordinary series of events during the final weeks in the life of Jesus Christ as seen through the eyes of Judas. January 14–19. Little Black Dress. The fearlessly funny ladies'-night-out musical follows the story of Dee and her best friend Mandy experiencing life through their little black dresses—from first job interview, first date, first awkward sexual experience, second awkward sexual experience, and more. Come From Away. This New York Times Critics' Pick takes you into the heart of the remarkable true story of 7,000 stranded passengers and the small town in Newfoundland that welcomed them. Jan. 28–Feb. 2.
DES MOINES COMMUNITY PLAYHOUSE, Des Moines. (515) 277-6261. James and the Giant Peach. A magical peach, an imprisoned boy, and giant talking insects star in this fun, creepy crawly musical. Jan. 3–19. The Diary of Anne Frank. Wendy Kesselman's adaptation draws from previously unpublished parts of Anne Frank's diary. Jan. 24–Feb. 9.
IOWA STAGE THEATER COMPANY, Salisbury House & Gardens, Shakespeare on the Lawn, Des Moines. SalisburyHouse.org. A Christmas Carol. A new production tells the timeless tale of Scrooge's ghostly visitations and Yuletide change of heart. Dec. 13–22.
UNIVERSITY OF IOWA THEATRE, David Thayer, Theatre Building, Iowa City. (319) 335-1160. Hit the Wall. A diverse group of queer outcasts gathers at the Stonewall Inn in NYC. When the police show up for a routine raid, all are thrust into the frontlines of history. With an original rock 'n' roll score, emotional poetic language, and gritty choreography, Hit the Wall pays homage to the revolutionaries who came together 50 years ago to fight for their freedom. January 31–February 8.
REVIVAL THEATRE COMPANY & Coe College, Dows Theatre, 1220 First Ave. NE, Cedar Rapids. RevivalTheatreCompany.com.
DREAMWELL THEATRE, Public Space One, 120 N. Dubuque St., Iowa City. Dreamwell.com.
WATERLOO COMMUNITY PLAYHOUSE, 224 Commercial St., Waterloo. (319) 235-0367.
DES MOINES CIVIC CENTER, 221 E. Walnut St., Des Moines. (515) 246-2300.
WASHINGTON COMMUNITY THEATER, 2227 250th St., Washington. (319) 653-5175. WCTheater.com.
BRUCEMORE MANSION, Peggy Boyle Whitworth Amphitheater, Cedar Rapids. Brucemore.org. (319) 362-7375.
DES MOINES METRO OPERA, Blank Performing Arts Center, 513 North D St., Indianola. DesMoinesMetroOpera.org.
CITY CIRCLE ACTING COMPANY, Coralville Center for the Performing Arts, 1301 5th St., Coralville.
CEDAR FALLS COMMUNITY THEATER, Oster Regent, 103 Main St., Cedar Falls. (319) 277-5283.
PYRAMID THEATRE COMPANY, Stoner Studio Theater, 221 Walnut St., Des Moines. (515) 243-1109.
THE PLAYERS WORKSHOP, Burlington. (319) 753-6623.
ADLER THEATRE, 136 E. 3rd St., Davenport. (563) 326-8500.
IOWA STAGE THEATRE CO., Kum & Go Theater, Des Moines. IowaStage.org.