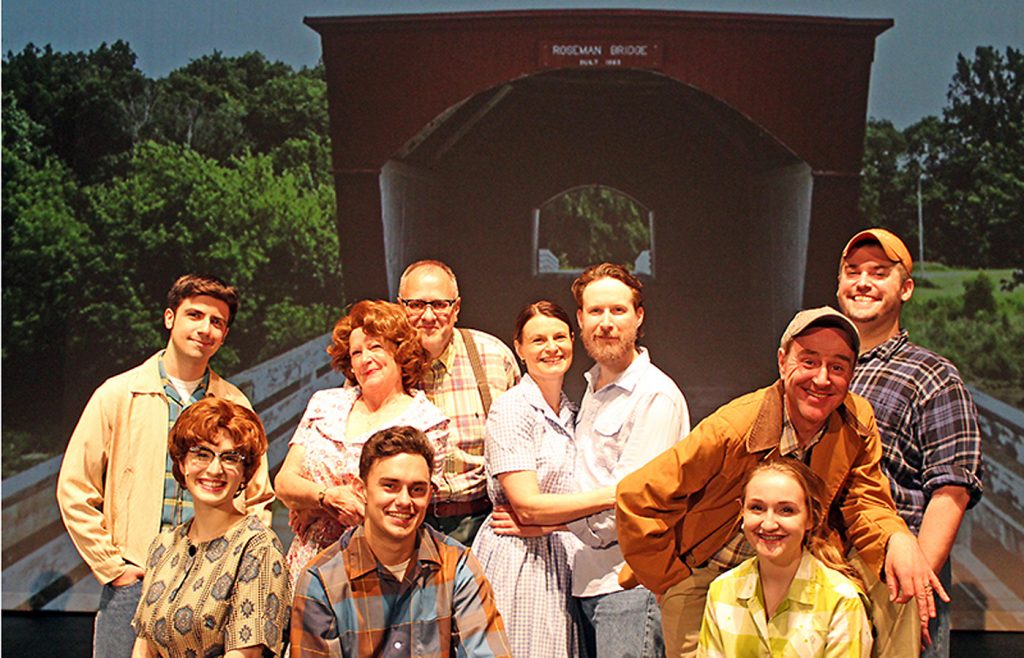 CIRCA 21 PLAYHOUSE, Rock Island, IL. Bridges of Madison County. Based on the best-selling novel, The Bridges of Madison County captures the lyrical expanse of America's heartland along with the yearning entangled in the eternal question, "What if…?" Through July 14. Mamma Mia! The "ABBA-solutely fabulous" romantic-comedy musical. July 20–Sept. 15.
OLD CREAMERY THEATRE, Price Creek Event Center, Amana. (319) 622-6262. Greater Tuna. Turn the dial and tune in to the local radio station as two actors portray all of the inhabitants of this eclectic Texas town—where the Lions Club is too liberal and Patsy Cline never dies! July 19–29. The Tin Woman. By Sean Grennan. When Joy receives the unexpected gift of a new heart, she searches for meaning in her life and reminds us all of the importance of listening to what's inside of you. Aug. 2–26.
DES MOINES METRO OPERA, Blank Performing Arts Center, 513 North D St., Indianola. DesMoinesMetroOpera.org. Rusalka. Based on a familiar fairy tale, Rusalka features a beautiful water nymph who falls in love with a human prince and sacrifices everything to be a part of his life. Dvořák juxtaposes the mortal and the mythical with beautiful folk melodies and luminous arias. Sara Gartland returns to sing the title role. June 22–July 14. Die Fledermaus. J. Strauss's beloved operetta waltzes right into your heart with familiar melodies, witty repartee, and delightful charm. The cunning Dr. Falke decides to play a joke on his good friend Eisenstein. As his scheme unfolds, subplots pile up, eventually converging at an extravagant masquerade ball hosted by a Russian prince. Deceptions and disguises among friends and lovers give way to affection, laughter, and champagne. June 23–July 15. Flight. Eight strangers find themselves stuck overnight together in an airport due to a sudden storm. Whether seeking to rekindle a marriage on the rocks, start a new career, or pursue a holiday romance, Flight's characters remind us of our constant human need to recreate ourselves and our relationships. Jonathan Dove's inventive score and April de Angelis's deeply human libretto create an original modern-day operatic comedy. June 3–July 13.
THEATRE CEDAR RAPIDS, Cedar Rapids. (319) 366-8591. Heathers, the Musical. Based on the classic 1989 film. Westerberg High is ruled by a shoulder-padded, scrunchie-wearing squad: Heather, Heather, and Heather—the hottest and cruelest girls in all of Ohio. Misfit Veronica Sawyer rejects their evil regime for a new boyfriend, the dark and sexy stranger J.D., who plans to put the Heathers in their place: six feet under. June 29–July 15.
THEATRE MUSEUM OF REPERTOIRE AMERICANA, 405 E. Threshers   Rd., Mount Pleasant. (319) 385-9432. How Funny Are People. A traveling tent show comes to life. Written by mid-century Midwest theater artists Neil and Caroline Schaffner, originators of the "Toby" plays. July 20–29 and Aug. 30–Sept. 2.
GIVING TREE THEATER, Marion. (319) 213-7956. The Wolves. This snappy, authentic, new drama by Sarah DeLappe about a young women's soccer team was a 2017 Pulitzer Prize for Drama finalist. 14+. July 13–29.
DES MOINES PERFORMING ARTS, Stoner & Temple Theaters, Des Moines. (515) 288-4700. Hamilton. The story of America's founding father Alexander Hamilton, an immigrant from the West Indies who became George Washington's right-hand man during the Revolutionary War and was the new nation's first Treasury Secretary. Featuring a score that blends hip-hop, jazz, blues, rap, R&B, and Broadway, Hamilton is the story of America then, as told by America now. June 27–July 15. Bring It On: The Musical. An unexpected redistricting forces Campbell to spend her final year of high school at the hard-knock Jackson High School. Despite having the deck stacked against her, Campbell befriends the dance crew girls and, along with their headstrong leader, Danielle, manages to form a powerhouse squad for the ultimate competition. July 27–Aug. 5.
DES MOINES COMMUNITY PLAYHOUSE, Des Moines. (515) 277-6261. Mama Mia! ABBA's timeless songs propel this enchanting tale of love and friendship. July 13–28.
RIVERSIDE THEATRE, Lower City Park, Iowa City. (319) 338-7672.
CITY CIRCLE, Coralville Center for the Performing Arts, 1301 5th St., Coralville.
IOWA STAGE THEATRE CO., Kum & Go Theater, Des Moines.
UNIVERSITY OF IOWA THEATRE, David Thayer Theatre, Iowa City. (319) 335-1158.
THE PLAYERS WORKSHOP, Burlington. (319) 753-6623.
WATERLOO COMMUNITY PLAYHOUSE, 224 Commercial St., Waterloo. (319) 235-0367.
THE PLAYERS WORKSHOP, Burlington. (319) 753-6623.
DREAMWELL THEATRE, Iowa City. (319) 423-9820.
IOWA CITY COMMUNITY THEATRE, Johnson Co. Fairgrounds, Iowa City. (319) 338-0443.
ADLER THEATRE, 136 E. 3rd St., Davenport. (563) 326-8500.