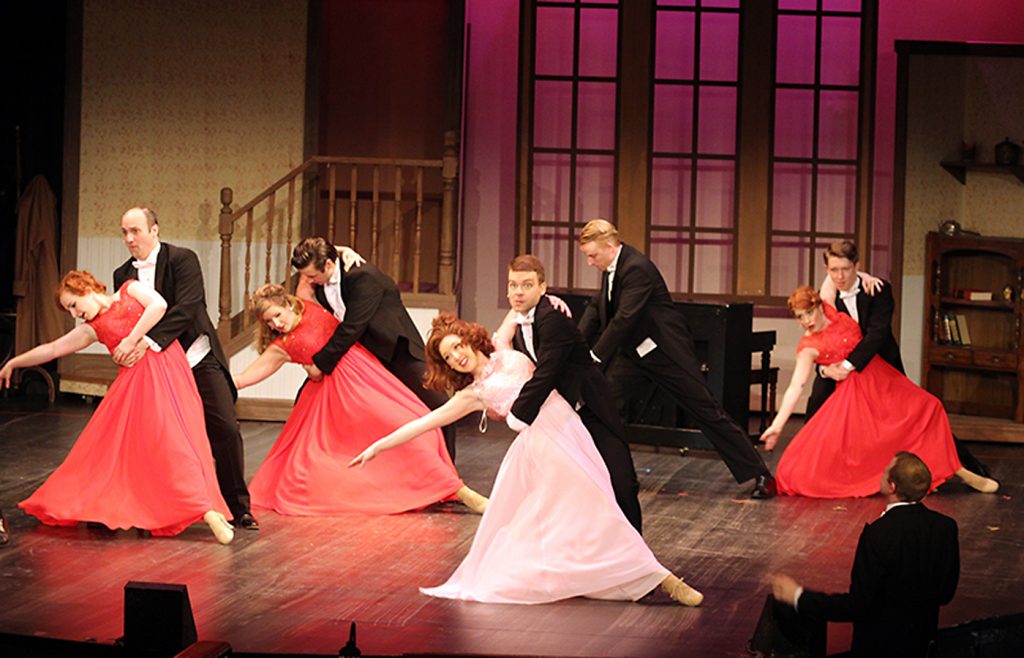 CIRCA 21 PLAYHOUSE, Rock Island, IL.  Holiday Inn. Based on the classic film, this joyous musical features thrilling dance numbers, laugh-out-loud comedy, and a parade of hit Irving Berlin songs. June 7–July 20.
RIVERSIDE THEATRE, Lower City Park, Iowa City. (319) 338-7672. Men on Boats. A wild and woke retelling of the 1869 journey to map unknown reaches of the new American west. Featuring a cast of 10. July 5-28 at Gilbert Street.
OLD CREAMERY THEATRE, Price Creek Event Center, Amana. (319) 622-6262. Apples in Winter. 22 years ago, Miriam's son committed a horrible crime. His last request: a slice of his mother's apple pie. This beautifully written play is about being a mother, being human, and pie. July 18–28.
GIVING TREE THEATER, Marion. (319) 213-7956. Puffs. For seven years, a certain boy wizard went to a certain wizard school and conquered evil. This, however, is not his story. This is the story of the Puffs, who just happened to be there too—a tale for anyone who has never been destined to save the world. June 7–July 14.
REVIVAL THEATRE COMPANY & Coe College, Dows Theatre, 1220 First Ave. NE, Cedar Rapids. RevivalTheatreCompany.com.
DES MOINES CIVIC CENTER, 221 E. Walnut St., Des Moines. (515) 246-2300.
THEATRE CEDAR RAPIDS, 102 Third St. SE, Cedar Rapids. (319) 366-8591. Mama Mia. ABBA's hits in a feel-good musical. June 19–July 19. Newsies. Teen-agers fight big publishing. June 28–July 21.
THEATRE MUSEUM OF REPERTOIRE AMERICANA, 405 E. Threshers Rd., Mount Pleasant. (319) 385-9432. This seasonal museum is dedicated to the preservation of memorabilia and artifacts of early repertoire theater. The collection includes painted curtains and scenic pieces; costumes and equipment; playbills, show cards, and advertising sheets; and an extensive research library of rare scripts, correspondence, production photos, and other original source materials. Of special interest is the large collection of videotaped interviews with actual "troupers" describing their professional and personal experiences. Opens Memorial Day weekend. Wed.–Sat. through Labor Day, or by appointment.
WASHINGTON COMMUNITY THEATER, 2227 250th St., Washington. (319) 653-5175. WCTheater.com.
BRUCEMORE MANSION, Peggy Boyle Whitworth Amphitheater, Cedar Rapids. Brucemore.org. (319) 362-7375. Of Mice and Men. John Steinbeck's hopeful tragedy about two drifters, George and Lennie, who dream of living off the land. Bring a picnic. July 11-20.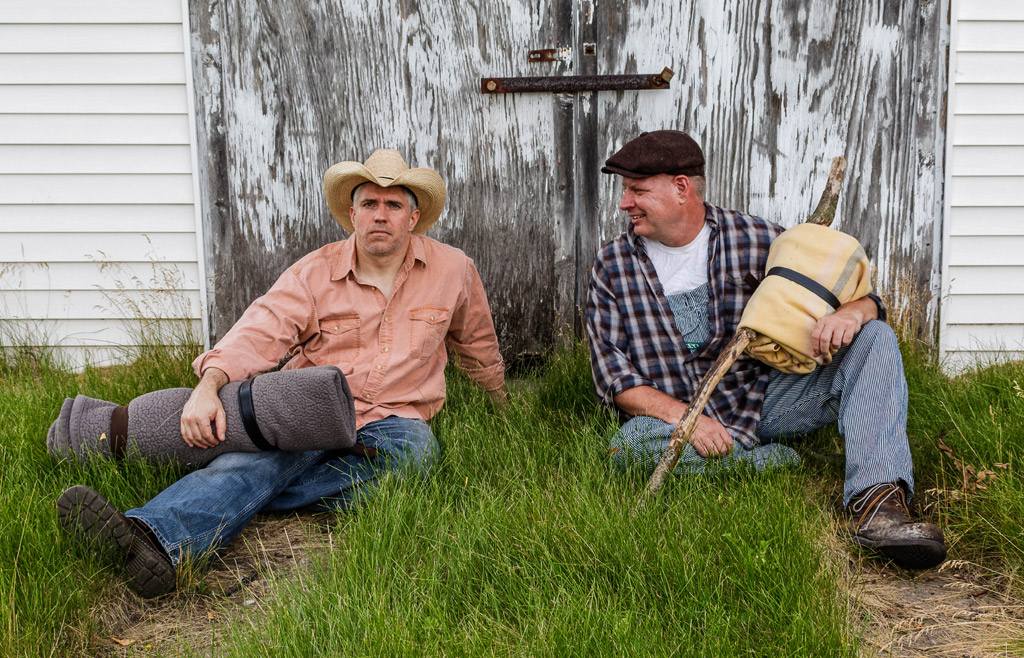 DES MOINES METRO OPERA, Blank Performing Arts Center, 513 North D St., Indianola. DesMoinesMetroOpera.org. La Bohème. Join the bohemian revolution in the heart of Paris as a group of struggling artists strives to create beautiful art, find love, and ultimately live life to the fullest in this romantic operatic blockbuster, which features some of the most familiar and beautiful music ever written. June 28–July 21. Candide. Sparkling with wit and humor, the entirely irreverent Candide is part opera, part musical. Bernstein's spectacular score draws on everything from European operetta to Latin American dance. June 29–July 20.
CITY CIRCLE ACTING COMPANY, Coralville Center for the Performing Arts, 1301 5th St., Coralville.
DES MOINES PERFORMING ARTS, Stoner & Temple Theaters, Des Moines. (515) 288-4700. 13 the Musical. Des Moines Young Artists Theatre presents Tony Award-winner Jason Robert Brown's pop-rock musical about growing up, fitting in, and standing out. July 26–August 4.
CEDAR FALLS COMMUNITY THEATER, Oster Regent, 103 Main St., Cedar Falls. (319) 277-5283.
IOWA STAGE THEATER COMPANY, Salisbury House & Gardens, Shakespeare on the Lawn, Des Moines. SalisburyHouse.org.
PYRAMID THEATRE COMPANY, Stoner Studio Theater, 221 Walnut St., Des Moines. (515) 243-1109.
DES MOINES COMMUNITY PLAYHOUSE, Des Moines. (515) 277-6261.
DREAMWELL THEATRE, Public Space One, 120 N. Dubuque St., Iowa City. Dreamwell.com.
THE PLAYERS WORKSHOP, Burlington. (319) 753-6623.
ADLER THEATRE, 136 E. 3rd St., Davenport. (563) 326-8500.
WATERLOO COMMUNITY PLAYHOUSE, 224 Commercial St., Waterloo. (319) 235-0367.
UNIVERSITY OF IOWA THEATRE, David Thayer, Theatre Building, Iowa City. (319) 335-1160.
IOWA STAGE THEATRE CO., Kum & Go Theater, Des Moines. IowaStage.org.
IOWA CITY COMMUNITY THEATRE, Johnson Co. Fairgrounds, Iowa City. (319) 338-0443.