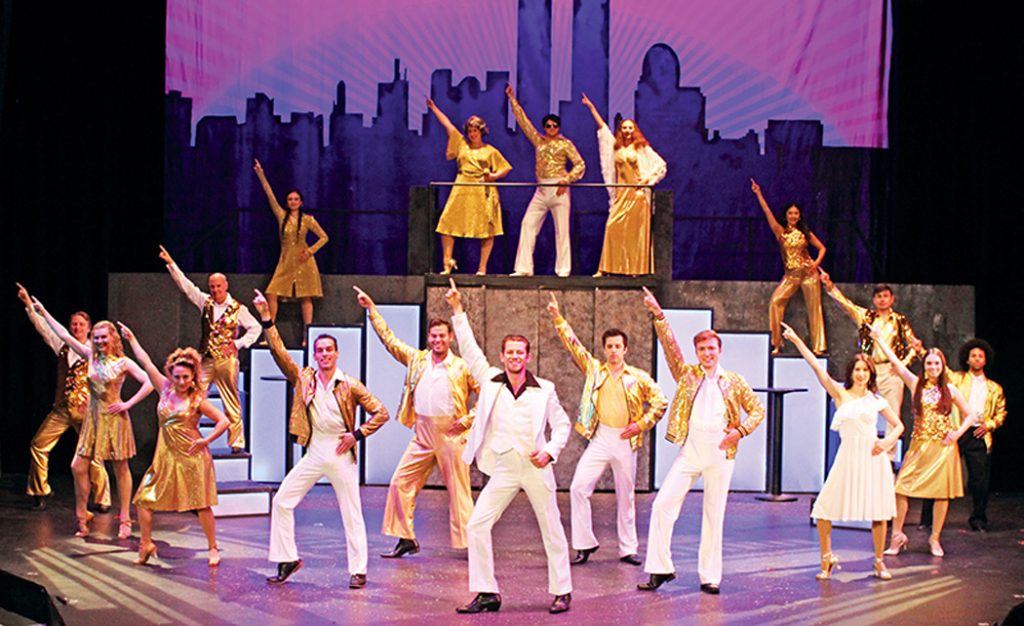 CIRCA '21 DINNER PLAYHOUSE, Rock Island, IL. Circa21.com. Limited capacity.  Saturday Night Fever. Based on the 1977 movie  that launched the disco era, Saturday Night Fever features such unforgettable Bee Gees hits as "Stayin' Alive," "You Should Be Dancin'," "More Than a Woman," and "How Deep Is Your Love." July 16-September 11.
RIVERSIDE THEATRE, Iowa City. RiversideTheatre.org. (319) 338-7672. The Winter's Tale. Free at the outdoor Festival Stage in Lower City Park.  Concessions, food trucks, lawn games, and more before the show. July 15-18, 22-25 at 7:30 p.m. The Comedy of Errors. August 13-15, 19-22 at 7:30 p.m.
DES MOINES METRO OPERA, Blank Performing Arts Center, 513 North D St., Indianola. DesMoinesMetroOpera.org. Sweeney Todd. Sweeney Todd returns from wrongful exile and reopens his barber shop. Together with the down-on-her-luck piemaker Mrs. Lovett, they cook up a plan that is both good for business and for vengeance. July 2–25. Queen of Spades. Tchaikovsky anticipated the 20th century in this brooding, ambitious ghost story set against the backdrop of imperial Russia. July 3–24.
EULENSPIEGEL PUPPETS, West Liberty. Owlglass.org. Summer Neighborhood Tour 2021. Free outdoor summer shows.
MIRRORBOX THEATRE, CSPS Hall, Cedar Rapids. MirrorboxTheatre.com. Out the Box Weekly Reading Series (Virtual). Mirrorbox Theatre's online performance series features fresh, contemporary plays, streamed live to a limited audience. RSVP required. Various Fridays at 8 p.m. Free.
FILMSCENE at the Chauncey, Iowa City. ICFilmScene.org. FilmScene in the Park. Outdoor movie series in Chauncey Swan Park. Through Aug. 28. Livestream films from home, book a private Movie Party, or pick up a supply of Curbside Concessions.
***
ADLER THEATRE, 136 E. 3rd St., Davenport. (563) 326-8500.
BRUCEMORE MANSION, Peggy Boyle Whitworth Amphitheater, Cedar Rapids. Brucemore.org. (319) 362-7375.
CEDAR FALLS COMMUNITY THEATER, Oster Regent, 103 Main St., Cedar Falls. (319) 277-5283.
DES MOINES PLAYHOUSE, DMPlayhouse.com.
CITY CIRCLE, Coralville Center for the Performing Arts. (319) 248-9370. CoralvilleArts.org.
THEATRE CEDAR RAPIDS, Brucemore Mansion, Cedar Rapids. TheatreCR.org. (319) 366-8591.
GIVING TREE THEATER, Marion. (319) 213-7956. GivingTreeTheater.com.
CSPS & DEAD COAST PRESENTS, Cedar Rapids. CSPSHall.org.
DES MOINES CIVIC CENTER, 221 E. Walnut St., Des Moines. (515) 246-2300.
DES MOINES YOUNG ARTISTS THEATRE, 4801 Franklin Ave., Des Moines. (515) 218-8016.
DREAMWELL THEATRE, Public Space One, 120 N. Dubuque St., Iowa City. Dreamwell.com.
FAIRFIELD AREA COMMUNITY THEATER, Walton Club, 2265 Walton Lake Road, Fairfield.
IOWA CITY COMMUNITY THEATRE, Johnson Co. Fairgrounds, Iowa City. (319) 338-0443.
UNIVERSITY OF IOWA THEATRE, Iowa City. (319) 335-1160. Theatre.UIowa.edu.  Iowa City, via YouTube.com/user/uiowatheatre. Theatre.UIowa.edu.
IOWA STAGE THEATER COMPANY, Salisbury House & Gardens, Shakespeare on the Lawn, Des Moines. SalisburyHouse.org.
IOWA STAGE THEATRE CO., Kum & Go Theater, Des Moines. IowaStage.org.
OLD CREAMERY THEATRE Drive-In Live, Price Creek Event Center, Amana. (319) 622-6262. OldCreamery.com.
THE PLAYERS WORKSHOP, Burlington. (319) 753-6623.
REVIVAL THEATRE COMPANY & Coe College, Dows Theatre, 1220 First Ave. NE, Cedar Rapids. RevivalTheatreCompany.com.
UNIVERSITY OF IOWA THEATRE, Iowa City. (319) 335-1160.
WASHINGTON COMMUNITY THEATER, 2227 250th St., Washington. (319) 653-5175. WCTheater.com.
WATERLOO COMMUNITY PLAYHOUSE, 224 Commercial St., Waterloo. (319) 235-0367.