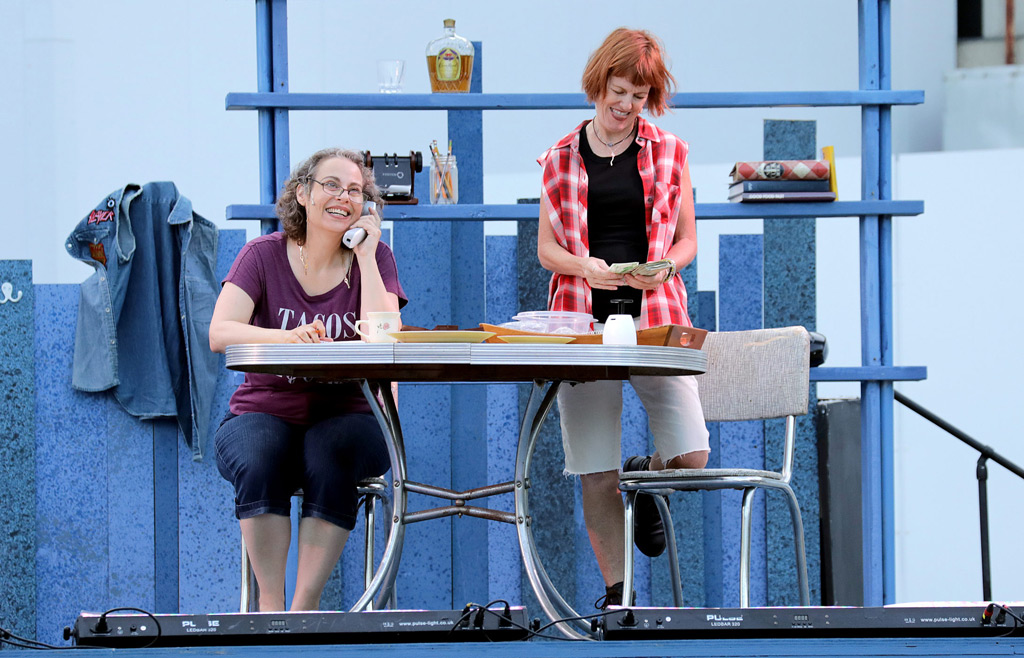 A handful of theaters are offering virtual or drive-in performances. Here's the short list:

DES MOINES COMMUNITY PLAYHOUSE Drive-In Theater, 831 42nd St., Des Moines. (515) 277-6261. Rounding Third. Coach Don believes winning is the most important thing about baseball, while assistant coach Michael believes that kids should have fun when they play. Don's kid is the team's star pitcher. Michael's kid can barely remember to keep his shoelaces tied. July 15–26. The Roommate. Sharon is recently divorced and needs a roommate to share her Iowa home. Robyn needs a place to hide and a chance to start over. But as Sharon begins to uncover Robyn's secrets, they encourage her own deep-seated desire to transform her life completely. The Roommate is a dark comedy about what it takes to re-route your life—and what happens when the wheels come off. Through Aug. 16. Children's Theater: Miss Electricity. Ten-year-old Violet is determined to show the cool kids at school just how special she is. With the help of her assistant Freddy, she sets out to break a world record but becomes accidentally extraordinary when she's struck by lightning, twice. 50 minutes. Saturdays through Aug. 15.
CSPS & DEAD COAST PRESENTS, Cedar Rapids. CSPSHall.org. Boundaries. A biweekly virtual performance series co-curated by CSPS and Dead Coast Presents, featuring local and regional performance artists and musicians. July dates TBA.
MIRRORBOX THEATRE, Cedar Rapids. MirrorboxTheatre.com. Out the Box Weekly Reading Series. Mirrorbox Theatre's online performance series features fresh, contemporary plays, streamed live to a limited audience. RSVP required. Fridays at 8 p.m. Free.
CANCELLED: RIVERSIDE THEATRE Free Shakespeare Festival, Festival Stage, Lower City Park, Iowa City. RiversideTheatre.org. (319) 338-7672. The Winter's Tale.
CIRCA 21 PLAYHOUSE, Rock Island, IL.
OLD CREAMERY THEATRE Drive-In Live, Price Creek Event Center, Amana. (319) 622-6262. OldCreamery.com.
GIVING TREE THEATER, Marion. (319) 213-7956.
THEATRE CEDAR RAPIDS, 102 Third St. SE, Cedar Rapids. (319) 366-8591.
DES MOINES PERFORMING ARTS, Stoner & Temple Theaters, Des Moines. (515) 288-4700.
UNIVERSITY OF IOWA THEATRE, David Thayer, Theatre Building, Iowa City. (319) 335-1160.
IOWA STAGE THEATER COMPANY, Salisbury House & Gardens, Shakespeare on the Lawn, Des Moines. SalisburyHouse.org.
REVIVAL THEATRE COMPANY & Coe College, Dows Theatre, 1220 First Ave. NE, Cedar Rapids. RevivalTheatreCompany.com.
WASHINGTON COMMUNITY THEATER, 2227 250th St., Washington. (319) 653-5175. WCTheater.com.
IOWA CITY COMMUNITY THEATRE, Johnson Co. Fairgrounds, Iowa City. (319) 338-0443.
FAIRFIELD AREA COMMUNITY THEATER, Walton Club, 2265 Walton Lake Road, Fairfield. Tickets at Kim's Kottage (641) 469-5467.
DES MOINES YOUNG ARTISTS THEATRE, 4801 Franklin Ave., Des Moines. (515) 218-8016.
MIRRORBOX THEATRE, CSPS Hall, Cedar Rapids. LegionArts.org.
IOWA CITY COMMUNITY THEATRE, Johnson Co. Fairgrounds, Iowa City. (319) 338-0443.
DREAMWELL THEATRE, Public Space One, 120 N. Dubuque St., Iowa City. Dreamwell.com.
WATERLOO COMMUNITY PLAYHOUSE, 224 Commercial St., Waterloo. (319) 235-0367.
DES MOINES CIVIC CENTER, 221 E. Walnut St., Des Moines. (515) 246-2300.
BRUCEMORE MANSION, Peggy Boyle Whitworth Amphitheater, Cedar Rapids. Brucemore.org. (319) 362-7375.
DES MOINES METRO OPERA, Blank Performing Arts Center, 513 North D St., Indianola. DesMoinesMetroOpera.org.
CITY CIRCLE ACTING COMPANY, Coralville Center for the Performing Arts, 1301 5th St., Coralville.
CEDAR FALLS COMMUNITY THEATER, Oster Regent, 103 Main St., Cedar Falls. (319) 277-5283.
PYRAMID THEATRE COMPANY, Stoner Studio Theater, 221 Walnut St., Des Moines. (515) 243-1109.
THE PLAYERS WORKSHOP, Burlington. (319) 753-6623.
ADLER THEATRE, 136 E. 3rd St., Davenport. (563) 326-8500.
IOWA STAGE THEATRE CO., Kum & Go Theater, Des Moines. IowaStage.org.