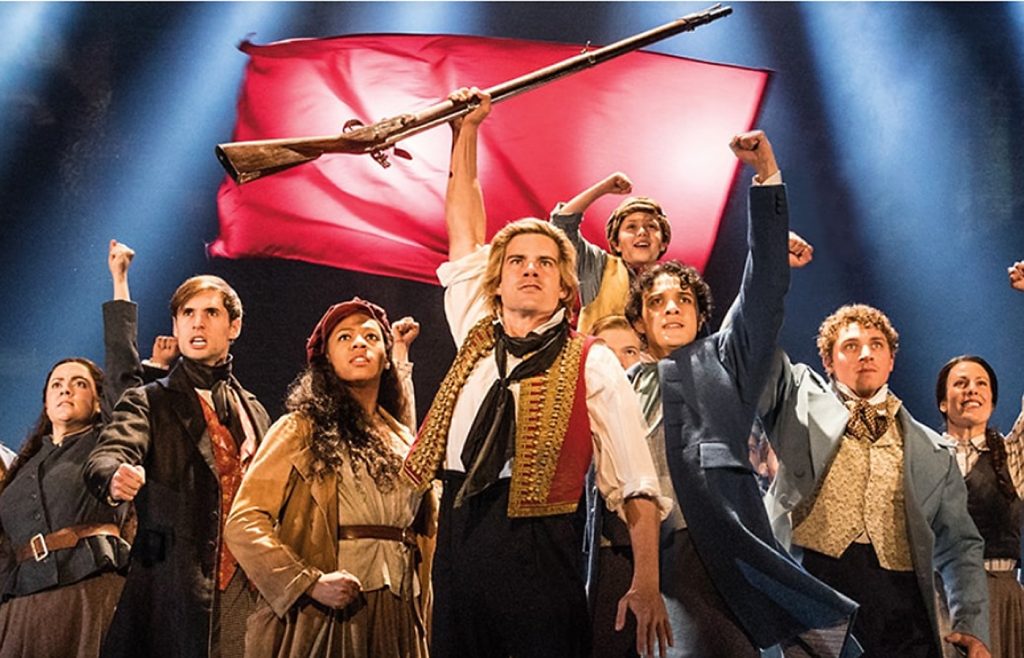 UNIVERSITY OF IOWA THEATRE, David Thayer Theatre, Iowa City. (319) 335-1158. A Midsummer Night's Dream. Shakespeare's enchanting comic tale of love lost and found presents love in all its glory, warts and all. April 20–28.
GIVING TREE THEATER, Marion. (319) 213-7956. Noises Off. On this farce that tops all farces, as the cast stumbles through their final dress rehearsal, things couldn't be going any worse. With lines being forgotten, love triangles unraveling and sardines flying everywhere, it's complete pandemonium! Can the cast pull their act together on the stage even if they can't behind the scenes? Through May 6.
OLD CREAMERY THEATRE, Price Creek Event Center, Amana. (319) 622-6262. Camelot. Attend the classic tale of King Arthur and his Knights of the Round Table in a search for true love that transcends the ages. Rated PG. April 26–May 20.
CIRCA 21 PLAYHOUSE, Rock Island, IL. Church Basement Ladies: Rise Up, O Men. A new musical featuring the men of the Lutheran church circa 1964 and your favorite church basement ladies who serve them. Through May 12.
CITY CIRCLE, Coralville Center for the Performing Arts, 1301 5th St., Coralville. Little Women: The Musical. This timeless, captivating story is brought to life in a glorious musical filled with personal discovery, heartache, hope, and everlasting love. April 27–May 6.
RIVERSIDE THEATRE, Lower City Park, Iowa City. (319) 338-7672. Ears on a Beatle. It's 1972, and two FBI agents are assigned to get politically outspoken John Lennon out of the country before Richard Nixon runs for reelection. Filled with humor and heartbreak, Ears on a Beatle explores a time when the country was sharply divided by an unpopular war, lies flowed from the White House, and individual liberties were threatened in the name of national security. April 13–29.
IOWA CITY COMMUNITY THEATRE, Johnson Co. Fairgrounds, Iowa City. (319) 338-0443. A Man of No Importance. Alfie Byrne, an Oscar Wilde-loving bus driver in 1960s Dublin, is determined to stage the controversial Salome at his local church. In the process of fighting for the play, Alfie is finally forced to confront his own homosexuality. A musical. April 20–29.
DES MOINES PERFORMING ARTS, Stoner & Temple Theaters, Des Moines. (515) 288-4700. The Humans. Breaking with tradition, Erik Blake has brought his Pennsylvania family to celebrate Thanksgiving at his daughter's apartment in Lower Manhattan. As darkness falls outside the ramshackle pre-war duplex and eerie things start to go bump in the night, the Blake clan's deepest fears and greatest follies are laid bare. April 3–8. Look Both Ways Before Talking. The Second City's brand-new sketch comedy and improv revue dives into every touchy subject you're thinking about, but are afraid to say out loud—or online. Edgy, thought-provoking and always spectacularly funny. April 10–29. Les Miserables. With its glorious new staging and dazzlingly reimagined scenery inspired by the paintings of Victor Hugo, this breathtaking new production has left both audiences and critics awestruck. April 17–22.
THEATRE CEDAR RAPIDS, Cedar Rapids. (319) 366-8591. Studio Improv Series. TCR's improv comedy teams take suggestions from the audience and create something hilariously unforgettable right before their eyes. April 19–28.  Joseph and the Amazing Technicolor Dreamcoat. A reimagining of the biblical story of Joseph, his father Jacob, eleven brothers, and the "coat of many colors," featuring a family-friendly storyline and catchy music that will have you dancing in your seats. May 4–27.
DES MOINES COMMUNITY PLAYHOUSE, Des Moines. (515) 277-6261. Ragtime. This sweeping musical portrait of early 20th century America tells the story of three families in pursuit of the American Dream. Based on E.L. Doctorow's distinguished novel, Ragtime is the winner of 1998 Tony Awards for Best Score, Book and Orchestrations, and both the Drama Desk and Outer Critics Circle Awards for Best Musical and Best Score. April 6–29.
IOWA STAGE THEATRE CO., Kum & Go Theater, Des Moines. The Christians. Pastor Paul is about to preach a sermon to his thriving congregation that will shake the foundations of his church's belief. The Christians is a thought-provoking and funny play about faith in America—and the incredible challenge of institutional change. April 13–22.
The Players Workshop, Burlington. (319) 753-6623. What is Susan's Secret? An old country inn is being run by an elderly couple who are having trouble keeping the place up. They have to come up with a way to get the work done, so they create a very clever plan to get the help they need. April 20–29.
WATERLOO COMMUNITY PLAYHOUSE, 224 Commercial St., Waterloo. (319) 235-0367.
THE PLAYERS WORKSHOP, Burlington. (319) 753-6623.
DREAMWELL THEATRE, Iowa City. (319) 423-9820.