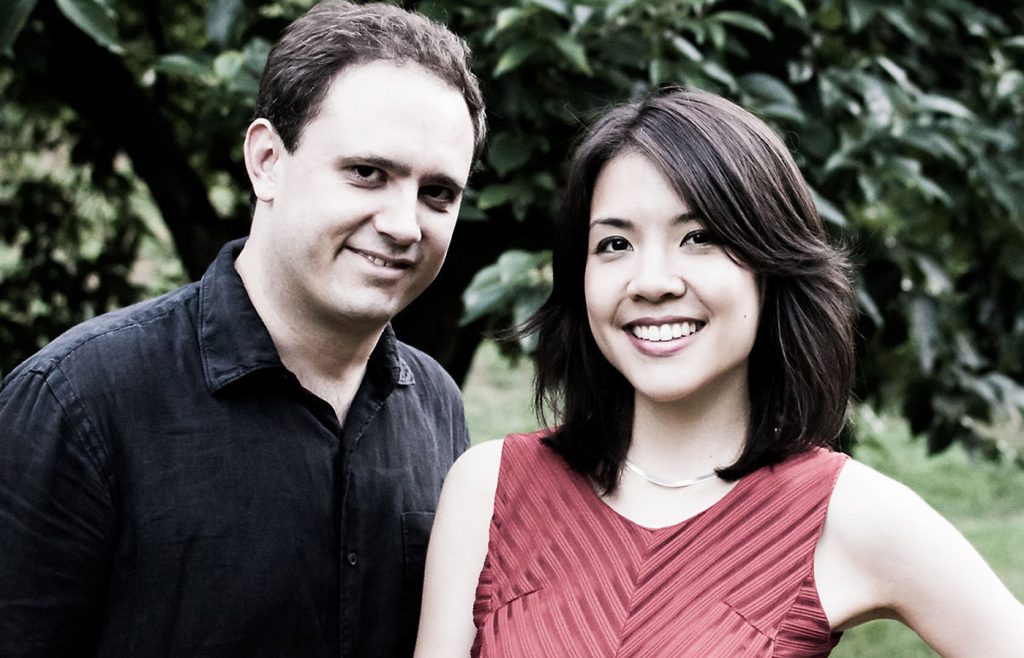 Enjoy a weekend of world-class ragtime, stride, Dixieland jazz, boogie-woogie, spirituals, traditional jazz, and much more on January 26-28, 2018, at the Muscatine Arts Council's 24th annual Eagles and Ivories Ragtime Festival. Each evening concert is $20, afternoon concerts are $15, and Saturday Silent Movie is $5. A three-day concert package is $50. Children under 16 are free to all events. Tickets are available at the door. This year's featured performers are Ivory and Gold, Stephanie Trick, Paoli Alderighi, Daniel Souvigny, Mad Creek Muskrats, and Locust Street Boys.
Ivory and Gold, which features Jeff Barnhart on piano, and Anne Barnhart on flute, are praised by the L.A. Jazz Scene as a musical duo that can "draw out the beauty in the rich melodies and play the music with taste, sensitivity, and a real affection for the idiom." Internationally renowned musical performer and historian Max Morath calls Ivory and Gold "musically flawless."
Stephanie Trick "has come to practically dominate the stride piano field," notes reviewer Jack Rummel. Harlem stride piano, which developed in the 1920s and '30s, is an orchestral style of two-handed piano playing that is technically demanding and exciting to watch. The great Dick Hyman calls Stephanie "one of the nicest gifts to arrive on the jazz piano scene in recent times, and we couldn't be more delighted to welcome her." Stephanie frequently performs with her husband, Paolo Alderighi. 
Paolo Alderighi is from Milan, Italy. He has a degree in Piano from G. Verdi Conservatory of Milan in 2000, a degree in Economics for Arts, Culture, and Media from Bocconi University. He has been awarded numerous honors in jazz, and arranges and performs swing arrangements with his wife, Stephanie Trick. They performed for the Prince of Wales and the Duchess of Cornwall at the Edinburgh Jazz and Blues Festival.
Daniel Souvigny is a 16-year-old award-winning pianist and highly trained violinist from Hampshire, Illinois. Reviews describe him as "the new sensation who plays with power and surprising musicality," and a "whiz kid whose fingers fly across the keyboard." Daniel is a three-time Junior Champion of the World Championship Old Time Piano Playing Contest. He has studied in St. Petersburg, Russia.
Mad Creek Mudcats are a Muscatine group playing music from 1890-1930, including ragtime, traditional jazz, and novelty tunes.
Locust Street Boys from the Quad Cities are a Dixieland jazz band formed in 1990 as a group from St. Ambrose University.
The Weekend Schedule 
Friday, January 26, 2018
9:30-10:30 a.m. – Free Kick-off Concert
o Sunnybrook of Muscatine, 3515 Diana Queen Drive
o Music by Ivory and Gold with Jeff and Anne Barnhart
o Wesley United Methodist Church, 400 Iowa Avenue
o Music by Mad Creek Mudcats
o Wesley United Methodist Church, 400 Iowa Avenue
o Music by Ivory and Gold®, Stephanie Trick, Paolo Alderighi, Daniel Souvigny
10:00 – After Hours at Wine Nutz, 208 West 2nd Street
Saturday, January 27, 2018
9:00-3:00 – Eagle Watch at Pearl City Station, 200 West Riverfront, by the Corp of Engineers Park Rangers and Naturalist, Dave Bakke. Free.
12:00 –Silent Movies
o Muscatine Art Center, 1314 Mulberry Avenue
o Music by Jeff Barnhart
o Muscatine Art Center, 1314 Mulberry Avenue
o Music by Stephanie Trick and Paolo Alderighi
5:00 – 7:00 Syncopation Supper
o Wesley United Methodist Church, 400 Iowa Avenue
o Music by the Locust Street Boys
o Wesley United Methodist Church , 400 Iowa Avenue
o Music by Ivory and Gold, Stephanie Trick, Paolo Alderighi, Daniel Souvigny
10:00 – After Hours at Wine Nutz, 208 West 2nd Street
Sunday, January 28, 2018
10:00 – Ragtime, Jazz, Gospel worship service
o Wesley United Methodist Church, 400 Iowa Avenue Mad Creek Mudcats
10:00 – Ragtime, Jazz, Gospel worship service
o Faith United Church of Christ, 3307 Mulberry Avenue Jeff and Ann Barnhart
o Muscatine Art Center, 1314 Mulberry Avenue
o Music by Ivory and Gold