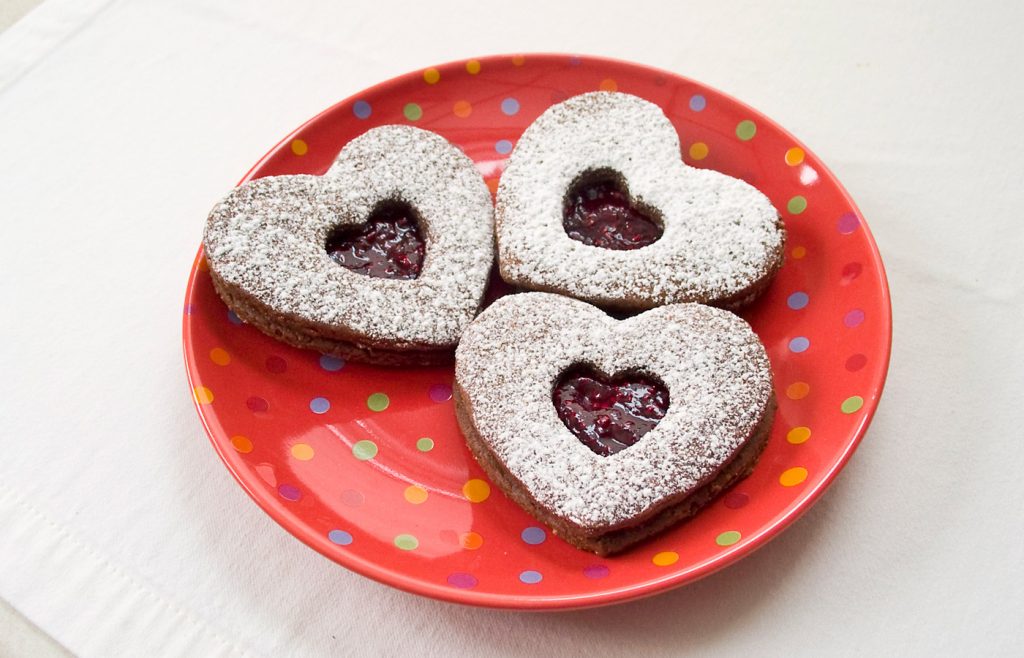 These edible valentines feature a raspberry filling sandwiched between two layers of buttery chocolate hazelnut cookies.
Chocolate Raspberry Hearts
(Makes 20 3″ cookies)

1 cup toasted hazelnuts, ground in food processor with ¼ cup white sugar
2 cups all-purpose flour
1/4 cup cocoa powder
1/4 tsp. salt
1 cup unsalted butter, softened
1/2 cup white sugar
2 large egg yolks
1 tsp. vanilla extract
1/2 cup semi-sweet chocolate chips, melted, and cooled to lukewarm
Powdered sugar
3/4 cup raspberry jam
To toast hazelnuts: Preheat oven to 325° F., place nuts on a cookie sheet, and bake for 8-10 minutes. Allow to cool, place in a cloth towel, and rub gently to remove skins (don't worry if you don't get all of them off). Grind nuts with sugar in the food processor until it forms a coarse meal.
Cookie dough: Mix flour, cocoa, and salt together.
In another bowl, beat butter and sugar until light and fluffy. Beat in egg yolks and vanilla extract.
Add melted chocolate and hazelnuts, mixing well. Beat in flour mixture until completely incorporated. Form the dough into a ball, cut in half, and form two disks. Wrap and refrigerate at least one hour until firm.
Preheat oven to 350° F. Grease or line cookie sheets with parchment paper.
Roll each disk 1/4″ thick and cut out cookies using a 3-inch heart-shaped cookie cutter. Using a 1-inch cookie cutter, cut a second smaller heart out of half of the cookies for the top layer.
Bake for 10-12 minutes. Cool completely on racks. Lightly dust top cookies with powdered sugar while still warm.
Once the cookies are cool, spread each bottom cookie with a teaspoon of jam, leaving a ¼-inch border around the edge, and cover with a top cookie.