Join the American Gothic House Center this Saturday, February 17, from 11 a.m.–1 p.m. at the KD Center in Eldon as they celebrate Grant Wood's 127th birthday.
Community members and volunteers from the American Gothic House Center are bringing steamin' hot homemade soups and breads to warm you up and fill your belly. Annual favorites include chili, potato soup, beef & barley, and chicken noodle—but there will be a handful of other recipes to try. Baked creations will range from yeast breads fresh out of the oven to tasty cornbread—to go with your chili, of course. And be sure to save room for dessert!!
Celebrate the artistic legacy of one of Iowa's icons, and support the programming at American Gothic House Center. Other annual events include the family favorite Easter Egg Roll, American Gothic Days—featuring an art competition and a 5K, Music on the Porch, Performing Arts Festival, Halloween costume parties, Christmas crafting, and more. Everyday visits to the home and museum—and Gothic House selfies—are always free.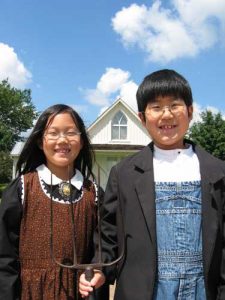 No need to RSVP or buy tickets for the Feb. 17th Soup Smorgasbord, just make a free-will donation at the door. Enjoy some lively conversation and some great homemade food.
For more information about the Center, visit AmericanGothicHouse.net.