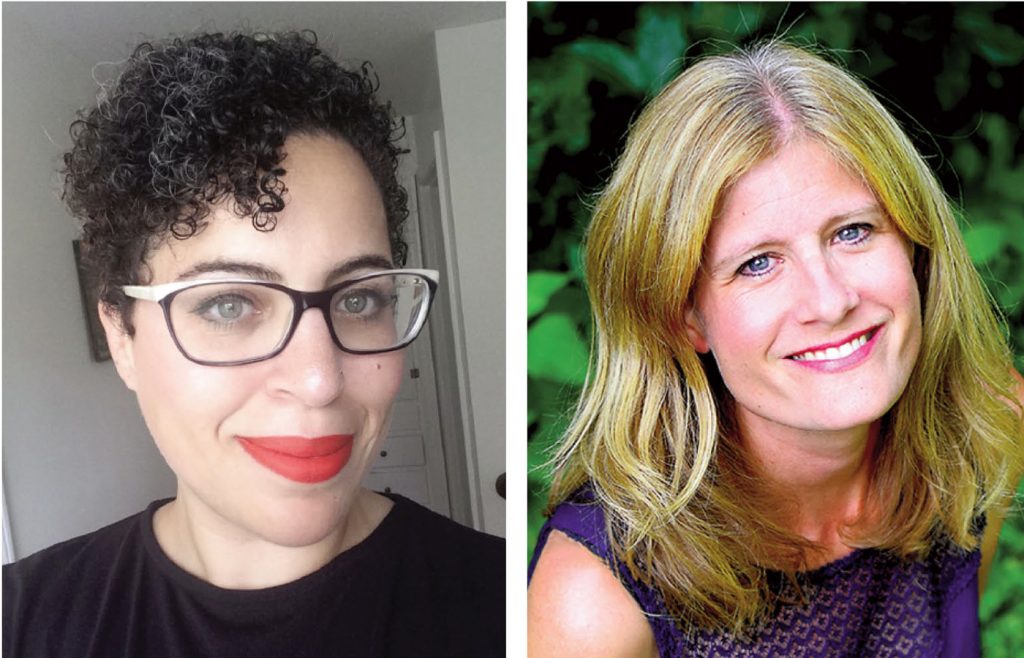 Two powerhouse graduates of the UI Writers' Workshop, Kaethe Schwehn and Kiki Petrosino, will read together at Prairie Lights Bookstore on Friday, February 23, at 7 p.m. Schwehn's new novel, The Rending and the Nest, has garnered praise as a beautifully written post-apocalyptic tale featuring a heroine who grapples with extraordinary change. Kiki Petrosino's latest book of poetry, Witch Wife, was released in December to critical acclaim and landed on the New York Times' list of best poetry for 2017.
Schwehn and Petrosino attended classes together at the Writer's Workshop and are thrilled to be returning to Iowa. "We each have new books to share with the Iowa City community," says Petrosino, "so we thought this would be a great chance to read together at Prairie Lights. It was so great of Jan Weissmiller and the whole Prairie Lights team to help us arrange this reading."
Petrosino draws on her past and her ancestry to examine and take apart concepts of American womanhood, particularly of women of color. Among the raves for her third book of poetry is this one from Booklist: "Sparkling with sly wordplay and fantastical imagery, these are not only masterful poems but mighty incantations. Utterly spellbinding."
When asked about the reception of her work in today's climate, Petrosino said, "The poems of Witch Wife come from my personal story, from questions I was asking myself at one point in my life, but once the work reaches a reader, the particulars of my narrative become less important than the reader's response to the language. As a poet, I always hope that my work will inspire the reader to ask questions about the world, and maybe even pay attention to one's life in a new way. The best poetry finds strangeness, surprise, or astonishment within the everyday."
Petrosino is also the author of Hymn for the Black Terrific and Fort Red Border. She is founder and co-editor of the poetry journal Transom, and she directs the Creative Writing Program at the University of Louisville.
Schwehn will read from The Rending and the Nest, her chilling yet hopeful post-apocalyptic debut that examines community, motherhood, faith, and the importance of telling one's own story. "My novel deals with the issues of how stories are told and who controls women's bodies," Schwehn says. "In our era of 'fake news' and strikes against Planned Parenthood, I do think there are significant connections to be made, but I certainly never begin a work with any kind of ethical moral in mind."
Kaethe Schwehn is also the author of Tailings: A Memoir, and a chapbook of poems, Tanka & Me. She teaches at St. Olaf College and lives in Northfield, Minnesota.
Bloomsbury Publishing was kind enough to share this interview with Schwehn.
What intrigued you about setting this novel in a post-apocalyptic landscape?
Novels set both in the past and in the future permit us to see our contemporary world through a new lens. I'm very interested in stories: who has control over certain narratives? Can the way we tell the stories of our pasts shape the way we live in the future? Christianity in particular is a great example of a story that's told in different ways to support vastly different agendas. In The Rending, some very bizarre events occur and the characters struggle with how to contextualize these events, how to make meaning from them. Although women in our world are not currently giving birth to inanimate objects, we are constantly asked to make sense of events that are mysterious and inexplicable. Whether we see these events as fate or comeuppance, as God's will or bad luck, directly affects how we move forward.
After a period of infertility, the women of Zion start giving birth to inanimate objects, for which the main character, Mira, creates Nests, unique structures to house these Babies. How did this idea develop?
As with most of my writing it didn't "develop" in any kind of rational way. It simply happened in the writing of the book. And it actually caused me quite a bit of anxiety because I wasn't sure what it meant or how it would be resolved. In that sense I identified very closely with the characters as they questioned and struggled—I was doing so right alongside them! But after I was done with the book I realized that during the time I wrote it, one dear friend had experienced two stillbirths and another close friend had a series of miscarriages. Their grief was compounded by the fact that our culture has very few ways of recognizing this particular kind of loss; so often it's unspoken and invisible. Making the Nests is Mira's way of honoring her best friend's loss, a loss she doesn't yet quite understand, without trying to minimize it or explain it away.
There are three very different communities in the book—all with unique guiding principles and modes of operation. How have your own experiences in various communities informed what each of these mini-worlds offer?
When I was Mira's age, I spent a year living in a remote Christian community at the edge of the Glacier Peak Wilderness area. Holden Village is only accessible by boat and—at the time—had no television or internet access; 70 people keep the village alive in the winter (while trying not to kill one another!). Many of the details of Zion are based on that community—from the structure of their weekly meetings to the distribution of jobs. I arrived at the village in August of 2001; we heard about 9/11 over the radio and I suppose that felt like its own small apocalypse. The other two communities in the book are much more the product of my imagination—though certainly cults and monasteries weren't too far from my mind.
Are there particular writers whose work has influenced you in the writing of this book or in your writing in general?
I studied poetry in graduate school and felt very energized and liberated by the work of Surrealists like Apollinaire and Breton and Rimbaud. I loved the wildness and sensuality and humor, the trust in the subconscious, the juxtaposition of disparate images. They offered me permission to try making huge associative leaps and connections—and they made it seem like play was at the heart of doing good work.
On the other end of the spectrum I think reading The Road by Cormac McCarthy energized me in a completely different way. It's an incredible book, obviously, on a great many levels, but it felt very antithetical to what I know about human connection. We're groupish creatures—community is literally in our evolved (and evolving) blood—so I didn't entirely buy into the extreme isolation of the central characters. But I'm so grateful for McCarthy's vision; as writers I think we're often expected to name works that are similar to our own as points of inspiration, but for me it's authors that grant me permission to try something new or provoke my contrary spirit that truly make me eager to return to the page.