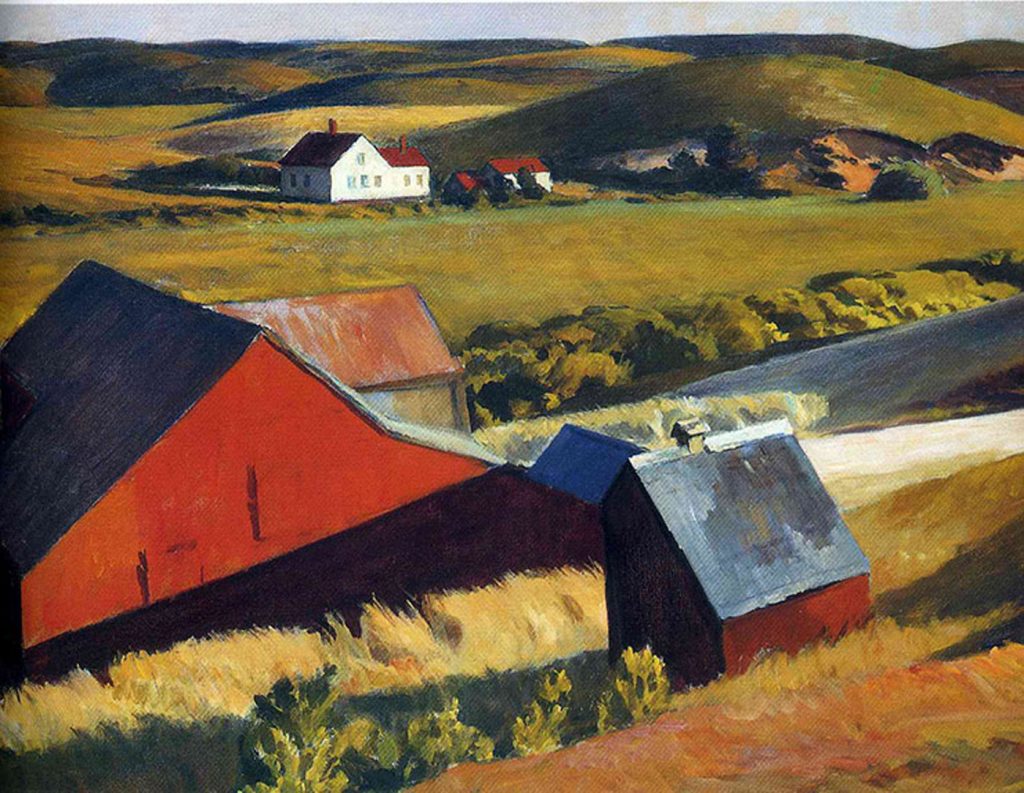 From now until May 20, Iowans have the rare opportunity to see an exhibition of the seminal American painter Edward Hopper in their own backyard—Cedar Rapids. After over two years of planning and cooperation, the Cedar Rapids Museum of Art and the Whitney Museum of Art in New York City have agreed to share their rich collections in a trade deal that will temporarily take 27 works by Grant Wood to the Whitney and 13 works by Edward Hopper to the CRMA. The long-term nature of this partnership and the extensive planning that went into it have resulted in a thoughtful, multi-exhibition experience for visitors.
CRMA's rich collection of American work and its claim to the largest collection of Grant Wood in the world serves as an illuminating backdrop for an Edward Hopper exhibition. The front gallery, which showcases several of Wood's infrequently exhibited works, provides a seamless entry point for this exploration of American 20th-century painting. The first exhibition, Grant Wood: From Farm Boy to American Icon, offers a visual biography of Iowa's favorite painter, with charming and rare examples of his early still lifes and an assembly of some of his impressionistic studies done in Europe.
Farther on in the galleries, the CRMA again taps into its rich holdings of American art with an accompanying exhibition entitled Hopper's World. The works in this space detail the cities and landscapes in which Hopper lived and studied, contextualizing the environments that so inspired Hopper and molded him into one of the most recognized artists of his time. In circling the gallery, you will be swept across America to Cape Cod, Hopper's beloved New York City, rural New England, and then to places as far off as Paris and Gloucester.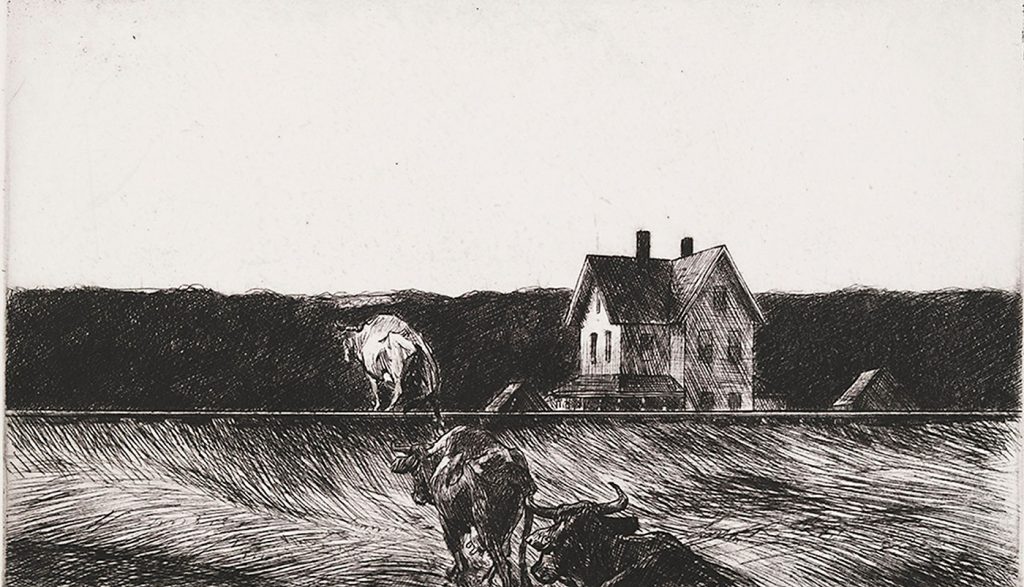 Upon entering the final gallery space, Edward Hopper: Selections from the Whitney Museum awaits you. After your journey through this carefully curated framework, Hopper's work simultaneously feels more at home in the CRMA and yet more remarkable. The international contexts offered by Hopper's World and the juxtaposition with Wood's portrayal of America during the Great Depression provide a unique look at American 20th-century art.
Paris serves as an interesting connecting thread from room to room. Wood and Hopper both studied in the city on multiple occasions. Both artists seemed to have been fascinated by Parisian streets, but the tone from Wood's brighter take on Paris contrasts deeply with Hopper's dramatic and cinematic rendering of a muted, more mundane city.
Don't expect to see the star-studded, over-commercialized paintings we know and love from these artists. You will not see Hopper's Nighthawks next to Wood's ever-familiar landscapes. Instead, you will have a much more intimate look at these artists' personal lives and development and the opportunity to view their work in close comparison.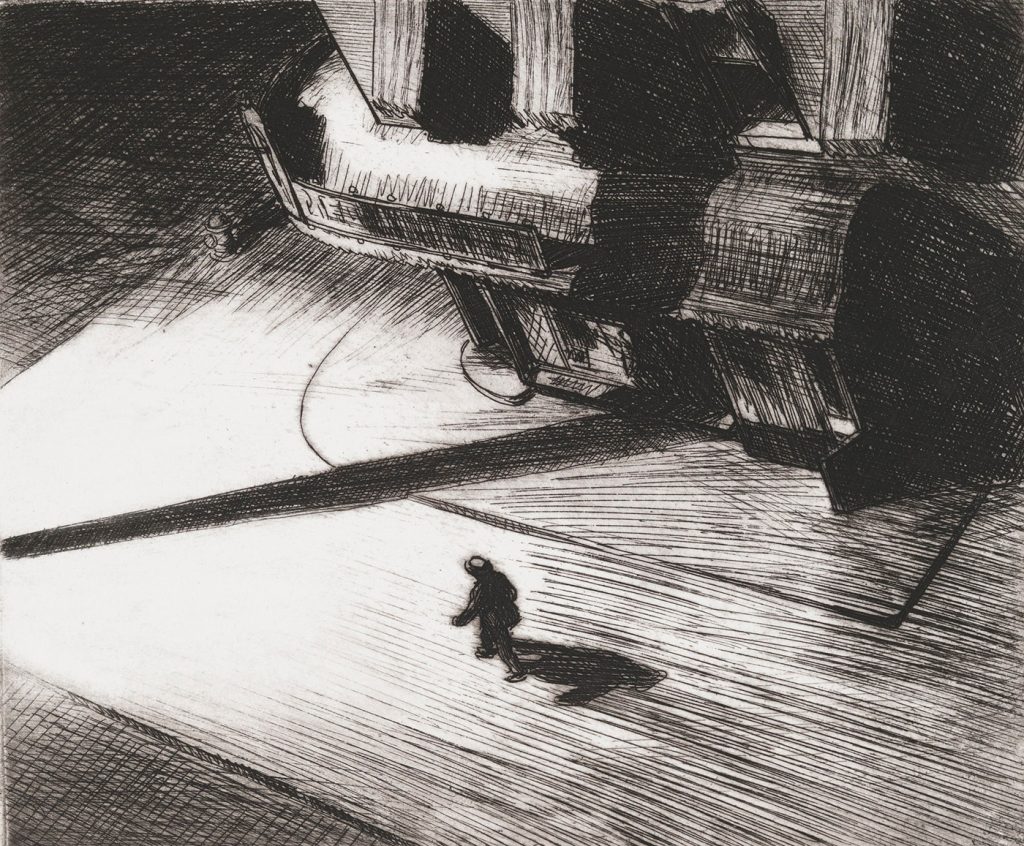 In another exhibition or institution, these works might be overshadowed by such blockbuster pieces, but here they are given their proper due individually. With four etchings and nine paintings, this exhibition demonstrates the depth and diversity of Hopper's talents. His figure studies leave you with intense empathy for the subjects' deep isolation, while the larger landscape painting in the center of the room, Cobb's Barns and Distant Houses, evokes a timeless and familiar likeness of American agriculture. The room effortlessly reflects the time period in which Hopper was painting—the 1930s will forever be seared in the American collective conscience as a time of isolation and economic struggle. Hopper preserved the idyllic, rolling-hills farm scene, which so suffered under the plight of the Great Depression.
Here, in the context of a state that embodies these landscapes, one is reminded of the America that so inspired these young men to redefine the nature of American painting. And how fitting that they come together here in Cedar Rapids, where economic struggle and perseverance are highlighted in the 10-year-anniversary of the floods that devastated the city and much of Iowa. You will see an extraordinary portrait of America that could not be replicated with the same poetry in any other setting.
Join Associate Curator Kate Kunau for a discussion of Edward Hopper and the 13 works currently on loan to the CRMA on Thursday, March 8, at 7 p.m.
On Thursday, April 12, at 7 p.m., Executive Director Sean Ullmer discusses the Hopper works on display in the context of works by Grant Wood and Marvin Cone. Both presentations are free.