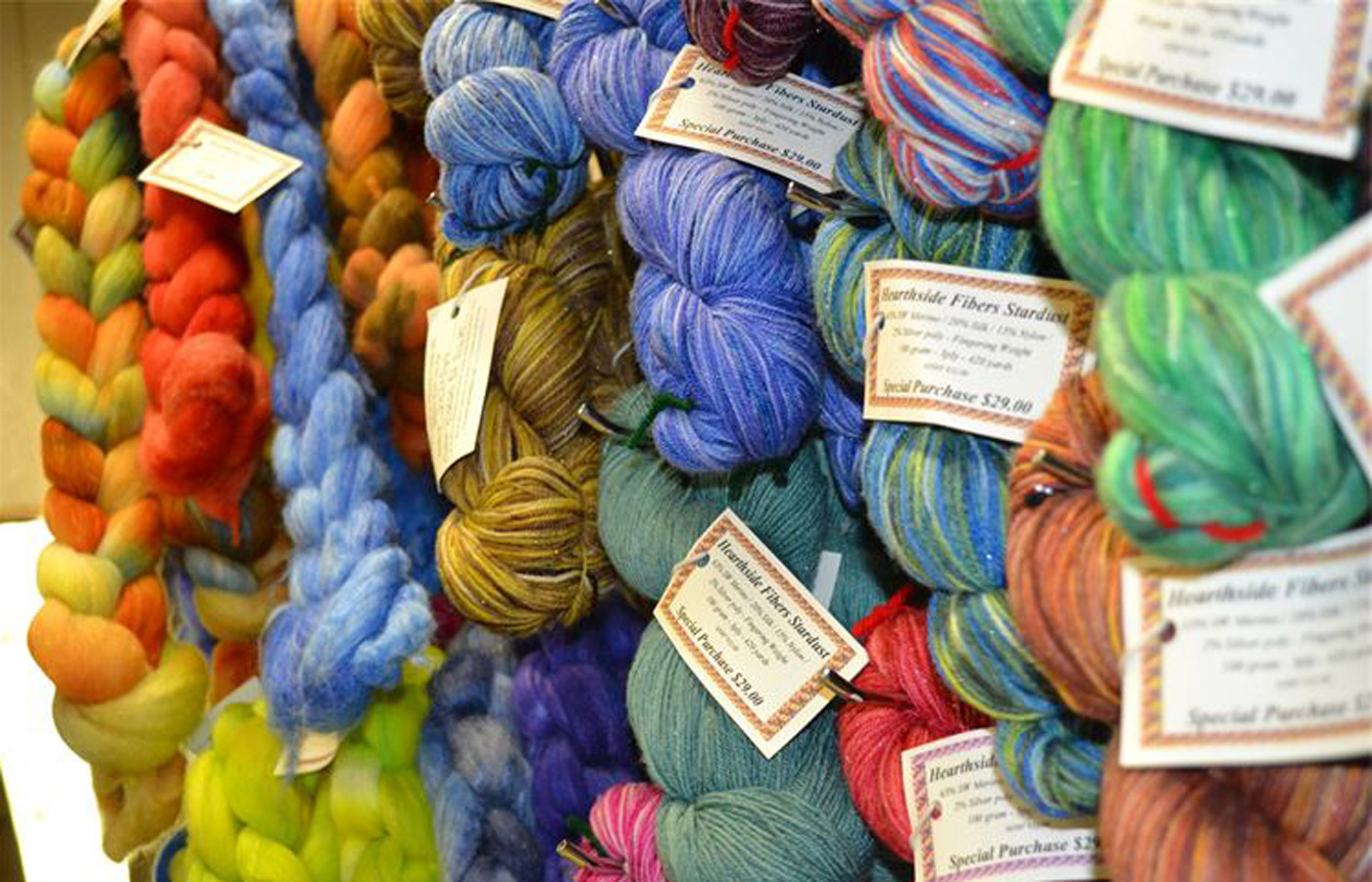 Calling all fiber enthusiasts and admirers! This Saturday, March 3rd, Shepherds Market invites you to partake in its Spring Fiber Festival from 9 a.m. to 4 p.m. at the Johnson County Fairgrounds, 4261 Oak Crest Hill Road SE, in Iowa City.
Shepherds Market Fiber Festival is helping to keep the fiber arts alive and well in Iowa. Local fiber producers, craftsmen, and artists will come together to display and sell their wares, demonstrating their skills and educating the visiting public about natural fibers and their importance to our community and culture.
At Saturday's market you'll find a colorful array of hand-spun and mill-spun yarns from Iowa's own backyards—yarns from sheep, alpaca, llama, angora, goat, and more. And if it's not yarn that trips your trigger, then how about some raw fiber, batts, clouds, spinning wheels, or looms?
If you're a newbie to fiber arts, no matter. Organizer and self-proclaimed "alpaca shepherdess" Susan Hart says, "We encourage anyone to bring their work and hang out for the day, meet up with old friends and make new ones. Or stop by to observe. Fiber artists love to share what they know!"
Locally produced fiber has seen a recent revival in our state. "Understanding the importance of fiber in our culture has been overlooked for a long time … fiber art was almost lost," says Susan, "but there has been a surge with younger people and men." Artists are also paving the way, embracing new facets of fiber. "With so many breeds of fiber-producing animals, it's not just about yarn anymore—not to downplay yarn," Susan adds.
"I am raising a rare breed of Suri alpacas, and have come to have a great deal of respect for all livestock owners. It's not just a job, but a love. To care for what God has entrusted into our hands can at times be challenging as well as heartbreaking. We all have a duty, and that is to teach our young, and learn from our old…. After all, if it wasn't for fiber and spinning, we would all still be wearing fig leaves," says Susan.
Vendors you'll meet on Saturday at Shepherds Market include:
SunRise Suris, IA. Specializing in Lustrous Suri Alpaca; newly shorn suri alpaca fiber, rovings, hand/mill spun, hand died. Alpaca scarfs, hats, socks. Mixed wools and hand dyed yarns. Spindle caddies, scarf pins, and buttons.
On the Hill (formerly Lavender Sunsets), IA. Lavender, lotions, soaps, soothers, buds, anything lavender.
Luvin' Ewe Designs, WI. Hand-spun yarns, hand-dyed fiber, demonstrations.
Fiber Curio & Sundries, IA. Custom fiber and yarn, wearable fiber art. Vintage buttons and raw fleeces.
Plum Creek Fiber Folk, IA. Fiber, roving, fleece, drop spindles, buttons, Diz's, sewing boxes.
Prairie Retreat Farm, IA. Natural Shetland yarns and rovings.
3 Gals, IA. Baskets, Knitted items, sewn items, and jewelry
Grey Barn Farm LLC, IA. Alpaca rugs, wool, insoles, and yarn.
Yarn Geek Fibers, IA. Brightly colored hand-dyed wool fibers and yarns, many of which are named after women in STEM fields of study.
Knit Tronics LLC, IA. Artistic statement knitwear: unique hand-knit designs, featuring bold lace, color-work, and textural details.
Frerichs Alpaca Farm, IA. Yarn, insoles, hand-knit garments, coasters, dryer balls, bird nesting, houseplant fertilizer, rugs, and saddle pads.
Wooly Chics, IA. Books, washed fleeces, down stashing fiber, batts, yarn.
For more information, visit Shepherds-Market.com.