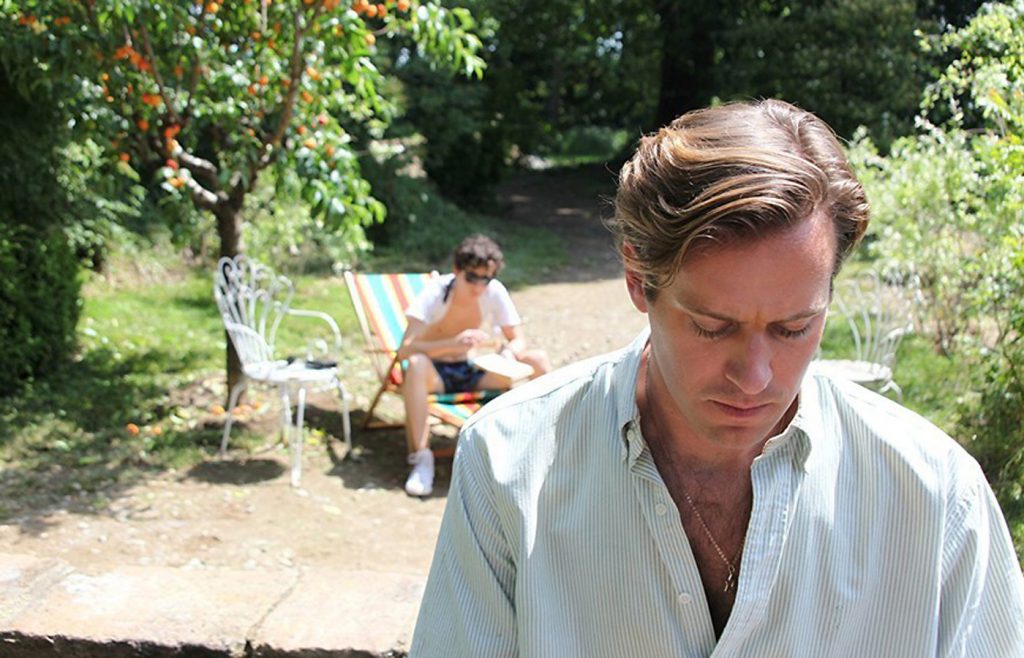 As a member of the viewing audience, I prefer to know as little as possible in advance of seeing a movie. But with all the Oscar hype for Call Me By Your Name, the proverbial cat was out of the bag: two young men fall in love. And yet this coming-of-age tale still delivered some gentle surprises.
In the summer of 1983, 17-year-old Elio Perlman (Timothée Chalamet) lives with his parents (Michael Stuhlbarg and Amira Casar) in the countryside of northern Italy in the 17th century villa his mom inherited. This tightly knit American family is ultra-educated and multilingual. Mom is a translator. Elio is an avid reader and musical genius. Though just a kid, he maintains a presence beyond his years. Dad is a distinguished professor of ancient Greek and Roman culture, which has its purpose, if you think about it later. And every summer he invites one of his American students to intern in Italy. More on the intern later.
Call Me By Your Name takes place in a veritable Garden of Eden. The family dines outdoors beside their Mediterranean orchard that yields peaches and apricots. Elio and his girlfriend (Esther Garrel) ride bicycles along picturesque roads to run errands in town or to go in search of their daily swim. And then Oliver (Armie Hammer) arrives. The intern. He's a tall, handsome doctoral student with a commanding personality. And he's moving in.
Call Me By Your Name is a day in the life, followed by another day, and another. Just a small American family with a cook and a villa, and an intern that Elio resents. Because Oliver is overconfident and informal, and always says "later" instead of goodbye. And worse, he took Elio's bedroom.
It's not much of a spoiler to mention that Elio and Oliver get friendly. And friendlier. Much friendlier. Personally, I'm happy for any two people who share love, though my taste in films runs on the conservative side. And visually, Call Me By Your Name hardly crossed the line, except for the fruit scene. Forget it, don't even ask.
Call Me By Your Name was nominated like crazy by the Academy, scooping up the Oscar for Best Adapted Screenplay for James Ivory, who adapted the novel by Andre Aciman. And Italian director Luca Guadagnino made sure the movie had heart. As for casting, Chalamet was a convincing young Elio. But I'm not sure Hammer was his match, since I couldn't find the chemistry. The dialogue and behavior worked, but the pairing felt superficial. And at the very least, Hammer's character deserved a more suitable name than Oliver.
Oliver is Elio's first real love, and their secret encounters bring a sense of forbidden pleasure and shame. What this film does best is impart wisdom. Those thoughtfully worded moments add the film's crowning touch. Call Me By Your Name might not be for everyone. But if you're inclined to see it, you'll be well entertained. B+