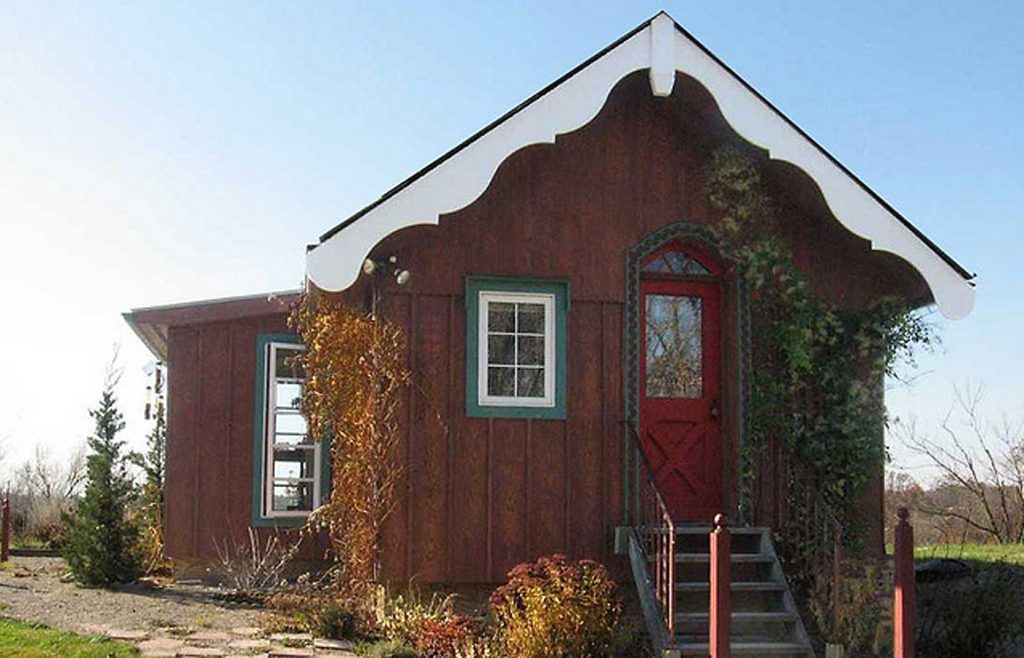 If you haven't visited the residence of Debbie and Tim Freeberg-Renwick, located southeast of Fairfield, you don't know what you're missing. Deb and Tim, both artists and designers, have built a one-of-a-kind home for themselves, the likes of which I've never seen. Small enough to be considered a "tiny house" by certain standards, it uses environmentally responsible and repurposed materials, resulting in a dream home that fits their lifestyle to a T. Believe you me, this is not just some shack in the woods. It's a highly functional, very practical work of art—and, without a doubt, a labor of love.
For a house with a 572-square-foot footprint, the space feels surprisingly expansive. Its designers have managed to create seven different living spaces, all of which are connected by a comfortable-but-cozy living room. I sat with Debbie in this very room on a sunny March afternoon—truly awestruck by my surroundings—while she graciously allowed me to eat her apple cobbler and pick her brain: What design and decorating tips did she have for folks who are toying with the notion of building a tiny house . . . or just want to downsize? She was full of ideas. Here are five of my favorites.
1. Keep Only What You Love
And find a way to use it. (Let go of the rest.) This is one of the basic tenets of feng shui, no matter the size of your home: if you don't love it—or don't use it—it's a waste of space and energy. When it comes to downsizing, making hard decisions about what to keep and what to toss is especially part of the territory.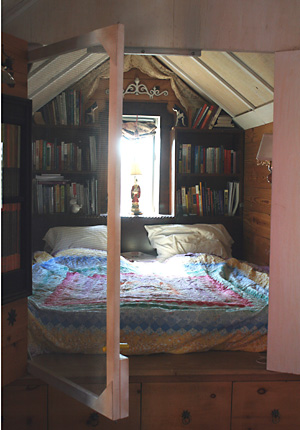 As the Freeberg-Renwicks carefully chose which items would "make the cut" (they were transitioning from a much larger house), Debbie pondered on a few dearly loved items that hadn't served a real purpose but which she was not willing to part with. Drawing upon her creative skills, she found new purposes for these treasured items: parts of a broken cuckoo clock (a family heirloom) became curtain tiebacks; carefully collected tin boxes now contain her favorite teas, adding order and charm to exposed kitchen shelving; and her grandmother's lace table runner is currently being enjoyed as a bedroom curtain.
2. A Little Color Goes a Long Way
Although most of the walls and ceilings of this house were light, natural wood tones, Debbie and Tim certainly didn't shy away from color. While being careful not to go overboard, they used a handful of lively colors and patterns to create variety and richness. The stained-glass border Deb designed for her front door, visible from almost every room, laid the blueprint for her jewel-toned color palette. The inside of a wooden dining room cabinet—which she had painted a brilliant cornflower blue—was an inspired detail, enlivening the blues in the living room rug while making the surrounding woodwork absolutely pop.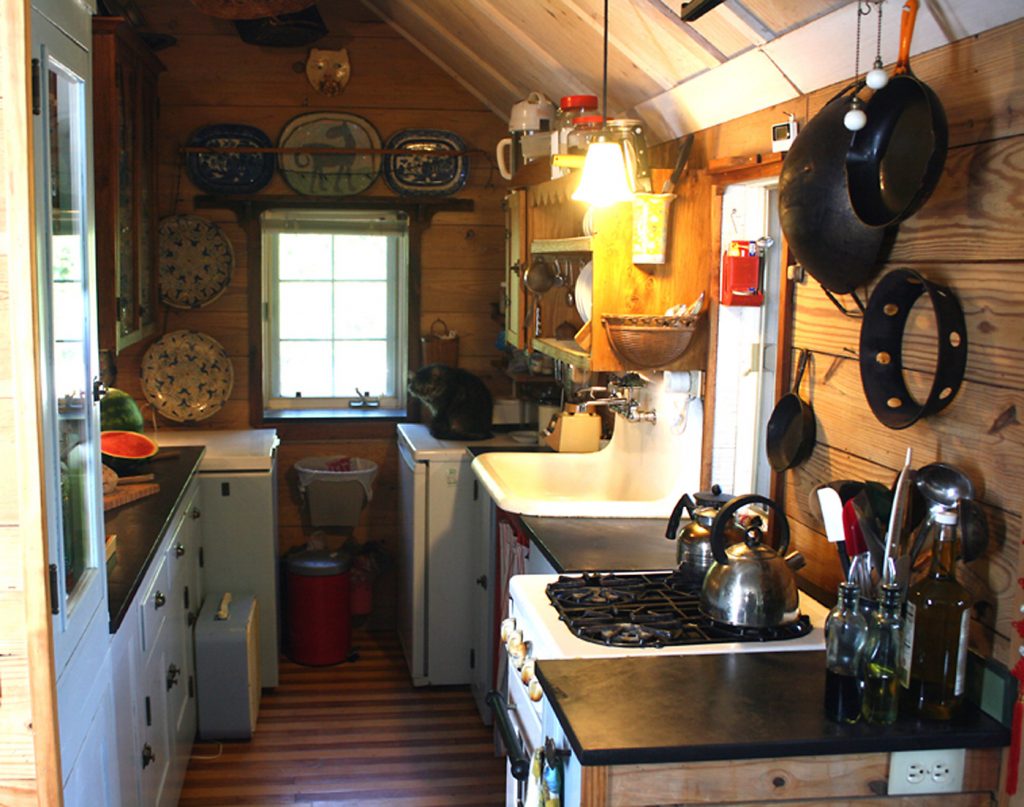 Much of the color in the space, however, was provided by vibrant accent items—pillows, throws, and chair covers—working harmoniously together. Debbie pointed out that one real benefit to using color primarily on accent pieces (bathroom towels, couch covers, bedspreads, even artwork) is that these elements can be switched out seasonally. "As soon as you stop noticing something," she says, "it's a good time to change it up."
3. Plan The Space for Everyone Who Lives There—Pets Included
I had been admiring a pair of floor-to-ceiling pillars for a half an hour before I realized that they were scratching posts for the fabulous Freeberg-Renwick cats. How brilliant! Made from natural two-tone twine coiled around columns, and crowned by reclaimed, hand-carved capitals, they were by far the most tasteful scratching posts I'd seen.
Debbie also pointed out the catwalk above our heads—made from white-washed wood to match the ceiling materials—and showed me that the antique chest they kept as an end table was also a functioning litter box. No way! Tim had expertly finessed a ventilation system for the enclosed cat box using a computer fan, so all odor is wicked directly through the wall to the great outdoors. There are four cats that live at this address and I smelled zero evidence of them. Impressive.
4. Use Your Ceilings!
For most of us, ceilings are an afterthought. We paint them white and hang light fixtures from them. That's about it. But for a tiny home, where every room is intimately connected, a little planning can help you create a surprising variety of environments within a minimal amount of space.
For instance, Tim had always wanted a barrel vault ceiling, so he built a small, beautifully coffered one for the entry. Paired with a golden, glazed wall color, the entry room is warm and enchanting. The bedroom utilizes a peaked gable ceiling, its symmetry creating a peaceful yet sacred resting space. And check this out: one of the bedroom ceiling panels swings down to reveal a hidden storage area. In a house this size, every square inch counts!
5. Let Your House Work for You
Debbie and Tim wanted their home to support them, requiring as little fuss as possible. A few of the solutions they found are downright inspiring. The best, if you ask me, is the kitchen dish-drying rack, built into an open-bottom cabinet that hangs directly above their reclaimed porcelain sink. Picture this: you wash your dishes and place them on the rack directly in front of you. Period. No post-drying dish transfer required! Dishes have already been put away!
Here's one final tip to cut down on basic home maintenance: This tiny house's rural location brings the natural world right to its doorstep—definitely part of its beauty. That said, a considerable amount of nature (i.e., dirt) gets tracked in through the front door. It's a shoes-off house, so the entry room bears the brunt of the grime. Simple fixes: unpainted wooden wainscoting effortlessly hides scuff marks and mud, and a diamond-patterned floor, painted with contrasting shades of blue and tan (the color that Debbie has affectionately named "Iowa dust"), disguises just about anything unseemly.
Keep your eyes peeled for Debbie's book about this gorgeous tiny home. And I highly recommend visiting FRDesignsIowa.com, where you can view pictures and learn more about upcoming open houses. You've got to see this place for yourself.