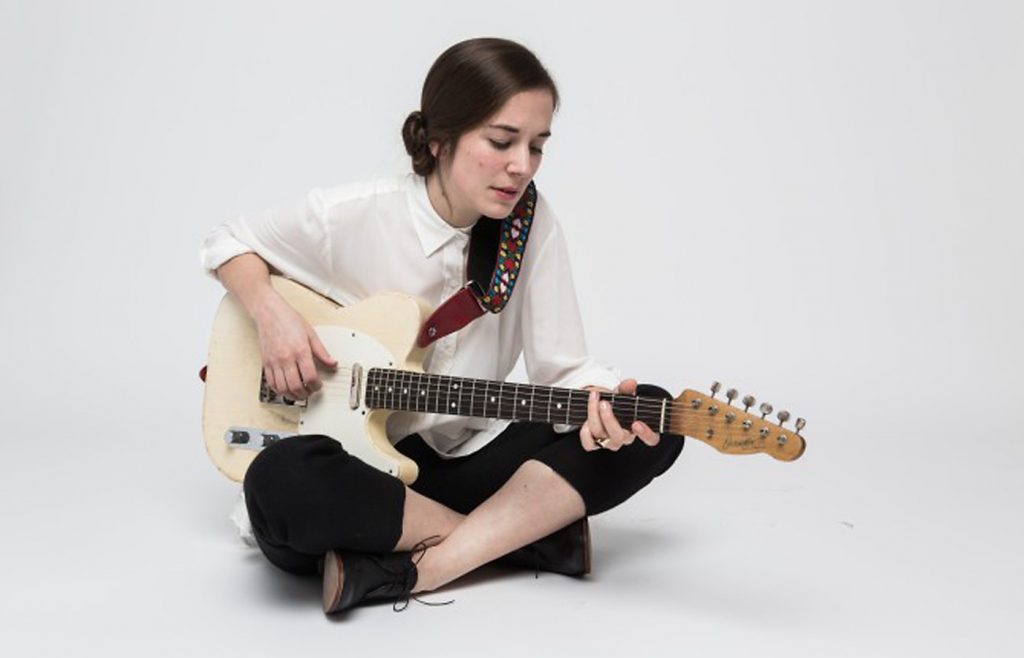 Margaret Glaspy performs on April 6, 2018, at the Englert Theatre, as part of the Mission Creek Festival. This article is from the December 2016 issue of The Iowa Source, before her January 2017 appearance at the Mill.
California native singer-songwriter Margaret Glaspy, who has performed in the Hawkeye State several times, confesses to being obsessed with Cobra Verde and stocking up on bottles wherever she can find them. For those who don't know, Cobra Verde is an all-natural, green-coffee drink made in Iowa City and invigorated with the flavors of ginger and citrus. She also declares that she loves Iowa's beautiful scenery.
Glaspy's music has been celebrated by a variety of listeners, from mainstream sources such as The New Yorker, National Public Radio, and the New York Times to more nontraditional publications such as The Village Voice, Pitchfork, and Stereogum. Glaspy's critically acclaimed, self-produced first full-length album, Emotions and Math, is bound to show up on many of this year's "best of" lists.
Glaspy began her career as a fiddle-playing folkie but she now plays a mean electric (and acoustic) guitar. She credits her family for broadening her horizons. Her brother and sister turned her on to alternative rock, and her father exposed her to the classic stuff.
"Elliot Smith and Joni Mitchell are definitely two big influences on what I do," Glaspy said. "I would add Rage Against the Machine and Bjork to that list as well. These artists made music that I find lyrically interesting and textually fascinating." She considers Mitchell's Blue album to be the one that really turned her around and the touchstone by which she still measures her work.
"I write my songs from lots of different viewpoints, but they are all coming from me and my experiences in some way, shape, or form. That said, I love showing up to songwriting as my job and not as an emotional undertaking," Glaspy said.
Her songs are not autobiographical or confessional in the conventional sense, but they do emerge from her encounters and observations. Several of the cuts on her debut release, such as "Homeschool" and "You and I," concern intimate matters of friendships and relationships.
But Glaspy is also an aggressive instrumentalist whose music suggests that she's nobody's victim. She hits the strings with a distinctive flair that reveals her independence. "I'm always trying to find the right amp and the right guitar. Often my sound boils down to finding the sweet spot for distortion to happen without too much help from pedals or effects. I'm always striving to be a better guitar player." In a world of many talented singer songwriters, Glaspy's music stands out.
"I'm happy being myself!" Glaspy declared. She acknowledges her influences but doesn't try to imitate them. However, when she needs to listen to others to boost her spirits, her recommendations reveal her iconoclastic spirit: rapper Missy Elliott, teen idol Justin Bieber, hip-hop artist J Dilla, and Joni Mitchell.
Despite Glaspy's personal songwriting, she clearly values her privacy. She said people should listen to her songs "You and I" or "Love Like This" to understand her—and because those are her two favorites.
Glaspy's music is for those find typical singer-songwriters too sweet and prefer their music straight without being unnecessarily wholesome. She's adventurous and distinctive, in all the right ways and bound to quench one's thirst for something new and innovative.
To hear Glaspy on Friday, April 6, get your Mission Creek weekend pass online.