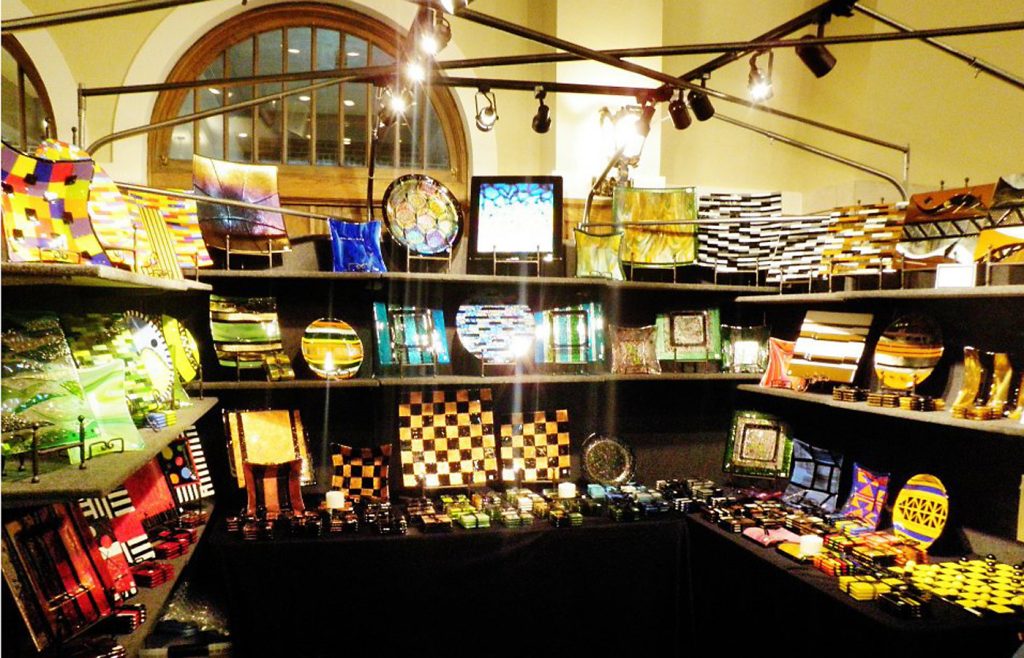 The Spring Art Exposé, hosted each April by University of Iowa students, brings together some of the finest artists in the Midwest under one roof. Everything from painting and printmaking to jewelry to glassworks—with fiber arts, ceramics, and much more in between—will be on exhibit and for sale. This year's show will be held April 21-22 at the Iowa Memorial Union on the University of Iowa campus.
The indoor art exhibition and sale will be accompanied by a free Annual Wine & Craft Beer Tasting from 12 to 3 p.m. on Saturday, April 21. Area vendors, including Wilson's Orchard and Ardon Creek Winery, will showcase a selection of their wines and craft brews for patrons to sample, enjoy, and purchase. The featured vendors vary from year to year, allowing guests to learn about and support local products.
The show will also feature artworks from selected emerging student artists as well as garden plants from Reha Greenhouses.
Organized by the Fine Arts Council, a nonprofit student organization, the annual art fair gives students of all majors and backgrounds the chance to develop real-world skills in marketing, advertising, logistics, management, and event planning. "We start working at the beginning of the semester up until our shows, which are held at the end of the term," says marketing director Annalise Castro. "So preparation for each show—including artist application processing, securing wine- and beer-tasting vendors, and marketing—is roughly four to five months."
The Fine Arts Council organizes two art shows a year, the Holiday Thieves' Market in late fall and the Spring Art Exposé in April.
Due to popular request, this year's show will include more fiber artists than ever. "We also have some new painting and mixed media artists which I am very excited to see in person!" says Castro.
Many long-time patrons of the show come back each year to see what their favorite artists have created. "I think the comments that I hear most frequently are patrons coming back to each event to shop the same artists," says Castro, who has done six shows with the Fine Arts Council. "They continue to build upon their own personal collection of a certain artist's work. Jewelers in particular have been selling their artwork to families, their children, and their children after that. It fosters a really incredible sense of community within the art world and builds strong relationships between patron and artist."
The spring show brings in somewhere between 70 and 90 artists for the event, and attracts up to 4,000 art-loving patrons for the weekend.
And while it's a cherished community tradition for many regulars, of equal importance is the opportunity for students, working part time while also attending classes, to be totally responsible for manifesting such a large and popular event on their own. "We learn the value of hard work and feel empowered to become strong leaders through the work we conduct," says Castro.
The 2018 Spring Art Exposé is open 10 a.m. to 5 p.m. on Saturday, April 21, and 10 a.m. to 4 p.m. on Sunday, April 22, in the Iowa Memorial Union. The Annual Wine and Craft Beer Tasting is held from noon to 3 p.m. on Saturday. Admission is free!