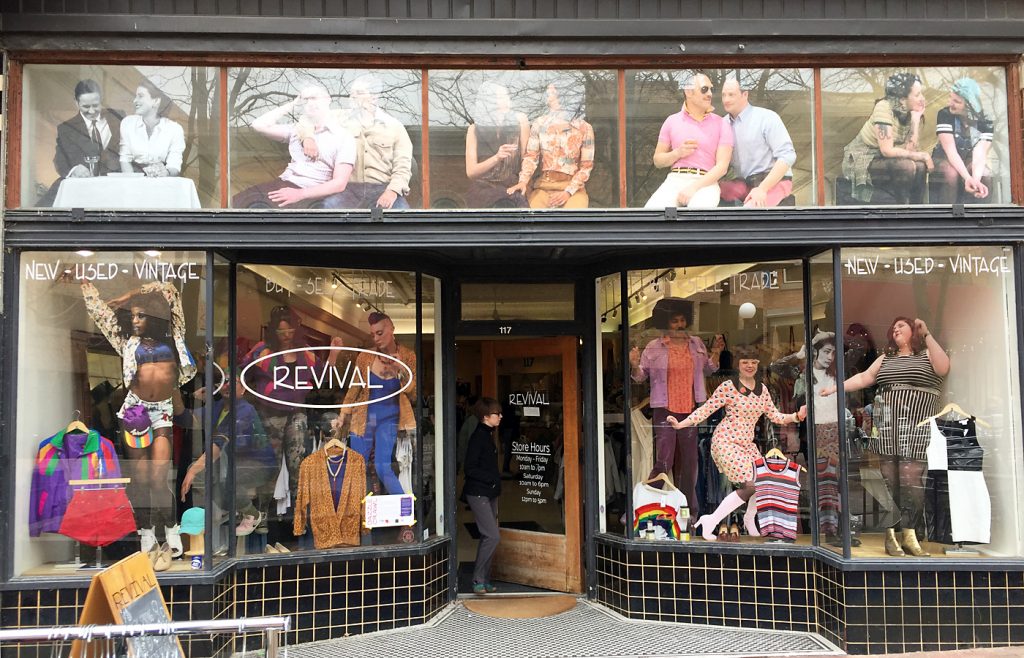 Named after costume designer Machine Dazzle and the store windows he created for Neiman Marcus, the Dazzle Crawl brings an explosion of artworks, viewpoints, and exuberance to downtown storefronts, culminating with a parade crawl on Friday, April 27, 5-7 p.m., with live performances and one-night art installations.
Machine Dazzle is the designer and former Dazzle Dancer responsible for the fantastic, sculptural costumes that Taylor Mac wears during his show, A 24-Decade History of Popular Music, which is coming to Hancher in an abridged version on April 28.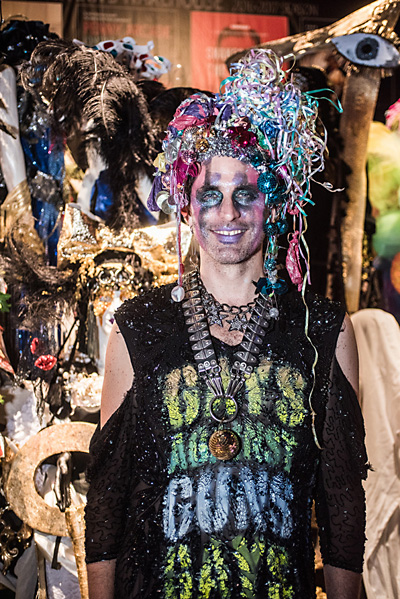 Machine Dazzle is also the grand marshal for the parade that begins at 5 p.m. at 287 N. Linn St., the site of the first window. Says participating artist Kalmia Strong, "We'll be parading from stop to stop for installations and short performances from local artists that celebrate moments, spaces, threads, and images centered in Iowa's past and present, from breaking to burlesque, LGBTQ nightlife to prairie fires to flooding, migration to microbes to mountaineering, and feminism in art, public policy, and beauty." For details, consult the Dazzle Crawl schedule.
Nearly 20 area artists volunteered to design and create the windows. Participating artists and artist groups are Chuy Renteria, Kenny Morgan, Mike Stenerson, Emily Jalinsky, Sayuri Sasaki Hemann, Katherine Simóne Reynolds, Iowa City Community Carnaval Parade Project (Loyce Arthur, Manuela Foglio, Ariane Parkes-Perret), Bluestockings Feminist Art Collective, Frankie Schneckloth, Zoë Woodworth, John Engelbrecht, David Dunlap, Adam Burke, Vero Rose Smith, and Alison Filley.
Here's a list of  Dazzle Crawl windows:
A Shout Out to the Breakers Before Us: Chuy Renteria, Mike Stenerson, & Kenny Morgan, at 287 N. Linn St.
Over the past decades, Breaking Crews have been integral in laying down the roots of the Iowa Breaking Scene, like Killa Weapons Crew, the Flava Unit, 515 Breakers, and many more. This art installation highlights these dancers and the history of the Breakers who came before the current generation.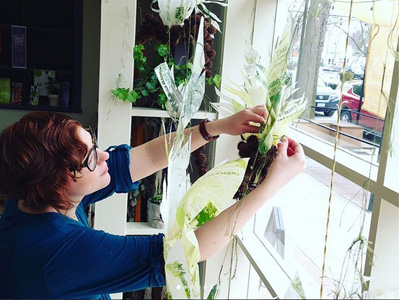 The Vital Cycle of Fire and Growth: Emily & Sayuri Artist Duo, at Willow + Stock, 207 N. Linn St.
Iowa City entered into a radical state of change in the early 1970s with peaceful protests, sit-ins, and riots with fires in the streets. That history impacts our current political landscape as we continue to protest and march in support of human rights and safety. "Ecosystems native to the Midwest depend on periodic fire events to rejuvenate growth and ensure long-term survival." —Tallgrass Restoration
Browns and Nudes: Katherine Simóne Reynolds, at Wesley Student Center/PS1
Browns and Nudes reflects on the language used to describe colors of brown and nude lipsticks found in the beauty aisle. This piece explores the complicated relationship that Black women have with the beauty industry.
On the 45th Year of the Emma Goldman Clinic: Bluestockings, at Beadology
The feminist art collective Bluestockings celebrates the history of Iowa City's very own feminist healthcare and abortion services provider, the Emma Goldman Clinic.
We Are All Immigrants: Iowa City Community Carnival Parade Project, at Prairie Lights
Our project celebrates Iowa City's patterns of immigration and migration by highlighting the City's literary- and bio-diversity, represented by text and abstract images of its people and butterflies.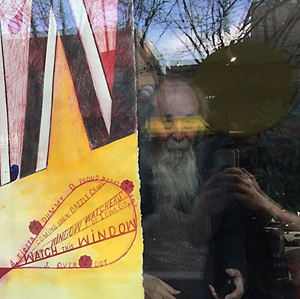 FOAM (Friends of Ana Mendieta): Atom Burke, David Dunlap, & John Engelbrecht, at Sculpt
FOAM forefronts the artists of this place who came before: stepping off with the story of Ana Mendieta (Foster Child of Iowa), an everchanging work-in-progress will unfold in the window.
Nightlife: Zoë Woodworth, at Revival
This installation celebrates the history of LGBT nightlife in Iowa City. Before it was safe to be out of the closet, LGBT Iowa Citians took refuge in bars and dance clubs. This project seeks to celebrate those safe spaces and the Iowa Citians whose presence brought them to life.
Frankie Schneckloth, at Velvet Coat
The Iowa Mountaineers were one of the most prolific mountaineering clubs in the world, with over 6,000 members across the globe, climbing over 1,300 peaks. This installation seeks to capture a bit of that breathtaking beauty, encouraging us all to connect with the natural world and transform our small beginnings to grand adventures.
Guts and Glory: Vero Rose Smith, at Yotopia
A bacterial battle rampages continuously in our intestines. Day after endless day, microflora friends bravely resist the invasion of pathogens. This installation serves as a real-time reenactment of the war that rages within and as a tribute to the over 205,000 Iowan cows who provide our probiotic-fueling dairy.
Rising Waters: Alison Filley, at Hands Jewelers
During the flood of 2008, I looked across the field and saw a plastic trashcan gently float across the window inside the building. This simple moment contrasted with the destruction that water can bring. This installation tells the story of not only this flood but also all the rises and falls of the Iowa River and Ralston Creek and how it has affected its residents and city planning.
Secret Showcase: Heartland Bombshells, at The Garden Room
Iowa City's own burlesque darlings, The Heartland Bombshells, are capping off Dazzle Crawl with an intimate Secret Showcase to tease you with our finest array of talent.
Hancher Auditorium
Machine Dazzle's elaborate costumes are on display at Hancher Auditorium.