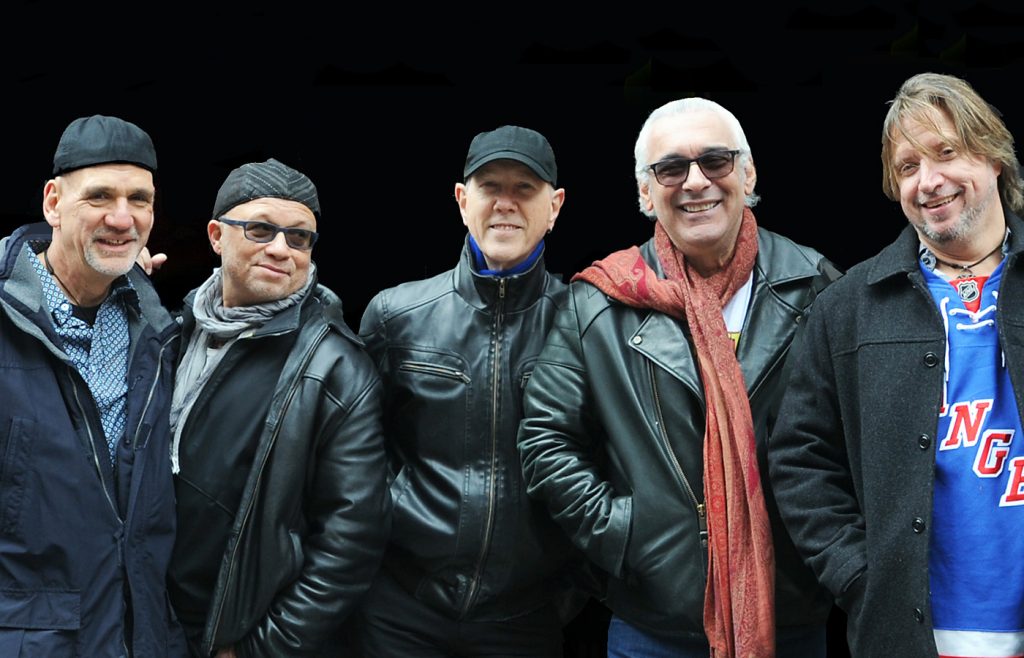 Eight years ago, five friends who just happened to be a super group of musicians who played with stars of the '60s, '70s, and '80s decided to take a chance, form a band, and hit the road, capitalizing on the popularity of Broadway's Jersey Boys. Since then, the Hit Men have played to audiences all over the U.S. and Canada, getting standing ovations and having a great time.
The chart-topping songs in which all five Hit Men had significant roles, together with their "behind the music" stories, make their Time Travel Tour an intoxicating ride through the most magnificent years of rock and roll. The rock supergroup is coming to the Sondheim Theater in Fairfield on May 12 at 7:30 p.m.
The guys played or toured with the likes of Cheap Trick, Rod Stewart, Eric Clapton, Foreigner, Sting, and other international stars, from Frankie Valli to Elton John. Archival photos, video footage, and fascinating stories from the road highlight their unforgettable experiences with legendary rock stars.
Although the songs from those relationships form the backbone of the show, it's the backstories that allow the audience to relate and connect with the Hit Men. Guitarist Jimmy Ryan, who now calls Fairfield home, recounts how his interest in a female co-worker at a Greenwich Village record store was thwarted because she was dating his boss. But the two kept in touch, and when the co-worker, Carly Simon, needed a guitar player for her first album, she reached out. It began a musical partnership that lasted more than 20 years.
This multi-media concert will feature hit songs that the Hit Men performed on a recording or while on tour with the artist or band, including "Don't Stop Believin" (Journey), "Good Lovin" (The Rascals), "I Want to Know What Love Is" (Foreigner), "The Locomotion" (Little Eva, Carol King), "Happy Together" (The Turtles), "Joy to the World" (Three Dog Night), "Pinball Wizard" (The Who), and "Oh What a Night" (Frankie Valli and the Four Seasons).
The Hit Men have also released a new song of their own, with a video shot in Fairfield.
Keyboardist and group founder Lee Shapiro joined Frankie Valli as one of the legendary Four Seasons in 1973, when Lee was only 19. As keyboardist and musical director, Lee toured the world performing top hits, including "Can't Take My Eyes Off You," "Sherry," and "Big Girls Don't Cry." Lee was also arranger on the multi-million sellers "Oh What A Night" and "Who Loves You."
Jimmy Ryan, another founding member of the Hit Men, has recorded with Cat Stevens, Jim Croce, Rod Stewart, Paul McCartney, Mick Jagger, Elton John, the Doors, and many others.
Jeff Ganz has toured and recorded with Laurie Anderson, Lou Reed, Tito Puente, Chuck Berry, Melvin Van Peebles, Dr. John, Eddie Money, Cheap Trick, Vanilla Fudge, and Blood, Sweat & Tears.
Russ Velazquez, a first-call session singer and guitarist for more than 30 years, has performed for hundreds of recording sessions, lending his voice to a myriad of TV spots. Velazquez is a three-time Emmy-nominated composer and arranger for Sesame Street.
Steve Murphy is a drummer, singer, producer, and engineer who has been heavily involved in the New York City music scene since the late '80s. Murphy also toured with the Animals, Dave Mason, Todd Rundgren, Christopher Cross, the Turtles, and other major artists from the '60s, '70s, and '80s. 
Tickets are available at the Fairfield Arts & Convention Center Ticket Office, (641) 472-2787 or visit www.FairfieldACC.com.