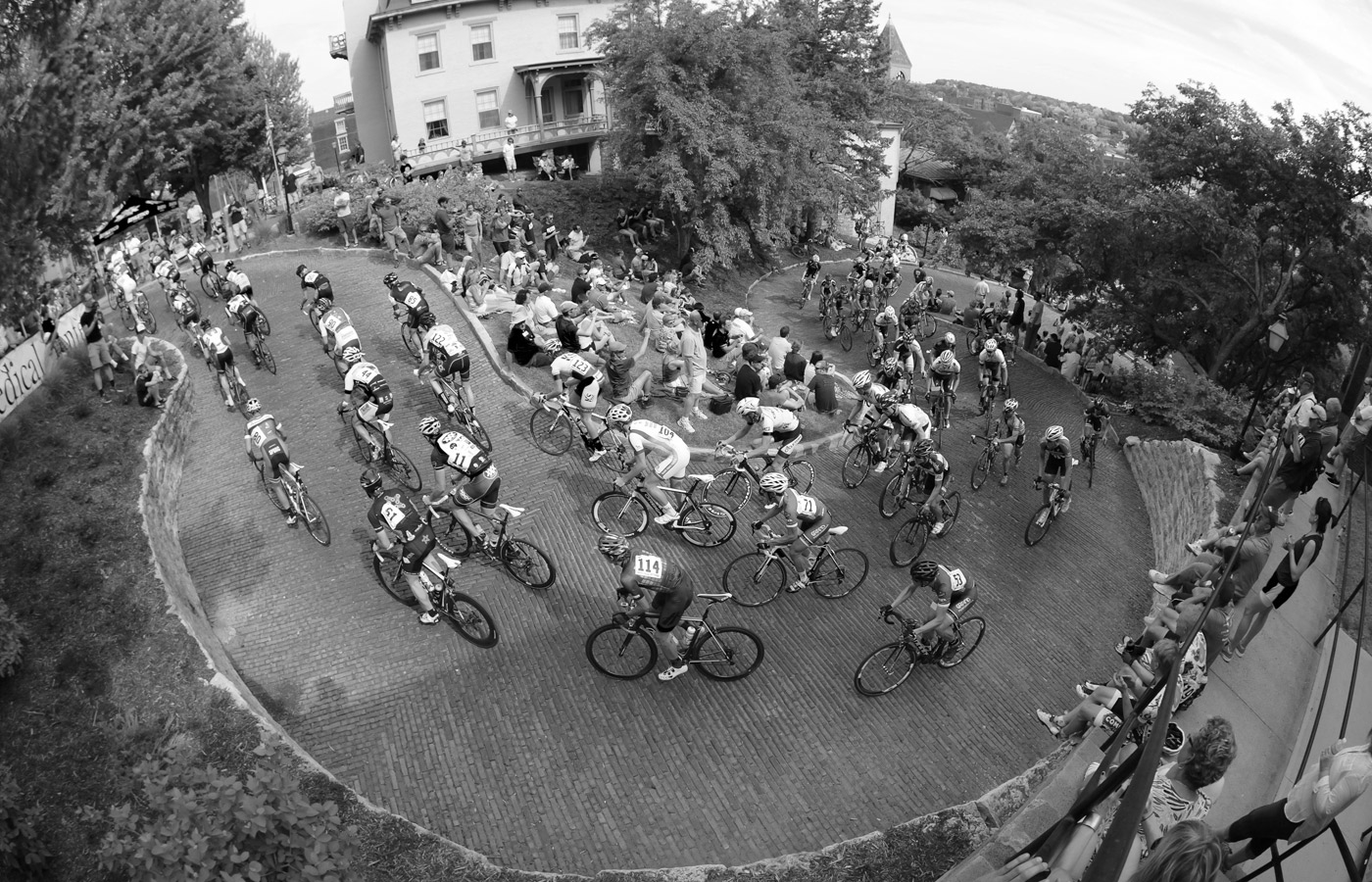 This Memorial Day weekend, venture down to Burlington, Iowa, to witness one of the most exciting bicycle races in, dare we say, the world! On Saturday, May 26, seasoned racers will travel from all over to take part in the annual Snake Alley Criterium, held on a 15-block course in downtown Burlington. The crux of the race is a one-block climb up the historic brick-paved Snake Alley, dubbed "the crookedest street in the world" by Ripley's Believe It or Not. The 276 foot-long Snake Alley has five switchbacks in its 60-foot climb, the average grade being 12.5 percent, making this one of the most physically challenging races in the Midwest.
Cyclists from 9 years old to professional will be racing the Snake, with start times staggered throughout the day beginning at 8:30 a.m. and completing after 4 p.m.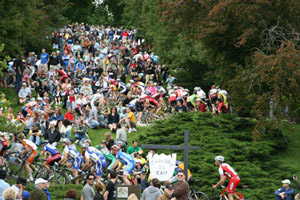 Onlookers can also catch a number of other races on Saturday, including the legendary Cobble Climb, a grueling two-block uphill time trial on brick pavers and bumpy cobblestone. Cobble Climb races begin at noon.
Kids ages 3–9 will also have their chance to shine in some classic, fun bicycle races on the streets of historical downtown Burlington. If you think you have what it takes to compete, registration for the Cobblestone Climb and Kids' Races (no entry fee for kids!) takes place from 10–11:45 a.m. at the Steamboat Senior Center, 501 Jefferson Street.
Some cyclists will be descending on the town a day early to compete in the Burlington Road Races on Friday, May 25. The Burlington Road Race is an out-and-back race of approximately 104 miles, race time is 3:15 p.m. sharp; the Burlington-MEPO Road Race is an out-and-back race of approximately 46 miles, race time is 4:15 p.m.; and the Mediapolis-Burlington Road Race is a point-to-point race of approximately 23 miles, designed to give novice racers the opportunity to road race within their skill level. Estimated starting time is 5:30 p.m.
For more information, Criterium start times, etc., visit SnakeAlleyCriterium.com.