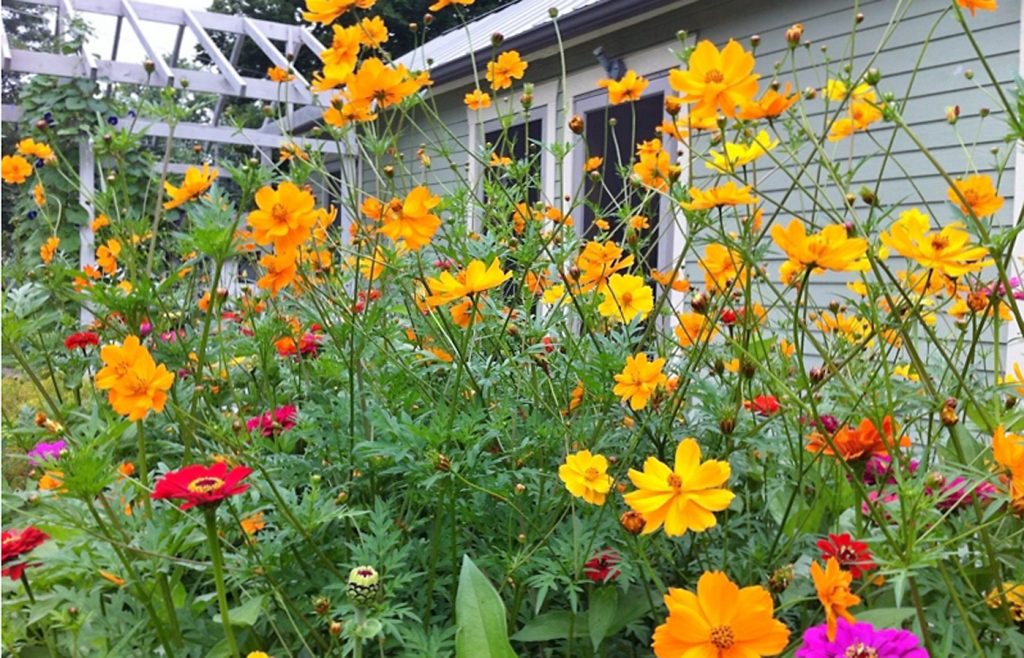 Project GREEN celebrates 50 years of making Iowa City more beautiful with its annual Garden Tour on Saturday, June 23, from 10 a.m. to 3 p.m. Seven gardens in three walkable neighborhoods close to downtown are featured. The cost is $10 (free for kids 12 and under), which helps fund maintenance for Project GREEN endeavors.
This year's "bee-friendly" theme showcases homes with beautiful vistas, engaging hardscapes, and edible gardens. Children are especially welcome, with a special scavenger hunt arranged for just for them (pick up a sheet at any garden location). This year, Project GREEN has partnered with Old Capitol Quilters Guild to showcase quilts in the gardens. Visitors can also enter a raffle to win a beautiful quilt, with all proceeds going toward beautifying Iowa City landscapes.
Neighborhood 1: Fairview/East Court/East College (near City High)
Philip and Julia Mears, 1507 East College Street. The Mearses moved to East College Street in 1983, and their garden has been growing ever since. Now the corner lot is a wonderful mix of sun and shade with mature trees.
The past 30 years have seen a series of "enthusiasms." At first there were hostas and daylilies. Then came Epimedium (barrenwort), iris, hellebores, and lilies of all kinds. "The garden is best in April with so many spring bulbs, followed by a wonderful sequence of blue scilla and then bluebells," says Julia Mears. "The hostas are particularly nice amidst the bluebells."
The Mears are now taking their gardens in a vertical direction, hanging plants in trees. Looking up, visitors will find Epiphyllum (orchid cacti), a cousin of the Christmas cactus that have much larger flowers and bloom in the summer.
Most of the garden can be seen from the street and sidewalk. "You are also welcome to just wander through on the paths, even when we are not home," Julia adds. "But if I am out in the garden, please say hello. I enjoy gardening. I enjoy talking about gardening just about as much."
Read about the Mears' garden and view their photos on their blog: MearsGarden.blogspot.com.
Mary Morrison and Libby Kestle, 1402 East Court Street. A water feature is the star of this dog-friendly garden that feels a lot like an escape hideaway. "I want our garden to be a tranquil escape, and be bird and bee friendly," says Mary Morrison. "We have tried to focus on native perennials, bee-friendly plants, hardy and easy-to-care-for plants."
The owners continuously work to add more perennials for color and visual interest throughout the year. Whenever possible, they incorporate Seed Savers' bee-friendly plants and seeds in the vegetable garden. The edible garden features blueberries, thornless blackberries, rhubarb, and dwarf cherry trees. The red rhubarb and peonies are originally from their parents' garden in Keosauqua.
Libby Kestle loves beekeeping and learning about their behavior. "The bees are great stress relievers and provide a huge amount of enjoyment for us, our family, and friends," Mary adds.
Neighborhood 2. Windsor Heights, just west of Regina
Ginny and Bryan Clemons, 518 Woodridge Avenue. The Clemons enjoy gardening for its beauty, the relaxing activity it affords, and the challenges that each season offers. The front garden is highlighted with a berm featuring low-growing evergreen shrubs interspersed with perennial groundcover Iris cristata. The front walkway features perennial wintercreeper groundcover and boxwood shrubs. The east side of the patio is planted with a row of very hardy architectural Eastern Hornbeam trees to add shade. The trees are interspersed with upright boxwood shrubs, which cover a retaining wall.
"Our backyard is casual," Ginny says. "Surrounding the foundation are plantings of spirea, cypress, hydrangeas, viburnum, and shade-loving perennials. Wintercreeper is featured around the sitting patio. The fenced cutting garden contains a mixture of sunny perennials and many annuals started mostly from seed. Zinnias are a favorite feature because of the bright color and because they are a great cutting flower. It is also a favorite spot for butterflies that frequent the garden plants."
Since they live next door to Hickory Hill Park, deer are constant visitors, so outside the fence the Clemons have planted deer-resistant species.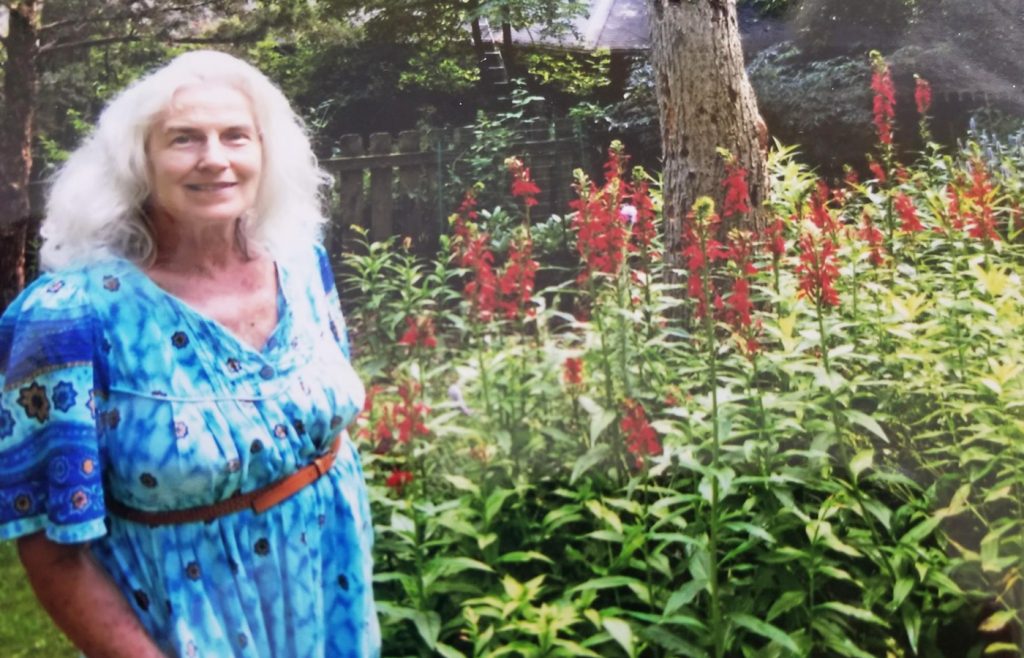 Blossom Perkins Shaw and Jay Shaw, 309 Windsor Drive. When the Shaws moved to their home in 1979, the large lot contained seven big shade trees, a few plantings, sparse grass, and muddy slopes. Two years later, Blossom wrote in her journal, "Why do I work so hard in my gardens?" Today, she works just as hard to keep the garden in shape, and for the same reason: "I love being close to nature, because this is our territory—a place to make as beautiful and natural as I have the energy to do," she says. "And at the end of the day, when the low sun filters across textures and color the flowers and leaves, and the chickadees and cardinals visit again, I know that with my time and toil I have made this beautiful garden to grow and last long as I keep on weeding."
Blossom designed the landscape and did most of the work herself with help from her husband and students. It features a native woodland garden, hosta hill, shade terrace, prairie garden, and four butterfly and bee gardens. She built small walls using native rocks to hold and outline some beds, saving leaves for mulch and using fallen branches to build a brush pile for wildlife. Blossom calles it her "38-years work of art."
Birds are well cared for with feeders, water, plantings, and nest boxes. The property has been certified by the National Wildlife Federation, the North America Butterfly Association, and the Bee Friendly program. "Everyone in our family loves this natural habitat," she says.
Scott and Sheri Swartzendruber, 1741 Winston Drive. The Swartzendruber backyard invites you to relax with a glass of lemonade under the pergola. The focus is a gigantic white pine with a Japanese bird bath resting beneath it, a place that the birds love to stop for a drink. The white pine is surrounded by many varieties of hostas and astilbes. The tiered flower garden contains many natural tall grasses and a variety of annual and perennial flowers for a splash of color.
"The backyard is an active one," Sheri says, "depending on which grandchild is there with their football, baseball, or Frisbee before the family barbecue."
Neighborhood 3. South Seventh Avenue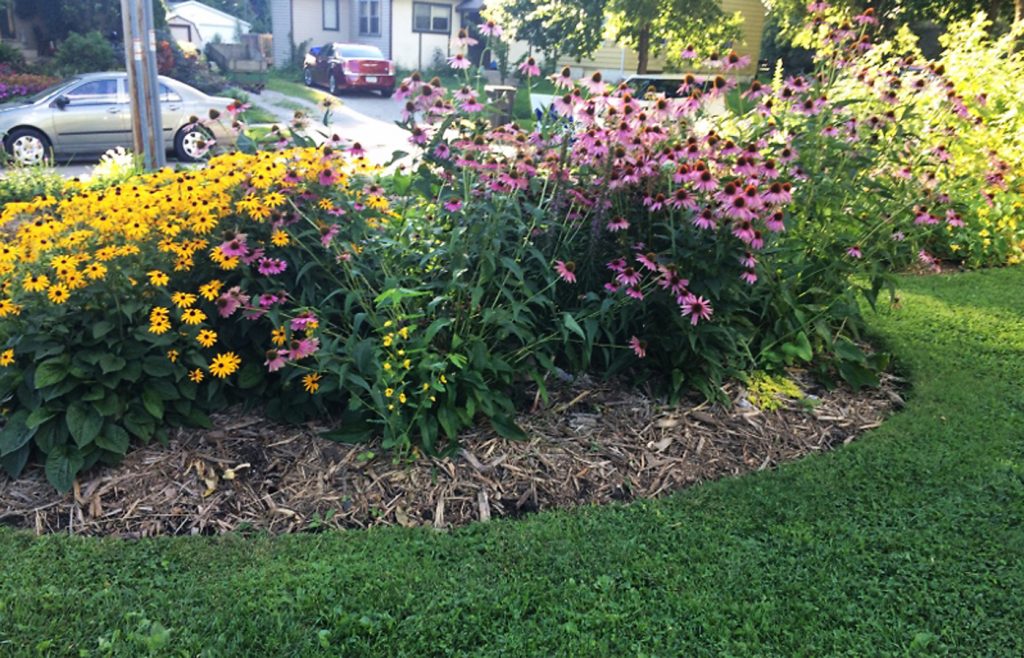 Martha Norbeck, 906 S. Seventh Avenue. "As a green architect," Martha says, "my first task with this property was to redo the building—formerly a shed—into a livable space with proper 'green' materials, including a solar panel. Ten years ago the first fruit tree was planted followed by green beans strung on the porch. Now there are many kinds of berries, various vegetables, two nut trees, an apple tree, and many varieties of flowers and herbs."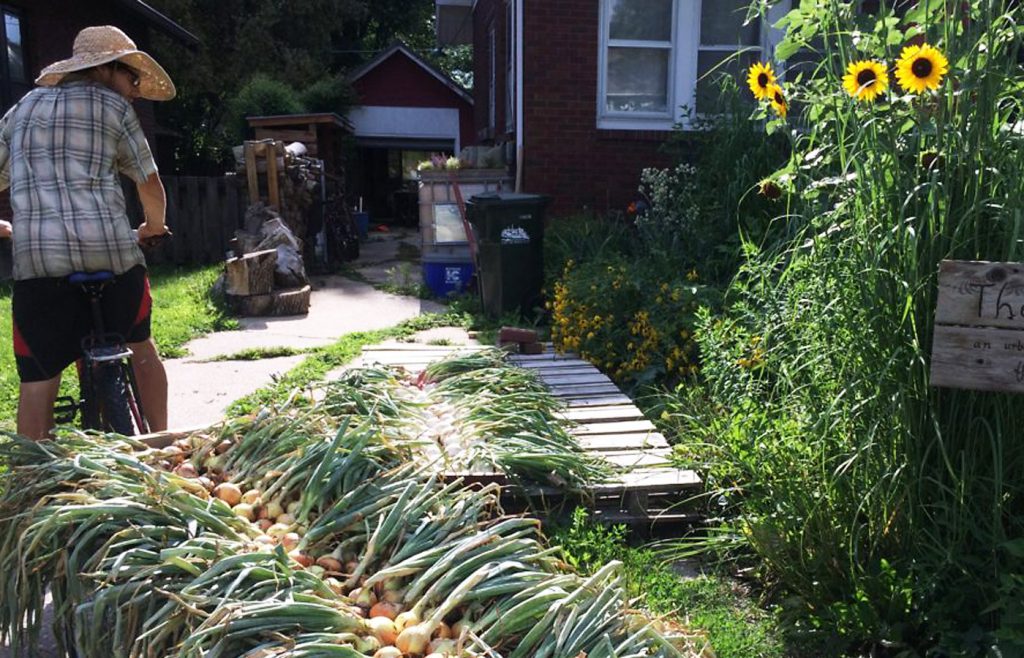 Jon Yagla and Wren Almitra, 911 South Seventh Avenue. Jon Yagla has been growing food on small-scale rural and urban farms for more than eight years. The name "Jagla" is Polish for millet, which is one of the oldest human foods and believed to be the first domesticated grain. Wren Almitra works for Women, Food & Agriculture Network. Together, the couple operates The Millet Seed.
All of the gardens are approximately 4 by 25 feet to maximize the efficiency of planning, planting, and harvesting food crops. "We grow a large variety of fruits and vegetables for home use and for CSA shares from May through October," says Jon. "One of my favorite vegetables to grow is the Egyptian walking onion. This perennial onion has alien-like top sets and we eat the delicious green onions and shallot-like bulbs. Our goal is to grow healthy food for our community while taking excellent care of the soil and using as little fossil fuels as possible."
They follow organic practices and use no-till techniques and deep mulching for maximum plant and soil health. Visit TheMilletSeed.com to learn more about their CSA and what they grow.
Project Green is a volunteer, nonprofit organization formed in 1968. Learn more at ProjectGreen.org.