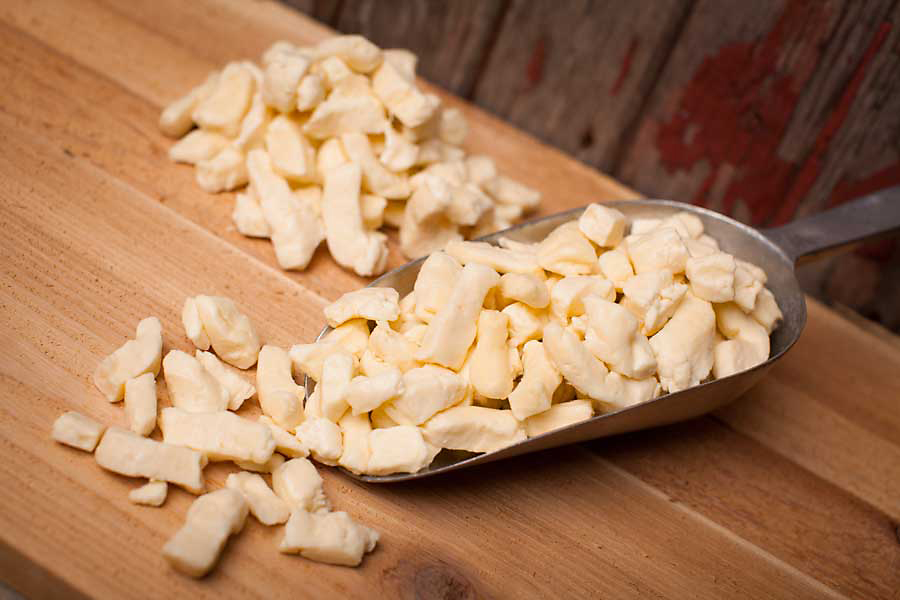 Our Cheesehead neighbors in Wisconsin may be the biggest consumers of cheese curds, but these tasty nuggets have been steadily gaining traction as a popular snack food in Iowa, too. Kalona Creamery celebrates the return of these creamy treats with a Cheese Curd Launch Party on Saturday, August 11. It's the first time they've been offered at this location since Twin County Dairy closed in 2014.
You can sample local cheese curds all day on August 11, from 9 a.m. to 5 p.m., at the free, family-friendly event at Kalona Creamery, located on Highway 1 in Kalona. The celebration will also feature photo ops with Lona, the mascot cow, and a Cheese Curd Eating Challenge.
We brought our cheese curd questions to Sara Rissi, marketing manager for Open Gates Group, a consortium of eight entrepreneurial food-related companies located in the Kalona area.
Have you gotten lots of requests for cheese curds since Kalona Creamery reopened in February 2017?
Yes, tourists and locals have been asking when we would start producing cheese curds since the day we opened the shop! We are so excited to bring fresh, squeaky cheese curds back to Kalona.
Why do you think they're so popular? Would you call them comfort food?
This facility has such a legacy associated with it. Although there are other creameries in the state of Iowa that produce cheese curds now, this location was the first and also most well-known. We hear stories from customers all of the time about their memories of visiting this facility as a child and eating fresh, squeaky cheese curds.
Some folks definitely think of them as comfort food, but we also have a lot of customers who love curds for their healthy snack appeal as well—high in protein and low in carbs.
What gives cheese curds their traditional squeak, anyway?
Cheese curds are the squeakiest when they are warm and fresh right out of the cheese vat. For customers who are always searching for that squeak, just warm the curds in the microwave or eat them at room temperature.
Can you explain the difference between cheese and cheese curds?
Cheese curds are simply the loose product formed when the curd is cut and drained during the cheesemaking process. We then put them in a mill to cut them into bite-sized cheese curds. If we were making block cheese, we would use a similar process but then use molds to forms the curds into blocks instead of milling the curds.
How long do they last? Are cheese curds best eaten the same day?
Cheese curds last up to 21 days. The rest is really personal preference—some prefer them warm and fresh, while other consumers prefer them chilled and slightly aged.
How many gallons of milk go into making cheese curds every week?
We are just starting to make our own curds, so we won't know for sure until we have a better idea on what the demand will be. However, each batch that we produce yields approximately 400 pounds of cheese curds and uses 500 gallons of milk.
Does the milk all come from Kalona cows, and how often is it delivered?
Yes, the milk comes from Kalona and is delivered two to three times per week, depending on how many batches we will make that week.
Do you have different flavors available?
Not yet, but soon! Right now we are offering two sizes of white-cheddar cheese curds, a 12-ounce and 5-pound bag. We hope to have a few flavored options available in the near future.
What's your preference: fresh, fried, or in a recipe?
I like them fresh, but many of our consumers prefer them chilled. I like to pair them with a local beef stick.
And finally, what sort of comments have you gotten from cheese curd fans?
Customers are ecstatic about fresh cheese curds. They are loving the new, larger viewing windows and are so excited for the return of fresh, squeaky curds!