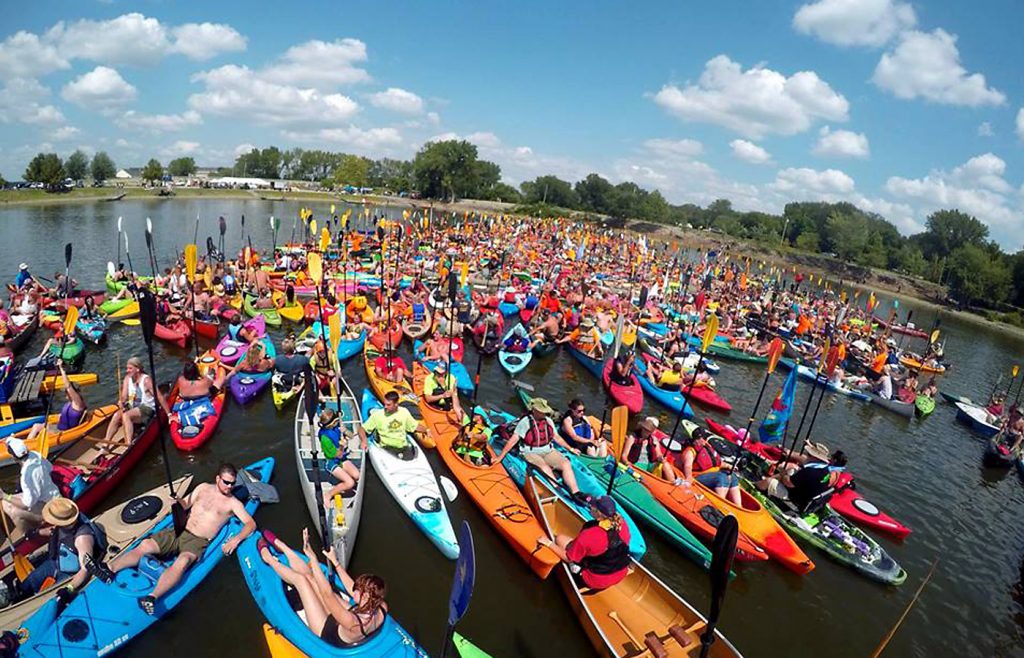 Looking for an entertaining way to cool off on the water this summer? Spend the day paddling on the Mississippi River in the Ninth Annual Floatzilla on Saturday, August 18, from 7 a.m. to 4 p.m. Sponsored by River Action, this family-friendly event helps to promote local water trails, canoeing, and kayaking.
Participants can choose from among several launch sites along the Mississippi. All of the paddling routes culminate at 2:30 p.m. at Lake Potter in Rock Island, Illinois, for a traditional group photo and an effort to break the Guinness World Record for the largest connected raft of canoes and kayaks—3,150 boats, which was achieved in 2014 in Inlet, New York.
"We hope to break the record!" says Kathy Wine of River Action. "With 1,500 in our second year, we were very close. In the past few years, with the world record jumping to 3,150, we have not been as close. But this year, with our attendance 25 percent higher, we are hoping!"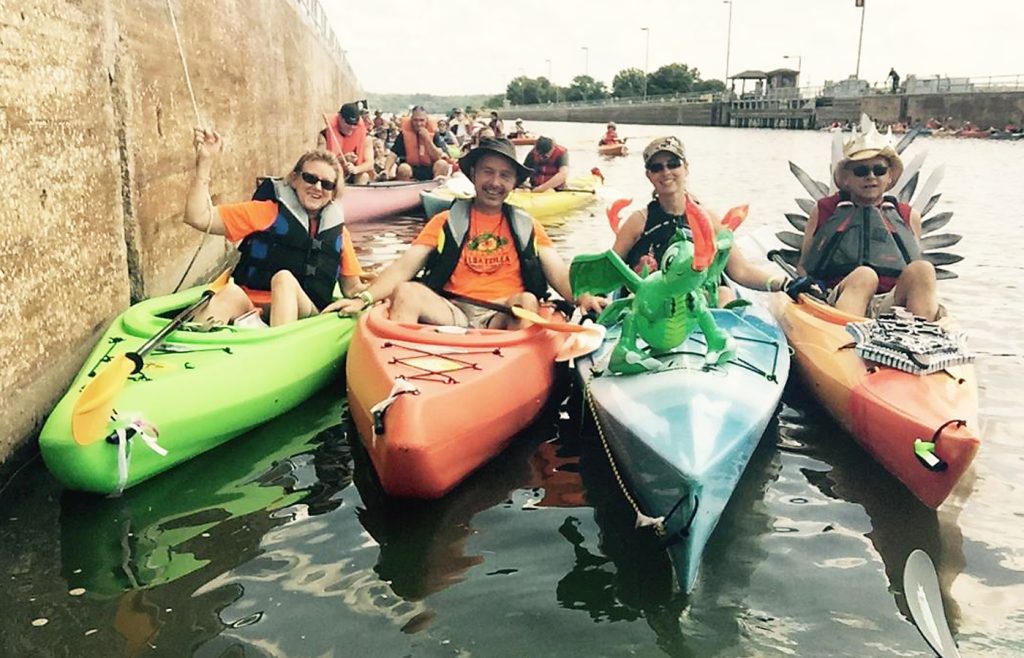 Water enthusiasts come from far and wide to participate in Floatzilla. "We have the most from Iowa and Illinois, but have paddlers coming from 17 states, Canada, and France," Wine says.
The mighty Mississippi flows from east to west as it jogs through the heart of the Quad Cities, and the water-rich topography makes it an ideal spot for paddling excursions. The Quad Cities' 45 miles of scenic water trails intersect with 73 miles of riverfront recreational trails, creating even more opportunities for outdoor adventures in cycling and hiking.
Whether you sign up to be a Floatzilla paddler or not, all are welcome to gather at Lake Potter on August 18 for tasty eats from local food trucks, live music, and the thrill of watching hundreds of water craft convene for a cause. The river will be closed to commercial traffic during the event, and 26 safety boats will course through the routes to assist paddlers.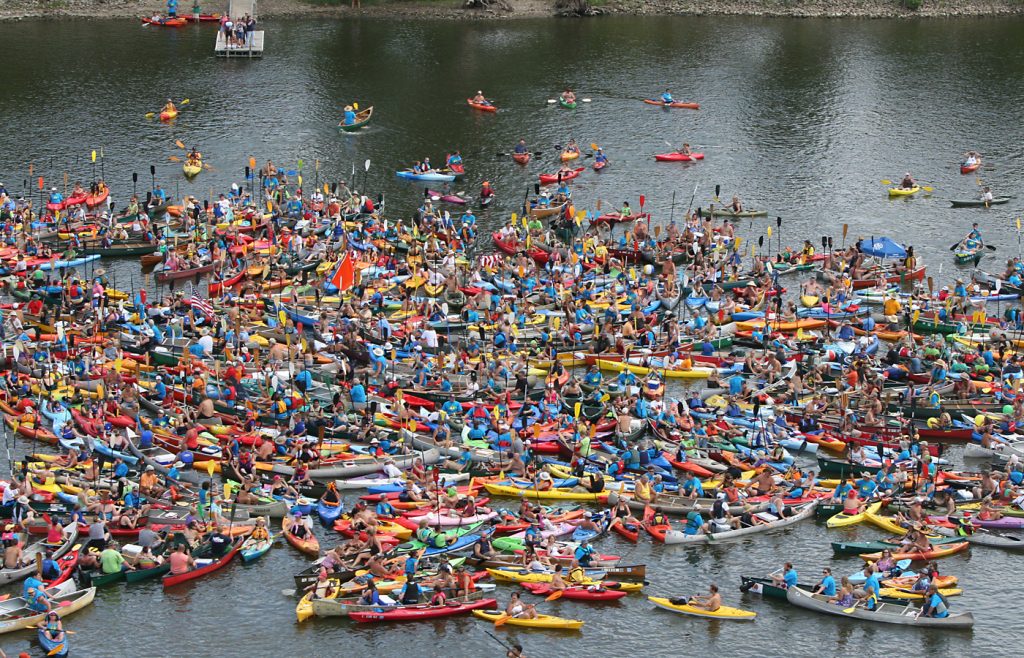 Mississippi River paddles are available for all skill levels. Launch sites include:
Empire Park: East Moline, IL (11 Miles, Lock-through Lock & Dam 15)
Bass Street YMCA: Moline, IL (6.5 Miles, Portage over Sylvan Island)
Leach Park: Bettendorf, IA (6.5 Miles, Lock-through Lock & Dam 15)
Marquette Street Boat Launch: Davenport, IA (2 Miles, Participants paddle back to Credit Island)
Credit Island: Davenport, IA (1/2 mile, Participants paddle back to Credit Island)
Lake Potter: Rock Island, IL (No river paddling needed)
Registration is $25 per paddler and includes one Floatzilla t-shirt, decal, free parking, and shuttles to and from your chosen launch site. Participants must provide their own equipment and wear a Coast Guard-approved PFD (personal flotation device). A limited supply of canoe and kayak rentals is available from regional outfitters. For more information and to register online, visit Floatzilla.
All proceeds from Floatzilla go to River Action's work on water quality and river enhancements. To date, River Action has contributed $7 million to projects and programs in the Quad Cities.