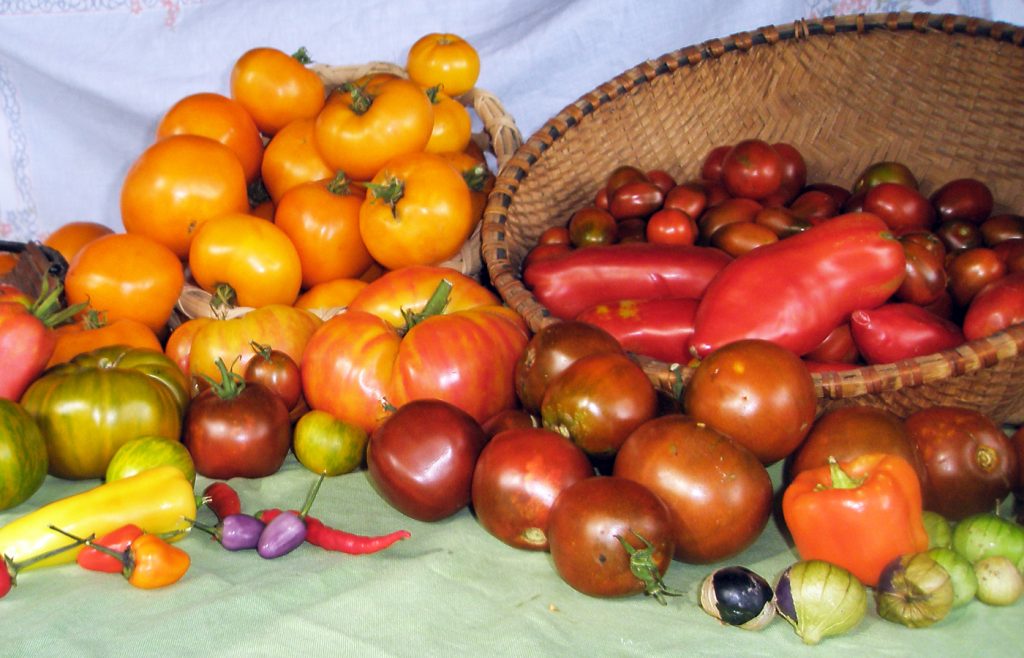 Quick quiz: What do Jefferson Giant, Abe Lincoln, Slanders, Woodle Orange, and German Red Strawberry have in common? They're all names of heritage tomatoes, varieties that have been carefully saved and savored by generations of discerning gardeners. You can sample these prized varieties and more at the 6th annual Taste of Heirloom Tomatoes on Sunday, August 26, from 2 to 4 p.m. at the Plum Grove Historical Site, 1030 Carroll St., in Iowa City.
Hosted by the Johnson County Master Gardeners, the event allows visitors to sample the rich flavors and distinct personalities of a range of heritage tomatoes for a modest $3 admission. The hard-working Master Gardeners start seeds in the spring and nurture the plants all summer to produce fruit for the annual tasting. Visitors can vote for their favorite tomatoes and tour all three award-winning heritage gardens—one each for vegetables, flowers, and wildflowers—at the historic home of Robert Lucas, Iowa's first territorial governor.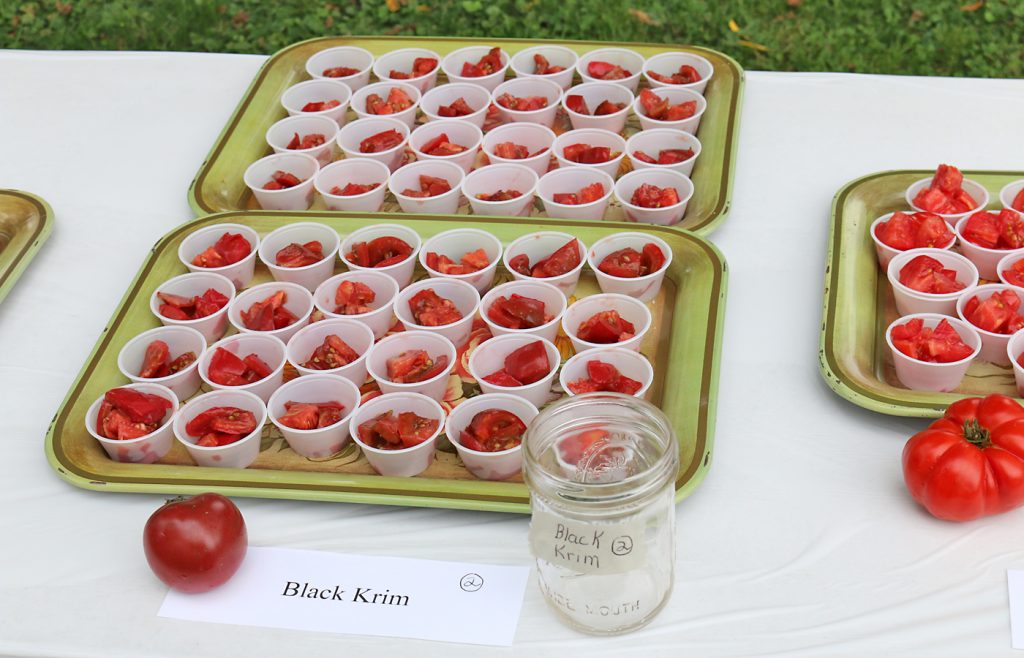 And that's not all the Johnson County Master Gardeners do. We want to give a shout-out to their work in growing produce to donate to local food pantries such as Table to Table, Iowa City Crisis Center, North Liberty Community Pantry, and Coralville Community Pantry.
To learn more about heirloom tomatoes, we emailed Johnson County Master Gardener Carolyn Murphy, who who shared her knowledge and love of these vintage varieties.
What is it about heirloom tomatoes that makes them so special? How do they differ from modern varieties?
Heirlooms have superior flavors, and with that comes an assortment of shapes, sizes, and colors. A tomato's flavor depends on a balance of sugars and acids within the fruit and a subtle fragrance—which are lacking in the modern supermarket tomato. Heirlooms produce large numbers of seeds and bear tomatoes identical to parents. Seeds can be saved and planted next year, and the next and the next.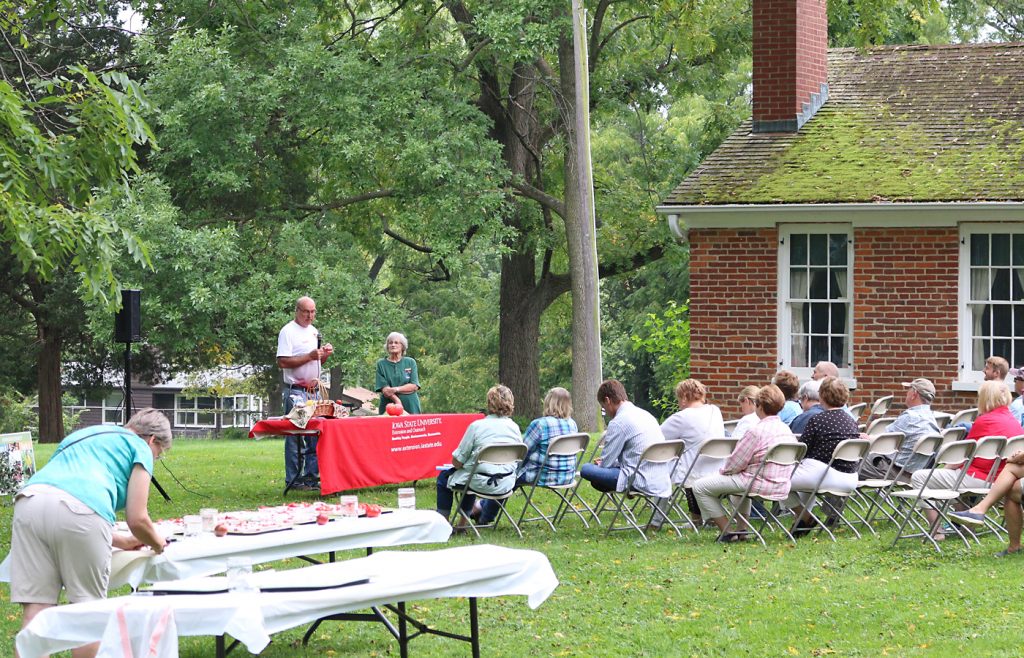 Do you have a particular favorite?
In previous tastings at Plum Grove, Japanese Black Trifele has been the favorite, although last year German Red Strawberry won the honor of first place. I personally have many favorites, all heirloom, of course. To name a few: Beam's Yellow Pear, Pink Berkeley Tie Dye, Black Krim, and Woodle Orange. Don't you just love the names? Each heirloom tomato has a story to tell, and many of the heirloom seed catalogs will give the history.
Some heirlooms are yellow, orange, green, or purple. Do different colors have different flavors?
Most do in heirloom tomato varieties. The reds have a more acid flavor, while the black or purple heirlooms have an earthy, almost smoky sweetness to them, with a bit less acid than the reds. The striped tend to have a rich, juicy, supersweet flavor that is low in acid. Orange heirlooms are mild, sweet, and low acid, while the green tomato has a bright acidity, but the sweetness tends to vary. And then you have the yellow/white heirlooms, which have noticeably less acidic flavor than the reds.
What's your favorite way to eat an heirloom tomato?
Right from the vine. The cherry varieties are good for eating in the garden as a snack.
Outside of the Tomato Tasting, where's the best place to find them? 
Most local farmers markets sell heirloom tomatoes.
When tomato season is over, how do you manage going back to bland, grocery-store tomatoes? Do you put up with winter tomatoes, or do you wait until they're fresh from the garden again?  
I like to freeze the Roma tomatoes for sauces and soups. I make an heirloom salsa recipe that is cooked and canned so you can enjoy it anytime. I made this recipe for the tomato tasting on August 26. We will also have a fresh salsa and a spiced tomato butter for guests to try.
Do you recommend preserving them in any way? Freezing, canning?
I would recommend following the Iowa State University Extension process for canning and freezing tomatoes.
Learn more about becoming a Master Gardener:
Organized in 1982, Johnson County Master Gardeners is an educational volunteer program, sponsored by Iowa State University Johnson County Extension and Outreach. JCMG provides current, research-based, home horticulture information and education to the citizens of Iowa through programs and projects. Master Gardeners receive horticulture training, and volunteer to promote a mission of education and service. In 2017, Johnson County Master Gardeners completed 7,046 hours of service and more than 1,405 training hours.
The program is open to anyone 18 or older with an interest in gardening and a willingness to use their knowledge, experience, and enthusiasm to make a positive impact on their local community. Volunteers receive more than 40 hours of ISU-certified training by ISU research specialists and local experts. Upon successful completion of curriculum training, trainees are required to provide 40 community service hours to become a certified ISU Master Gardener. Each year, Master Gardeners must complete volunteer service and educational training to maintain certification.