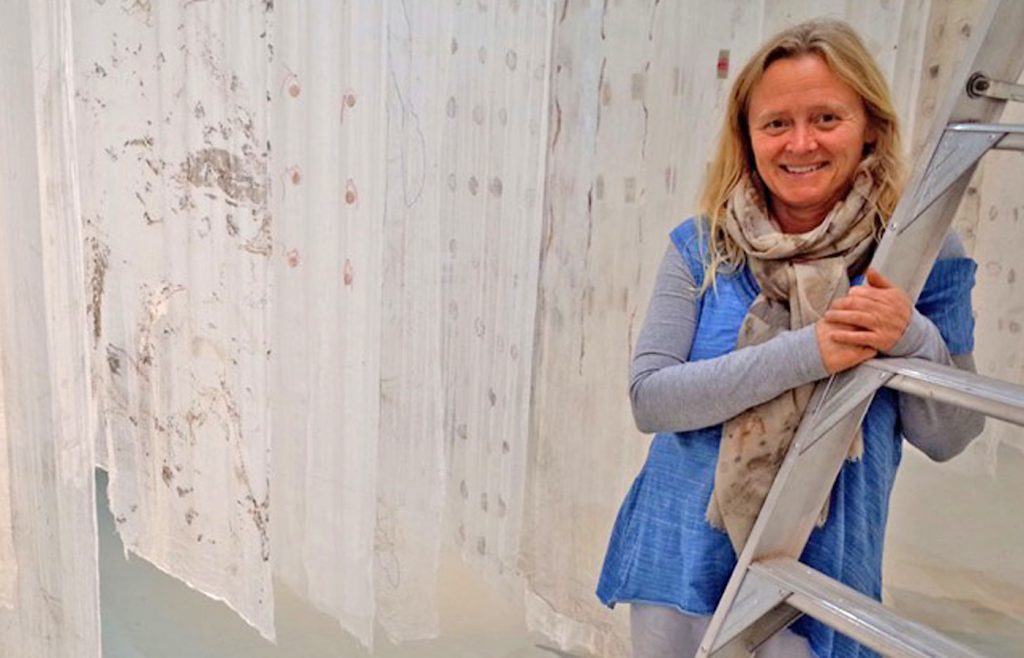 For Kirsten Ingemar, fabric is literally the thread that weaves together the experiences of her life. Her textile work is a record of journeys between her small childhood village in Denmark and her present home in vast, faraway Australia.
This month, as Kirsten travels to the U.S. for a visit, the At Home Store in Fairfield will display her work and host her plant-dyeing and leaf-imprinting workshop.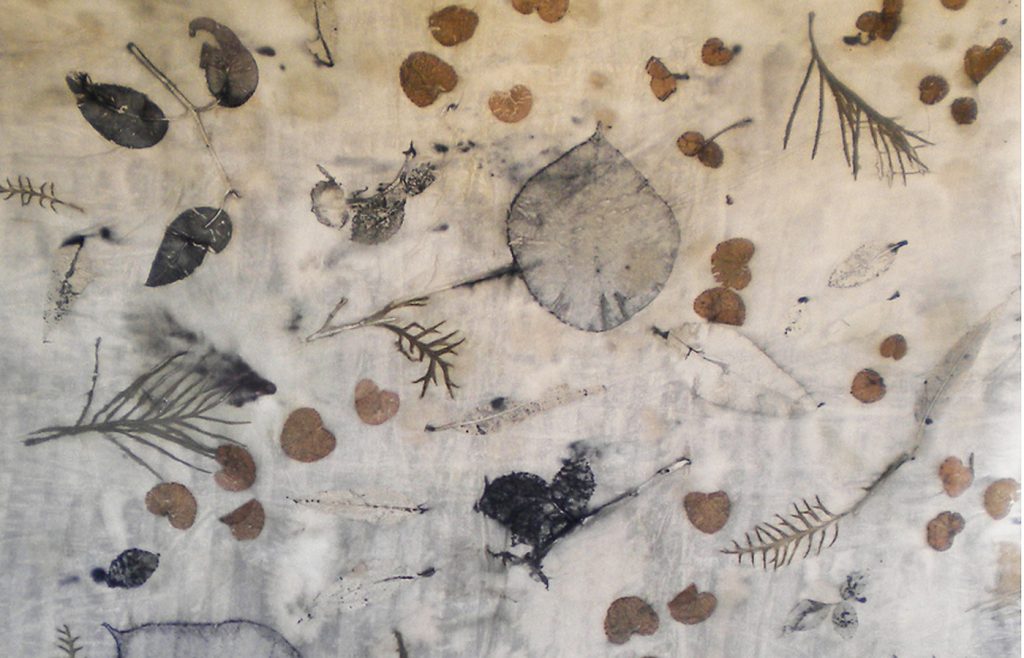 Although trained in all printing and dyeing techniques, Kirsten now works predominantly with plant dyeing and hand stitching. She boils plant material to extract the color, and uses the leaves and other plant material to imprint onto the fabric. "The slow processes allow for images and ideas to evolve and gradually emerge," she said. "I love the way I can get involved with textiles, right into the core of the fiber, through dyeing, stitching, or assembling."
We spoke with Kirsten by phone last month while she was in Denmark. It was late morning in Iowa, where the sounds of summer cicadas framed Kirsten's voice as she spoke of the value of being connected to nature where you are, at that moment in time.
"I love the whole process of plant dyeing, from collecting plant material to boiling the pots to unraveling the mystery in the end. . . ," she said. "The imprints of the leaves tell a story of those particular trees in that particular location where they were picked."
Kirsten grew up in a little village called Dollerup, population 200, located in the center of Denmark, where the lake, forest, heather, and hills formed a beautiful backdrop to her childhood. "Textiles have always been part of my life, and my Danish family history is rich in textile traditions in many different forms," she said. "In the central part of the village was a textile mill where my mother, my father, and my grandfather worked. My mother was a dressmaker, my sister a knitwear designer, and my grandmother an embroiderer."
Kirsten lived in Denmark until she was 20, and has lived in Australia ever since.   When she returned to Dollerup two years ago, she explored plant dyeing while reconnecting with the landscape by riding her bicycle each day along the old train track, now converted to a bicycle path.
Upon her return to Australia, Kirsten found amongst her grandmother's possessions some leftover bits of colored threads that were wound around small pieces of cardboard. To her surprise, Kirsten discovered that some of them were tickets from the very train line that she had been following on her daily bicycle rides.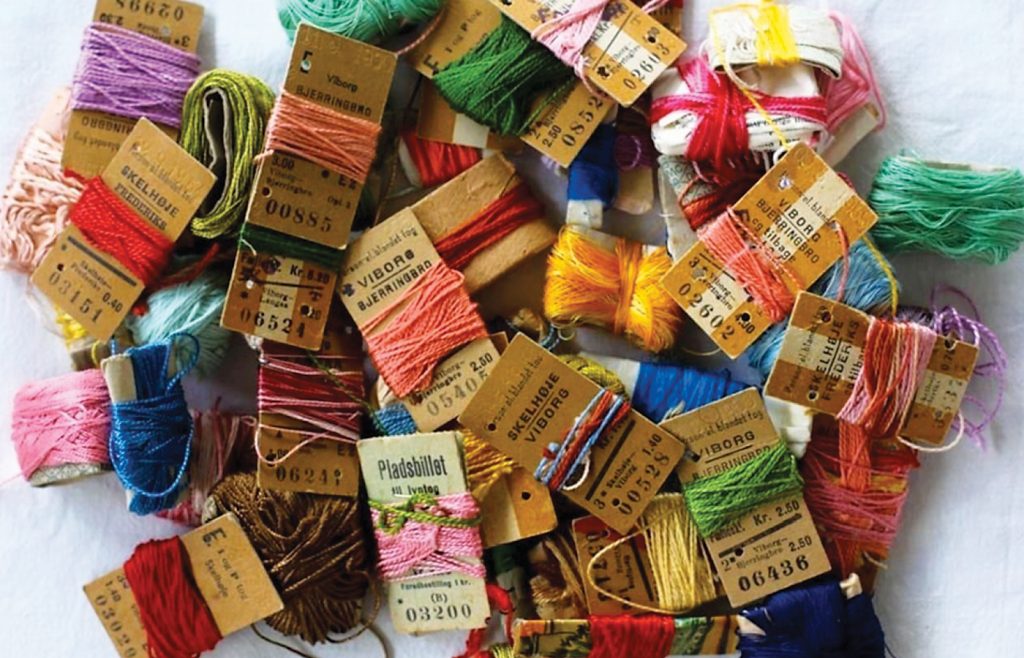 The tickets formed a small record of trips made by her grandmother in the 1950s. The revelation of parallel journeys on that same path, one by train and one on bicycle, more than 50 years apart, as well as the extraordinary feeling of experiencing her familiar childhood landscape in a different way through the plant dyeing process, led her to resolve the paradox of inhabiting two different worlds.
"For many years I was torn by an insistence of having to choose between two countries," she said. "Although it has definitely been challenging and painful at times, I no longer consider it a burden."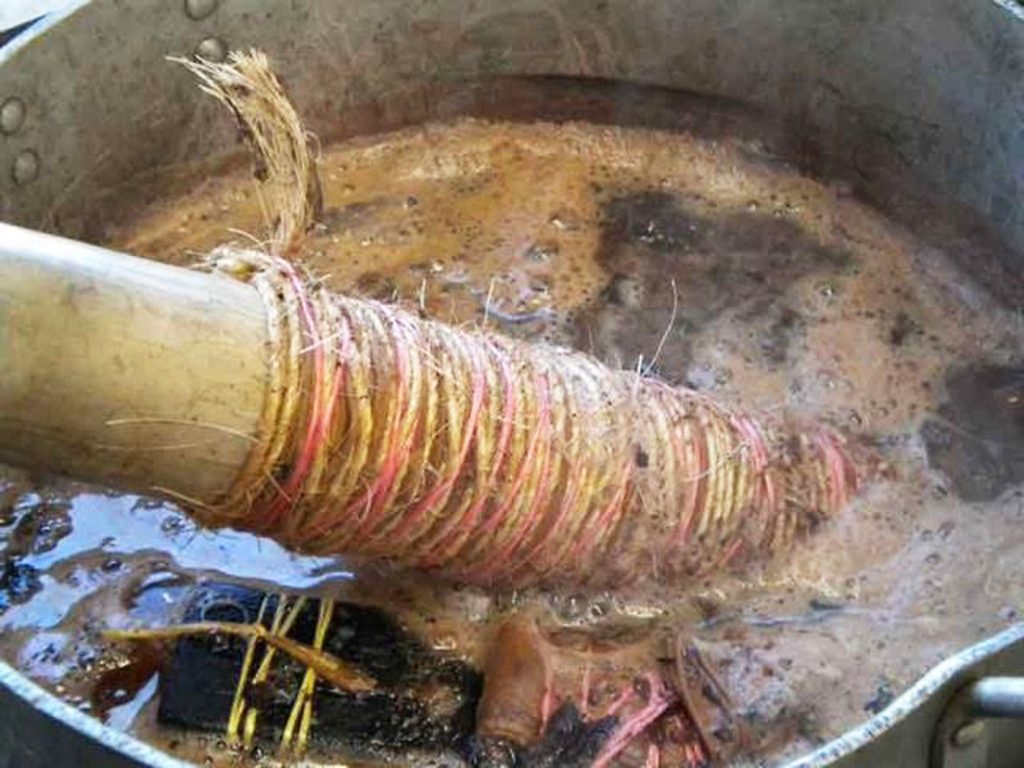 Her current work as a textile artist uses a technique known as eco-dyeing. As she fine-tuned this technique over the years, it also became a way for her to bond with her adopted Australian home. "Charting new terrains by walking in new surroundings while gathering leaves and other plant materials for the dye pot has facilitated a presence of the Australian landscape that has allowed me to imbibe and connect to place," she says. "Mountains, beaches, and eucalyptus trees have slowly become more intimate friends."
Part and parcel of Kirsten's lifelong passion for textiles is her affinity for cloth as a way to explore memory and place. "Cloth is often one of the very first and very last things we have contact with in the world," she said, "and we all have very personal stories and associations with certain pieces of clothing or cloth."
Ultimately, though, she embraces the spontaneous magic that happens when the alchemy of the dye pots takes over. "In a sense, I just set the scene for the mystery to unfold."
Workshop and Exhibit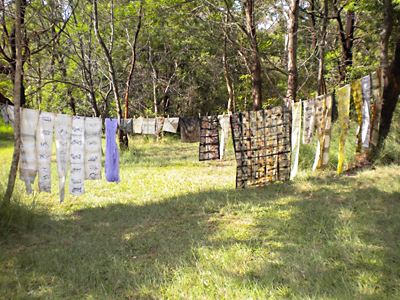 Meet Kirsten Ingemar and see her work at the At Home Store in Fairfield on Friday, September 7, during Fairfield First Fridays. On September 8–9, Kirsten will be teaching a workshop on Natural Dyeing and Leaf Imprinting. For details and to register, call the At Home Store, (641) 472-1016.