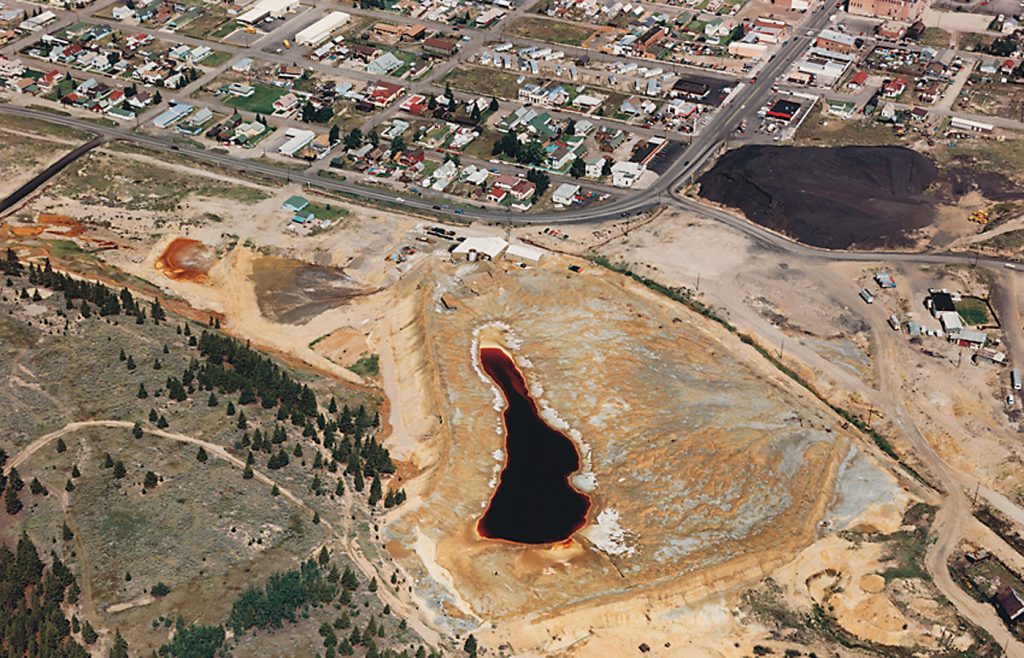 As of 1980, more than 400,000 toxic waste sites overspread the United States. The Environmental Protection Agency declared 400 of these highly hazardous and in need of immediate attention. In just a few years, the number of these "Superfund" sites more than tripled. Though they constitute a shocking degradation of our landscape, Superfund sites are never seen by most Americans. But over the course of a year, beginning in 1985, Fairfield photographer David T. Hanson traveled to 45 states on a Guggenheim Fellowship to make aerial photographs of 67 of them, thus documenting a cross-section of both U.S. geography and its ravaging by industrial waste in one artistic odyssey.
Hanson's Waste Land series, published in its entirety for the first time on September 25, 2018, is a master photographer's meditation on the country's most dangerously polluted places. Each work in the series juxtaposes the artist's photograph with a modified topographic map and the EPA's own description of the site's history and hazards.

Hanson's haunting exposure of what the public all too rarely sees—the bureaucratic nature of hazardous waste regulation and polluters' elaborate strategies to avoid legal responsibility for contamination and cleanup—remains urgently relevant.
This volume includes a foreword by acclaimed author and conservationist Wendell Berry, and essays by artist and award-winning writer Jimena Canales.
As Wendell Berry describes in his moving foreword, "Hanson's art is here put forthrightly to the use of showing us what most of us, in fact, have not seen before, do not wish to see now, and yet must see if we are to save ourselves and our land from such work and such results. He has given us the topography of our open wounds."
David T. Hanson was born and raised in Montana. After receiving a B.A. in English Literature from Stanford University, he earned an M.F.A. in Photography from Rhode Island School of Design and later taught there in the Departments of Photography and Landscape Architecture from 1983 to 2000.
Hanson has received numerous awards for his photography, including a Guggenheim Fellowship and two NEA fellowships. His work has been exhibited in many museums—including the Museum of Modern Art in New York, the Art Institute of Chicago, and the San Francisco Museum of Modern Art—and is found in the permanent collections of museums throughout the world. His previous publications include Colstrip, Montana, and Wilderness to Wasteland.