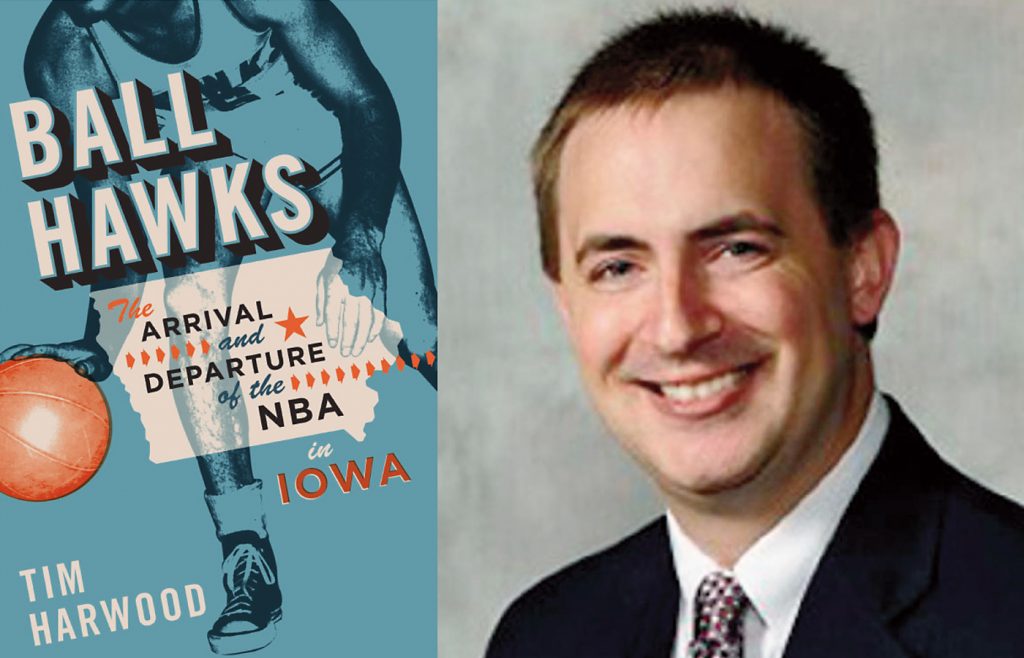 Iowa has a rich and varied history when it comes to sports. A new book by Tim Harwood explores a fascinating aspect of that history and a story unknown to most.
In the NBA's first season, the Waterloo Hawks were a member of the league. Tim Harwood unearths the history of that single season in Ball Hawks: The Arrival and Departure of the NBA in Iowa.
Harwood dug into newspaper archives and conducted interviews with surviving players to recreate the action—on court and off—of the Hawks' brief presence in basketball's top league. Like a skilled ball handler, he gracefully segues from game recaps to player profiles to explanations of the consolidation of two competing leagues, and more.
Ball Hawks is filled with fascinating details, including a description of the successful fundraising effort that resulted in the Waterloo Hawks being jointly owned by a sizeable collection of community members who bought shares to shore up the team's finances. Harwood also highlights the many challenges facing the NBA—including the difficulty of travel, the differing quality of facilities, and the need to feed the growing media interest in the league.
"The creation of the NBA brought demands for more extensive media coverage when teams from major cities traveled to the smaller former-NBL communities," Harwood writes. "Sports writers from the Waterloo Courier were requested to write multiple accounts of the same contest so that competing large-market newspapers could print game stories different from those of their rival dailies. Western Union installed a telegraph line at the Hippodrome for visiting teams unable to travel with a radio contingent. Ahead of the Hawks' next game with the Denver Nuggets, Al Ney described the procedure for sending back live details, which required one of Western Union's local employees to 'tap out a Morse Code play by play from courtside. The report, including each pass or as close to it as possible, will be transcribed by an operator in Denver and he will hand the play-by-play to the Denver announcer for airing.'"
It quickly became apparent that small-market teams like the Waterloo Hawks were not going to be able to be part of the long-term growth of the NBA. But Harwood's look at the team's single season is an important contribution to the history of sports in Iowa—and to the history of the National Basketball Association.