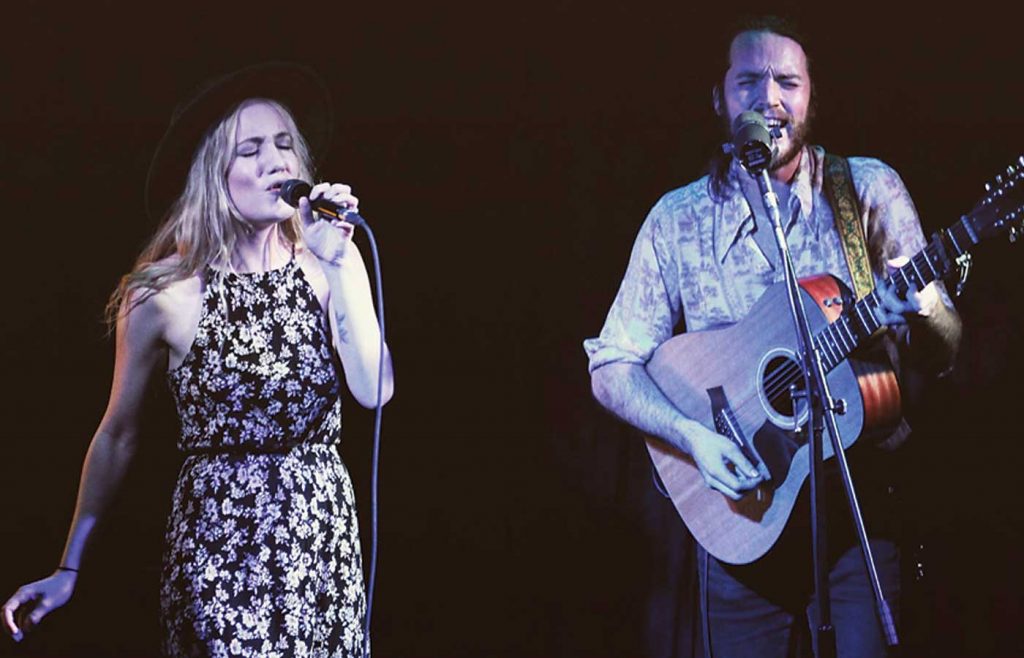 Field Division, the Des Moines duo of Evelyn Taylor and Nicholas Frampton, will be performing at Café Paradiso in Fairfield on Friday, December 7, at 8 p.m. and Trumpet Blossom Cafe in Iowa City on Sunday, December 9, at 8 p.m.
They've just released their first full album, Dark Matter Dreams, four years after their sumptuous dream-folk debut EP, Reverie State. Written on the road, Dark Matter Dreams is a sweeping collection full of rock vigor and the spark of deeply held convictions nurtured against the current tide of widespread modern disillusionment.
Inspired by songs created in the name of peace and protest, like "The Sound of Silence" and "Give Peace a Chance," the duo is committed to pursuing "light amidst depression and darkness." Vintage influences include Led Zeppelin, the Beatles, and the 1960s-70s Laurel Canyon scene, but make no mistake, this is an album that lives and breathes for today.
As the duo explains, "Our goal with Dark Matter Dreams was to retain the raw beauty and dynamics of Reverie State, but to expand on a more driving, forward-moving feeling in the music. The energy of a live band was something we wanted to capture." As the opening track "River in Reverse" surges forward, guitars flicker like headlights in the night as Taylor explores light and dark dualities and lays out a mission statement in a luminous vocal. "Let's transcend it all," she sings, seeding a theme the duo will return to.
Dark Matter Dreams is the culmination of a bond between Taylor and Frampton that stretches back as far as 2011. As they navigate the shadows within and without, the duo's chemistry lights the way. Field Division nurtures the sound of a timeless yearning: a gutsy, glorious, heart-pulsing, in-the-moment promise.
Opening for Field Division is Fairfield's own internationally renowned Irish piper, Tim Britton. Showtime on Friday, December 7, is 8 p.m. Tickets are $10 in advance (at the Café or at CafeParadiso.net), $12 at the door.