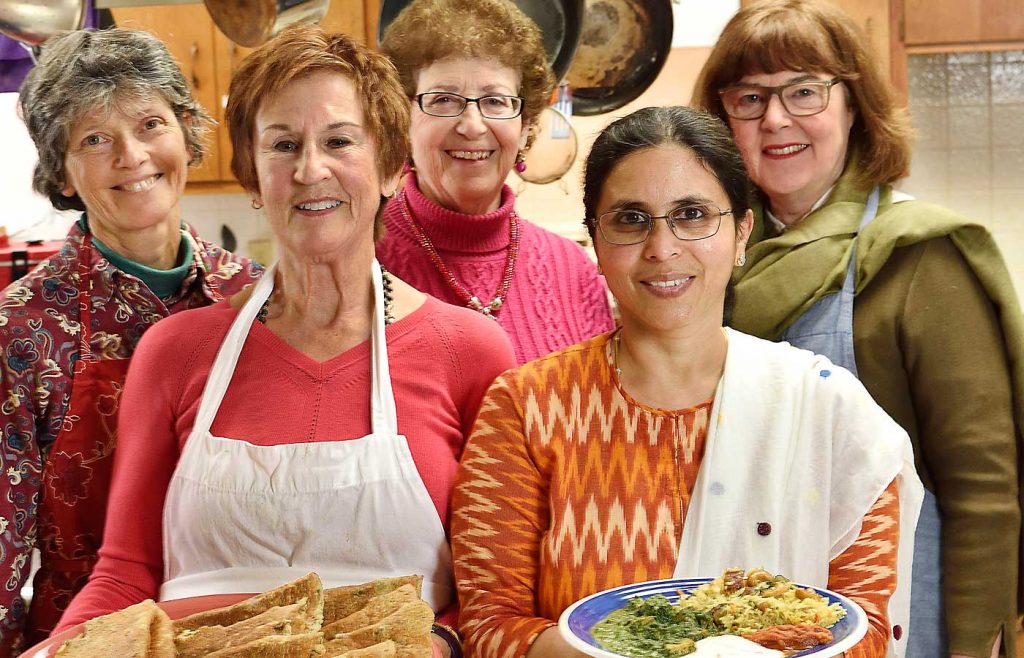 Vaju Moorthy loves to cook. She grew up in a well-to-do Indian family that valued giving back to the community and helping those less fortunate, so it seems inevitable that she would create Divine Star Charities, a nonprofit that merges her passion for food with helping others. The 501(c)3 organization hosts multi-course Indian vegetarian lunches to raise money for local charities such as Noah's Ark, the Lord's Cupboard, Iowa Weclomes Immigrant Neighbors (IowaWINS), and the school lunch program, as well as for international disasters such as the recent deadly floods in Kerala, India.
"I really wanted to contribute to the local community," Moorthy says. "That's my strongest belief—help your neighbor, help your community."
Moorthy thinks the desire to help is in her genes. She says her mother was always feeding the less fortunate and her father was very generous. "I think I've always fed the poor people and all the animals, that was my thing," she says, adding that she was famous in her neighborhood for rescuing 15 dogs. She also loves working with her hands and cooking for others. She feels she inherited her cooking skills from her parents, especially her mother, who was an excellent cook. Moorthy also learned a lot about cooking from her mother-in-law and she enjoys sharing what she knows.
How It Started
Moorthy moved to the U.S. with her husband in 1997, and launched fundraising lunches that year to raise money for Ammachi, "the hugging saint," India's renowned spiritual leader and humanitarian. She continued her fundraising lunches until 2008, when she returned to India. When Moorthy and her family moved back to Fairfield in January 2016, she wanted to help the community through her cooking. She asked her tax advisor, Fred Swartz, for advice. She told him, "I really want to use my skill to help the poor people through my lunches," so he volunteered to set up Divine Star Lunches, a business that offers weekly vegetarian lunches, and also the nonprofit Divine Star Charities, which hosts monthly fundraising lunches.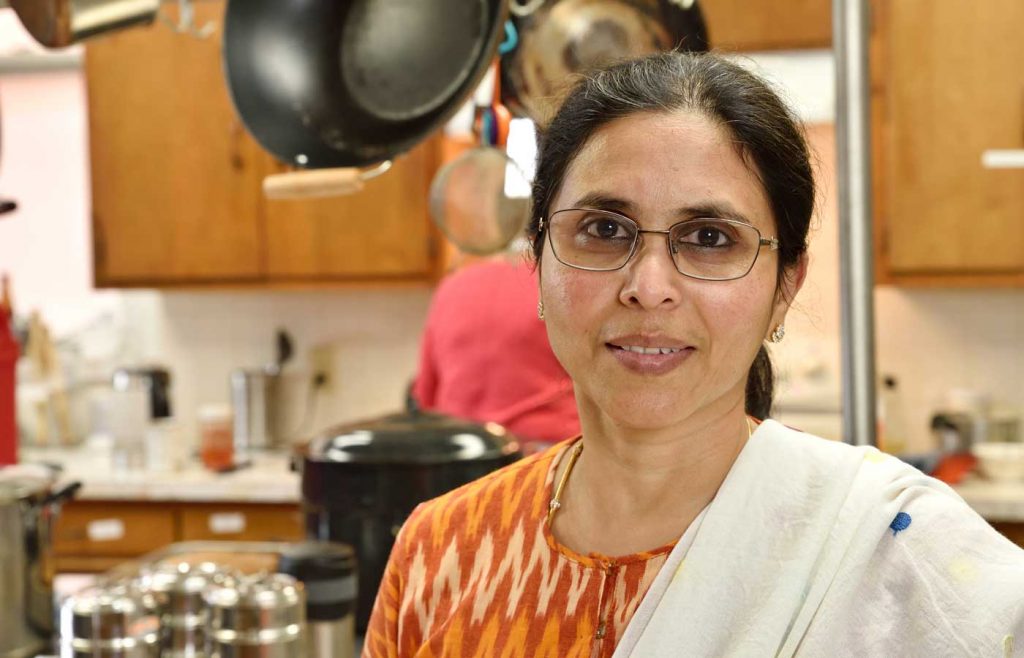 The first fundraiser benefited the Lord's Cupboard, a nonprofit food pantry based in Fairfield. The second one benefited Noah's Ark Animal Foundation, a no-kill shelter that rescues and finds homes for stray dogs and cats. After Vaju saw a poster for the Ottumwa Crisis Center and Women's Shelter at Jefferson County Hospital, where she works in reception, the Crisis Center became the next beneficiary. More fundraisers followed for the Lord's Cupboard and Noah's Ark, as well as one for Puerto Rico disaster relief.
Meals for Children at School
Earlier this year, Debbie Pogel approached Moorthy about doing a fundraiser for the public school lunch program, which had a $37,000 deficit. Pogel put her in touch with Stephanie Hawkins, the Food & Nutrition Services Director for the Fairfield Community School District.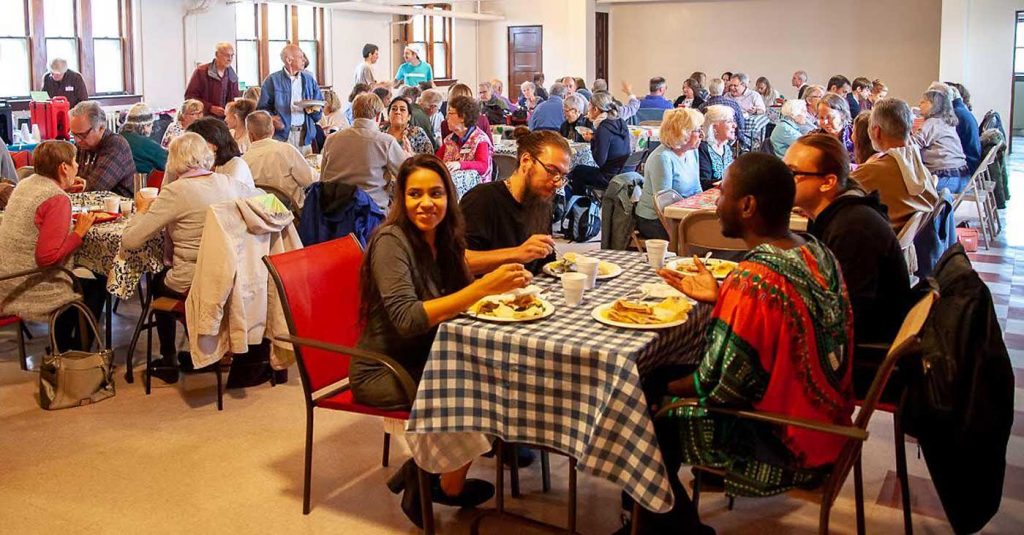 Hawkins says that in July 2017, the USDA's policy for the National School Lunch Program changed by requiring recipient families to pay off any balance owed for meals. "At that time, the total of negative balances was $36,700, for about 130 students," Hawkins says. Families could pay off the balance in installments, and if a child had money that day to pay for lunch, they could eat.
"I am sure you can see that there would have to be some extremely large balances for some of these students," she says. Hawkins saw an increase in the number of applications for free or reduced lunches, but a fair number of families were still struggling.
"My heart as a 'lunch lady' is to feed all children," Hawkins says. "The truth is that many tears were shed by myself and my staff as this policy was put into place and enforced."
When Moorthy heard about the situation, she organized fundraising lunches for five months in a row to benefit the school lunch program. "She raised over $7,000 for negative balances through benefit lunches. And through her benefit lunches, many people throughout the community heard about the need and gave to help these families."
By the time school started, the negative balances were only around $300.
"I am eternally grateful to Vaju for all of her hard work to help the students and families of our community," Hawkins says. "She has such an amazing heart and cares so greatly for her community. I have been blessed to get to know her, and the students and families that she has helped have been blessed through her efforts as well."
Aid for Immigrants
With that need filled, Moorthy tackled the next pressing matter. She worked with Annalisa Miller, Tammy Shull, and Pastor Trey Hegar to organize a fundraiser for Iowa WINs. Pastor Hegar, of First Presbyterian Church in Mount Pleasant, spearheaded the effort to help the 32 families impacted by ICE raids raise funds for legal fees and living expenses.
"The lunch was terrific," Pastor Hegar says. "It was a great social event. We enjoyed the opportunity to serve food with Vaju and meet many new friends. I think the world of Southeast Iowa was made even a little bit better of a place to live and work because of that one lunch."
The event itself raised $2,500, but the effect was far greater. "Several thousand dollars have been donated from Fairfield in general, and some of that was inspired as a result of the luncheon," says volunteer organizer Annalisa Miller. "Funds have been donated to IowaWINs from all over Iowa, and even from other states. It was inspiring to see all the volunteers come to help, people from both Fairfield and Mount Pleasant, immigrants and citizens alike, and personally I had so much fun being the 'lunch lady!'"
It Takes A Village
Divine Star Charities is entirely run by volunteers, and a majority of the ingredients are donated. Moorthy praises the generosity of Nathan Gamet and Paul Praither from Everybody's and Susan and Francis Thicke of Radiance Dairy. "Nathan says he likes to feed the children," says Moorthy, adding, "We can't directly feed the children, but through my lunches, every single person's donation is going towards the projects I support: feeding the children, helping the poor and the refugees, or helping the animals."
Moorthy says she gets a lot of community support, with many friends volunteering regularly and new volunteers showing up every month. "The community support is amazing," Moorthy says. "People are coming forward to help me. I don't have to ask—it's all happening so well."
She's always impressed with her volunteers' professionalism and eagerness to help. When she takes a project on, she requires the benefiting organization to supply at least ten volunteers, which keeps her core group of helpers from burning out.
Moorthy wants to give special thanks to regular volunteers Sarvani Viger-Edson, Girija Hutchinson, Sharona Jepson, Carolyn Duszinski, Susan Jatkowski, Kartika Damon, Michele Poster, Gerri Moore, Mary Ida Adams, Radha Nair, David Edson, Stacy Maurer, and Lise Marcell. Elizabeth Goytia of Top Notch Cleaning volunteers five hours for every event, and Ed Noyes, from whom she rents space at Phoenix Rising Hall, has been very helpful as well. Volunteer Irene Archer manages emails, designs menus, and writes promotions. Moorthy also wants to thank Hilary Kurtz, of the Fairfield Weekly Reader and Claudia Mueller of the Iowa Source for regular ad placement.
"Vaju has always been a giver, wanting to give her time to help others," says her longtime friend Girija Hutchinson. "It is her innate nature to give and help."
If you'd like to get on the mailing list, make a donation, or get more information, email DivineStarLunches@gmail.com or call (641) 451-1331. The next fundraising lunch will be held Friday, December 14, at Phoenix Rising Hall in Fairfield to Benefit Noah's Ark Animal Foundation. Reservations are required by December 13.
Divine Star Lunches serves lunch every Friday, at Phoenix Rising Hall, 207 W. Burlington, Fairfield, with a special Divine Star Charities fundraising lunch generally on the last week of the month. The December schedule is a different week due to Christmas. Donations in excess of $12 for the meal are tax deductible. Divine Star Charities is an IRS 501(c)3 charity.