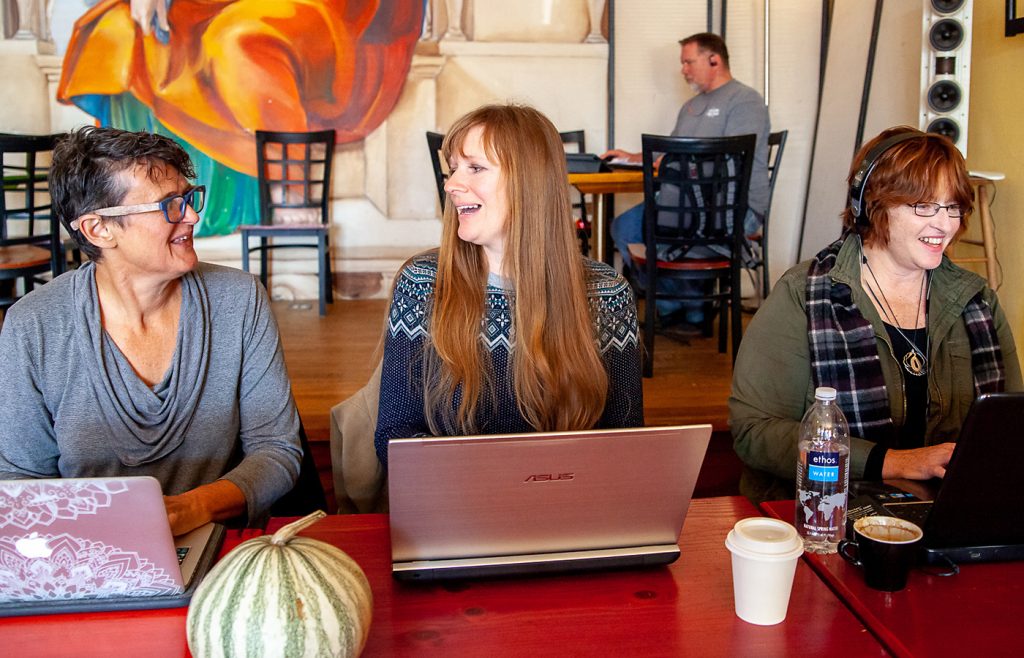 November is National Novel Writing Month? That's insane! Those people are insane. Write a novel in a month? Yeah, right. Other people could get it done, maybe, but not me. I don't have that kind of talent. Or time.
Do I?
I'd have to unsubscribe from Netflix. Stop zoning out. Get up early. Hey, that doesn't sound so bad. I could be a productive member of society for once. Except I like being lazy. Or do I hate myself sometimes because I'm so lazy?
This really could be good for me. Fifty thousand words. That's only 1,667 words per day, and I've just written almost 100 right now. I can totally do this!
Oh crud. Except I don't have a plot. Or a conflict. No arc. No point. Nothing to say. Those other NaNo writers are more qualified. Probably more prepared. I bet they all have a solid plan by now. Careful research. Crafted characters. I have bupkis. Well, a vague notion at best. But there's no way I can get 50,000 words out of my flimsy frim-fram idea. Can I?
It's going to be terrible. And I'm doing it anyway. I'm writing a novel.
Beyond Your Inner Critic
Does this dialogue remind you vaguely of your own inner critic? Welcome to being human! NaNoWriMo can help.
The goal of National Novel Writing Month (NaNoWriMo), a global phenomenon that started in 1999 and became a nonprofit in 2005, is to support writers—and people who are afraid to call themselves writers.
One of the radical gifts of participating in this annual project is permission, at last, to stop editing yourself. (Save that part for later.) Trust your creativity. Push right on through the self-doubt and move forward. Just. Keep. Writing. Leave that nasty, judging, self-censoring part of you in the dust. Who would you be if you could do that for a month?! Well, for starters, you'd be a novelist.
"NaNoWriMo is more than just a writing challenge," says its Executive Director, Grant Faulkner. "[It's] an opportunity to step out of your everyday life, open your mind to infinite possibilities, and create new worlds with people from around the globe. It's a joyous leap . . . a laboratory of the imagination, a chance to free yourself from the obstacles that prevent you from telling your story."
The goal, by the way, isn't to have a best-selling book in the end. In fact, yours may barely be worth reading. That's okay. This isn't for somebody else, it's a novel for you. To zap your own creative voice back into existence. It's like The Artist's Way—on steroids.
That said, the first piece of advice they give you when committing to NaNoWriMo is to tell people you're doing it. Not to get a few pats on the back (although that feels pretty good). The reasoning is: The more people you tell, the less likely it is you'll back out!
Moral Support
Among the thousands of people across the world taking the WriMo leap this year, many of them are in Iowa, and a few them are right here in Fairfield.
My buddy Steve Giacomini, who was the first to commit to the challenge (thanks to some gentle but persistent coaxing from his uber-creative stepdaughter) was absolutely lit up about it one day over coffee. For years, decades even, Steve's had an idea for a book based on stories about his own mother, who served as an American Red Cross "Doughnut Dolly" during WWII. He's got pages and pages' worth of crazy-sounding but totally true tales of her wartime adventures rolling around in his head, but he's been shrouded in doubt about putting it all down on paper. Until now.
"I'm finally doing it!" he said to me, with a huge grin plastered across his face.
I was so proud of him I could have punched someone.
As Steve explained the whole NaNoWriMo thing to me, I started to get the itch, but my only idea for a book, let alone a novel, still felt like it had no real backbone. "I don't think it matters," Steve said. "Not everyone has a plan when they go into it. In fact the NaNo founder, Chris Baty, has an amazing book I've just started called No Plot, No Problem . . ."
"No plot, no problem, huh? Well, I guess you better count me in," I said.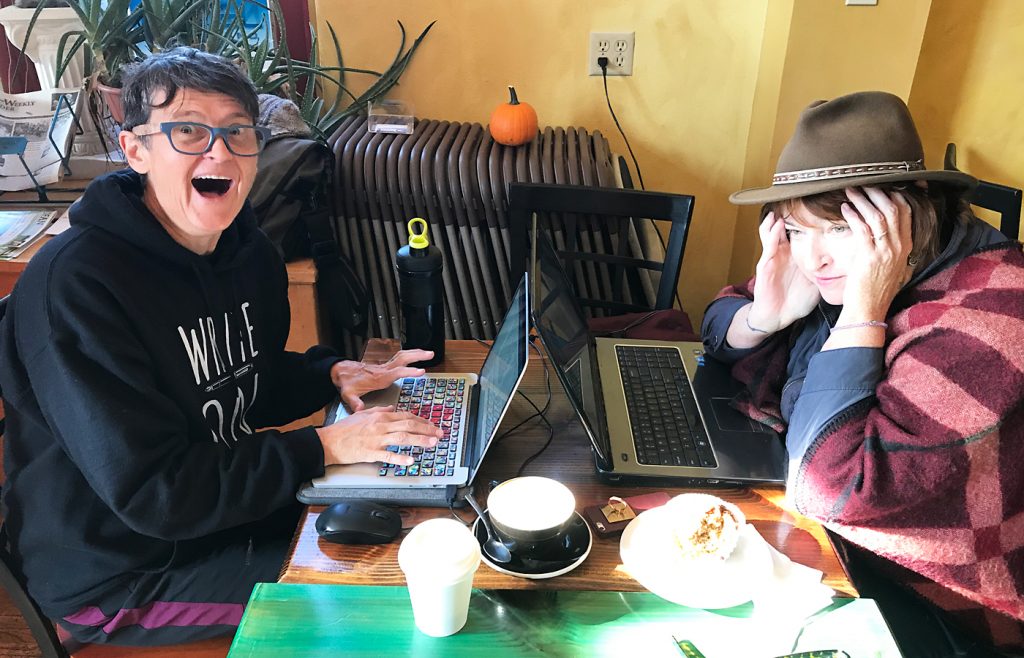 We talked our friend Mea Lama into doing it, too. She'd been on a real self-reinvention (and travel journaling) kick lately and this certainly fit the theme.
The thing I appreciate about the NaNoWriMo organization, besides being a great launching pad for writers with even half an idea, is that it provides loads and load of built-in support. Since officially registering, I've gotten an email every day that serves as a mini pep talk to squelch the devilish self-doubter in my head.
The emails are chock-full of links to writing resources (how to deal with writer's block, how to develop your characters, etc., etc.), fun writing prompts to get the juices flowing again (some of the best ones are submitted by kids!), info about "write-in" events in my area, and general words of encouragement.
On day five, just when I was convinced my last thousand words had been total garbage, I got a NaNoWriMo email that said, "Something that's perfect and awesome in your mind will often be stupid when you write it down. This is not a failure on your part, and it doesn't mean you suck. It means you're a writer, and you have begun phase one of making your story better." It's like they read my mind.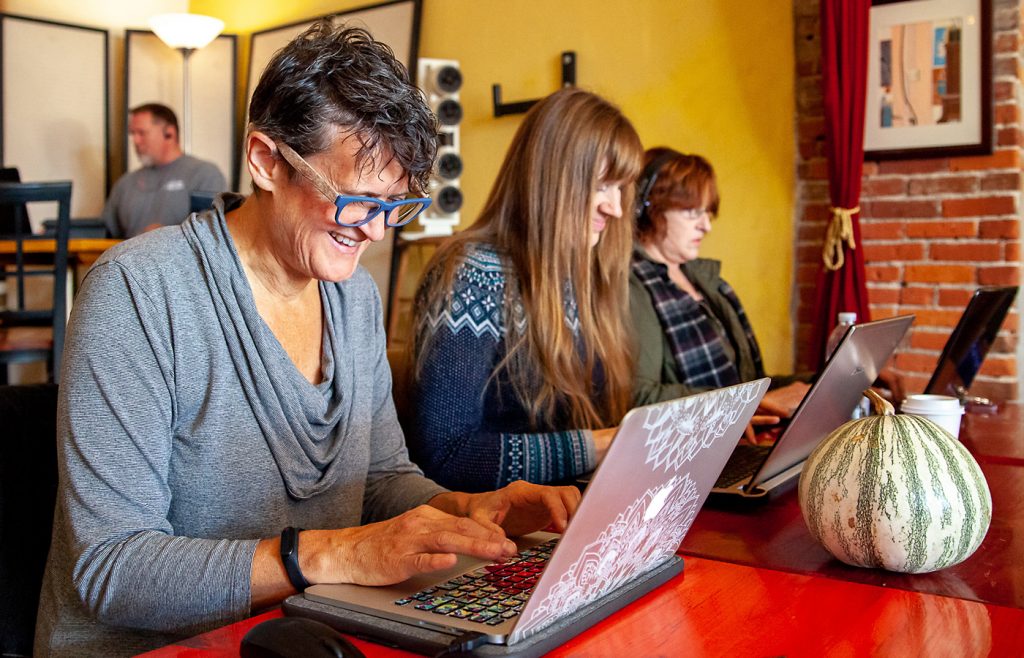 Our little trio here in town has also been a boost. It's been comforting to know I'm not alone in this, even if it's just a text message here and there: "My word count is 2023" or "Go get 'em, tiger" or "Holy sh*t, guys, I had a mini-breakthrough today. Forget memoirs and essays. I think I'm a fiction writer!"
WriMos by the Thousands
To give you an idea of how far this thing spreads, here's a blurb from the NaNoWriMo website:
"This year, NaNoWriMo expects over 400,000 people—including over 95,000 K-12 students and educators on our Young Writers Program website—to start a 50,000-word novel in the month of November. Throughout the month, they'll be guided by this year's theme: NaNoWriMo is . . . A shot of caffeine for my creative life. My chance to say anything; my chance to say everything. An entire community with me as I write."
When I get stuck, mid-story, as I fully expect to do, I'm going to think about these words from a Young Writers Program participant: "During my NaNo experience, I learned many things. . . . One of them was that magic isn't fake. Magic is everywhere; it exists in the creation of stories, the appearance of new characters, the sudden inspiration that appears out of nowhere, the lands that seem to twist and mold themselves to your imagination, and the support received from friends, teachers, and family."
It's never too late to call yourself a writer. And never too early, apparently.
It Begins
On Halloween night this year, the goblins in my head were spinning their usual, sticky stories. "You don't really want to do this. Your ancient laptop probably doesn't even work. You're going to run out of steam on day three and then you'll just feel like a failure. Wouldn't you rather spend cozy mornings sleeping in under your down comforter, and pleasant evenings relaxing horizontally on the couch with two flawless seasons of Flight of the Conchords?"
But the morning of November 1, at 6 a.m., five minutes before my alarm clock started buzzing, my head popped off the pillow. For ten minutes under the covers in the pitch black, my inner demons fought a final battle against my new and improved mantra, "Time to be your own muse, girl."
Hanging onto willpower by the skin of my teeth, I folded back the covers, stood up, and stumbled into the bathroom to brush my teeth. I plugged in my big ugly laptop from 2006. The blank white screen on google.com/drive lit up the entire living room. I was really screwed now.
The keyboard felt foreign beneath my fingers. Clunky. Chunky. I typed in my title.
And I began.
A New Chapter for Creativity
As I write this, I'm looking at the NaNoWriMo map of 2018's participants and thinking, "Some dreamer way over there in Australia is, like me, wondering if he's good enough—and going for it anyway. Maybe he's consulting his carefully prepared outline or maybe he's just slipped into the zone. He has dropped out of ego, the muse has consumed him, and the flow of words and ideas and dialogue and metaphor and description and side note and humor and memory and imagination are pouring through him onto the page. Later today he'll be shocked and amazed as he enters his daily word count on the NaNoWriMo website because it's a whopping 1,934.
How many of us fill our spare time with endless hours of the latest series on PBS or Hulu, or whittle away the few functioning brain cells we have left playing Pokémon Go, Candy Crush, or smartphone versions of Sudoku? Or worse yet, scrolling through our Facebook feed to find out what hideous thing some politician said today? Enough.
As leaves and flowers and the harvest naturally come to an end this time of year, NaNoWriMos refuse to follow suit. November, apparently, is the month to stir up something new.
***
Update: As of November 30, 2018, Meredith, Steve, and Mea completed their first 50,000-word novels.
A Word About NaNoWriMo Novels
Hundreds of NaNoWriMo novels have been traditionally published, and eight of them have become bestsellers: Sara Gruen's Water for Elephants, Erin Morgenstern's The Night Circus, Alan Averill's The Beautiful Land, Hugh Howey's Wool, Rainbow Rowell's Fangirl, Jason M. Hough's The Darwin Elevator, and Marissa Meyer's Cinder, Scarlet, and Cress.