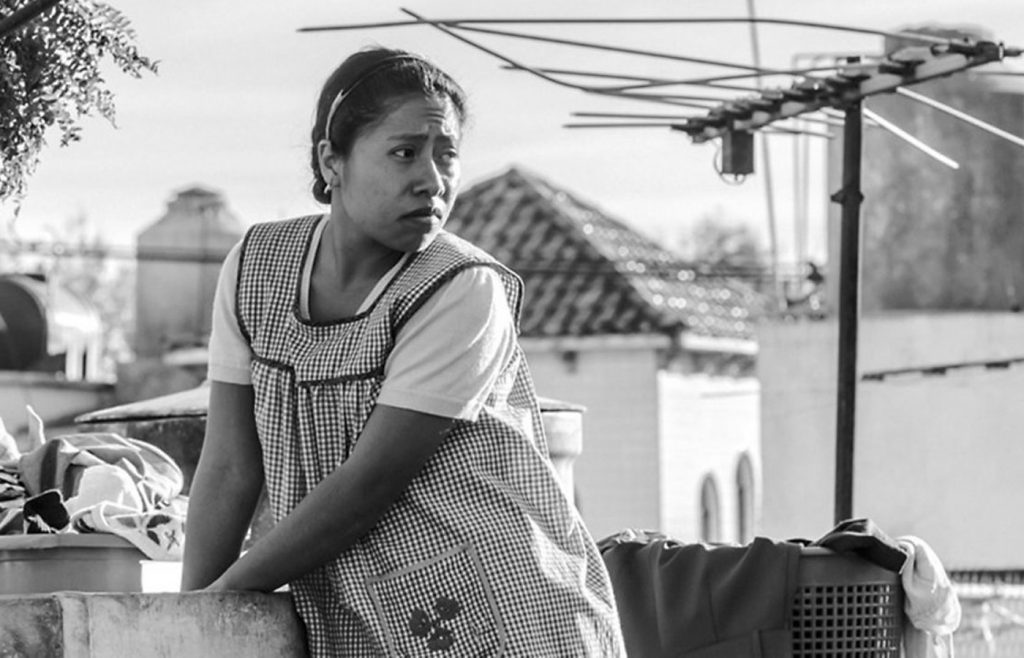 In the quiet masterpiece Roma, award-winning filmmaker Alfonso Cuaron revisits the neighborhood of Mexico City where he grew up—the Roma of the title.
Filmed on location in black and white, Roma is set in 1970-71 and unfolds in a lovely pastiche of light and dark, texture and sound, intimacy and perspective—one exquisite memorable image after another.
But most memorable of all is the gentle, young, indigenous woman at the center of the story: Cleo, the hardworking maid and nanny to a doctor and his wife and their four young children. Played by Yalitza Aparicio, a non-actor who's a preschool teacher in real life, Cleo's innocent, simple heart forms a vibrant human lifeline through every  scene, a lifeline that grows stronger and more precious as the drama of her and this family plays out.
The film is dedicated to Libo, Cuaron's actual childhood nanny, and he says this was a passion project, a chance to look back at his childhood through the prism of adulthood with an understanding of the socio-economic dynamics of which he was unaware as a young boy.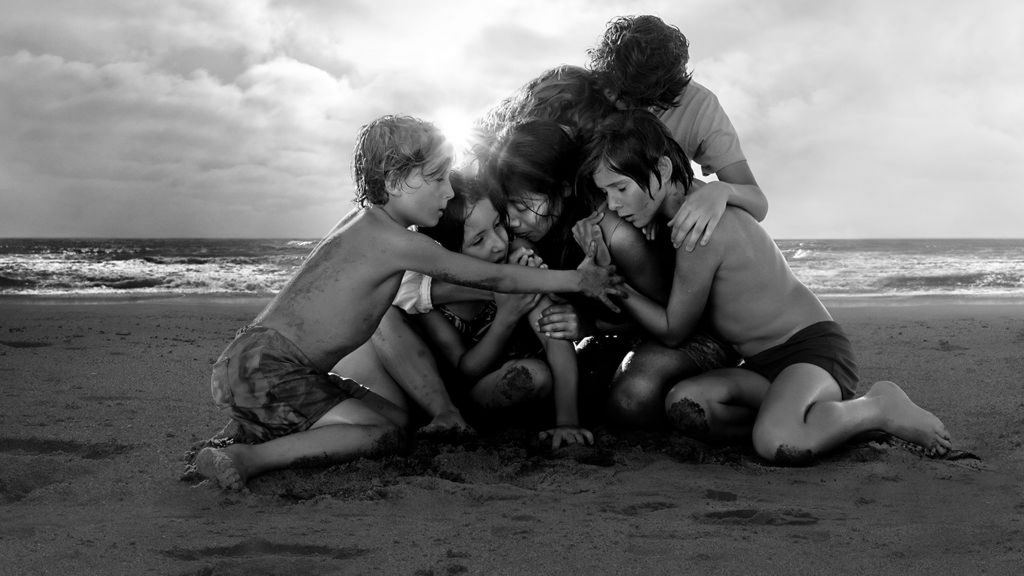 Every frame of this film emanates beauty, authenticity, and depth of feeling—it's worth seeing and will be on many critics' best of 2018 film lists. (The film was produced by Netflix, where it will be streaming soon, but I highly recommend seeing it on a big screen to get the full effect of the cinematography.)
Cuaron personally chose the cast for this film, spreading his net widely throughout Mexico to find the right person for each role. He found Aparicio in Oaxaca, where his beloved Libo is also from. He says he knew she was the one when he saw her warm smile. Nancy Garcia Garcia, who plays the other maid and cook in the household, is Aparacio's friend in real life. The stressed out mother in the film, Señora Sofia, is played by Marina de Tavira, a well-known Mexican stage, film, and TV actress. Beset by a marital crisis, the señora empathizes with Cleo's angst involving her boyfriend Fermin, played by Jorge Antonio Guerrero. At one point she says fiercely to Cleo something like, "In the end, we women are always alone!"
Apparently none of the actors were shown each scene's script until the day of filming, because Cuaron wanted them to interact in a natural, unrehearsed manner and to improvise if it felt right. That realness comes across with understated but resonant power. Never addressed directly but shown cinematically is the contrast between the middle-class household in which Cleo works and the squalid conditions in which many of the indigenous people of Mexico live and which she has escaped. There is so much about Cleo that the audience must infer through what happens rather than by what is overtly said.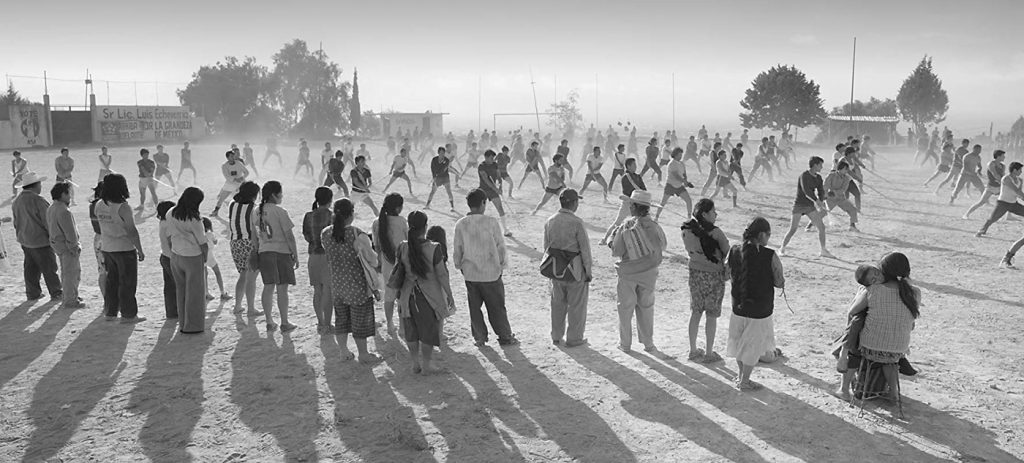 More than just a backdrop is Mexico City itself—full of life and tumult, a cacophony of sound and human chaos, from street hawkers to noisy traffic, from busy commercial streets to quiet interiors, from daily mundane activities to a huge student demonstration shattered by violence. Cuaron's longtime cinematographer, Oscar-winning Emmanuel Lubezki, was not available, so Cuaron himself took on the job of cameraman. The results are visually stunning. (He could be nominated for Best Director, Best Original Script, and Best Cinematographer awards.)
To name just a few scenes that haunt the viewer: a passing plane reflected in a wash of water on stone tiles, the image of Cleo on a rooftop hanging wet clothes mirrored by other maids doing the same on neighboring rooftops, an infinite expanse of fields stretching away into foothills and a distant snowy mountain, dozens of young men arrayed on a dusty field practicing martial arts moves in unison, a vast arid landscape of cacti and scrub brush being crossed by a lone car, an intimate traumatic birth scene in a crowded maternity hospital, the beauty of a sandy beach coupled with the terrible power of the waves that surge onto it. This is a film where every scene, every shot, every interaction among the characters deserves your full attention and appreciation.
An airplane is featured more than once in the film, appearing to symbolize a freedom and possibility of horizons that are but fleeting visions for someone like Cleo. Yet the impetus of the film leads you to see in "poor" Cleo the unfathomable resilience of the human spirit and depth of the human heart. This semi-autobiographical film will stand as a shining gem among Cuaron's other acclaimed films, which include A Little Princess (1995), Y Tu Mama Tambien (2001), Harry Potter and the Prisoner of Azkaban (2004), Children of Men (2006), and Gravity (2013).
For fascinating details about the making of this film, I highly recommend this in-depth article in Variety.