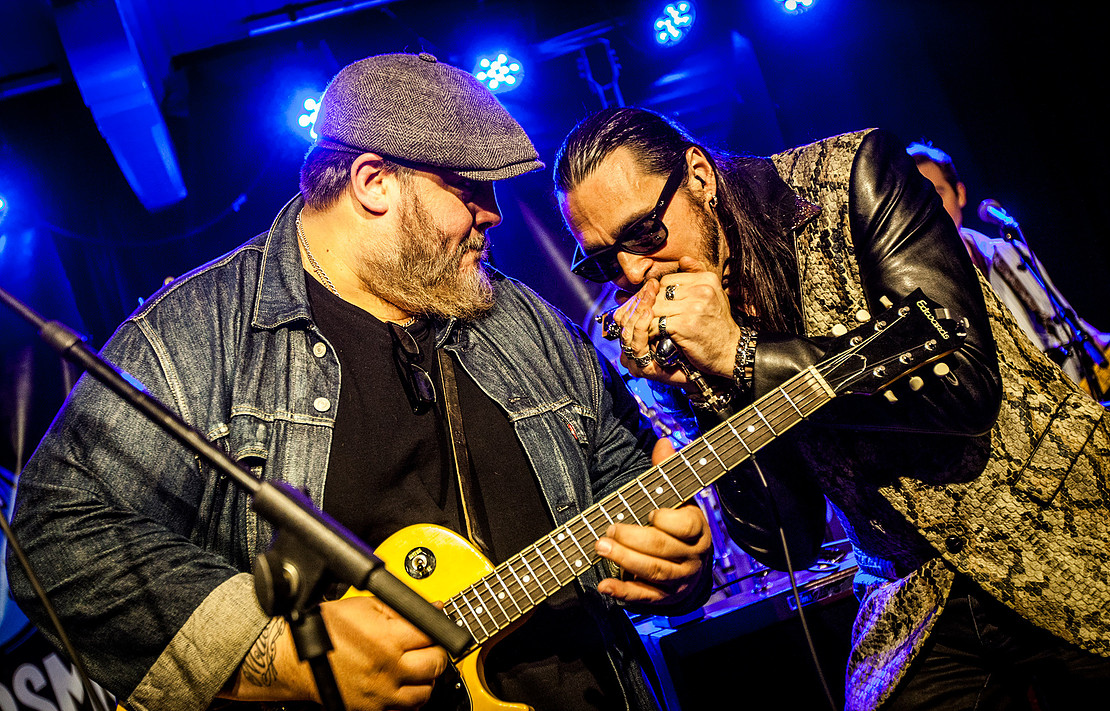 The Southeast Iowa Blues Society invites you to bid farewell to 2018 this Saturday, December 29, with some scintillating blues by the Nick Moss Band featuring Dennis Gruenling—and some sassy, finger-lickin' barbecue by Fairfield's own Sweet'n Saucy restaurant. The bar will be open.
Nick Moss is not just a large man. He's got a big presence and a huge spirit—a reservoir of wit and humor harboring an enormous love of the blues tradition. His prodigious guitar talent goes hand in hand with a grizzly-bear voice that fills the room.
When you add world-class harp player Dennis Gruenling to a backing band as fine as you can find, you end up with a concoction that will have local blues fans salivating. Nick Moss and company will descend on the Fairfield Arts and Convention Center hall this Saturday from 7–10 p.m., where they will begin Rockin' in the Blue Year.
Moss and Gruenling have known each other for decades but released their first album together just last spring, The High Cost of Low Living, reviewed in the April 2018 issue of Living Blues magazine.
"It would be enough if the Nick Boss Band coasted by on the searing fretwork of its namesake guitarist, content to leave him alone to fire up the fray," writes Lee Zimmerman. "Happily, though, Moss is wise enough to share his billing with an able support crew that now includes harmonica virtuoso Dennis Gruenling, at this point clearly one of the best in the biz…. The duo's debut … yields a super summit of sorts, one that finds Moss and Gruenling trading licks in a full throttle demonstration of sheer boogie, verve and instrumental agility…. pure blues at its most urgently expressive."
Tickets for Rockin' in the Blue Year are $20, or $15 for SIBS Members. Call the FACC at (641) 472-2787, located at 200 N. Main Street in Fairfield.