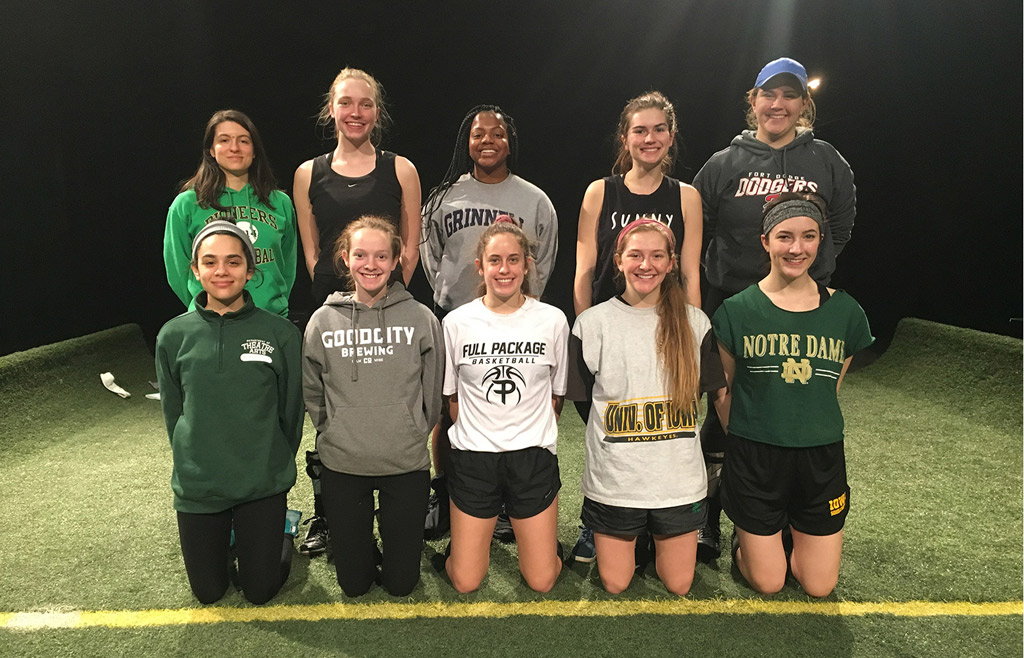 The University of Iowa Department of Theatre Arts is pleased to present Sarah DeLappe's The Wolves, a finalist for the 2017 Pulitzer Prize in Drama. Performances will take place January 31, and February 1, 2, 7, 8, 9 at 8 p.m. and February 3 at 2 p.m. in the David Thayer Theatre located in the UI Theatre Building.
A play of youth set within the pre-game rituals of soccer, it portrays the need to share emerging ideas about personal and global events, raw and open wounds, and the struggle to rise above the pressures put upon female athlete-warriors by men, coaches, peers, and society.
Sarah DeLappe's The Wolves breaks barriers—not in form or style, but by being one of the first plays that truthfully explores and celebrates the intricacies of growing up as teenage women in present-day America—a current moment that is defined by a movement of women striving to take control of their bodies and their narratives.
"I had the pleasure of hearing a very early reading of The Wolves in 2015 at the Great Plains Theatre Conference," said Director Mary Beth Easley. "As the reading unfolded, I knew I was hearing a stunning, new voice that would resonate in the world of theater for a long time to come. I am honored to be directing this play for my first production as a faculty member at the University of Iowa."
"I wanted to see a portrait of teenage girls as human beings — as complicated, nuanced, very idiosyncratic people who weren't just girlfriends or sex objects or manic pixie dream girls but who were athletes and daughters and students and scholars and people who were trying actively to figure out who they were in this changing world around them." —Sarah DeLappe
TICKETS:
$5 UI Students (with valid ID), $10 Students & Youth, $15 Seniors (65+), $20 Adults
Tickets are available through the Hancher Box Office by calling (319) 335-1160 or 1-800-HANCHER, or online Hancher.uiowa.edu/tickets.
This production contains strong language and mild adult themes.
David Thayer Theatre is located in the UI Theatre Building, 200 N. Riverside Drive, Iowa City