Greek director Yorgos Lanthimos is a multi-faceted talent whose very unconventional films, e.g. The Lobster (2015) and The Killing of a Sacred Deer (2017), are catnip for actors because of his interesting characters and scripts that turn on fascinating psychological elements. The Favourite is all of that.
Taking place in the 1700s at the British court of Queen Anne, The Favourite is a steaming, enthralling mash of love, passion, political gamesmanship, and betrayal, with an underlying theme about power, its reach, and its corrupting consequences.
Although set in a historical time, this is not a historical drama, despite the elaborate sets and costumes. The royal court is mere background to the vivid characters whose personal dramas resonate with today's world of populism and power plays by would-be and actual dictators.
The film features outstanding lead performances by Olivia Colman as Queen Anne, Rachel Weisz as her lady-in-waiting Lady Marlborough, and Emma Stone as upstart servant Abigail. Special kudos go to Colman for a particularly brilliant, complex portrayal. A respected longtime BBC actress, Colman was also in Lanthimos's The Lobster. She is perhaps best known to American audiences as Ellie Miller in the murder mystery series Broadchurch, and is currently starring as the older Elizabeth in season 3 of the Netflix series The Crown.
At this time in British history, the monarch is all-powerful, advising and dictating to Parliament the country's domestic and international policies. Colman's Queen Anne suffers from crippling, painful gout, as well as a severe digestive disorder and emotional anxiety. She depends heavily on her close friend since childhood, Lady Marlborough, for comfort, companionship, and direction on all affairs of state, as she's too preoccupied with her health issues to give these matters personal attention. Lady M is only too happy to oblige, steering the queen to an extremely hawkish stance on the bankrupting, destructive, ongoing war with France in which her own husband, Lord Marlborough (Mark Gatiss), is an officer. Her insidious influence on the queen frustrates Lord Harley (Nicholas Hoult), leader of the opposition in Parliament. The Queen can be manipulated by others due to her own ignorance and emotional vulnerability, but when she's upset and lashes out, all of court and Parliament quakes. No matter by what means she arrives at her royal decrees, her word is binding for the country. The only thing that concerns her about advocating, for example, for more war and higher taxes, is whether this increases or decreases her popularity with the public. (Sound familiar?)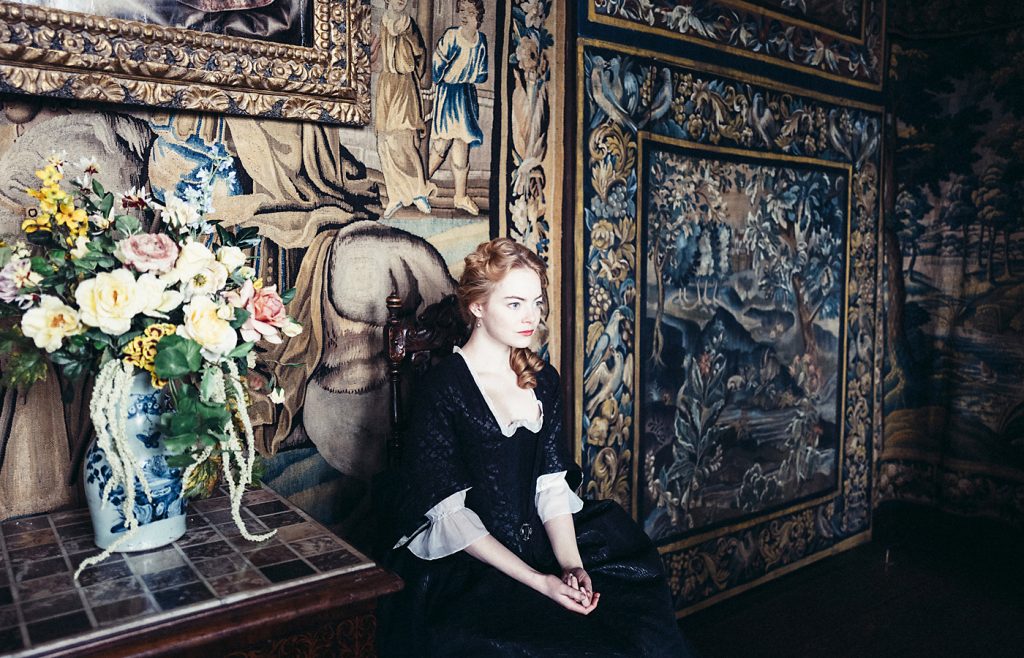 Then along comes Abigail. A destitute cousin to Lady Marlborough, she seeks her cousin's favor for a position at court. Disdainful and unsympathetic, Lady M consigns her to a position as a lowly scullery maid. However, Abigail is spunky, observant, and shrewd, soon sussing out the ruthless and unsavory political machinations at court. She starts insinuating herself into higher and higher favor with her cousin and the Queen, with Lord Harley and young Lord Masham, until she threatens the whole established pyramid of status and power.
At the center of power jockeying by everyone at court sits Queen Anne, petulant and grumpy and often distraught. Although she is a mess of ill health, pain, insecurity, and neediness, she nevertheless holds all the power. (Again, sound familiar?) The two scheming cousins have no power of their own and, especially as women, must curry favor with the Queen to survive and thrive. It's literally a battle royal between these two, and unexpectedly, the stakes are not just power, but love.
All three of the main characters in this black comedy drama are strong women who are sympathetic despite their dark sides, and this is what makes the film so captivating. A Lanthimos film is never predictable, and the film's ending brings to mind the saying, "Who sits at the top must needs be lonely."