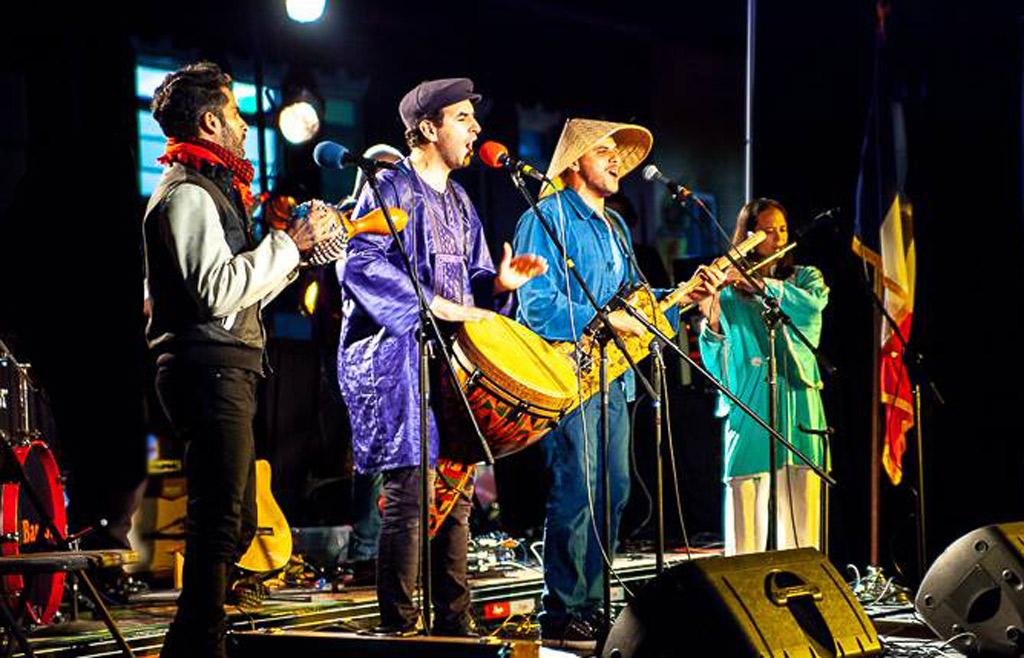 On Saturday, February 2, 2019, at 8 p.m., Baraka Band will fill Café Paradiso with some enticingly warm world-music rhythms.
Comprised of a group of masterful musicians based in Fairfield—the Kouider brothers, Karen Aoki, and friends—Baraka Band brings a high-energy show to a cozy venue that captures every exciting sonic nuance.
Younes Kouider, who studied with a master of Gnawa music in Algeria, will be performing on the gumbri, a traditional African bass instrument that is used for ceremonies and trance. Amine Kouider, a local favorite, recently released his first album, Tchbatch, available on iTunes and Spotify. He will be performing on guitar and vocals. Karen Aoki is a classically trained flutist who has studied with master flutists from Hungary, Japan, and the U.S.
"Authentic. Soulful. I have had the privilege of watching brothers Amine and Younes Kouider, along with flutist Karen Aoki, develop this terrific Algerian-based band into something really special. They bring the joyful best of North African musical and spiritual traditions to the 21st-century Western world. Not to be missed." —filmmaker Michael Barnard
Baraka Band will perform traditional Algerian songs and original pieces from Amine's album, as well as African medleys, flamenco, and Sufi music classics. The band will be accompanied by Jimmy Moore on bass and Opare Agyeman on percussion.
"The energy, love, integrity, and authentic expression of these creatives is tangible on all levels! I love their jams, their charisma … I'm a big fan." —Paul James Morehead
Tickets are $10 in advance (available at CafeParadiso.net or at Café Paradiso, 101 N. Main Street), $12 at the show.