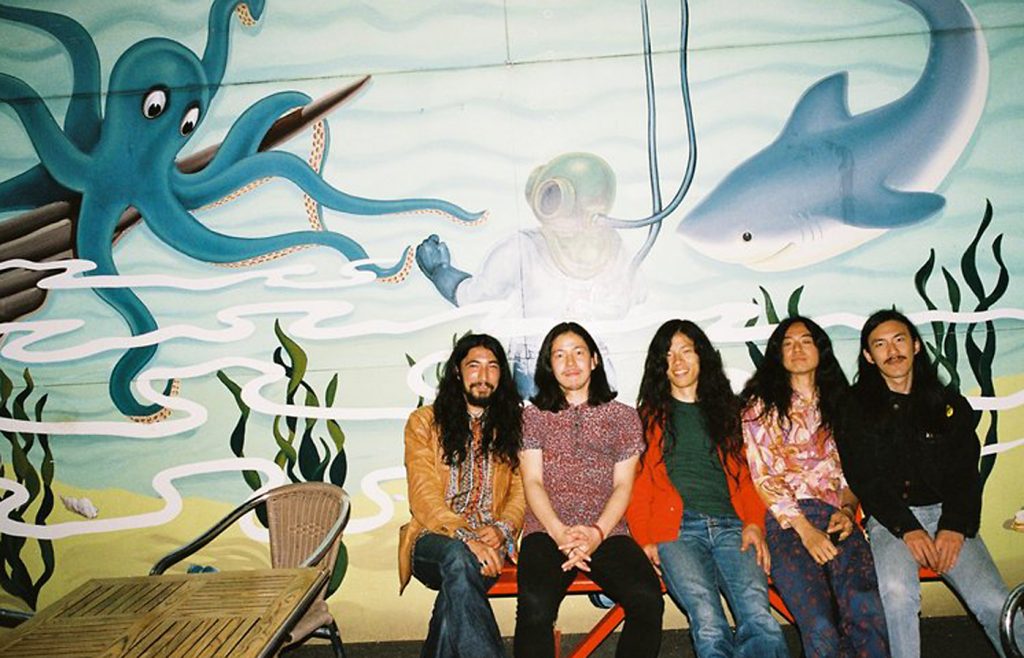 The Japanese psychedelic quintet Kikagaku Moyo defines their sound as "Feeling Good Music" on Facebook. While there's definitely a positive vibe to their music, this modest description oversimplifies their complex mix of classical Indian music, Krautrock, traditional folk, and '70s rock. Kikagaku Moyo wants to move you, body and soul.
The band began as a free music collective back in 2012 while playing on the streets of Tokyo. They have since released several highly praised albums and played all around the globe. Kikagaku Moyo recently finished a 97-gig tour of 20 countries over three continents.
"We'd be happy to do so again," said founding member Go Kurosawa. "It's very busy schedule and sometimes it can be overwhelming, but we appreciate being able to travel the world and perform every day so much!" he said enthusiastically.
"This is going to be our first time playing in Iowa. We only know it because of Slipknot," Go Kurosawa said, and then laughed. They will perform at the Mill in Iowa City on February 22.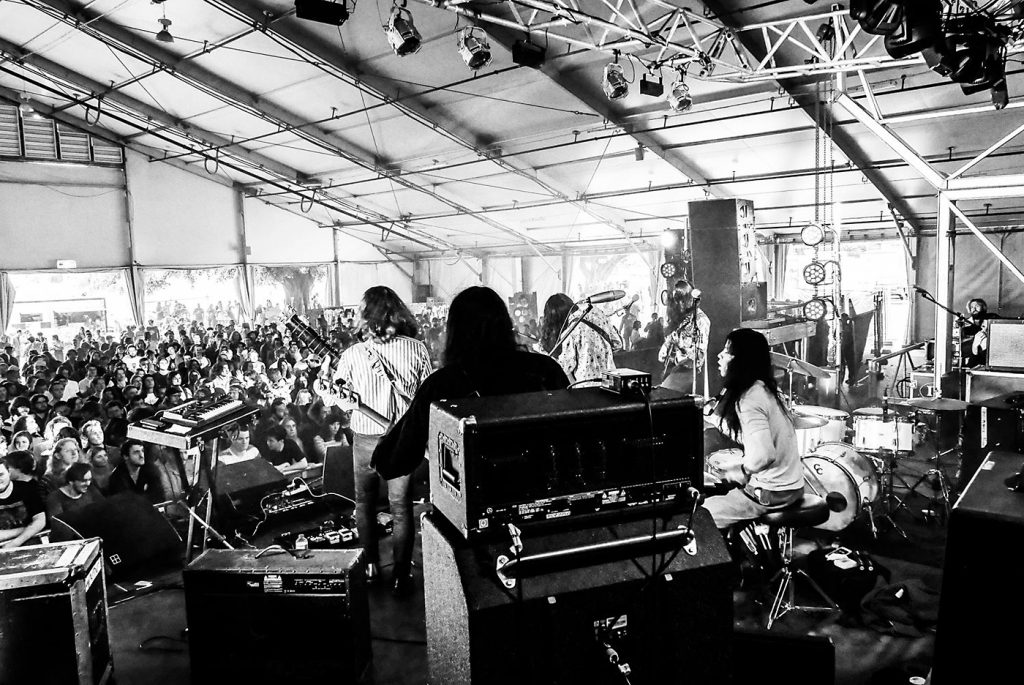 The five band members are Tomo Katsurada on vocals and guitar, Daoud Popal on guitar, Ryu Kurosawa on sitar and organ, Kotsu Guy on bass, and Go Kurosawa on drums and vocals.
The band performs the same basic set whether it's at a big festival in Bali or a small club in Poland. "We always play as we want and feel," Go Kurosawa said. "It doesn't matter what country or what site." On their upcoming North American tour they will be at venues as large as the multi­day extravaganza Bonnaroo Music & Arts Festival in Manchester, Tennessee, and as small as the more intimate Pappy + Harriet's in Pioneertown, California.
"One of the most memorable venues was when we played in Slovenia," Go Kurosawa explained. "It was an old tavern place in which we could easily imagine medieval people having drinks there. We love small venues that have great histories. It makes us feel little honored just to be part of it."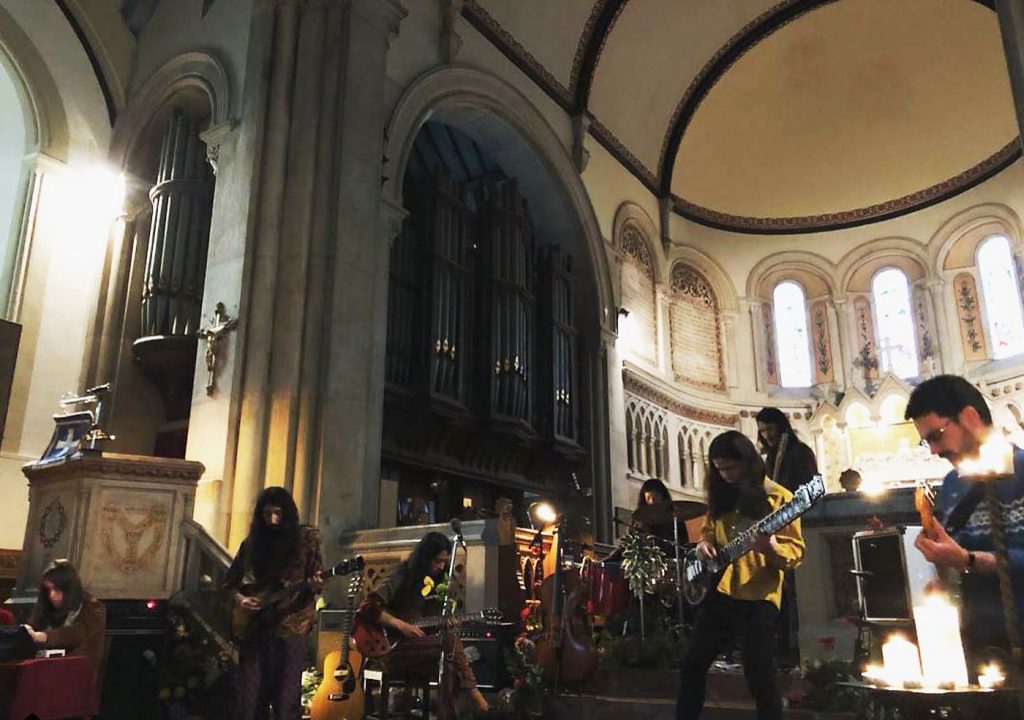 Coming from Asia, he understands that almost every American venue will have a limited past of a few dozen years, but that doesn't make them any less intriguing for him.
The term kikagaku moyo means "geometric patterns" in Japanese. The band's music may be hard to define, but fans and critics agree that there's a formal beauty in their organic jams and stylistic mash-ups. The band's most recent disc, Masana Temples, was recorded in Lisbon, Portugal (the previous ones were made in Japan), and produced by jazz musician Bruno Pernadas. The songs were all recorded in single takes, mistakes included, as a way of keeping the music fresh. Their improvisational approach suited the jazz production.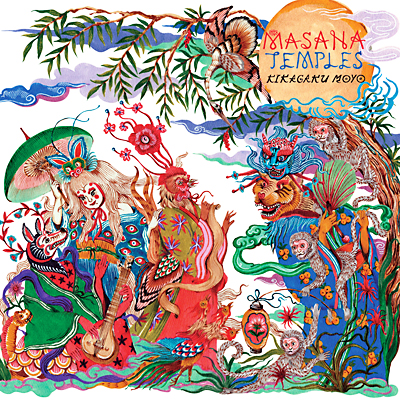 Kikagaku Moyo invented the word "masana" to express the emotion of harmony and understanding. The new album exudes the warm feeling of togetherness through its diffuse elements. Or as Howard Johnson put it so eloquently in the Mel Brooks satire Blazing Saddles, "Nietzsche says, 'Out of chaos comes order.'" Of course Nietzsche never said that, which is why the slogan is funny, but the sense of cosmic comedy matches Kikagaku Moyo's music. There is a lighthearted happiness embedded in their playing. They are having fun fooling around.
"We have lots of inside jokes," Go Kurosawa said about their playing. The audience may not understand precisely what these musical jests are, but the band radiates delight. This is the "feeling good" aspect of the work mentioned on their Facebook page.
The experimental and experiential aspects of their music are reinforced by the use of field recordings that the band incorporates into their songs. "For example, we use sounds from old Japanese TV shows," Go Kurosawa said. "And I just picked up a cornet, which is one of my first instruments that I ever played when I was a kid." His goal is to add something new to expand their sound. It's not a matter of virtuoso ability as much as connecting with fellow band members and taking the music somewhere it hasn't been before.
Similarly, the band cites groups that mix different styles and atmospheres as their influences. "For example, [British folk rockers] Fairport Convention and [German electronica] Popol Vuh," Go Kurosawa said. "Any bands who are good at mixing different music genres." While these two acts may seem very diverse on the surface, both are known for their ability to assimilate assorted modes into their compositions. While these bands no longer exist, thanks to the World Wide Web their music lives on.
"I like how we have access to so much music on internet," Go Kurosawa said. "It's amazing that we can dive into the world of discovering hidden jams."
While Go Kurosawa admits to preferring music on vinyl over online streaming, he credits the new technology's impact on his education as well as on spreading the word about Kikagaku Moyo's music. He knows that audiences in Iowa will be familiar with the band's music even if their albums are not available for sale in the state and local radio doesn't broadcast their tunes.
It may seem brave for an act from the Eastern hemisphere to play a rock club in Iowa and expect an audience, but because the band has been around for years and enjoys a reputation as an exciting live group, Kikagaku Moyo anticipates a decent-sized crowd. They aren't scared about finding an empty venue.
But there is one thing that does scare them: "A cute dog being very aggressive," Go Kurosawa said. Please leave your pets at home. The band and the Mill will appreciate that!