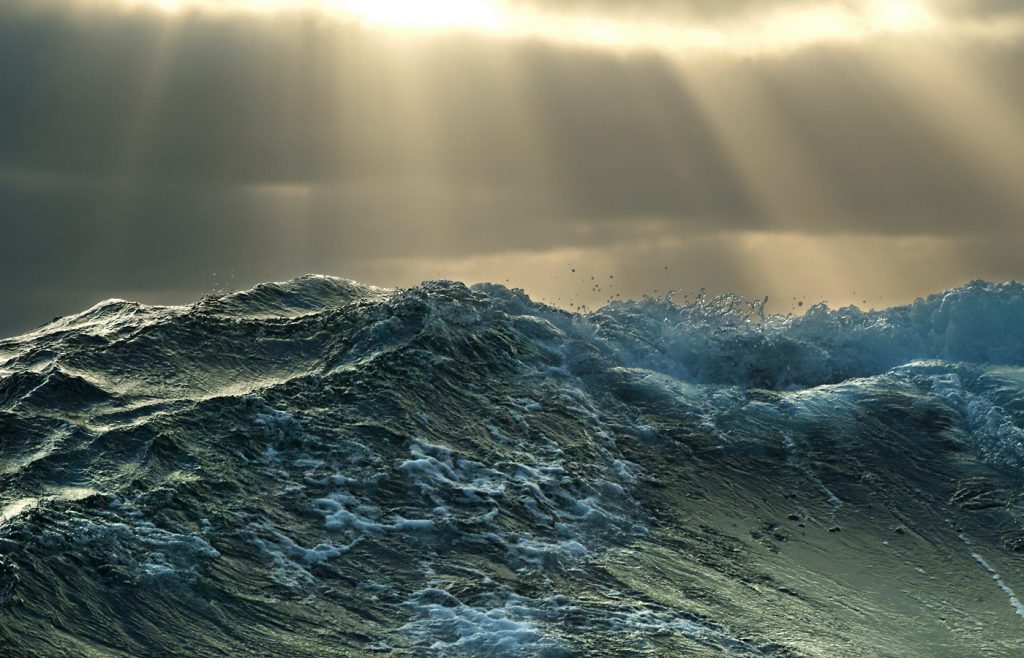 Born and raised in landlocked Iowa, David Thoreson became—quite unpredictably—one of the great sailor-explorers of our time. Traveling 65,000 nautical miles around the globe, Thoreson has documented the dramatic impact of global warming through photography and film.
On Sunday, February 24, Thoreson will present "Eyewitness to Climate Change," a stunning multi-media event drawn from often-harrowing experiences in some of the most remote regions of the planet. The free event begins at 2:30 p.m. in the Sondheim Center in Fairfield, with a Q&A to follow.
Using photography, humor, and storytelling, Thoreson presents direct visceral evidence of global warming, based on his time spent in areas that are experiencing rapid and drastic change.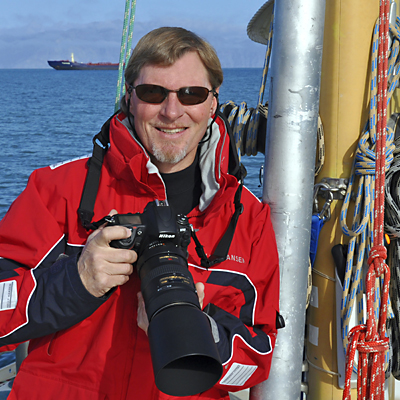 The presentation draws particularly on Thoreson's unique experiences sailing amidst the northern ice. It also highlights other planetary changes, including rising seas, ocean acidification, the onslaught of plastics, and soil loss here in the Iowa.
David Thoreson is an accomplished arctic sailor, photographer, and member of the Explorers Club. He is the first American to transit by sailboat the infamous Northwest Passage in both directions. Thoreson was also the documentary photographer and filmmaker on a 13-month circumnavigation of the North and South American continents. His work has appeared in The Smithsonian and the Wall Street Journal, and on PBS.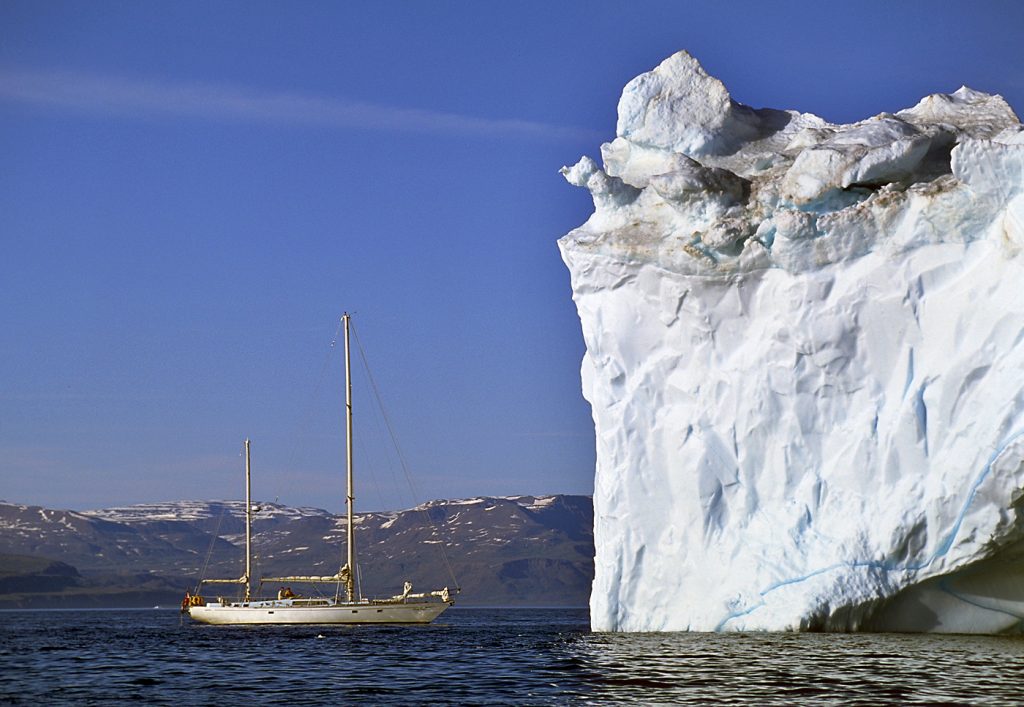 We emailed David in mid-February and asked him to tell us more about his travels and experiences.
Did photography propel you into exploring, or was it your interest in the environment?
I believe it was photography, my interest in adventure, and also a boyhood dream of sailing the world's oceans. My interest in the environment and local ecosystems was secondary at the time, but gained importance as I grew older and gained more experience.
What is the draw of the big open seas for you, and how has time spent in remote waters changed you?
I have always been drawn to the outdoor landscape. Early on it was photographers like Ansel Adams that inspired me to search for the big landscape, so I did big land-based adventures. My boyhood dream of sailing the oceans manifested itself when I met Roger Swanson, owner of the sailboat named Cloud Nine. I'm drawn to the horizon and what is out there on the other side.
The unknown intrigued me and altered my life forever. Like being in outer space, exploring the ocean wilderness gives one much time to think and meditate about what is truly important in life.
Is there one startling or shocking environmental moment that stands out for you during your travels?
That is an easy one! Sailing the Northwest Passage in 2007 when we encountered little sea ice in the Arctic. This was a shocking and profound moment when I literally was there in the moment to witness planetary change.
There aren't many of us who will be able to see an iceberg in person. Can you describe what that's like?
I first witnessed an iceberg at sea when sailing to Antarctica in 1992. There is an immediate feeling of awe and anxiousness simultaneously. They can be your friends on sunny calm days but can be the face of the devil when you experience a massive iceberg in a stormy, rough sea or fog. They are very dangerous to be near and unstable in numerous ways.
What is one thing that every individual can do about climate change?
Lessen your footprint. Step lightly and efficiently on the planet and vote for people who understand the importance of conservation.
Do you have more plans for travel? Where will you be going next?
My travel plans include going back to the Arctic National Wildlife Refuge and surrounding communities to continue my efforts of public lands protection and documenting stories of the indigenous people who are living in the far north who fight for their cultural survival. I also plan to continue interviewing and working with scientists in the Arctic who are the new explorers studying the all-encompassing issue of climate science.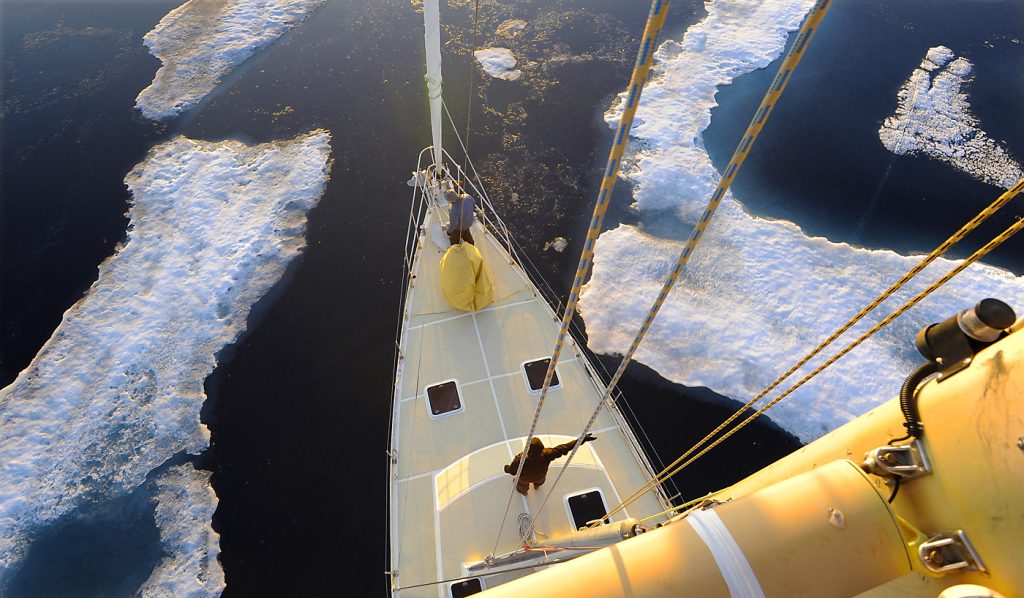 David Thoreson will be in Fairfield for three events February 23-24, 2019:
Saturday, February 23: Informal Talk and Book Signing. Thoreson will give a book talk on his photo journal, Over the Horizon: Exploring the Edges of a Changing Planet, and entertain questions at Revelations Café in Fairfield from 1:30-3:00 p.m. Signed copies will be available.
Saturday, February 23: Dinner with David Thoreson. Sierra Club is hosting a meet and greet dinner ($15) at Revelations Cafe. Social hour begins at 6:30 p.m. with cash bar and hors d'oeuvres, dinner starts at 7:00 p.m. Reservations are required by February 20. Contact Revelations at (641) 472-6733 or joanallen.revs@gmail.com.
Sunday, February 24: "Eyewitness to Climate Change: Melting Ice, Rising Seas, and Soil Loss." Thoreson will present a stunning multimedia event drawn from often-harrowing experiences in some of the most remote regions of the planet. The free event begins at 2:30 p.m. in the Sondheim Center in Fairfield, with a Q&A afterwards.