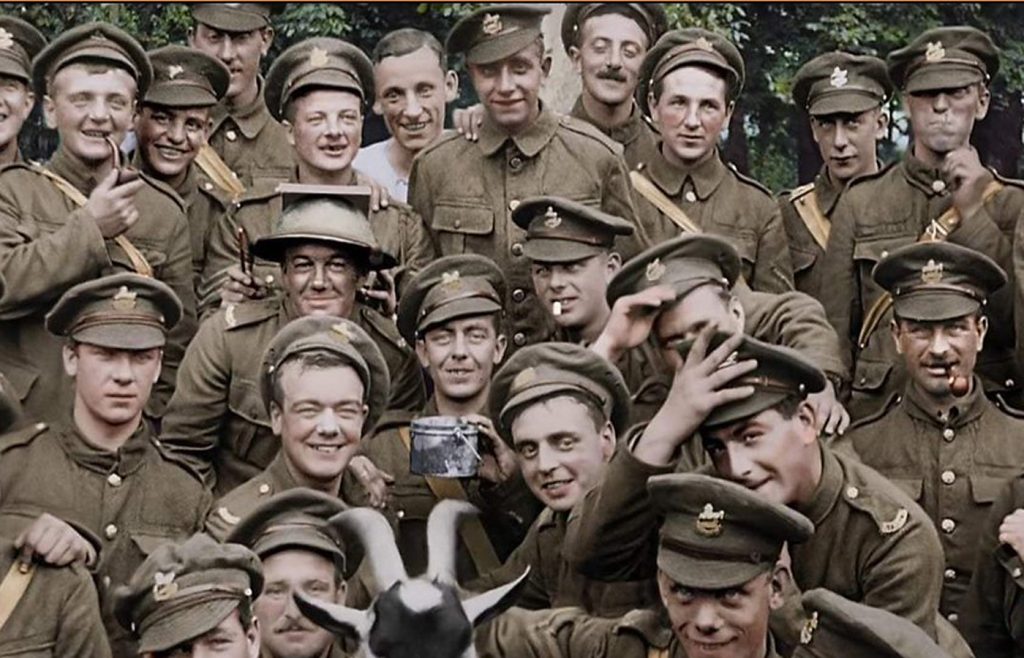 The centennial anniversary of World War I inspired the unprecedented commemorative film They Shall Not Grow Old. The "war to end all wars" engaged soldiers from more than 30 countries. But this documentary was the particular inspiration of the keepers of British war archives, in collaboration with the BBC. Together they combined all their WWI footage, photography, and audio recordings of veteran interviews into one film. And they enlisted the expertise of WWI aficionado and renowned filmmaker Peter Jackson (Lord of the Rings), whose grandfather served in the Great War and to whom this film is dedicated.
As "a non-historian creating a film for other non-historians," Jackson submerges us in the real-life stories of the young soldiers of Great Britain, many of whom enlisted in search of adventure or a job. Some were as young as 14. And far too many gave their lives, which inspired the title.
Jackson creates an intimate vision of life in the trenches through the eyes and voices of the men who served, sharing memories of their military training, their comradery, and the lack of comfort and sanitation in the trenches. Meals were basic but somehow there was the omnipresence of soothing hot tea. We observe the primitive medical treatment of serious gun wounds. And the hopeless battles against the Germans, who were armed with automatic weapons and mustard gas. Against the backdrop of gunfire and explosions, we see and hear the war straight from the voices of those who were there. Which makes me wonder why the film title isn't also in first person, instead of a third-person reflective on the young casualties on the Western Front. And now that I've gotten that out of the way, I can continue praising this extraordinary film.
The best part of They Shall Not Grow Old is the post-conclusion, the "making of" segment, in which Jackson describes how the details were finalized. "Going the extra mile" is too small a descriptive to explain what you'll learn about documentary filmmaking from Jackson's labor of love that took several years to complete. Even if you have no interest in war, do not miss this film. And stay for the ending. You will be wowed. A