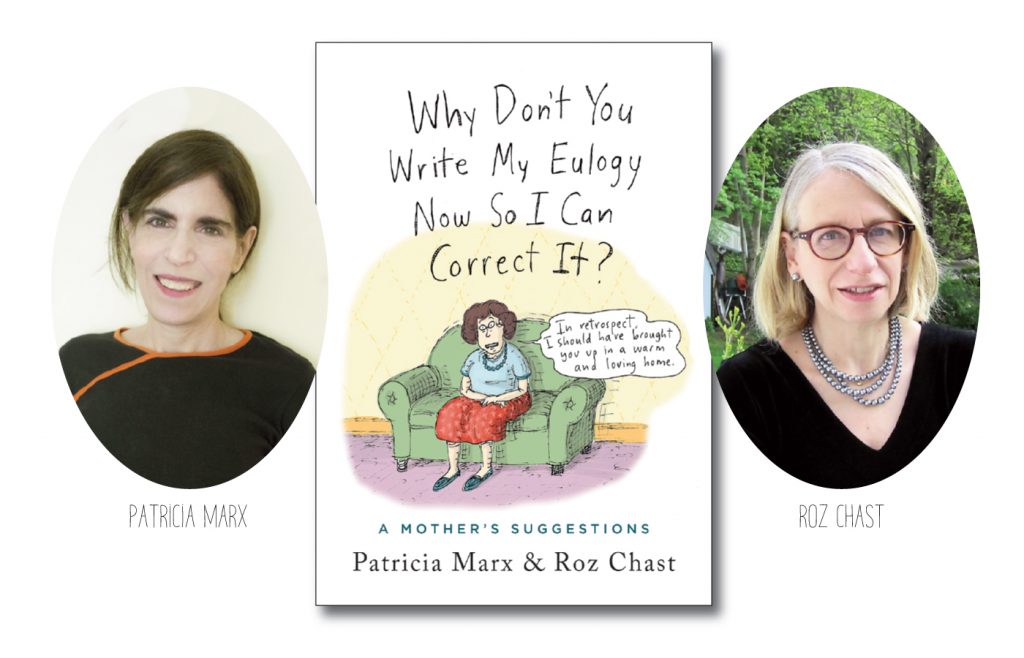 The inimitable New Yorker cartoonist Roz Chast and wry humorist Patricia Marx have joined forces to very gently roast our favorite human beings: moms. The two funny ladies will be in Iowa City on April 9 on a national tour to promote their new book, Why Don't You Write My Eulogy Now So I Can Correct It? A Mother's Suggestions.
Prairie Lights Books presents "Patty Marx and Roz Chast, In Conversation with Lauren Haldeman" on Tuesday, April 9, at 7 p.m. at the Englert Theatre. Reserved seating admission is $25, which includes a copy of the book.
Roz Chast and Patty Marx have been friends and collaborators for over 30 years, procrastinating at their day jobs and emailing each other all day long—sometimes 200 emails a day. When the topic of "things your parents taught you" cropped up one day, Patty came up with so many snappy rules from her mother that Roz finally said, "You should put these in a book. I'll illustrate them."
Some of the maternal rules are:
"If you feel guilty about throwing away leftovers, put them in the back of your refrigerator for five days and then throw them out."
"Everyone has a predetermined number of footsteps to use up in a lifetime. It's reckless to exercise since you will only exhaust your quota sooner and die."
"Never wear black and red together or you will look like a drum majorette."
Roz and Patty met in 1985 because of Patty's mother. Roz had illustrated a humor piece in The Atlantic that Patty admired, and her mother encouraged her to cold-call Roz. They truthfully had nothing in common, until Patty wrote a children's book and asked Roz to illustrate it.
Patty Marx is a former writer for Saturday Night Live, the first woman elected to The Harvard Lampoon, and a New Yorker contributor since 1989.
Roz Chast has published more than 800 cartoons in The New Yorker since 1978. She famously wrote about her mother in her book Can't We Talk about Something More Pleasant? It was a #1 New York Times Bestseller and 2014 National Book Award Finalist.
The longtime buddies have also formed a ukulele band called Ukclear Meltdown, with a very limited repertoire of rewritten classics.
For tickets to the event, visit Englert.org.