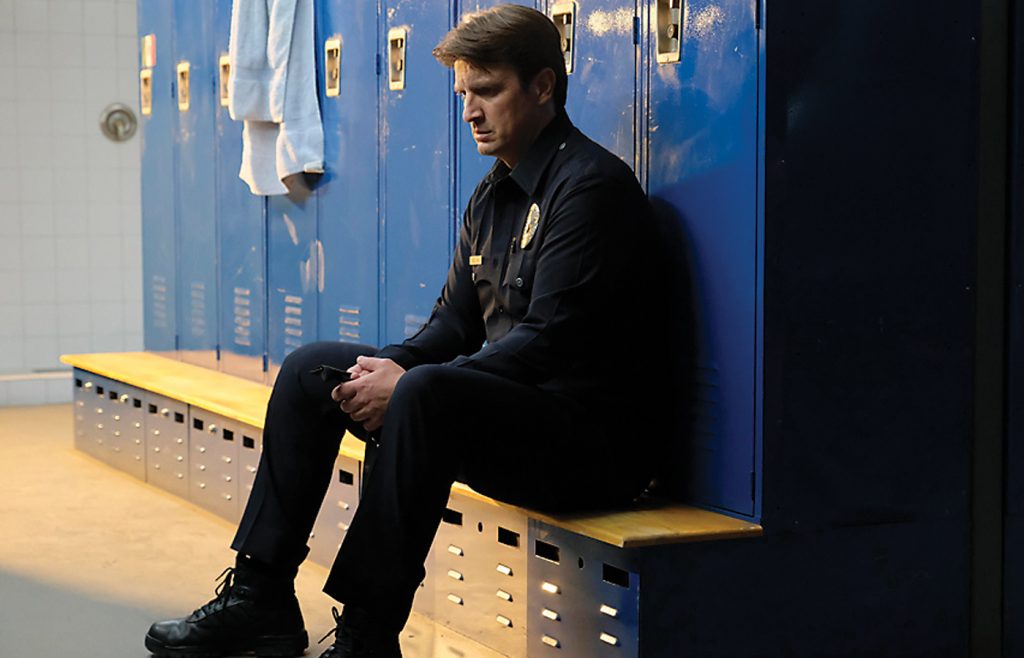 Graduating from the police academy at age 40 takes guts or stupidity or maybe a little of each. But when John Nolan's life direction slowed to a halt, a pivotal event pointed him toward a career with the LAPD. So now he's the over-age rookie with plenty to prove.
Nolan (Nathan Fillion) may not have the physical stamina of his youthful cronies, but he's got assets only age can bestow: experience, street smarts, and the ability to connect, even in moments of danger. He's the officer who can engage rather than threaten, the guy who can talk the jumper off the ledge. Because he exudes authenticity. Nolan is the guy next door you ask for advice, the friend you trust with your secrets, and the cop-in-training who looks great in uniform.
Still airing its first season on the ABC network, The Rookie offers a full range of police encounters, from the smallest domestic complaints to dangerous hostage situations—always with a sense of humor. Writer-producer Alexi Hawley took inspiration from a true story to create this multi-faceted dramedy. And he focused on developing each of the police officers as real people with human strengths, weaknesses, ambitions, and backstories. Each episode explores the nature of the person wearing the uniform, and reveals universal truths that apply to everyone.
I'm a sucker for procedurals about cops, lawyers, prosecutors, federal agents, or James Bond. But I have my standards. Too often, a new series will cast inexpensive actors who don't carry the show, and sometimes the writing is thin. But The Rookie features a cast worth watching and stories that engage. Nathan Fillion is a charmer in front of the camera. And he comes equipped with an eight-season fan base from his role in Castle, the ABC TV crime-solving comedy series that ended in 2016, also created by Alexi Hawley. In The Rookie, Fillion is supported by a solid cast that includes Richard T. Jones as the tough but fair squad sergeant, Melissa O'Neil as Nolan's love interest, and Eric Winter as a no-nonsense supervising officer dealing with his own trauma.
Now here's a disclaimer. Don't expect the power of Law & Order or the magic of NYPD Blue. Just watch with an open mind. The Rookie reminds us of the dangers that police officers face every day. When an officer is in pursuit, we view the chase through the lens of the body cam—a clever technique that keeps the series topical. Most of all, we learn about the biggest challenge of the rookie cop: living up to the standards of their supervisor.  If you want to stream the first season, try this: ABCgo.com B+