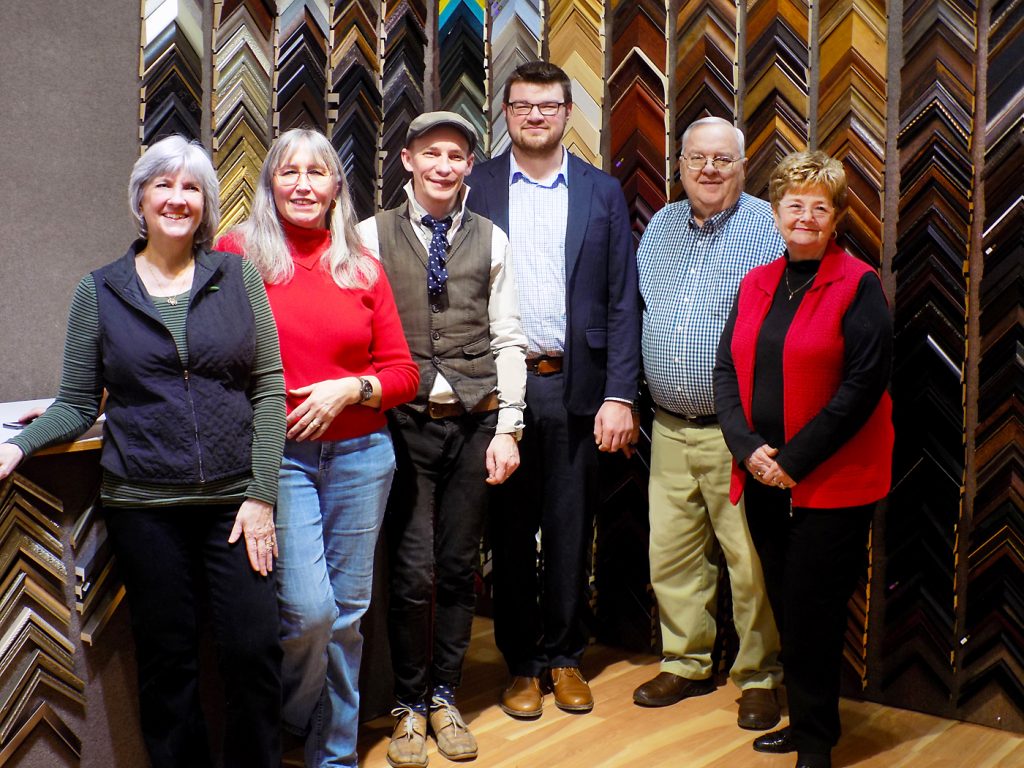 Thousands flocked. Okay, not thousands, but between 200 and 300 people made their way to 53 W. Broadway for February's First Friday this year. Many could be found around a table in the new classroom making valentines; others were busy being enchanted by the works of Kartika. Still others could be seen perusing ceramic plates, browsing earrings from Kenya, or buying a 2B pencil for their drawing class.
If you've been inside the newly renovated Henderson's Custom Framing, then you've also been inside Square One Arts and Cindy's Art Supplies, where you will see more paintbrushes in one spot than ever before in Fairfield.
Cindy's used to be Cindy's ArtBeat in the back of ICON Gallery, and Henderson's wasn't always Henderson's. It all began a thousand years ago, or maybe it was the mid-1970s.
In 1975, John and Mae Prentics started Frames and Things, and later sold the business to Keith and Sandi Dimmit, who ran it out of their home on South Maple. Don and Donna Henderson purchased that business in the early '90s, and it was incorporated into Coast to Coast Hardware. For 25 years the Hendersons and their children, Lori and Eric, ran the well-loved venue, adding art inventory and moving it to the square where it became Henderson's Custom Framing and Gallery. Eric, a nationally Certified Picture Framer (CPF), ran the gallery with the motto "quality custom framing." This is a commitment shared by the new co-owners, Tyler Anderson—son of Lori (Henderson) Anderson—and Chad Starling. You may have seen Chad in the frame shop in his tie and vest, meticulously measuring, consulting with customers, and working hard in the back, adjacent to the very small room where—yes, Don Henderson is still making keys!
Cindy's Art Supplies
Meanwhile, back in 2008, Bill Teeple of ICON Gallery mentioned to Cindy Ballou that the local arts community really needed an art supply store. Cindy worked with Bill to create one in the back of his teaching studio, and for ten years, she was like a mom to Fairfield artists, researching the best prices and materials for all manner of artistic projects. If her crammed shelves didn't have what you needed, a special order usually took care of it. Discovering Cindy downstairs in ICON was a treat for us all—she and Bill were a team.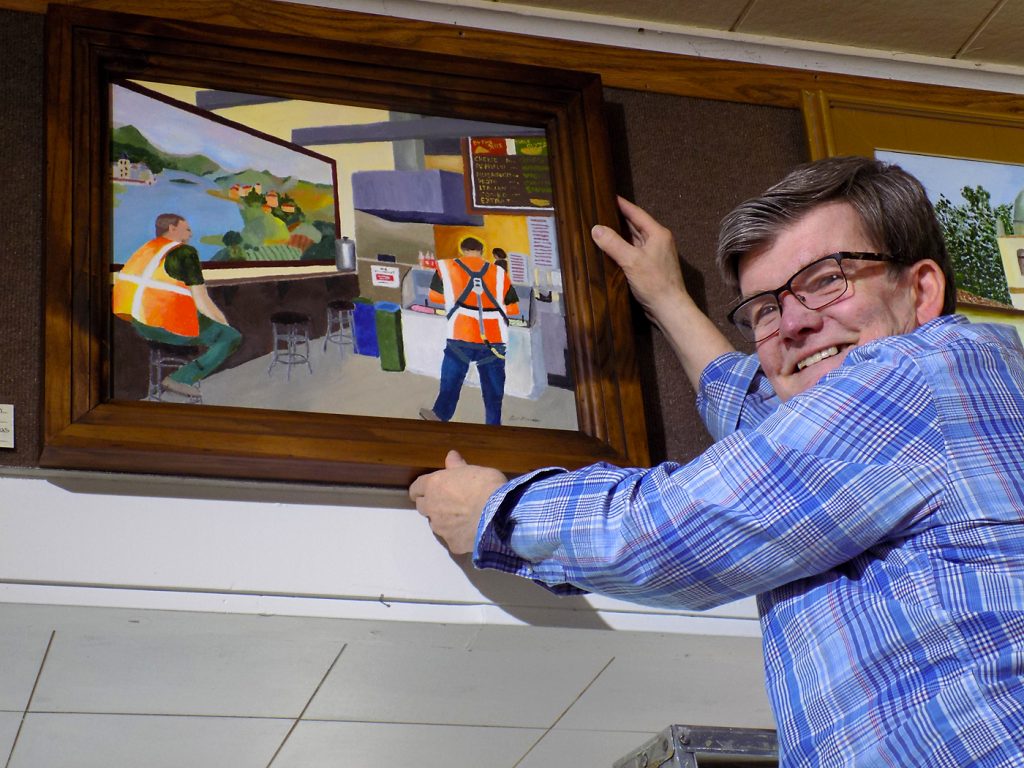 One night at art class in summer 2018, Cindy told us that she and the Hendersons were talking about a joint venture. What if art supplies, artwork, and picture frames could be combined into one venue? What if this space could complement Bill Teeple's classes and expand craft and hobby opportunities for the town? Meetings were held, and a collaboration among Cindy, the Hendersons, and Chad began to take shape.
After a few months of courage, planning, hunting for fixtures, and organizing an artisan group to participate in the gift shop, the expanded operations opened for business. In the new Henderson's, you will discover many varied treasures among the multi-generational artists' offerings.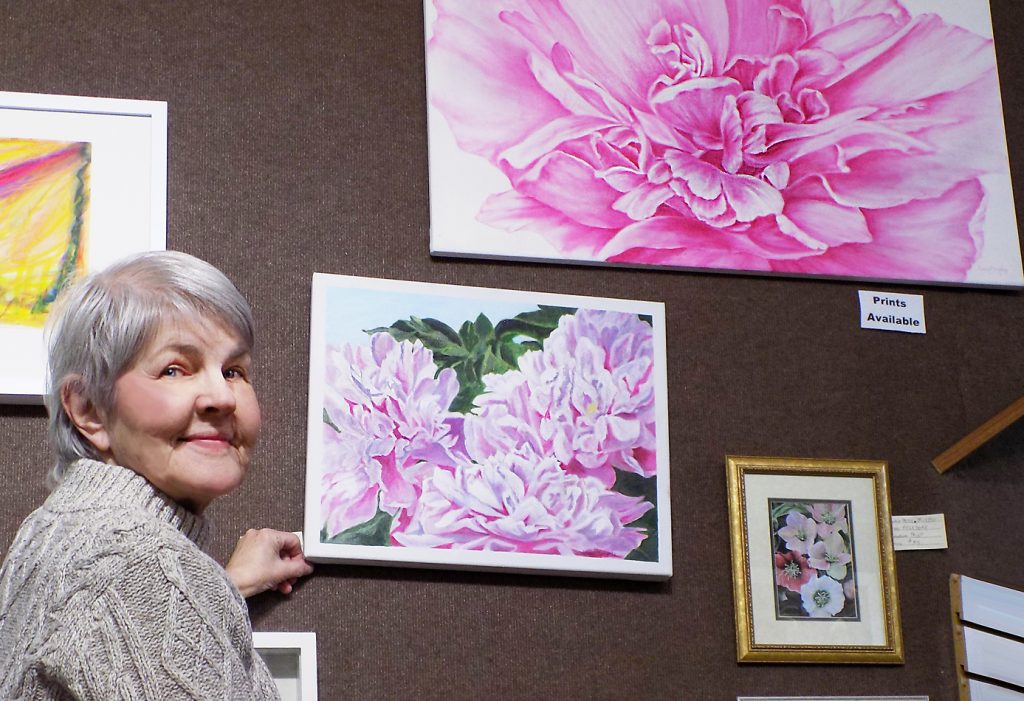 Square One Arts
A number of jewelers cover the gamut of pricing and style. Margaret Zacny (ZAX Jewelry) makes ornate metalsmith settings for gemstones. Illustrator-designer Mikayla Lanman's corner of treasures includes felted mushrooms inside of bottles, plus fantasy prints and greeting cards.
Ambree Shaw's bottle pendants are filled with unexpected items such as bones and butterfly wings, bullet crystals, and illustrations. Martha Sperry features her popular felted animals and fantasy characters as well as beautiful watercolors, oil paintings, and greeting cards.
WendogFashion (moi) recently added a new line of ice-dyed organic cotton leggings. In addition, there are baby clothes, upcycled clothing, vests, and yoga wear.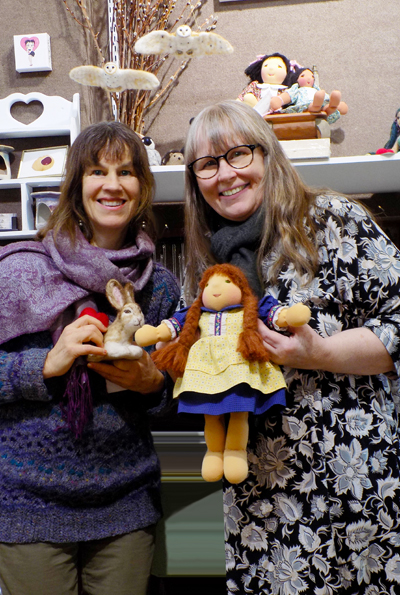 Kasie Clemmons's ceramics are displayed in and around the front window—plates, platters, and tiles. And don't miss Bill Munson's oil paintings, above the alcove, depicting light-filled urban scenes.
Cris Soth is currently showing her food-themed oil paintings and gift cards. Doll clothes designer Hilary Gleason has handmade, all-natural fiber dolls wearing newly designed clothing. On the walls are the exquisite flower paintings, prints, and greetings cards of Irene Murphy.
The alcove area hosts beautiful Radiant Bliss Designs jewelry by Jenny Sammons and marvelous Ancient Times Jewelry by Bill Hurlin. Leslie Hollis is showing kimono silk wine bags and extraordinary metalsmithed jewelry. Deb DeArmon's jewelry features Kazuri beads made in Nairobi. Every bead has a story.
More fabulous artists show and sell their items intermittently: Molly Duff, Stacey Kitakis, Jo Bartruff (JC Norris), Care Connet, Deborah Pogel, Susan Bomzer, Judy Bales, John Schirmer, and Kesryth Urban.
Gallery Shows
Running throught May, a colorful exhibit entitled Animals features Trina Neal's paintings created with inks, spray paint, and Café Paradiso's espresso on canvas. The gallery will be open during Fairfield First Fridays on May 3 from 6:30–9:30 p.m.
Classes
Upcoming classes include alla prima portrait painting, ceramics, doll making, jewelry, introduction to mixed media art, and Martha Sperry's felting workshop. Call Cindy at (641) 209-1988, or stop in for details.
Art for All
Everyone who's stepped inside this new world has been impressed and delighted. There are almost always folks in there choosing art supplies, looking at the show, having a picture framed, or wandering through the unexpected array of lovingly crafted objects. Way to go for family businesses that morph into creative ventures and serve our community's evolving interests and desires!
Henderson's Gallery/Cindy's Art Supplies/Square One Arts is located at 53 W. Broadway. Hours: Tuesday–Friday 10 a.m.–5 p.m., Saturday 11 a.m.–3 p.m.