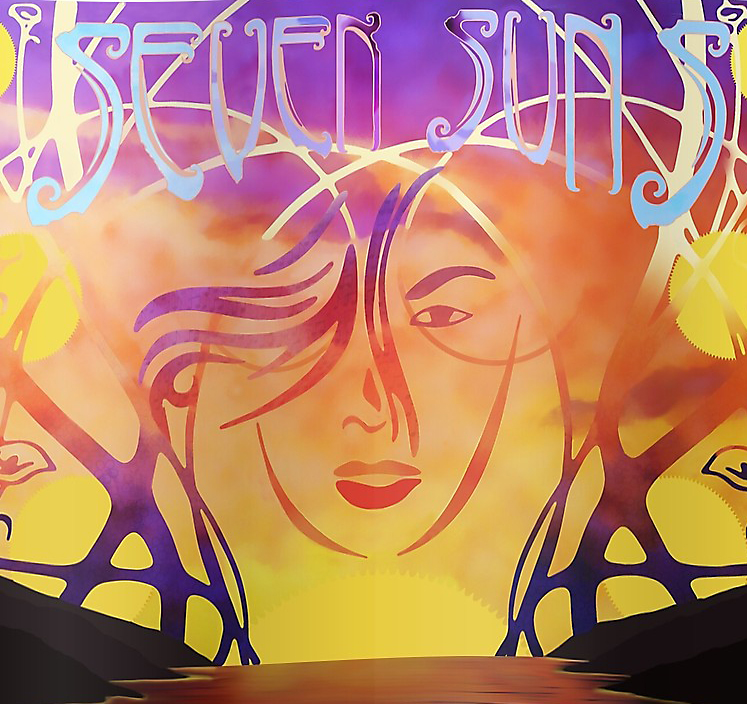 Recently, I discovered the marvelous CD Seven Suns by Violet Sedan Chair (VSC), a mysterious ghost band whose members are not identified. The music was created for the sci-fi TV show Fringe in 2009. But the recording date listed on iTunes is 1971 because that's its origin in the TV storyline.
In the TV series, actor Christopher Lloyd plays a character named Roscoe Joyce, who was supposedly the keyboard player for VSC. In a 2009 article in Wired magazine, series co-creator J.J. Abrams confirmed the faux band name. Since then, the CD has been the target of speculation regarding secret hidden messages about the TV series, a missing 11th track called "Greenmana," the very limited supply of vinyl copies, and the unrevealed artists who recorded the album.
The 10 tracks on Seven Suns harken back to the late 1960s to mid '70s as psychedelic music moved in progressive and folk directions. For those who prefer rock from that era, you will find that here, too.
My music proclivities are revealed in the tracks I selected.
"Keep Climbing" is a clear Beatles tribute and the first of three songs that remind me of the Fab Four. The entire arrangement sounds very familiar, with Mellotron instrumentation, Ringo-like drumming, and distinctive George Harrison guitar patterns.
"She's Doing Fine" sounds like a classic '60s Lennon/McCartney pop song. The beat, vocals, and instrumentation put the listener into the era front and center. Did you know that Lennon and McCartney wrote songs for British pop duo Peter and Gordon in their heyday? If you don't hear the Beatles, maybe it's Peter and Gordon playing in your head.
"500 Years" completes the Beatles-like trilogy on this album. Harrisonesque guitar riffs and Lennon-like vocals take us back to a pleasant time of unshakeable love. The singer is so committed to his lady that he's willing to wait 500 years to be with her.
"Last Man in Space" tells the story of a man who got left behind … in space.   The guitarwork is similar to that of David Gilmour of Pink Floyd with some touches of David Bowie thrown in. Both of those guitar virtuosos must have appreciated this track.
"Re Fa Mi Si Sol La" is a two-minute downtempo instrumental piece guided by psychedelic organ and guitar.
There is something very satisfying in the well-crafted Seven Suns by Violet Sedan Chair. Someday we may learn the identity of the artists who created this album for the Fringe TV series.
To stream this playlist, go to FringeToastMusicMusic.com and click on Artist Spotlight.