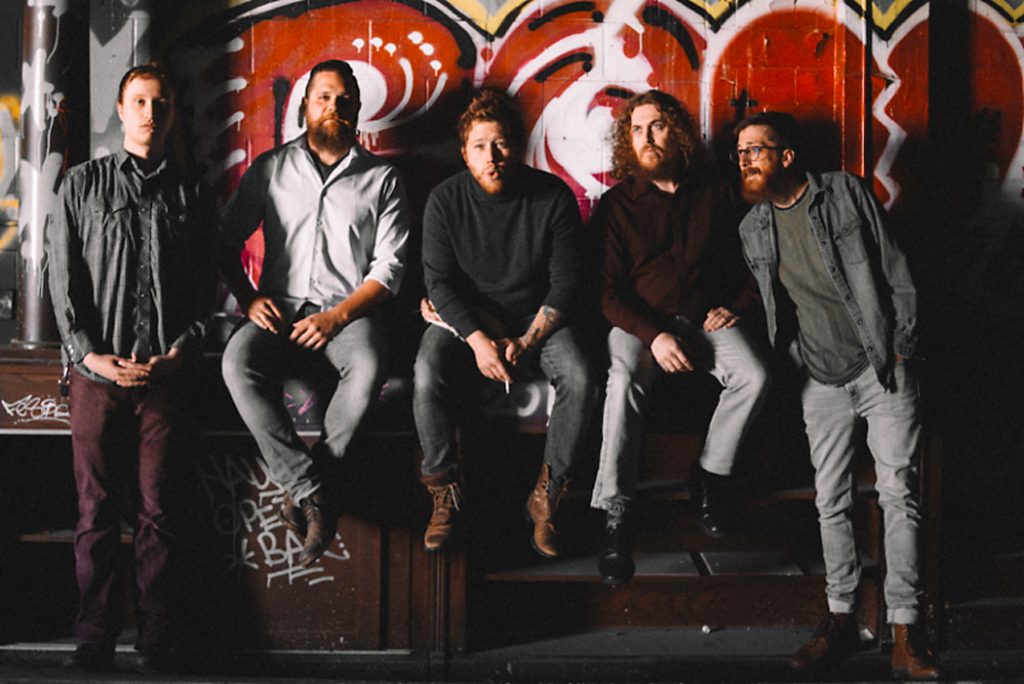 Don't ask the acoustic instrumental group Old Salt Union where their name came from. They don't know. The band members christened themselves by that moniker seven years ago, but they can't remember its origins.
"We've come up with several meanings post-inception," lead vocalist and bassist Jesse Farrar noted over the phone from somewhere on the road. He spoke over a cell phone that tended to break up during the conversation, but that never really interrupted the flow of dialogue.
"Sometimes we say that all our grandfathers were salt miners back in the fields of Belleville, Illinois, where we come from," Farrar said. "We also have claimed that our ancestors were sailors—'old salt' is another name for a seafarer—but none of us really remember where the moniker came from, just that it stuck."
Farrar spoke as an experienced storyteller, with pauses and emphases that suggest he might come up with a new explanation if you let him talk long enough. And if that last name seems familiar, yes, his uncle is Jay Farrar (Uncle Tupelo, Son Volt) and Jesse's father is also a noted multi-instrumentalist.
Reviewers have called Old Salt Union a bluegrass band because of the acoustic instruments they play (Ryan Murphey on banjo, Justin Wallace on mandolin, John Brighton on fiddle, Graham Curry on guitar, and Farrar on upright bass), and indeed the group has performed at many bluegrass festivals, but Farrar denied this was an accurate label.
"We are kind of a rock band with string instruments. I consider myself a head-banger," he said with glee. "The term alternative string band would be more accurate and encompass the broad spectrum of styles and ideas we incorporate into our shows." Old Salt Union will perform at Gabe's, known primarily as a rock music venue, in Iowa City on September 5, and they expect to play elsewhere in the Hawkeye State during the next few months.
Farrar is an animated figure, and the upright bass allows him to get very physical on stage. "There are many days I think that I should have played the flute," he joked as he noted the hassles of traveling with the heavy instrument. When he was just 14, his music teacher told him that he'd find more opportunities to play the upright bass than an electric one, especially in terms of classical and jazz gigs. He is 30 years old now. Farrar's background was mostly jazz oriented before co-founding Old Salt Union, and this can be heard in the various tempos and time signatures he brings to the band's sound.
Grammy-winning banjoist Alison Brown produced the band's latest album, Where The Dogs Don't Bite, for her label Compass Records. She calls their music "Neo-bluegrass Americana rock inspired" on the group's press materials.
"I would add alternative, pop, punk, jazz, and even hip-hop influenced," Farrar said. "We are malleable musicians." He credited Brown for helping Old Salt Union find its distinctive voice. This is the second album she has produced for the group. He also commended Compass for its state-of-the-art studio, distribution channels, and professional connections. Brown was able to recruit bluegrass legend Bobby Osborne ("Rocky Top") for a duet on one of the tracks.
The band has announced a partnership with the St. Louis-based animal and pet shelter Gateway Pet Guardians (GPG) in coordination with their new record released on August 15. A portion of the sales of the album Where The Dogs Don't Bite will go to GPG as well as proceeds from merchandise such as dog collars, leashes, a commemorative poster, orange vinyl discs, and T-shirts.
The inspiration for this originally came from fiddle player Brighton, who adopted a pet from the place just over a year ago. "Everyone in the band is an avid animal lover," Farrar noted. "GPG is a non-kill shelter, and it seemed cool to wrap the album in such a project and make more of a wave."
Comparing the record release to water flowing makes sense in terms of Old Salt Union's natural sound. Farrar frequently used words like "organic" and "instinctive" when describing the band and their music.
Mandolin player Jerry Wallace wrote the title track "Where The Dogs Don't Bite." Farrar said what often happens is that a band member will bring a song or idea they have to the group, and they will work on it together and bounce ideas off each other. Because the five players have come out of different musical traditions, they never know where the music will take them.
Critics of acoustic-based instrumental genres, especially modern bluegrass, newgrass, and the like, have derogatorily called such styles "insect music" because of their repetitive use of rhythm, thrumming, and clicks. Farrar said this could really be a compliment to a band's technical prowess. He compared his group to a cicada. "Like the cicada, Old Salt Union has been around for seven years and has come out now making a lot of noise," he said.
While the group has not been hibernating, the comparison does seem apt in terms of how the band members have developmentally synchronized their sound—like cicadas emerging from the ground simultaneously. And like those other bug groups—the Beatles and the Crickets—these creatures rock in their own special way.