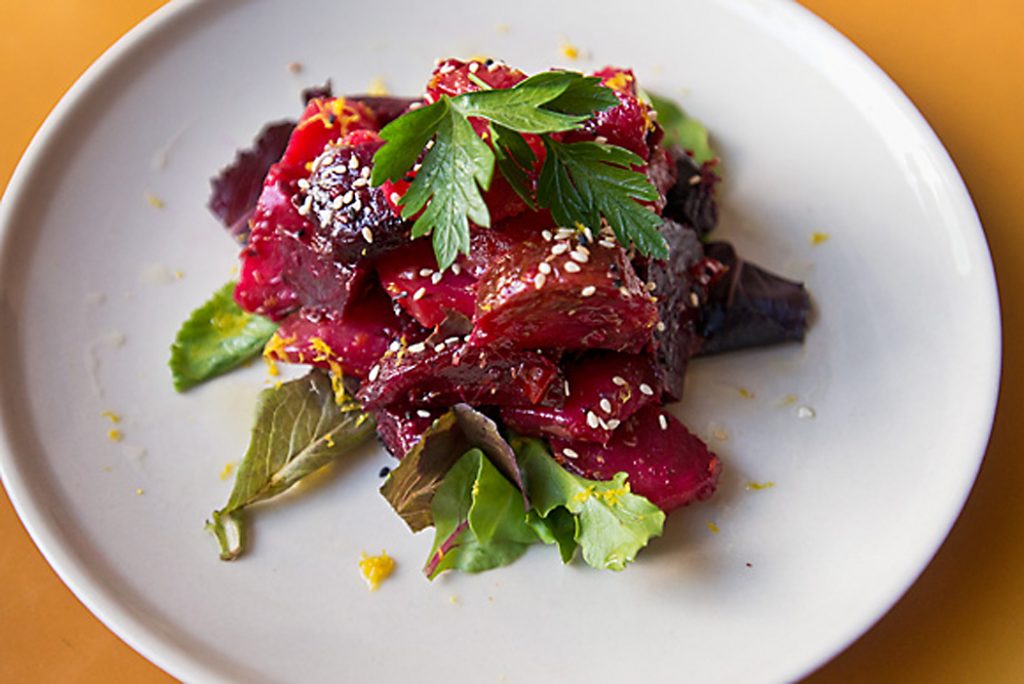 Preserved lemons, as beautiful and awe-inspiring on the palate as they are in the jar, are one of the quintessential tastes of Moroccan and Tunisian cuisine. They are wonderful additions to summer food, and they bring summer to the coldest winter days.
Fresh lemons, warmed by the sun, bring joy with their color and brightness. Preserved lemons are still bright and lemony because of the salt, but not so sour and their rind not so bitter. They are mellow, aromatic, and addictive, adding a complex flavor to many dishes. Because of that, not much is needed, and one small jar can serve many uses. Even the brine is a flavorful aromatic addition to salad dressings, potato salads, and grain salads.
How To Use Preserved Lemons
I love a thin slice of preserved lemon tucked into a cheese sandwich. The classic Tunisian street food lablabi (a fragrant dish of cooked chickpeas left to simmer for hours on the cookstove) simply would not be complete without a sprinkling of finely diced preserved lemon. Lablabi adapts well to the home kitchen.
You can also try very finely chopped preserved lemon in couscous or rice salads, or arrange thin slices over a tagine of couscous, olives, and carrots.
Some of the best ideas for using preserved lemons come from two friends in Ann Arbor, Michigan, chefs Sarah Mays and Amos Arinda. After spending time in Tunisia with the Mahjoub family learning their traditional recipes, Sarah and Amos opened a pop-up restaurant called Cafe Memmi. Sarah's very favorite brand of preserved lemons is made by the Mahjoub family, using small Tunisian lemons that are known for their intense flavor.
One of Sarah's favorite ways to use preserved lemons is making a vinaigrette with about 2 tablespoons preserved lemon brine, 2 tablespoons finely chopped preserved lemons, 3 tablespoons fresh lemon juice, and ½ cup olive oil.
This dressing is great on many different salads. Try roasted beets on a bed of salad greens, tossed with preserved lemon vinaigrette mixed with a little ground toasted caraway. Garnish with herbs, a bit of fresh lemon zest, and a sprinkling of sesame seed. Or try the dressing on an assortment of sliced garden cucumbers, shaved red onion, a few chopped capers, and a little freshly ground toasted coriander seeds.
And don't be afraid to add fresh garden herbs! This time of year, fresh garden herbs abound. Try making a salad of Tunisian couscous, crispy chickpeas, carrots, preserved lemon vinaigrette, and tons of fresh mint, cilantro, and parsley.
One of Sarah and Amos's big hits at Cafe Memmi was fried chicken brined in buttermilk and the brine from the preserved lemons.
Finally, here's a wonderful recipe from Blaker Royer at Serious Eats.
Farro, White Bean, and Preserved Lemon Salad
"This recipe with white beans is probably my favorite farro salad yet. The creamy beans play a huge role in that, along with the sweet, tender leeks and fresh parsley. But it's the chunks of salty, citrusy preserved lemon . . . that really take this salad to the next level." —Blake Royer
1 cup farro
2 Tbsp. olive oil
1 leek, split lengthwise and thinly sliced (white and pale green part only)
1 clove garlic, minced
1/4 cup chopped parsley
15-oz can of cannellini beans, drained and rinsed (or 2 cups cooked and cooled)
2-3 Tbsp. diced preserved lemon
Salt and pepper
In a medium pot, cover farro with cold water, season with salt, and bring to a boil over high heat. Reduce heat to a simmer and cook until tender, about 30 minutes. Drain and return to its pot.
In the meantime, heat the olive oil over medium heat in a large skillet until shimmering. Add leeks and cook, stirring occasionally, until beginning to soften, about 10 minutes. Add garlic and continue cooking until leeks are completely tender.
Stir in beans, parsley, and preserved lemon, then transfer the entire mixture to the pot with the farro. Stir well to combine, season to taste with salt and pepper, and serve warm, or room temperature. A great food to take on the go. 
The At Home Store in Fairfield will demonstrate cooking with preserved lemons on Friday, September 6, 2019, during Fairfield First Fridays, 6-9 p.m.