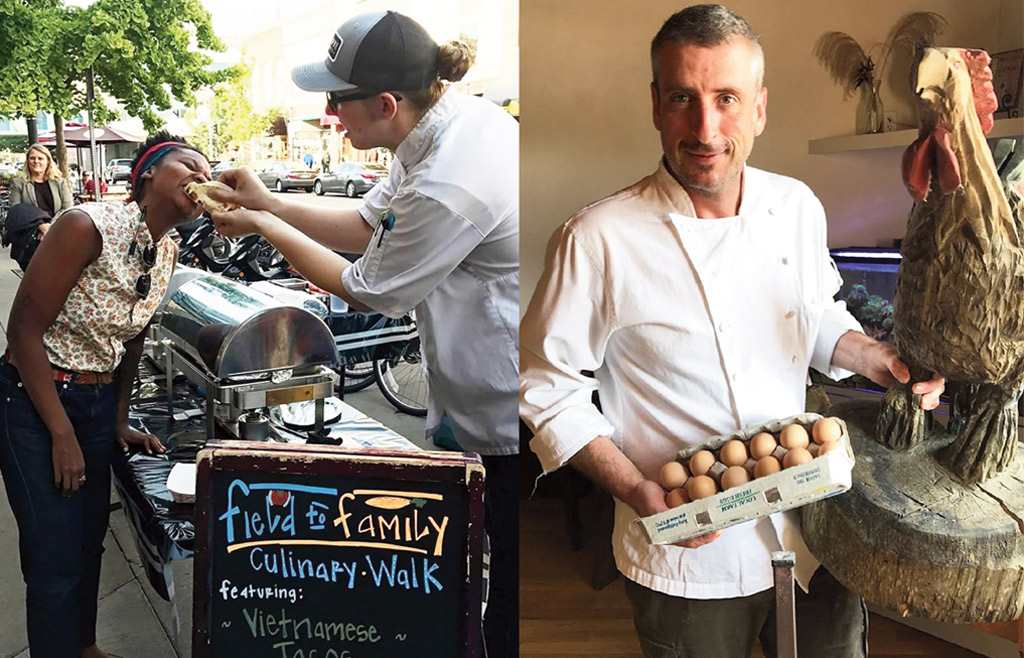 Field to Family, a game-changing nonprofit serving the Iowa City/Cedar Rapids area, is up to some pretty awesome things these days, putting into action the four pillars of their mission.
Field to Family is supporting the next generation of local food enthusiasts through their Farm to School program.
Field to Family is building the infrastructure required for a community-based food system through their Food Hub program.
Field to Family is working to reduce food insecurity and food waste, and increase understanding of Iowa's growing seasons through their Farm Stand program.
Field to Family is working to make it easier for consumers to find local food and growers through their Certified Local program, which publishes an annual Local Food and Farm Guide.
Now's your chance to celebrate—and get involved in—their good works, with a week-long festival of local foods!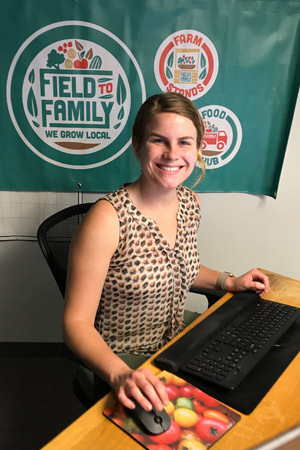 The Field to Family Local Foods Festival, taking place Monday through Sunday, Sept. 16–22, is an opportunity to raise a glass to their successes; enjoy excellent local food and drink; rock out to some Iowa-grown music; put some ideas into action with hands-on workshops, activities, and tours; and support this mission-driven, community-based nonprofit.
"During the height of the growing season in Iowa … is the best time of year to experience the bounty from our skilled farmers and talented local chefs," says Field to Family Director Michelle Kenyon. She's excited for the community to come out and participate next week.
Here's the skinny on the F2F Local Food Festival schedule … (Free events are indicated with an * below.)
*Happy Harvest Party at the Vue Rooftop Restaurant • Monday, September 16, 3–6 p.m., Hilton Garden Inn, 12th Floor, 328 S. Clinton St., Iowa City. Meet the Johnson County Food Policy Council and enjoy Vue appetizers and Big Grove Brewery samples.
*Establishing Pollinator Habitat at Scattergood Friends School Farm • Tuesday, September 17, 4–7 p.m., West Branch. Learn how to create pollinator habitats with expert Sarah Nizzi and Scattergood staff. Sign up for dinner afterwards with Debra Boekholder at debra@practicalfarmers.org, (515) 232-5661, or online at PracticalFarmers.org/field-days. RSVP by Friday, Sept. 13.
*Open House at The Hub, F2F Local Foods Warehouse for Institutional Buyers • Tuesday, September 17, 5:30–7 p.m., 840 S. Capitol St., Iowa City. Meet the staff and learn about F2F's unique non-profit warehouse dedicated to helping schools, restaurants, and institutions access local products in wholesale quantities.
*"Lunch and Learn" with Salt Fork Kitchen: We Love (Local) Eggs So Many Ways! • Wednesday, September 18, noon–1 p.m., 112 E. Main St., Solon. Join Chef Jay Schworn of Salt Fork Kitchen as he prepares local eggs in a remarkable variety of ways. A purchased lunch is optional.
Kurt Michael Friese Memorial Benefit Reception and Concert • Wednesday, September 18, Englert Theatre, 221 E Washington St., Iowa City. Grab tickets for a reception and concert honoring the work of Kurt Michael Friese (chef, local food advocate, and Johnson County Supervisor), benefitting two local nonprofits that Kurt co-founded: Field to Family and Slow Food Heartland.
Enjoy a night of all-Iowa music by Slewgrass, Awful Purdies, Dave Zollo, and Greg Brown. Doors open for the concert at 6 p.m., the performance starts at 7 p.m. Tickets are $25 in advance, $30 day of show, $15 student (advance only), and $75 VIP.
The VIP Reception takes place from 5:30–6:30 p.m. in the Englert Theater Gallery. VIP Tickets include the concert and pre-show appetizers and beverages sourced from local producers.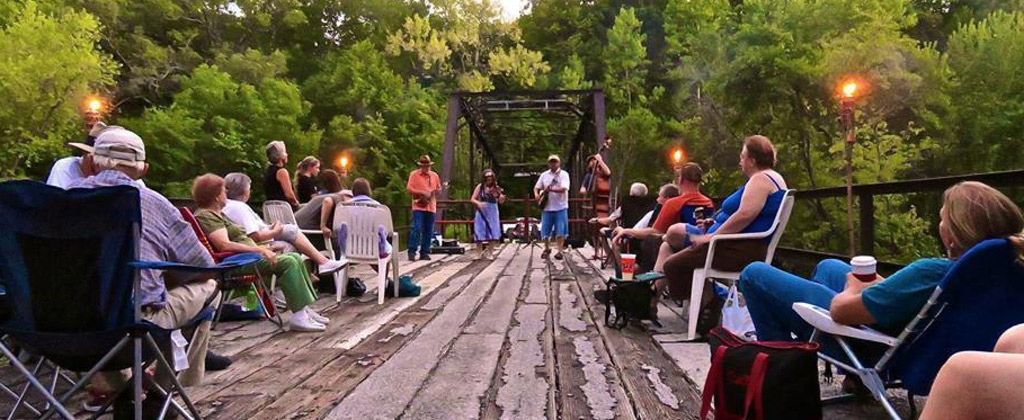 F2F Benefit Culinary Walk • Thursday, September 19, 5:30–8 p.m. IC New Pioneer Food Co-op, 22 S. Van Buren St., Iowa City. Stroll through downtown Iowa City and enjoy delicious dishes made from local ingredients at area food establishments that feature local ingredients: New Pioneer Food Co-op, Local Burrito, Basta, Saint Burch Tavern, Pullman Diner, Get Fresh, and Trumpet Blossom. Early Bird rates are $20; $15 for students. Tickets are $30 after Sept. 17. Buy tickets at New Pioneer Food Co-op stores and FieldtoFamily.org. Will Call is at IC New Pioneer Food Co-op.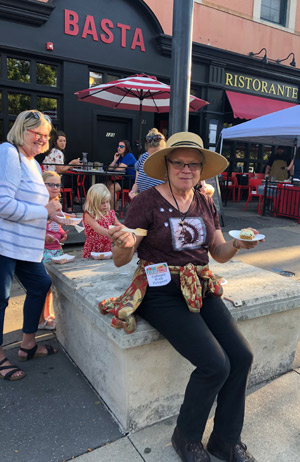 *Edible Classroom Garden Tour featuring Backyard Abundance and Hue Hill Farm • Friday, September 20, 4–5 p.m., Robert A. Lee Recreation Center (outdoors, on the south side), 220 South Gilbert St., Iowa City. Backyard Abundance will host a tour of the Edible Classroom, featuring education and snacks. This pleasing space features raised beds and includes vegetables, herbs, fruit trees, berry bushes, and pollinator habitat. Also sample and learn about cultured foods with Jean Donovan of Hue Hill Farm.
*Local Food Fair At Iowa City Farmers' Market • Saturday, September 21, 8 a.m.–noon, Chauncey Swan Ramp, 415 E. Washington St., Iowa City. Learn about local food-related initiatives in Johnson County from advocates, farmers, and local entrepreneurs with booths, educational materials, and fun food samples! Watch a Chef's Demo by Chef Barry Greenberg, Executive Chef at University of Iowa Dining Services, featuring Farmers' Market produce.
*Wetherby Park Edible Forest Tour featuring Backyard Abundance and Hue Hill Farm • Sunday, September 22, 4:30–5:30 p.m., 2400 Taylor Dr., Iowa City. Backyard Abundance is hosting a tour of the Wetherby Edible Forest, an orchard ecosystem featuring fruits, nuts, and herbs that benefit both humans and the environment. This "free for the eating" park increases soil health and creates habitat for wildlife. Also sample and learn about cultured foods with Jean Donovan of Hue Hill Farm.
To read more about F2F programs and view the full schedule of festival events, visit FieldtoFamily.org.
Festival sponsors include New Pioneer Food Co-op, Hills Bank, Green State Credit Union, Think Iowa City, and Iowa City Area Development Group.