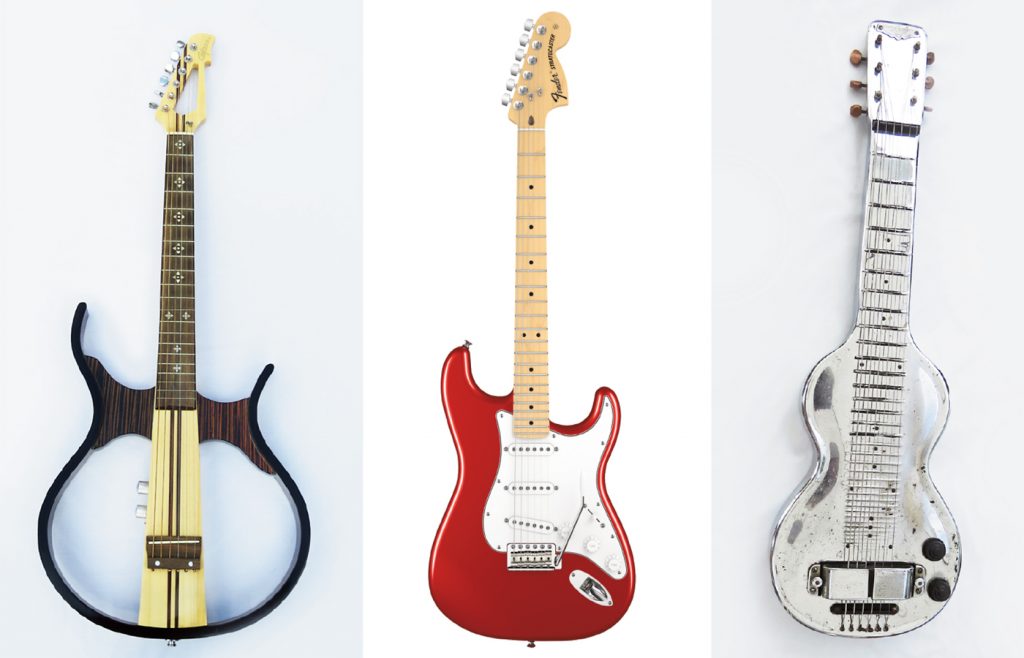 Think Hendrix, Clapton, Gilmour, and Slash. The National Czech & Slovak Museum pays homage to the sexiest instrument ever invented in a sleek new exhibit on loan from the National Guitar Museum. See 40 kick-ass iterations—spanning 500 years—of this impressively engineered instrument in Medieval to Metal: The Art & Evolution of the Guitar. The exhibition runs through January 26, 2020.
Spanning centuries of design and craftsmanship, the exhibit takes visitors through the history of an object that is one of the most recognizable items on the planet. "Over the past several years, interest in the guitar as an icon has grown significantly," says H.P. Newquist, executive director of the National Guitar Museum. "The guitar has been a signature element of world culture for more than 500 years. Now visitors can explore the design history and artistry that has played a major role in the guitar's evolution."
The items on view range from the intricately inlaid Moorish oud and six-foot long Renaissance theorbo to the modern Italian Eko and transparent acrylic BC Rich guitars. Of special interest is the resonator guitar, a metal guitar of the same type created by the Slovak-American Dopyera Brothers. Brothers John and Rudy Dopyera, born in what is now Slovakia and part of the wave of Eastern European immigrants around the beginning of the 20th century, represent the American Dream as inventors, innovators, marketers, and creative force behind the National Dobro Company. The word "Dobro" is both a contraction of Dopyera Brothers and the word "good" in their native language.
The guitar has been a pervasive influence in modern culture. "It's hard to find anyone who hasn't been affected by the guitar," Newquist says. "And while this may be apocryphal, it's a widely held belief that the two most recognizable man-made shapes on the planet are those of the Coca-Cola bottle and the electric guitar."
Medieval to Metal also includes life-size illustrations of historically important guitar designs from noted artist Gerard Huerta, and 20 photographs of acclaimed musicians and their guitars from renowned concert photographer Neil Zlozower.
Medieval to Metal runs through January 26, 2020.
Founded in 2009, the National Guitar Museum is the first museum in the United States dedicated to the history, evolution, and cultural impact of the guitar. For more information, visit NationalGuitarMuseum.com.