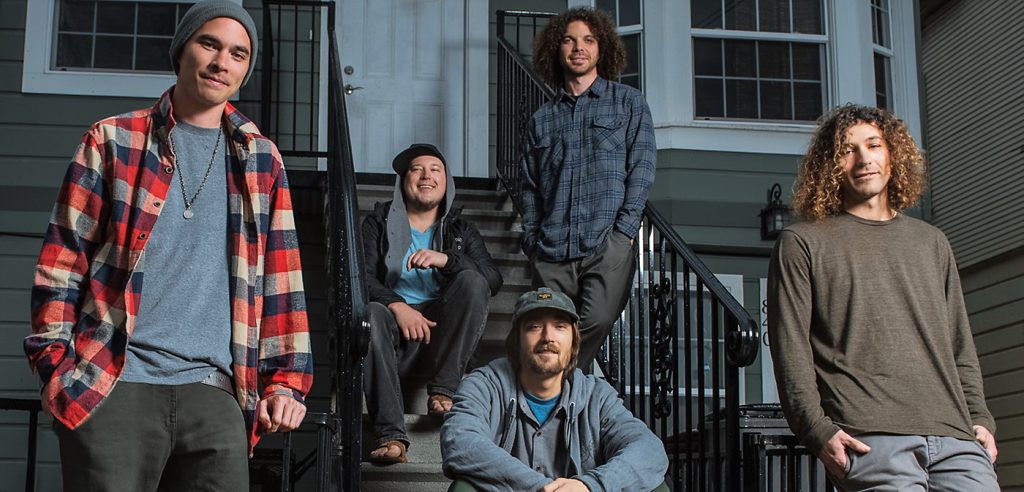 Four years after the California band Stick Figure released its last CD, their long-awaited album World on Fire emerged in August to the great delight of fans and reviewers. The 15-track CD sparkles with uplifting lyrics, splendid vocal harmonies, and lushly tasteful electronic embellishments.
Even if you're not sure about reggae, give this music an ear. Some call Stick Figure's musical style California reggae, or Cali reggae.
Scott Woodruff, the self-taught musical genius behind the band, defines the signature Stick Figure sound. After writing, producing, and performing all instrumental and vocal tracks on several albums as a solo act, the Duxbury, Massachusetts, multi-instrumentalist and songwriter moved to California, where he finally settled in Santa Cruz. Now part of Stick Figure, Scott surrounds himself with like-minded musicians, including Kevin Offitzer (acoustic drums), Johnny Cosmic (guitarist), Kevin Bong (keys), and Tommy Suliman (bass and keys). The band headlined this year's California Roots Festival. And, oh yeah—I can't forget Cocoa, the Australian Shepherd tour-dog mascot.
I wrote my first review of Stick Figure after hearing them in Des Moines in August 2015. Later that year they released the CD Set in Stone, for which they invited the San Diego band Slightly Stoopid to the studio to join them. Since 1995 Slightly Stoopid has been laying down their own fusion of reggae and blues flavored with hip-hop and funk. The title track on World on Fire benefits from the smartly informed and resonant Stoopid/Stick collaboration.
The entire Stick Figure songbook is worth exploring. I'm limiting my recommendations here to favorites from the 2015 and 2019 albums.
From World on Fire (2019)
• "World on Fire" (with Slightly Stoopid). Released as a single in 2018, this was among the first songs created from Woodruff's new sound studio. Dismayed by a world on fire with violence, Scott sings: "If I could rule the world / You know I'd love you all / If a smile could save the world / You know I'd heal you all." The message: let love heal the world by burning down the artificial societal structures that separate us.
• "Burn the Night." The opening 30 seconds are reminiscent of the UK electronic dance band Above & Beyond, with a gentle synthesizer wash and sparse, echoing electric guitar: "Try to live a life, live a life wide open / Take what you want, give the rest away. . ."
• "All for You" expresses the magic of loving someone new, as a sleeping heart awakens to a wonderful dream.
From Set in Stone (2015)
• "Fire on the Horizon" is one of my all-time favorite Stick Figure songs. It takes me to the quiet, serene place within—with a slight shuffle and sway.
"There's a little old town and it's tucked away on an island on the sea / So far away from everything, where time it don't mean a thing / And time moves slow and certainly we got no place to be / Where's there's love there is life, there is a hope and a dream / This is the place for you and me."
• "Choice Is Yours" (with Slightly Stoopid). In this early collaboration with Scott's buddies in Southern California, the song implores a friend to welcome goodness into his life: "You free yourself from negativity and then the good shall come." Don't be surprised to find yourself dancing this one out, too.
Thanks to Stick Figure for changing my attitude about reggae music. For me, Cali reggae radiates an uplifting message of goodness and hope.
Enjoy the free shared Spotify playlist of Stick Figure music at FringeToastMusic.com.