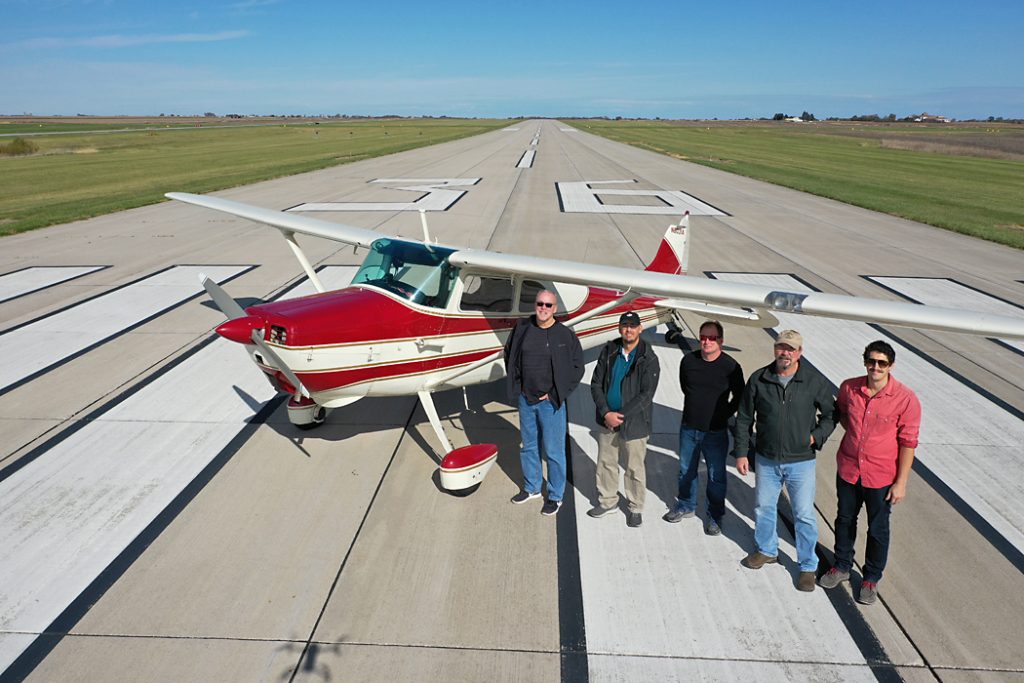 When Wilbur and Orville Wright's first successful flying machine took wing over the beaches of Kitty Hawk, North Carolina, in 1903, it brought people's dreams of flight closer to reality. Brothers Jim and Ron Masterson, along with René Holmberg, are seeking to do the same for aviation enthusiasts in Southeast Iowa by establishing the Fairfield Flying Club.
Have you always wanted to be a pilot but don't have the resources, the experience, or a license? No problem. You do not need your own airplane or even to be a certified pilot to join. The club, which reportedly began back in the 1950s before disbanding, officially re-incorporated in May 2019 and has five members. They purchased a 1967 Cessna 150 for the purpose of offering rides and training.
"The Cessna 150 set the standard for flight training," says Holmberg. "It's the flagship of flight training."
The club's objectives are to promote an interest in recreational flying in the community, and eventually evolve into a non-profit that introduces youth to different careers and potentially produces future professional aviators.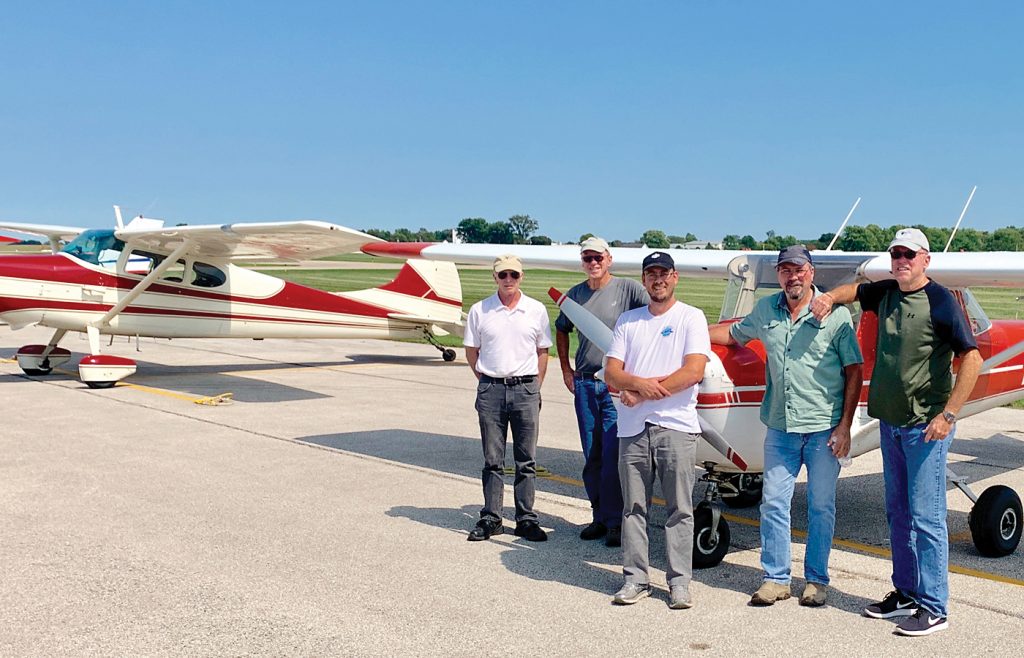 "Flying clubs create a social environment for flying, to engage people and to provide personal support in aviation, and the single most important thing is to provide safety," Holmberg says.
"It wasn't luck that made them fly; it was hard work and common sense; they put their whole heart and soul and all their energy into an idea and they had the faith."

―David McCullough, The Wright Brothers
None of the club members are professional pilots. Holmberg travels the country as an insurance adjuster, and also flies drones for the purpose of filming real estate videos. Jim Masterson is an equine massage therapist who teaches his own method of bodywork for horses, and has worked with the 2014 U.S. Equestrian Team, and for competitors in the Fédération Équestre Internationale World Cup, as well as the Pan American and World Games equestrian competitions. Both Holmberg and Masterson are certified private pilots, meaning they are allowed to fly with passengers. Additional training is required for instrument pilot certification, which allows you to fly in cloudy or less than ideal weather conditions, or to be a commercial pilot and charge money for air transportation or to be a flight instructor. A retired schoolteacher, Ron Masterson began flying with his brother and father when he was growing up. He is short of the required 40 hours of flight time required by the Federal Aviation Association for certification, but he hopes to complete that soon.
Why a Flying Club?
Joining a flying club can help put you on course to owning a plane without being weighed down by the excessive risks and costs that go along with it.
"There are fixed costs, such as renting hangar space, insurance, and annual maintenance," Holmberg explains. "Then there are non-fixed costs like fuel, oil, and money set aside for future repairs."
Sharing these expenses with others can be an efficient way to save money while recreational flying. Another benefit of flying clubs is the camaraderie. Sharing experiences with other like-minded people is educational, and ultimately increases safety.
Fly-In Events
Clubs often organize weekend fly-in events, like the one held in Fairfield on October 26.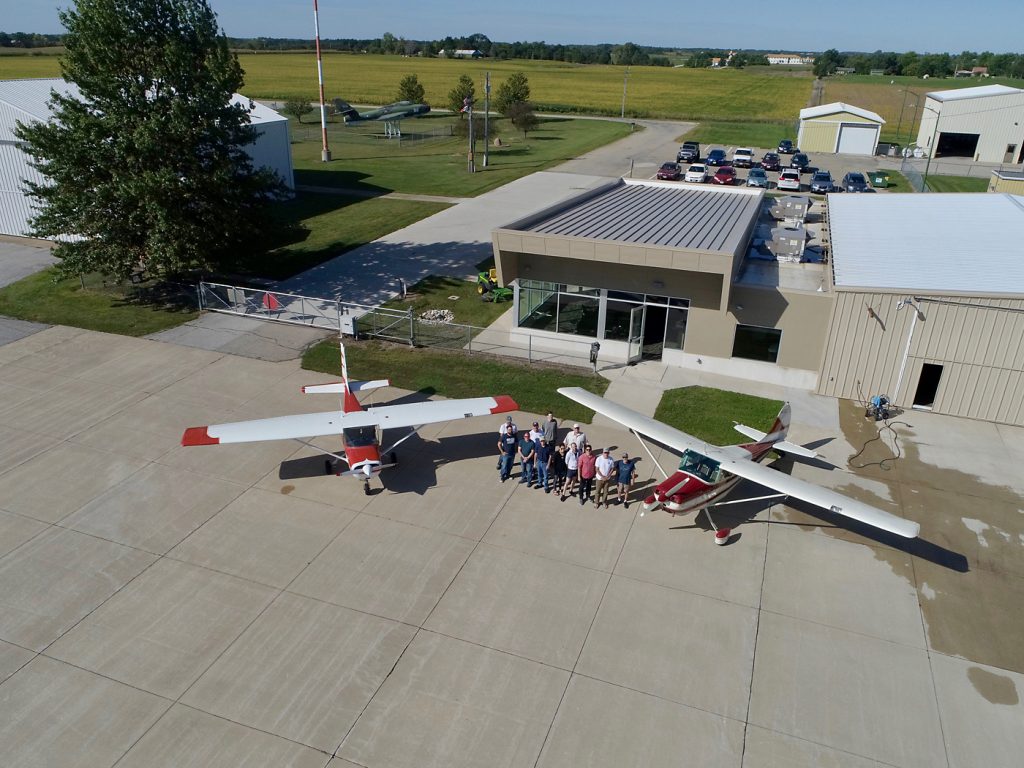 The Keosauqua Airport in Van Buren County also hosts a fly-in every spring. "It's one of the main events," boasts airplane mechanic Rich Michalek, of the Fly Van Buren air show. "The pilots love it and the townspeople always show up."

Michalek says that typically over 30 pilots fly in to the tiny grass-strip airport for the event every year, if the weather cooperates. Keosauqua is completing a new airport building this year, and has one airplane, a 1947 Navion.
The Fairfield Flying Club's aircraft has a storied past. Aptly nicknamed "The Dream-Catcher," Jim Masterson purchased it in Palmyra, Wisconsin, and is leasing to the club. With its high wing, light design, and ample windows, it resembles the balsa wood toy models I played with as a kid. Instead of using rubber bands, it is powered by a Cox Babe Bee .049 engine.
Palmyra is just 90 miles south of Oshkosh, home to the largest air show in the world. Last year over half a million people attended the 10-day event, from 87 countries. There were approximately 10,000 aircraft, including almost 3,000 strictly for show.
"We saw 30 planes in the air at once," Holmberg exclaimed. "It was unimaginable, just constant. Everything from 747s to B-17 bombers."
I've always been interested in the B-17 Flying Fortress because my family history. My grandfather, Bert Mullenneaux, flew a B-17 for 35 missions during the strategic bombing campaign of World War II against German industrial and military targets. My father was named after Hap Arnold, aviation pioneer and Commanding General of the U.S. Army Air Force during the war.
Catching Flying Dreams in Fairfield
The Dream Catcher is stored in one of the 22 hangers at the Fairfield Municipal Airport. Small airports like this one all over the country offer the romance of flying to the public. Bob Lyons, airport manager, provides necessary flight training for club members. Bob's brother Roger is an aircraft mechanic and also helps with administration. General aviation provides the most traffic for the airport, which also benefits from Fairfield's thriving tourist industry. Due to the unique nature of the community, the airport sees more than its fair share of celebrities. In addition to those discreetly seeking rejuvenation at the Raj health spa located a mile to the west in Vedic City, Oprah Winfrey came through to do a feature on Fairfield for her TV show, country music star Toby Keith flies in on hunting trips, and professional basketball player Chris Paul landed there last year to pay a surprise visit to Trashaun Willis, a one-armed Washington High School student who became an internet sensation after a video of him dunking went viral.
At 7 a.m. I pull into the airport, located three miles northwest of Fairfield, past the USAF F-84F Thunderstreak mounted on display near the terminal. Jim and Rene are in the hangar, preparing to fly to Galesburg later that morning. It is safer to fly in the early morning, as the heat vectors can cause turbulence that can be dangerous for smaller aircraft. I climb awkwardly into the cockpit, which, at a little over 3 feet in width, barely fits two people. Jim and I don headsets, which allow us to hear each other over the engine noise, and the coded chatter between other pilots and air traffic controllers on aviation band radio frequencies. Jim goes through his pre-flight checklist, scanning the various switches and knobs to make sure everything is in order. We taxi down the runway, Jim radios out his intentions, and we are all clear for takeoff.
Soon we are airborne, soaring over the cornfields like an eagle, and all my earthly worries seem insignificant. My biggest fear had been that in such a lightweight aircraft, we would feel every gust of wind, but today the Cessna provides a smooth ride. With our bird's-eye view, Fairfield's three retired water reservoirs—Bonnifield, Walton, and Pleasant Lakes—look like puddles. Cows bathe in a farm pond preparing for another scorching how Iowa summer day, country roads interlace over red barns, and tiny cars file into the parking lot of the town's largest employer, Cambridge Investment Research. We circle back towards the airport and Jim lands gracefully. What a rush!
The Original Fairfield Flying Club
Records indicate that the first Fairfield Flying Club was established in 1955, back when the airport was nothing more than a grass strip just off of Glasgow Road east of town. During takeoff and landing they had to dodge the sheep grazing on the runway. The existing airport was built in 1966, but the club may have dissolved by then. According to Michalek, an area flying club was active into the 1980s until the Farm Crisis brought it to an end.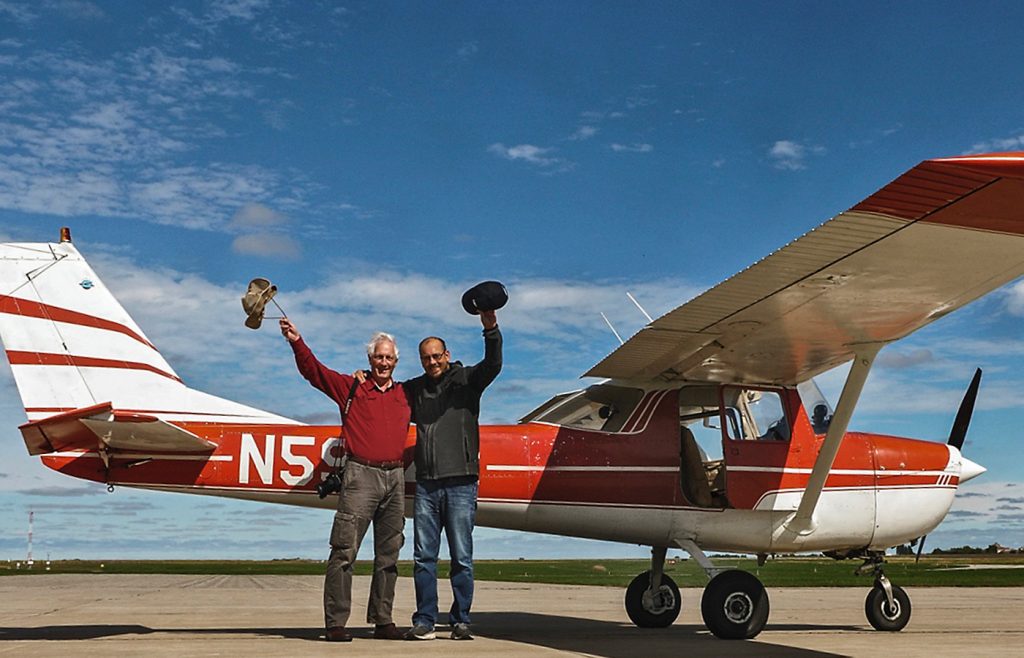 Fairfield Flying Club 2.0 will certainly face economic adversity and other challenges as well. However, the club's foundation is strong. With passionate leadership, experienced instructors, a classic aircraft, a great facility, and faith in their inspired plan to build enthusiasm in the community, they can potentially soar for years to come.
To learn more about the club, email gofly@fairfieldflyingclub.com or visit Fairfield Aviators on Facebook.