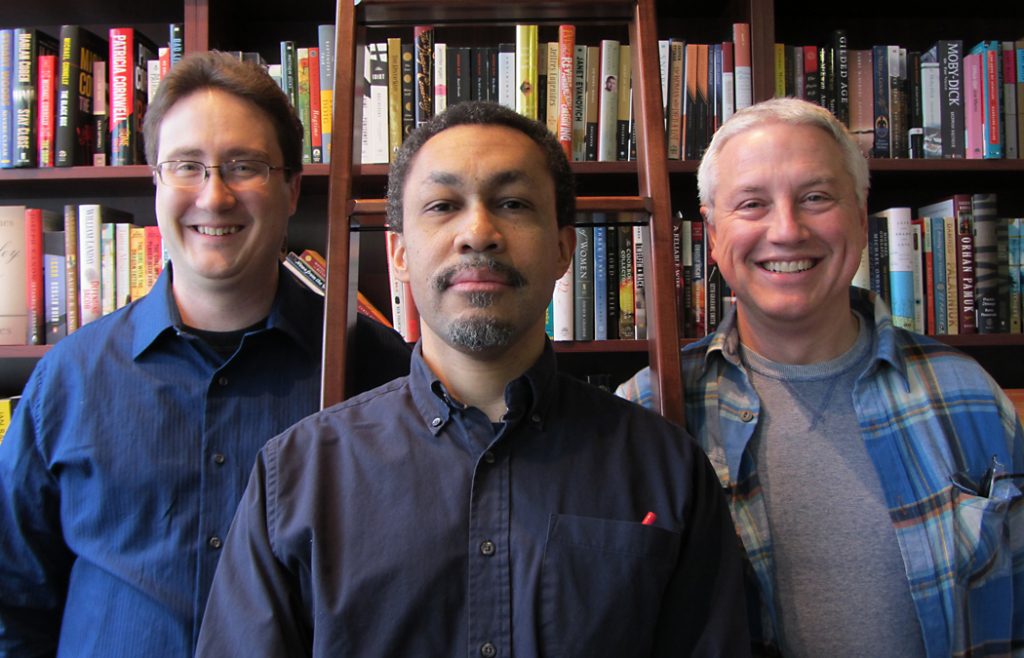 I've told part of this story in this space before. Here's an excerpt from a column I wrote in early 2013:
In the mid-1990s—long before self-publishing moved from anathema to option—I started a humorous mystery novel about a pizza delivery driver who finds one of his customers dead. It was grounded in my own experience as a pizza delivery driver, and it seemed like an easy starter novel for an aspiring author like me.
Then I realized the book should probably have a plot. Also, I couldn't really think of one.
So the project was shelved. It was occasionally unshelved, but no progress was made and over the years I became many things other than a novelist.
Jump to 2010 and enter my friend Lennox Randon.
Randon (as everyone calls him) had a book project of his own. He also had—still has—stomach cancer. And he had a plan. He and I would make a commitment to each other to work on our books, and we would meet every week to discuss our new pages. Together, we would push through until we had finished novels.
I demurred. He persisted. He played the damn cancer card.
We started meeting. We invited Dennis Green to join us. We untangled each other's plots and sentences and character conundrums. Mostly, however, we just encouraged each other to keep going.
And here we are.
I wrote that "And here we are" with a fair amount of pride. Randon and I had just published our debut novels—Friends, Dogs, Bullets, Lovers for him and Murder by the Slice for me. Dennis's first novel, Traveler, followed soon after. We started calling ourselves the Writing Lads.
We set about having the famous author experience. We did readings and signings and interviews. We kept writing, too. Randon finished his dream project, Memoirs of a Dead White Chick, which is historical fiction in the vein of A Connecticut Yankee in King Arthur's Court but focused on slavery in America. Dennis finished Prisoner, the second book in his series. And I wrote a few short stories starring the hero of my novel and published them together as Slices. The Writing Lads might not have been the Inklings, but we had more than an inkling when it came to understanding the value of true friendships and shared artistic endeavors.
Meanwhile, Randon continued to beat the odds, surviving far longer than anyone—himself included—anticipated.
But they call it terminal cancer for a reason. A year ago this month, we lost Randon.
There are only clichés to write at this point in the story, right? Nothing has been the same since his passing. I think about him every day. I struggle to achieve even a sliver of the grace, courage, and kindness that characterized his life.
All of that sounds hokey. All of it is true.
And wither the Writing Lads? Well, Dennis is very nearly done with the third and final novel in his series (and it's really good). I've been struggling with a sequel to Murder by the Slice since almost immediately after the publication of that first (and so far only) novel. I haven't found this period of grieving particularly conducive to writing humorous mystery novels.
I'll note here that Randon would find that bit of self-pitying excuse-making ridiculous—though he'd be kind about it. He wanted to read the end of that sequel, and he would have wanted me to be working on it now. I struggle a lot with the feeling that I'm letting him down. I still hope to finish the silly thing.
I know this column is self-indulgent and far afield from what you might rightfully expect in this space. But Randon's love of reading and writing was foundational to his life. It's what made us—all three of the Writing Lads—kindred spirits. This column is about books and the people who write them, and I wanted—needed—to celebrate Randon's life and spirit here.